Jello jigglers, or finger jellos, are colorful, fun to make, great for kids and adults alike, and they are delicious!
They are also really versatile and simple to make with few ingredients required!
No matter which recipe you choose, you'll need some Jell-O gelatin mix, Knox gelatin, or gelatin mix from other brands to get you started with making jello jigglers.
From fruity versions to alcoholic variations, we've got you covered with some of the best jello jigglers recipes that you can easily make at home!
Kids are definitely going to love these beautiful orange jello jigglers that are amazingly delicious and so easy to make!
These jigglers are made with orange soda and vanilla ice cream, which gives them a nice combination of flavors.
The orange soda is combined with gelatin, water, and sugar to form the orange cubes while the melted ice cream is mixed with gelatin to form the creamy filler.
This interesting recipe is a great activity with the kids but they are tasty for everyone to enjoy!
For a refreshing treat that's not your usual jello flavors, check out this fantastic tea jello jigglers recipe that you'll definitely love!
Tea adds a layer of depth to the flavor of the jello, which makes it really easy to convert this into a sugar-free recipe by using a sugar-free gelatin mix!
It's an easy recipe because the only cooking required is to boil water for steeping the tea.
Experiment with different tea blends to find your favorite flavor of tea jello jigglers!
Full patriotism is on show here when you make these blue and red jello cubes that are beautiful, delicious, and especially great for a fun Fourth of July activity!
The red cubes are made with either strawberry or cherry-flavored jello, while the blue cubes are made with berry blue jello mix.
They are made in baking pans so that they give the thickness that makes them such a great treat!
It's also easy to convert this into a sugar-free jello jiggler recipe, just make sure to use the correct color substitutes!
This double-layer jello jigglers recipe is very handy to know because you can change the flavors and colors to suit any occasion and whip up these sweet treats easily!
All you need are flavored gelatin, plain gelatin, and whipping cream to make these delightful jellos.
When the mixture is chilled, the whipping cream will rise and form a creamy layer in a lighter shade of color, thereby creating a double-layer jiggler.
The possibilities are endless with this simple recipe!
Spruce up your party with these fantastic cherry jigglers that are a shoo-in for a crowd-pleaser treat!
The bottom layer is made with pomegranate juice, pineapple juice, and gelatin, giving a slightly tart flavor, while cherries are cut and drained before being added.
The top layer is made with white peach cranberry juice cocktail and gelatin, and it fills the remaining space of the mold.
These delightful treats are topped with candy sprinkles before being served.
To make an alcoholic version for the adults, add vodka to the top layer and you'll have boozy jello jigglers!
Take the classic combination of peaches and cream and transform it into delicious jello jigglers that are perfect for a party treat!
It's really simple to make and there are two layers to create separately.
One layer is made with peach-flavored gelatin and the other is made by combining unflavored gelatin with sweetened condensed milk.
When they are set and firm, it's time to enjoy the sweet treat!
Level up your cooking skills with this piece of food art that'll impress everyone with how beautiful it looks!
Rainbow jello jigglers are not difficult to make but it requires a bit of time commitment because layers are required to be added at regular intervals to create the final exquisite sweet treat.
Six different colors are used to layer on each other and allowed to be set overnight before it's ready to be served.
With such an awesome visual presentation, everyone will be scrambling to try these tasty jigglers!
These jello egg jigglers are great for Easter gatherings and any occasion because they look so adorable and pretty!
It's easy to make, especially if you already have jello egg molds as part of your kitchen inventory!
All you need to do is mix the gelatin and hot water, then use plastic syringes to fill up those egg molds and let them set overnight.
You can use any flavors and colors to suit the themes of the parties so this recipe is also incredibly flexible!
Kids will definitely love these ice block jellos reminiscent of Disney's Frozen movie and it's guaranteed to be a hit at any party.
The sparkling clear layer is made with 7-Up and unflavored gelatin while the blue layer is made with Jell-O's berry blue gelatin mix and 7-Up.
When combined together, the final jello cubes resemble ice blocks and make for a very cool visual treat.
Add a figurine beside a bowl of these treats to really sell the illusion to your guests!
For a unique twist on the regular jellos, check out this amazing Red Hots cherry jello jigglers recipe!
Spicy and bursting with cinnamon flavor, these jigglers are super delicious if you love the iconic Red Hots candy.
You can add more water to tame down the cinnamon taste if it's too strong and still keep it jiggly!
Use heart-shaped molds or cutters to create beautiful heart jellos that are perfect for Valentine's day!
If you prefer your Valentine's day jigglers to be milder in taste and more palatable to a wider audience, check out these delicious hibiscus and pomegranate jellos!
Hibiscus tea is used to provide a fragrant and refreshing flavor with honey added to give some sweetness.
It's added to bloomed gelatin that has been combined with pomegranate juice to create really tasty jello.
Once they are refrigerated till set, it's time to wiggle and jiggle these awesome jigglers!
Shake things up and expand your skills with these incredible broken glass jello squares that are so beautiful to look at and taste delicious!
And don't worry, there are no real broken glasses inside the jellos!
They are named as such purely because of different colored jellos mixed within white gelatin that has been mixed with sweetened condensed milk, giving a broken glass or stained glass look.
Make these pretty jello jigglers for your next party and be prepared for all the compliments!
Turn a classic dessert into jello jigglers with this simple recipe strawberry cheesecake jigglers recipe that you definitely need to try!
This recipe is as straightforward as its name and combines strawberry gelatin with cheesecake pudding, both of which you are able to get from the JELL-O brand.
Once refrigerated until firm, they can be cut into desired shapes and served!
Make these lovely sparkling jigglers for your next fancy party and let the shiny treats take center stage!
These beautiful treats make for an awesome dessert and the visual presentation itself already scores full marks with the golden stars and sparkling sprinkles.
The base flavor is actually made with sparkling white grape juice mixed with unflavored gelatin and sugar, and it's easily enjoyed by everyone.
Keep this jello jigglers recipe handy because you're definitely going to be making them more than once!
If you're thinking about what to make for Halloween, we've got you covered with these layered jello jigglers that you'll love.
They look really cool with the black, white, and orange layers, perfect for a Halloween-themed party!
The black layer is made with the addition of some black gel food coloring to achieve the required color, while the white layer is made by combining sweetened condensed milk with gelatin, and the final orange layer is made with orange jello.
It's easy to make and everyone will definitely enjoy these Halloween sweet treats!
Try these delicious creamy Valentine's day jello hearts once and you'll be hooked!
They are not your ordinary jellos but are more complex with a chewy texture due to the addition of vanilla pudding into the mix.
The combination of jello and pudding makes these treats really special and you can elevate the dessert by serving them with some chocolate shavings!
Everyone loves some peanut butter and jelly, so why not turn them into bite-sized jello jigglers that are great for snacking?
They can easily be made with some pantry staples – peanut butter, marshmallows, and gelatin.
Kids are going to gobble these up right after school because they are just so addictive and delicious.
And adults are going to be munching on them as well because who doesn't love peanut butter?
If you want to make pretty jigglers but don't want to spend time waiting and adding layers after layers, this fantastic recipe is right for you!
The jello mix is separated into two, with sweetened condensed milk added to the main bowl while food coloring is added to the second smaller bowl, which will be used to create the main marbling patterns.
Add the colored jello mix to the main bowl and swirl around, letting your creativity flow through.
It's a very handy technique to cut your cooking time and still come out with beautiful jello jigglers!
These jello jigglers with alcohol are for the adults and they are perfect as a boozy party treat!
Tequila and triple sec serve as the alcohol base and they are added to a mixture of lime jello, gelatin, boiling water, and lime juice.
Cut into cubes and serve these tasty margarita jigglers that everyone is going to be fighting for!
Keep the kids away from these booze and caffeine-filled jello jigglers that are just so irresistible!
Coffee, Kahlua, and sweetened condensed milk form an excellent combination and it's made all the better by turning them into semi-solid jellos with the help of gelatin.
If you love coffee, alcohol, and dessert, this is definitely going to be one of your favorite jello jigglers recipes!
At Glorious Recipes, we have our favorite Rainbow Jello Jigglers that we absolutely adore! They are beautiful and delicious! Check out the recipe below!
Yield: 9
Easy Rainbow Jello Jigglers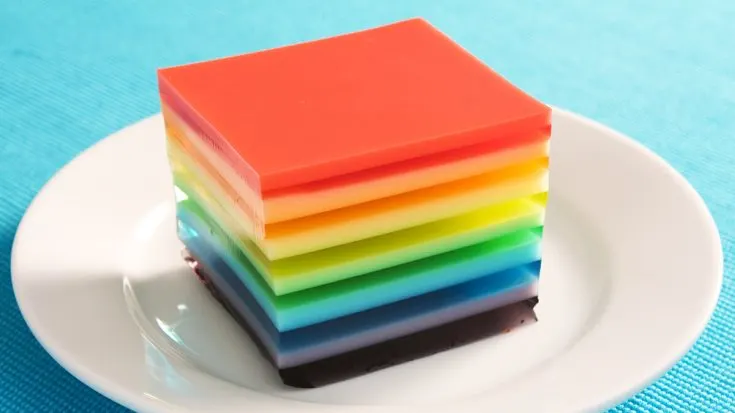 Enjoy making these fun and beautiful Rainbow Jello Jigglers that taste delicious and are perfect as party treats or snacks!
Ingredients
8 cups boiling water
1 box grape JELL-O gelatin (purple), 3oz
1 box berry blue JELL-O gelatin (blue), 3oz
1 box lime JELL-O gelatin (green), 3oz
1 box island pineapple JELL-O gelatin (yellow), 3oz
1 box orange JELL-O gelatin (orange), 3oz
1 box cherry JELL-O gelatin (red), 3oz
1½ cups full-fat vanilla yogurt
cooking spray
Instructions
Place 6 empty containers on the table with a capacity of more than 1¼ cups of water. Add each gelatin mix into individual containers. Add 1¼ cups of boiling water into each container and stir to dissolve.
Spray some cooking oil on a 9x13 pan. This will help the jello to release later and you won't be able to taste any of the spray.
Now we'll start layering the jellos and we'll start with the purple jello. Separate half of the jello into another container, around ¾ cup. Pour one half into the pan and place the pan in the refrigerator for 15 minutes. We want it to partially set before adding the next layer.
In the meantime, add 1½ tablespoon of yogurt to the remaining half of the purple jello. Stir well until the yogurt has fully dissolved without any lumps.
When 15 minutes is up, take the pan out from the refrigerator and do a touch test. Touch the jello very gently with a fingertip and lift it immediately. If it sticks to your finger and leaves a slight impression on the jello, it's good to go. Add the purple jello mixed with yogurt very gently as we don't want to break the partially set purple jello. Lower your container and pour slowly if you have to. Once done, place the pan back into the refrigerator for another 15 minutes.
Repeat this process for the remaining layers. Once all 12 layers are done, let the jello set in the refrigerator overnight.
Cut to desired shapes and enjoy!
Notes
As the remaining jellos outside get colder while waiting for the layers to set in the refrigerator, you might need to check on the jello layers as they might take less than 15 minutes to reach the partially set state.
Nutrition Information:
Yield:
9
Serving Size:
1
Amount Per Serving:
Calories:

64
Total Fat:

1g
Saturated Fat:

0g
Trans Fat:

0g
Unsaturated Fat:

0g
Cholesterol:

2mg
Sodium:

43mg
Carbohydrates:

9g
Fiber:

1g
Sugar:

8g
Protein:

6g
Nutrition information is only an estimate and can vary depending on ingredients used.
Which of the jello jigglers recipes have you tried so far?
Let us know in the comments below!
For more dessert recipes, check out Sour Cherry, Silken Tofu, Kohakutou, Yonanas, Crepini, Ninja CREAMi, or Dash Ice Cream Maker recipes for more ideas!
Share on your favorite social media platform and tag us @GloriousRecipes – we can't wait to see what you have made!