Try out some of these lovely ditalini recipes for your next pasta meal and you'll be surprised at how tasty they are!
If you have no idea what ditalini is, you're in for a treat!
Ditalini is a type of cute little tube-shaped pasta that is cut into very small pieces, like a really short macaroni.
It's commonly used throughout Sicily and can now be found in many places.
Because of their size and shape, they are great for both normal pasta dishes, as well as soup dishes since they can easily be scooped up with a spoon.
Give the usual spaghetti or linguine a miss, and try a ditalini pasta recipe because it might just be your new favorite type of pasta!
A warm bowl of chicken soup is the perfect comfort food during cold, rainy nights and it's made even better with this Sicilian Chicken Soup with ditalini recipe.
It's a healthy and nutritious soup recipe, made with veggie chunks, shredded chicken, and some herbs to add more depth to the flavor.
It's also incredibly easy to make as it's a dump-and-go recipe.
The stove and heat will do all the heavy lifting of the cooking and you just need to shred the chicken and add the pasta at the end.
With such an easy ditalini pasta recipe, you'll be tempted to cook this regularly because it's just so simple!
Pasta e fagioli, or pasta and beans, is a traditional Italian pasta dish and ditalini is commonly used.
The combination might not sound the sexiest, but trust us, the stew tastes amazing.
Using lots of aromatics, diced tomatoes, and a blend of red kidney and great northern beans, this pasta and beans recipe makes for a great stew on a cold day.
With spicy V8 juice added in, this bowl of soup will definitely warm you right up!
Pair it with crusty bread and enjoy this really delicious pasta e fagioli!
Just like macaroni, ditalini is also a great option in a baked pasta recipe.
Pasta and cheese make for the ultimate pairing but add some ham and peas, and the whole dish transforms into a really tasty meal.
Ham and peas are added to bring even more flavor and texture to this baked pasta dish, and the end result is a tray of delicious comfort food.
It's also really simple to make because all you need to do is spread the cooked ditalini and other ingredients across the tray, top with some grated cheese, and let the oven do the cooking.
You'll be enjoying this baked ditalini in no time!
If you don't fancy beans in pasta e fagioli, maybe this pasta and peas dish or pasta e piselli can tempt you to try a new pasta.
This ditalini recipe is very simple and only involves a few main ingredients.
You'll only need ditalini pasta, peas, onion, olive oil, Pecorino Romano cheese, salt, and pepper.
Pasta water is key here as it helps with the flavor and texture, plus if you want to make the dish soupier, you can just add more pasta water into the dish!
One of our favorite ditalini recipes, this Tomato Meat Soup is perfect for a hearty bowl of comforting and light tomato-based soup.
Onion, carrots, celery, and garlic help to bring the aroma and flavor to the soup, while the meatballs and ditalini pasta help to provide the macros for a wholesome meal.
Fresh herbs add a further layer of depth to the flavor and this soup just tastes so amazing and delicious.
Serve with garlic bread to enjoy a classic combo meal that will leave you satisfied.
For a quick and easy pasta salad, check out this Ditalini Pasta Salad with Tomberry Tomatoes recipe.
It's healthy, nutritious, and takes little time and effort to make, perfect for a simple meal.
Tomberry tomatoes might be a little difficult to find, but they are definitely worth the hunt as they are sweet and juicy, and complements really well in a salad.
If you have trouble getting the Tomberry tomatoes, you can always substitute them with regular cherry tomatoes and this pasta salad will still taste as good!
This simple vegetarian Parmesan Pasta soup is great for a simple and hearty meal, and best of all, it's one of the easiest ditalini recipes as it only requires 5 ingredients to make.
It might not look as colorful as pasta e fagioli or even tomato meatball soup but don't be deceived, this bowl of soup tastes just as amazing.
To modify or enhance this simple recipe, you can add any of your favorite herbs or aromatics to suit your taste, although it's already delicious on its own.
Serve with a side of crusty bread or garlic bread and this will soon be your new favorite meal.
For a light but filling soup, try out this Tuscan White Bean Soup made with ditalini pasta.
No complex or hard-to-find ingredients are required in this simple recipe.
All you need is some onion, celery, garlic, chicken broth, ditalini pasta, cannellini beans, and Pecorino Romano cheese.
Start by sautéing the vegetables till they are soft, then add chicken broth and turn the heat up till it's boiling.
Add the rest of the ingredients and wait till the pasta is cooked.
It's that simple to make this delicious bowl of Tuscan White Bean Soup!
Whenever you crave something rich, bold, and creamy, this Ditalini Risotto will definitely satisfy that craving.
In a twist from the classic risotto made from short-grained arborio rice, this recipe uses ditalini pasta instead.
The resulting dish is delicious, luxurious, and a delight to our taste buds.
Spicy chicken sausage helps to add a touch of protein and a burst of flavor to elevate this dish further!
This tasty risotto is sure to be a hit with the family!
This One-Pot Creamy Broccoli Pasta is a healthy and family-friendly dish that uses a secret ingredient to bring this pasta to the next level.
One-pot ditalini pasta recipes are the best as they are convenient, fuss-free, and simple for even beginner home cooks.
Plain Greek yogurt is used in place of the more commonly used heavy cream to create the creamy sauce, which gives it a protein boost and keeps the sauce light and delicious.
Complemented by tender broccoli and grated cheese, this ditalini pasta is just so yummy!
A classic favorite, a warm bowl of minestrone is one of the most comforting soups to keep the chill away.
It is so flavorful and appetizing as it's loaded with vegetables, beans, herbs, and ditalini pasta.
Making the minestrone soup is very easy as the slow cooker will be doing all the work and all you need to do is toss in the ingredients and wait.
Finish off by topping with parmesan cheese and fresh parsley before you enjoy this tasty soup!
A busy day at work leaves little time for cooking a sumptuous meal but it doesn't mean you have to eat unhealthy or tasteless food.
With this ditalini pasta recipe, you can easily whip up a tasty meal in 15 minutes!
There's no rocket science here with only 5 main ingredients required.
While cooking the ditalini pasta, prepare the dressing by whisking olive oil, lemon juice, and salt together.
After combining everything together along with black olives and feta cheese, the meal can be served!
For a cheesy good time, check out this ditalini pasta recipe with chicken and spinach.
Using gruyère cheese as one of the main ingredients, the pasta tastes exceptional with a rich, creamy, and nutty flavor.
With chopped spinach and shredded rotisserie chicken, this pasta is as wholesome as it can be.
Adding some garlic, white wine, and cherry tomatoes will further elevate this dish and become one of your dinner staples!
This Deviled Egg Pasta Salad is perfect for a quick and easy meal and can be easily made in 15 minutes.
Egg yolk, mayonnaise, and mustard are combined to create a delicious creamy mayo dressing that is combined together with ditalini pasta, egg white, onion, and celery.
The final product is a beautiful and mouth-watering creamy pasta salad that is just so delectable.
Who knew bringing deviled eggs and pasta salad together can create one of the best ditalini recipes?
Add some seafood into the mix with this really tasty Creamy Shrimp Salad recipe.
In this simple recipe, shrimp, ditalini pasta, tomatoes, zucchini, and a bunch of other vegetables come together to create a really flavorful pasta salad that tastes amazing.
They are covered in a creamy mayo sauce that adds even more flavor to the entire dish.
You can easily add in other seafood or swap out any of the vegetables because this recipe is just that flexible and forgiving.
Try it and you'll be hooked!
At Glorious Recipes, we have our own ditalini recipe that we really adore. It's a simple but delicious Spinach Pesto Ditalini Pasta recipe that received compliments from everyone.
Yield: 6
Spinach Pesto Ditalini Pasta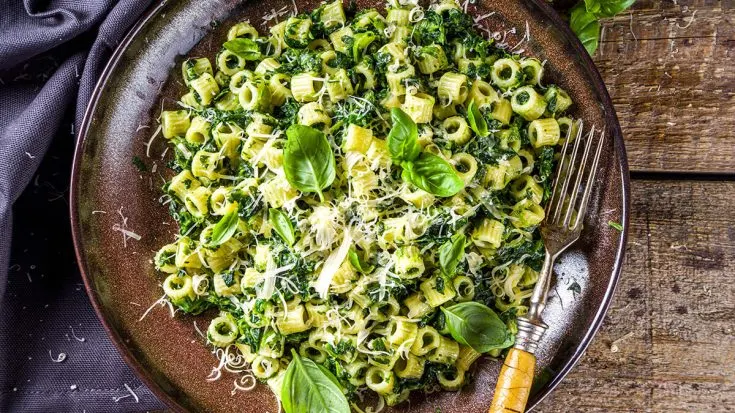 This Spinach Pesto Ditalini Pasta will be your new go-to pasta with its exceptional taste and looks. It's a quick and easy recipe, and will undoubtedly be a hit with the family!
Ingredients
19 oz ditalini
13½ oz baby spinach leaves (around 3 cups)
4 oz olive oil, extra virgin
3 cloves of garlic, crushed
½ oz basil leaves
½ lemon zest
½ tbsp lemon juice
5 tbsp grated parmesan cheese
Instructions
In a large pan, cook the ditalini pasta in salted boiling water. Follow package instructions for timing. To leave some pasta water for use later.
Put baby spinach, olive oil, garlic, basil, lemon zest and juice, and grated cheese into a food processor and process it till smooth.
Add pasta to a hot and dry pan, then add the pesto mixture and 4 tbsp of pasta water to create a nice and thick sauce.
Season if needed then serve with more grated parmesan cheese on top.
Nutrition Information:
Yield:
6
Serving Size:
1
Amount Per Serving:
Calories:

346
Total Fat:

21g
Saturated Fat:

3g
Trans Fat:

0g
Unsaturated Fat:

17g
Cholesterol:

4mg
Sodium:

125mg
Carbohydrates:

32g
Fiber:

4g
Sugar:

1g
Protein:

8g
Nutrition information is only an estimate and can vary depending on ingredients used.
Which of the ditalini recipes have you tried so far?
Let us know in the comments below!
For more awesome pasta recipes, check out the following:
Kielbasa Pasta
Chicken Tortellini
Bow Tie Pasta
Ground Turkey Pasta
Pastina
Pappardelle
Creamy Gnocchi
Ground Pork Pasta
Share on your favorite social media platform and tag us @GloriousRecipes – we can't wait to see what you have made!