Entremet has evolved into an elegant modern-day cake dessert that's absolutely gorgeous and delicious!
It's the perfect sweet treat for any special occasion and it's bound to impress everyone with its striking visual presentation and great flavor.
From classic chocolate cakes to tropical coconut mango cakes, we've got you covered with some of the best entremet recipes that you can easily try at home!
Enjoy an incredible dessert with this Banana Dulcey Entremet that's amazingly delicious and is sure to satisfy all your sweet cravings!
Rich and velvety Dulcey chocolate combines with banana compote, hazelnut dacquoise, and dulce de leche to create a decadent indulgence that's just irresistible.
Every bite is bursting with awesome flavors and you'll have a hard time trying to limit yourself to just one slice of the cake because it's just that delectable.
This entremet is perfect for any occasion and is sure to bring in all the compliments!
Savor a fantastic dessert with this tasty entremet cake recipe that makes a delightful sweet treat with a well-balanced sweet and tart flavor!
It's an amazing combination with layers of honey custard, raspberry curd, and white chocolate bavarois all coming together really nicely and the cake is finished off with a mirror glaze and gold glitters to complete the gorgeous presentation.
Whether you have it as a tea-time treat or a tasty dessert to end a sumptuous meal, you're bound to enjoy the light yet addictive flavors of honey and raspberry.
Give it a try soon and you'll definitely not regret it!
Coffee and caramel make for an amazing combo that's super delicious and this is one of our favorite entremet recipes because of the incredible flavor!
With coffee custard, caramel biscuit, and a chocolate mousse made with Blonde Dulcey chocolate, this is a culinary masterpiece that's pleasing to the senses.
Completed with a caramel glaze, it's a beautiful cake that looks as good as it tastes, and it's sure to be a crowd-pleaser.
If you love chocolate, caramel, and coffee, this is the perfect cake for you!
This mini entremet cake is a splendid sweet treat that's incredibly tasty and will definitely tantalize your taste buds!
Layers of hazelnut Sablé Breton are combined with pistachio mousse, raspberry gel, chocolate ganache, and an impeccable raspberry glaze to create an absolutely delicious and extremely flavorful dessert.
It's a perfect blend of sweet, tart, and nutty flavors that make this such an addictive dessert with all the ingredients complementing each other really well.
This great-tasting cake will be one of your go-to desserts for a bright and tasty treat!
Inject a little Asian flair to your next dessert offering with this fantastic Mandarin Orange and Matcha Entremet that tastes out of this world!
The mandarin orange mousse is made with a mixture of mandarin orange juice, orange liqueur, sugar, custard powder, and other delightful ingredients, ensuring plenty of sweet and tangy flavors that combine extremely well together to deliver that citrus punch.
Along with layers of mandarin orange jelly and Matcha genoise sponge, plus a mandarin orange glaze, this is a sweet treat that you just can't get enough of.
With how delicious it is, you definitely need to add this mini entremet recipe to your dessert rotation!
These mini strawberry entremet cakes are eye-catching with a beautiful deep red color and a terrific taste to boot!
It's a superb assembly of lime biscuits, strawberry jellies, strawberry mousse, yogurt chantilly, and a vanilla mascarpone chantilly, plus a mirror glaze to complete this incredible dessert.
You can taste all the individual components and they meld together exceptionally well in your mouth with every bite.
If you need a dessert to impress, this is definitely one great option to consider!
No one can resist a good tiramisu and this simple entremet recipe definitely meets the expectations of an excellent cake that's amazingly delicious!
It's a well-balanced dessert with a tantalizing mix of bold flavors contributed by chocolate praline mousse, coffee syrup, coffee cremeux, and mascarpone mousse, with a coffee glaze plus truffles to complete this fantastic cake.
With a dessert that tastes this good, you can have this every day and not be sick of it because it just tastes that heavenly!
We have no doubts that this will quickly become one of your favorite entremet recipes!
These mini strawberry entremet domes are cute, elegant, and absolutely delicious, making them an ideal dessert for any special occasion!
The hazelnut crust forms a great base with an excellent texture that fully complements the combination of vanilla pasty cream insert and strawberry mousse.
Glazed with a flavorful strawberry coulis plus a garnish of sugar flower, this is a simple yet luxurious cake that's sure to please!
For a classy and elegant dessert that can impress with both its looks and taste, you've got to check out this delightful tropical cake!
The sweetness from honey is combined with the tanginess from passion fruit, creating an irresistible treat with a perfect symphony of flavors in your mouth.
Decorate with white chocolate butterflies and edible flowers to completely amp up the visuals of this incredible dessert!
It's one of those entremet recipes that you definitely want to master to level up your baking skills!
Treat yourself to a special dessert with this splendid cake that brings forth the tart flavors of blackberries with a hint of floral saffron!
It's an interesting creation with a blackberry coulis spread across between a layer of saffron crème brûlée and another layer of honey-soaked sponge cake.
A white chocolate mirror glaze helps to complete this fantastic sweet treat and the result is a cake that's light, tasty, and easily enjoyed by everyone.
It's a dessert that has a place in every meal so make sure to give it a try!
You can't go wrong with a classic Chocolate Mousse Entremet and this is one of the easiest entremet recipes that you can try to impress your friends and family!
There's no lack of chocolatey goodness with either cocoa powder or dark chocolate included in making the layers of sponge, mousse, syrup, and glaze.
With chocolate being a key component in this dessert, the secret to making it exceptional is to use high-quality dark chocolate that you'd love to eat on its own.
Serve with a topping of edible gold flakes to enjoy a luxury treat!
Enjoy a tropical delight with this fantastic entremet that combines the flavors of coconut and passion fruit to create an exceptional dessert!
With a coconut dacquoise base, a filling of coconut mousse, and a center that includes both tropical flavors, this is a terrific cake that's elevated with a topping of lime-infused ganache and a white chocolate mirror glaze.
The tropical flavors are super enjoyable and the cake makes for an excellent tea-time treat to pair with a cup of coffee or tea.
Decorate with toasted coconut flakes and fresh fruits for a stunning presentation to complete this pretty and tasty cake!
Chocolate hazelnut is a popular flavor that's widely loved due to the perfect blend of rich and nutty flavors that work so well together and it's no different in this lovely mousse cake!
No fancy ingredients are required in this simple entremet recipe and the mousse can be made with a combination of instant espresso, chocolate hazelnut spread, water, and whipping cream.
With a chocolate cake base topped with chocolate hazelnut mousse and chocolate ganache, this is a rich and decadent dessert that's perfect for those with a sweet tooth.
There's nothing not to like about this pretty and tasty cake!
Grace your taste buds with these mini entremet domes that look absolutely lovely and taste fantastic!
Within the layers of coconut milk cake and coconut mousse house a delightful mango juice that has been puréed and strained, and it's a wonderful mix of tropical flavors with every bite.
It's finished off with a white chocolate glaze that really enhances the taste of the cake and helps to elevate it from good to great!
Decorate with coconut and gold flakes to give it a beautiful presentation that befits the incredible flavors of this sweet treat!
This exquisite cake is a classy and elegant sweet treat that's loaded with delectable flavors from chocolate and caramel!
The bitter tang from cacao nibs is balanced with the sweetness contributed by salted caramel and white chocolate, creating a terrific dessert that's perfect to end meals with.
It's a visual treat with a decoration of chocolate rings, chocolate pearls, and edible flowers to contrast against the white chocolate glaze.
With exceptional taste and gorgeous looks, this is a dessert experience like no others!
Reward yourself with the bold fruity flavors of a remarkable cake that's absolutely delicious and one of the best entremet recipes that you can try because of how addictive this cake is!
The sweet mangoes are perfectly balanced with the zesty calamansi, and every mouthful of this pastry brings a refreshing sensation that you just can't get enough of.
A light coconut sponge cake serves as the base to let the two main flavors shine and everything comes together extremely well to create a divine treat.
It makes for the perfect end to a fabulous meal and it's a dessert that you absolutely need to try!
This gluten-free and vegan entremet cake is a must-try for all dessert lovers with two wildly popular flavors coming together to create an amazing sweet treat!
It's a 3-layer cake that consists of a chocolate cake at the base, followed by a layer of chocolate mousse, and finally passion fruit mousse.
The rich chocolatey flavors are offset by the tangy flavor of passion fruit, creating an easily enjoyable and delightful dessert.
With a decoration of fresh passion fruit and flowers, you'll have a stunning cake that's bound to impress!
Chocolate, orange, and nuts make an awesome combo that you never knew and you absolutely need to give this cake a try because it's amazingly delicious!
With layers of hazelnut dacquoise, hazelnut praliné feuilletine, almond cacao sponge cake, chocolate cream, and orange cream, this is a gem of a dessert that's sure to satisfy.
The top layer has a light orange flavor that works its way down to the rich and nutty layers, making it a fascinating and tasty sweet treat.
Finish off with a topping of candied orange slices and enjoy this splendid dessert that's definitely one of our favorite entremet recipes!
Get ready for a festive dessert so delicious that you'll probably want to eat it the whole year round!
Enclosed within the mesmerizing red layer of mirror glaze lies a delectable chocolate pecan crumb crust topped with velvety chocolate crémeux, salted caramel, and a caramel mousse.
It's an incredible combination that'll whet your appetite and the mini size will just make you crave a second serving.
Serve this for your next meal and be prepared to be showered with compliments!
Level up your dessert rotation with these fantastic Pistachio Vanilla Entremets that are incredibly mouth-watering!
It's a terrific combination of layers with pistachio sponge, vanilla mousse, strawberry-raspberry jelly, and white chocolate pistachio mousse all contributing to this phenomenal cake.
The light, nutty, sweet, and tart flavors come together really nicely and it's a delectable treat that you'll definitely enjoy!
At Glorious Recipes, we have our favorite Spiced Chocolate Mousse Entremet that we absolutely adore and it tastes heavenly! Check out the recipe below!
Yield: 12
Spiced Chocolate Mousse Entremet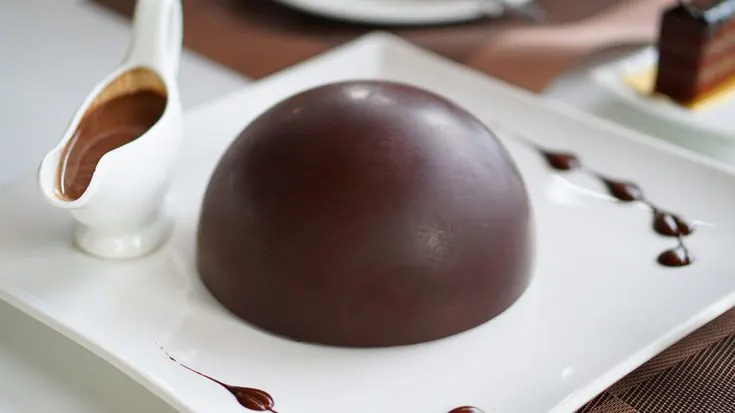 This glorious Spiced Chocolate Mousse Entremet is absolutely delicious with rich and bold flavors that everyone will surely enjoy!
Prep Time
5 hours
30 minutes
Total Time
5 hours
48 minutes
Ingredients
Cinnamon Chocolate Sponge
2 oz unsalted butter (57g)
½ tsp instant espresso (1g)
4 egg yolks
¼ cup + 2 tbsp dark brown sugar, packed and divided (81g)
4 tbsp cocoa powder (28g)
3 tbsp all-purpose flour (27g)
2 tsp cornstarch (6g)
1 tsp ground cinnamon (5g)
3 egg whites
⅛ tsp fine salt (1g)
Spicy Chocolate Mousse
2 tsp powdered gelatin (6g)
2 tbsp + 2 tsp cold water (40ml)
1⅓ cup heavy cream, divided (320ml)
½ cup whole milk (120ml)
1 cinnamon stick
½ tsp ground cayenne (4g)
⅔ cup dark brown sugar, packed and divided (145g)
4 strips orange peel
½ tsp vanilla extract (3ml)
1⅓ cup dark chocolate chips (151g)
⅛ tsp sea salt (1g)
2 egg yolks
fresh cherries or raspberries
Chocolate Ganache
1½ cup dark chocolate, chopped (255g)
2 tbsp light corn syrup (30ml)
1 cup + 1 tbsp heavy cream (255ml)
Garnish
fresh cherries or raspberries
melted dark chocolate (for drizzling)
Instructions
Cinnamon Chocolate Sponge
Melt butter in microwave, then add instant espresso. Stir to combine well, then let it cool down to room temperature.
Using a mixer, whisk egg yolks and half of the sugar, around 4 minutes, till thick. Transfer to a separate bowl and clean the mixer.
Add cocoa powder, all-purpose flour, cornstarch, and ground cinnamon to a bowl and whisk.
Add egg white, remaining sugar, and salt to mixer bowl and whisk until glossy peaks form.
Fold egg white mixture to egg yolk mixture. Then fold dry mixture to egg mixture.
Fold butter to batter in 3 batches. Transfer to baking sheet and smooth out across. Bake at 350°F (180°C) for around 8 minutes. The cake should be springy when pressed gently. Let it cool.
Use a cookie cutter to cut out pieces around 3-4 inches (should be smaller than mould).
Spicy Chocolate Mousse
Let the gelatin bloom by sprinkling onto a bowl of cold water. Set aside.
Add ¾ cup (180 ml) heavy cream, milk, cinnamon, cayenne, half of the sugar, and orange peel to a pot over medium heat. Heat till mixture simmers then remove the pot. Add vanilla extract and stir well to combine. Add gelatin and stir well till fully dissolved. Cover the pot with wrap and set aside for a minimum of 10 minutes.
Add chocolate chips to a bowl and melt using a double-boiler.
Whisk egg yolks with remaining sugar in a large bowl until sugar is dissolved. Add some of the cream mixture to the egg mixture but continue whisking so as not to cook the eggs. Repeat until all the cream mixture has been incorporated. Strain half of the whisked mixture over melted chocolate and stir gently until fully incorporated. Then repeat for the remaining cream mixture. Discard cinnamon and orange peel. Cover the chocolate mixture with plastic wrap and refrigerate for at least 2 hours.
When chocolate mixture is cold enough, remove from refrigerator and set aside till it reaches room temperature. Whisk until the mixture becomes smooth. In a separate bowl, whisk remaining heavy cream until medium peaks form. Fold in the heavy cream to the chocolate mixture in 3 batches.
Spoon mousse into moulds then gently press in fruit to center of mousse if using. Add a little bit more mousse to cover the fruit, then scrape off excess. Gently press previously cut chocolate round onto mousse, then place in freezer for about 3 hours to let everything harden up.
Carefully flip the frozen moulds onto a baking sheet lined with parchment paper to remove them. Transfer them to a wire rack, then place the wire rack on baking sheet. Refreeze domes for additional 10 minutes while we work on the ganache.
Chocolate Ganache
Add heavy cream to a pot over medium heat and wait until it simmers. Add syrup and stir well, then remove pot from heat. Add chocolates to a separate heatproof bowl. Pour half of the melted cream mixture over chocolate and let it sit for 30 seconds. Slowly stir from center outwards until the chocolate is nearly fully melted. Pour in remaining cream mixture and stir well till smooth. Set aside to cool for 10 minutes.
Remove the domes from freezer, then spoon ganache with a ladle over the domes until fully covered. The baking sheet will catch the excess. Put in refrigerator to harden, then garnish with golden flakes or fruits.
Serve and enjoy!
Nutrition Information:
Yield:
12
Serving Size:
1
Amount Per Serving:
Calories:

513
Total Fat:

32g
Saturated Fat:

19g
Trans Fat:

0g
Unsaturated Fat:

11g
Cholesterol:

139mg
Sodium:

95mg
Carbohydrates:

50g
Fiber:

4g
Sugar:

40g
Protein:

7g
Nutrition information is only an estimate and can vary depending on ingredients used.
Which of the entremet recipes have you tried so far?
Let us know in the comments below!
For more awesome dessert recipes that you might like, check out the following:
Mango Pie
Polvoron
Mini Donut
Mulberry
Sour Cherry
Mini Bundt Cake
Ninja CREAMi
Yonanas
Dash Waffle Maker
Whipped Cottage Cheese
Share on your favorite social media platform and tag us @GloriousRecipes – we can't wait to see what you have made!