Get ready to indulge in the delightful world of polvorones, which are crumbly shortbread cookies that are incredibly delicious!
Originating in Spain, this special sweet treat is also popular in Latin America and the Philippines, with various regional variations.
They are great as a holiday delicacy but can be enjoyed all year round as they have a flavor and texture that are sure to be a crowd-pleaser!
From horchata to black sesame flavors, we've got you covered with some of the best polvoron recipes that you can easily try at home!
This Filipino polvoron recipe is an absolute must-try in our books because these cookies are super easy to make and they taste fantastic!
Made by combining toasted almond flour, milk powder, coconut sugar, melted butter, and a variety of spices that gives you the familiar Christmas flavor, this is a sweet treat you never knew you needed.
The polvorones are then dipped in a mixture of dark chocolate and coconut oil to give them a coating that makes them even more appetizing!
The best part is that there's no baking involved so you can enjoy these awesome cookies in no time at all!
For something a little different, try out one of our favorite polvoron recipes that makes exceptionally tasty cookies!
The batter is made simply by combining flour, pecans, sugar, salt, butter, vanilla extract, and egg yolk, after which the cookies are baked until nicely browned.
They are then filled with a combination of Muscovado sugar and heavy cream, plus a simple garnish of rosemary sprig to complete this mouthwatering treat.
These beautiful cookies are sure to bring in compliments with both their amazing look and taste!
Keep it simple with this Mexican polvoron recipe that doesn't contain nuts and requires only 3 basic ingredients to make!
All-purpose flour, shortening, and confectioners' sugar are all you need to bake these delicious cookies and they are wonderfully delicate and crumbly!
These polvorones are a type of pan dulce, or Mexican pastries, and can commonly be found in Mexican bakeries.
Now you get to enjoy the splendid taste of this elegant sweet treat right in the comfort of your home!
Sign us up for these terrific cookies that are superbly tasty and are sure to tantalize your taste buds!
With nutmeg and cinnamon used in the making of the cookie dough, these cookies are filled with warm flavors that make them incredibly addictive.
Ground almonds and orange zest help to add complexity to the cookies and these delightful treats are finished off with a dusting of powdered sugar and spices to make them extra delectable.
They are unbelievably delicious so be warned, once you start, you just can't stop!
If you love all things nuts, you've got to check out this simple but outstanding recipe that makes awesome cookies!
This Filipino polvoron variation combines almond flour and ground pecans to make cookies loaded with a nutty flavor that you're bound to fall in love with.
With no baking required for these cookies, this is as easy as it can get!
Along with powdered milk, sugar, and butter, these cookies are made with basic ingredients that you can easily source from your local grocery store so make sure to give them a try!
Jazz up your polvorones with cashew in this fantastic no-bake recipe that you definitely don't want to miss out on!
It's a delectable combination of toasted flour, powdered milk, ground cashew, sugar, and melted butter, all mixed and molded into elegant oval-shaped cookies.
This delightful sweet treat is perfect for the family and everyone will definitely be fighting for seconds with how delicious it is!
Give this a try and you'll definitely not be disappointed!
Shake things up a little and try making these amazing Ube Polvorones that use the unique purple yam to make eye-catching desserts!
Ube powder is mixed with flour, baking powder, sugar, and melted butter before being baked in the oven until beautiful cookies are formed.
They are exceptionally delicious with a rich flavor that's thoroughly enjoyable and you'll be craving to snack on them all day long!
With an alluring purple hue, how can you resist these exquisite shortbread cookies?
If you're a fan of cookies and cream, you've got to check out these phenomenal polvorones that are exceptionally scrumptious!
With toasted flour, ground chocolate wafer, milk powder, sugar, and browned butter, it just can't get any better!
All the ingredients come together really well and their delicate texture makes them extremely pleasant to the taste buds.
We have no doubts that this will quickly make its way to your list of favorite polvoron recipes with how delicious these cookies are!
Add a little something special to your shortbread cookies with this remarkable recipe that you'll want to keep handy!
The secret ingredient used here is ground black sesame and it adds a fabulous nutty and earthy flavor that brings these cookies to another level.
These cookies are super tasty and they are sure to be a hit with the crowd with their unique and superb flavor.
They make for an excellent snack or dessert that's perfect any time of the day!
Level up your baking game with these Horchata Polvorones that are amazingly delicious and will definitely impress your friends and family!
It's a lovely marriage of almonds, cinnamon, oat flour, cane sugar, brown sugar, xanthan gum, and other delightful ingredients to create something truly special that taste out of this world.
Baked until nicely browned and finished with a coating of confectioners' sugar, these cookies are absolutely irresistible!
It's a heavenly combination of flavors and textures and you definitely got to try this wonderful recipe!
Experience familiar fall flavors with these brilliant Pumpkin Polvorone cookies that are sure to whet your appetite!
Made with pumpkin purée, cinnamon, ginger, cloves, pecans, and other lovely ingredients, these cookies taste absolutely divine.
They take little effort to make and these sweet babies have a high satisfactory level with their impeccable taste and texture!
These cookies are perfect for the fall season but with how delicious they are, you'll be making them all year round!
Inject a little savory flavor to your cookies with this splendid recipe that incorporates Parmesan cheese into the sweet treat!
Along with toasted flour, powdered milk, salt, sugar, and butter, the ingredients are combined to form tasty cookies that have a well-balanced flavor.
It's a quick and easy no-bake recipe that's straightforward to follow and you'll have a bunch of flavorsome cookies before you even know it.
This is definitely one of those polvoron recipes that you'll want to try because of how awesome the cookies taste!
Grace your taste buds with an excellent sweet treat that'll have you smiling with joy because of its amazing flavor!
Almond and cardamom make for an unlikely combination but they both help to add complexity to the flavor of these heavenly cookies.
Every bite is filled with immense depth and you'll find that they taste extraordinary for something seemingly so simple to make.
This might be one of the most satisfying cookies that you'd have ever come across, so definitely give them a go!
Spruce up your next meal with these beautiful Mexican Pink Cookies that taste as good as they look!
They are made with a simple combination of flour, shortening, sugar, egg, vanilla extract, salt, and baking powder, all baked until tasty cookies are formed.
With the help of food coloring, an alluring pink hue is achieved and they help to make these cookies look extremely attractive.
They are perfect as a mid-day snack or as a post-dinner sweet treat, but you'll likely munch on them all day long because they are just that delicious!
If you're a fan of peanuts, make sure to give this simple polvoron recipe a try!
It involves combining chopped peanuts, toasted almond flour, sugar, salt, powdered milk, and melted butter, and then shaping them and cooling them until they are firm.
It's effortless to make and you'll be enjoying mouthwatering, crumbly, and delicate cookies that are incredibly delicious.
Serve them at your next gathering and be prepared to be showered with compliments because they taste extremely good!
Everyone will be amazed at how simple it is to make these tasty cookies!
Indulge in these terrific cookies that are sure to delight your taste buds with their excellent flavor!
Orange zest and ground anise are used in the making of these lovely cookies and they impart their distinct aroma to elevate the cookies to the next level.
These polvorones are extremely delicious and they are finished off with a dusting of cinnamon powder to add even more depth to the flavor.
With how delectable they are, this is definitely one of our favorite polvoron recipes as well!
If you're a chocolate lover, you've got to check out these fantastic candies or cookies, depending on how you view them!
Cacao powder, toasted flour, sugar, and powdered milk are combined with melted butter to create a dough that is then shaped into bite-sized pieces and coated with dark chocolate.
Their perfect size and flavor make them an absolutely delightful treat and they are incredibly addictive!
Popular in the Philippines, especially with kids, these are great as gifts or snacks that you can indulge in any time of the day!
Go wild and enjoy different flavors with this extraordinary recipe that guides you to make 4 flavored cookies easily!
Take your pick from raspberry, blackberry, black sesame, or coconut-lavender, with each flavor having its own distinct fragrance that sets them apart from each other.
The base recipe is the same and all you need to do is add the respective ingredients, such as blended raspberries or blackberries, while mixing with toasted flour, powdered milk, sugar, and butter.
With unique cookie cutters, you can create enchanting polvorones that are sure to be the talk of the town thanks to their awesome look and taste!
At Glorious Recipes, we have our favorite Easy Polvoron (No-Bake) that we absolutely adore and it tastes heavenly! Check out the recipe below!
Yield: 13
Easy Polvoron (No-Bake)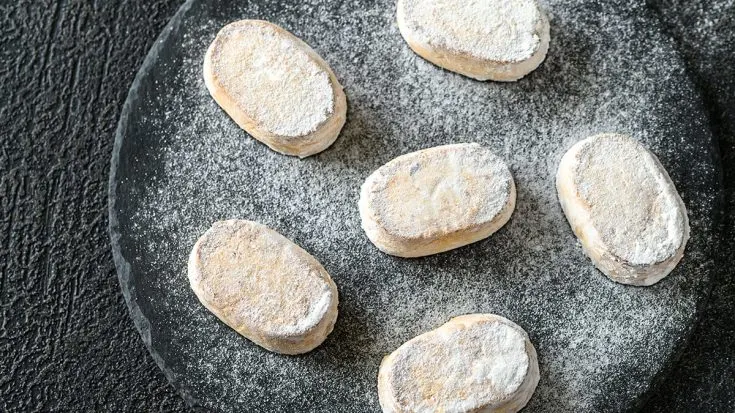 These no-bake polvoron cookies are exceptionally delicious with a crumbly texture that's super satisfying!
Ingredients
142g butter, unsalted
130g all-purpose flour
100g granulated sugar
60g powdered milk
35g malted milk powder, optional
pinch of salt
confectioners' sugar, for dusting (optional)
Instructions
Add butter to a microwave-safe bowl. Microwave in 20-second increments until butter is fully melted.
Add flour to a skillet over low heat. Whisk constantly to prevent burning. Toast for around 10 minutes, then transfer flour to a bowl to let it cool for around 5 minutes.
Add flour, sugar, milk powders, and salt to a separate bowl while waiting for flour to cool. Add this mixture to the flour and whisk to combine well. Add warm melted butter and fold the mixture until a crumbly mixture is achieved.
Use a cookie cutter or mold to stamp out the cookies. Place the cookies on a parchment-lined baking dish that is freezer-safe. Place in the freezer for 5 minutes to let the cookies harden. Take it out and dust with confectioners' sugar, if using. Place it back in the freezer for another 5 minutes to let the cookies set. Enjoy!
Nutrition Information:
Yield:
13
Serving Size:
1
Amount Per Serving:
Calories:

208
Total Fat:

9g
Saturated Fat:

6g
Trans Fat:

0g
Unsaturated Fat:

3g
Cholesterol:

24mg
Sodium:

42mg
Carbohydrates:

29g
Fiber:

0g
Sugar:

21g
Protein:

3g
Nutrition information is only an estimate and can vary depending on ingredients used.
Which of the polvoron recipes have you tried so far?
Let us know in the comments below!
For more awesome dessert recipes that you might like, check out the following:
Mango Pie
Mini Donut
Entremet
Asian Pear
Mulberry
Sour Cherry
Mini Bundt Cake
Yonanas
Dash Waffle Maker
Whipped Cottage Cheese
Share on your favorite social media platform and tag us @GloriousRecipes – we can't wait to see what you have made!