Potato tacos are one of life's greatest joys and if you haven't tried them yet, you don't know what you're missing out on!
The comforting potatoes make for an amazing base to showcase your culinary creativity and you can easily keep it vegan-friendly or pair them with your favorite meat for delicious tacos.
With bold flavors and a variety of textures, the versatility of potato tacos ensures that Taco Tuesdays will never be the same again!
Whether you prefer soft or crispy tacos, we've got you covered with some of the best potato taco recipes that you can easily try at home!
This Mexican Potato Taco recipe is so simple to follow and it makes incredibly tasty tacos that you're bound to love!
Filled with a mix of mashed potatoes and crumbled cheese, the tortillas are then fried until nicely brown and crispy, creating an absolutely mouthwatering delight.
They are topped with lettuce, onions, and more cheese, with a drizzle of a flavorsome sauce containing tomatoes, paprika, garlic, oregano, and pepper to make them extra delicious.
These crispy fried potato tacos have a great flavor and texture, plus it's easy on the wallet, making them perfect for an awesome budget meal!
Sign us up for these splendid ground beef and potato tacos that taste absolutely heavenly!
These tacos are filled with a combination of cheddar cheese, potato chunks, dill pickles, and ground beef seasoned with spices such as cumin, paprika, oregano, and garlic powder.
Everything comes together really nicely and they help to create an extremely flavorsome dish that you just can't get enough of.
It's amazing that something so delicious can be so easy to make!
Expand your vegan options with these Crispy Poblano and Potato Tacos that are sure to whet your appetite!
It's a delectable combination of roasted poblano peppers, potatoes, and refried beans, all wrapped in corn tortillas and baked until nicely crisp.
Paired with a vegan sauce that consists of vegan mayonnaise, garlic, parsley, lime juice, and lime zest, these tacos are incredibly delicious!
Add your favorite toppings to make them even more wholesome!
It's one of those easy potato taco recipes that you definitely have to try it!
Spice up your next meal with these sweet potato tacos that are superbly tasty and are sure to tantalize your taste buds!
Your air fryer will come to good use in this recipe because the filling mixture of sweet potatoes, cauliflowers, and jackfruit is all air-fried until everything is fully cooked and crispy.
The addition of a carrot cabbage slaw and an awesome curry sauce made with curry powder, turmeric, cumin, paprika, coriander seeds, and other lovely ingredients, renders these tacos absolutely irresistible!
Even non-vegans will love how incredible these tacos taste so make sure to give this potato taco recipe a try!
Try your hands at making these excellent sweet potato tacos filled with incredible flavors that you definitely don't want to miss out on!
Sweet potatoes are made tasty with a mix of spices that includes garlic powder, chipotle powder, cumin, paprika, and oregano, and they are combined with poblano peppers and black beans to form the taco filling.
Cilantro, jalapeños, avocado, cheese, and a flavorsome crema made with Greek yogurt, salt, mayonnaise, and lime zest help to add tons of refreshing flavors that make these tacos extremely delicious.
Baked until crispy, these tacos are healthier than their deep-fried counterparts so you can indulge in them without feeling overly guilty!
If you're looking for a power-packed breakfast, look no further than this Crispy Potato, Egg, and Cheese Taco!
Grated russet potatoes, cheddar cheese, and egg come together in this fantastic dish with the mixture wrapped in warm tortillas to create a delicious and flavorful taco.
The mixture is cooked in a skillet until the exterior of the grated potatoes and cheese becomes crispy and thoroughly enjoyable!
Squeeze a little lime and you'll be devouring everything before you even know it!
Reward yourself with these terrific tacos that are amazingly delicious, easy to make, and vegetarian-friendly!
Roasted sweet potatoes are combined with avocado, feta cheese, and a flavorsome apple radish slaw to create a taco filling that works really well to complement each other's flavor.
These tacos taste fantastic on their own but you can easily tweak it if you're a meat-lover by adding your favorite protein!
It's a versatile dish that you'll definitely want to keep handy!
Discover the secrets of making the popular Taco Bell Spicy Potato Taco with this simple copycat recipe that you're sure to love!
This dish features tacos filled with deep-fried potatoes that have been coated with a mix of flour, paprika, onion powder, garlic powder, and cayenne pepper, plus a wonderful spicy chipotle sauce that adds loads of wonderful flavors.
Topped with shredded cheddar cheese and lettuce, these tacos are super yummy and take little effort to whip up!
Now you can make Taco Bell's delicious vegetarian taco in the comfort of your home!
These outstanding Chorizo and Potato Tacos are supremely delectable and definitely one of our favorite potato taco recipes!
Potatoes, chorizo sausage, onion, and garlic are given a simple sauté and they form the main filling of these tacos that are topped with cilantro, freshly diced onions, and a blended mix of avocado and salsa verde.
It's incredible that something so palatable can be so easy to make and they can be prepared within 30 minutes, making them perfect for an awesome weeknight dinner!
Give them a try and you'll not be disappointed with their remarkable flavors!
Amplify your next meal with these fantastic Maple Glazed Sweet Potato Tacos that taste absolutely exceptional!
Filled with an assortment of roasted sweet potatoes glazed with maple syrup, chickpeas spiced with chili powder and smoked paprika, crunchy radish, pickled onions, avocados, and rich cashew crema, these tacos are a mouthwatering delight!
It's a heavenly combination of flavors and textures that makes this an unbeatable dish and it's sure to be a hit with the crowd.
Serve these vegan potato tacos at your next gathering and be prepared to be showered with plenty of compliments!
Dig into these superb Sweet Potato Black Bean Tacos that are super tasty, vegan-friendly, and really easy to make!
It's a lovely combination of roasted sweet potatoes, black beans, and a coleslaw mix, all wrapped in warm corn tortillas.
The potatoes are spiced with paprika and cumin before being roasted until tender and the coleslaw is given a boost with vegan mayonnaise, lime juice, and a little chili powder.
These tacos are refreshingly simple but filled with awesome flavors that everyone will love!
Grace your taste buds with these amazing tacos that are filled with healthy ingredients and they are so delicious!
This dish features a mix of potatoes, red onions, jalapeños, and bell peppers that are made flavorsome with taco seasoning before they are roasted in the oven until cooked and tender.
An appetizing chimichurri made by blending parsley, cilantro, garlic, jalapeño, onion, red wine vinegar, and olive oil is added to impart tons of incredible flavor to the tacos.
Finish off with a topping of fresh cilantro and a squeeze of lime before serving for maximum enjoyment of this exceptional dish!
In what is one of our favorite potato taco recipes, this Ethiopian-inspired dish brings together some of our beloved ingredients to create excellent tacos that taste glorious!
Featuring fonio spiced with berbere, and a combination of maple-glazed roasted chickpeas and sweet potatoes, these tacos are incredibly scrumptious.
Add a flavorsome mint yogurt sauce into the mix and you have a dish that's refreshing and superbly delicious.
With how tasty they are, these baked potato tacos are a must-add to your taco rotation!
Level up your taco game with these sensational Chipotle Sweet Potato Quinoa Tacos that taste absolutely divine!
It's a lovely marriage of roasted sweet potatoes, herb tomatoes, and poblano peppers that are made extra tasty with a variety of spices and herbs, plus the addition of quinoa, black beans, and a homemade chipotle sauce to create something truly special.
Wrapped in perfectly charred tortillas, these tacos are extremely delicious and are sure to bring a smile to your face!
You might just have a new favorite taco after your first bite because they are just that good!
If you're craving some meat, you've got to check out these Ancho Pork and Potato Tacos that are really easy to whip up!
This dish involves seasoning the pork and potatoes with a mix of ancho chili powder, cumin, salt, and pepper before cooking them in a skillet to create the main taco filling.
Assemble the tacos with warm tortillas and add your favorite toppings to create an easy but delicious meal!
Fresh cilantro, salsa, sour cream, and lime juice all make great options for awesome toppings!
Get the best of both worlds by using regular potatoes and sweet potatoes to create fabulous tacos!
Baked until fork-tender, the potatoes are then combined with cheese, onions, chipotle chilies, smoked paprika, cumin, coriander, oregano, and balsamic vinegar before the mixture is used to fill tortillas.
The tortillas are then heated on the skillet to warm them up and let the cheese melt, creating an irresistible dish that you definitely need to try!
There's nothing not to like about this easy baked potato taco recipe!
It's one of the easiest potato taco recipes that you can try!
Impress your friends and family with homemade quinoa tortillas in this awesome recipe that you'll want to have in your repertoire!
Filled with a mix of potatoes, black beans, Brussels sprout slaw, garlic, onion, and cilantro, these tacos are extremely tasty and wholesome.
You can vary the toppings to keep these tacos refreshing and some of our favorites include salsa, avocado, and even hot sauce!
These vegan potato tacos are easier to make than they sound so make sure to give them a try!
Treat yourself to these phenomenal tacos that are incredibly moreish and not difficult to make at all!
These tacos are filled with roasted cauliflower florets and sweet potatoes that are seasoned with a variety of spices, black beans, and smashed avocados, plus a drizzle of chipotle cashew crema that helps to elevate the dish to another level.
They are extremely delectable and everyone will be fighting for seconds because of how delicious they are!
We have no doubts that this will quickly make its way to your list of favorite potato taco recipes!
Another taco recipe that you can use to level up your cooking skills is these splendid Sweet Potato Pecan Tacos that are crazy delicious!
If homemade cassava tortillas filled with roasted sweet potatoes and pecans seasoned with taco seasoning, then topped with pickled cabbage, cilantro, and cashew sour cream sounds good to you, then you've got to try this wonderful recipe!
These heavenly-tasting tacos are full of depth and complexity, and they are sure to be a family favorite with how tasty they are!
They are perfect for an awesome vegan meal any day of the week!
Whip up a fantastic meal with these Crispy Potato Tacos that are quick and easy to make!
Diced potatoes seasoned with a blend of paprika, cumin, coriander, garlic, and basil are roasted in the oven until they are tender and they are combined with a sautéed mix of bell peppers, chipotle peppers, and lentils to form the taco filling.
Topped with lettuce, pickled onions, and avocado, these tacos are super tasty and they are easy on the wallet as well!
If you're looking for a delicious budget meal, these tacos definitely fit the bill!
At Glorious Recipes, we have our favorite Easy Black Beans Potato Tacos that we absolutely adore and they taste heavenly! Check out the recipe below!
Yield: 5
Easy Black Beans Potato Tacos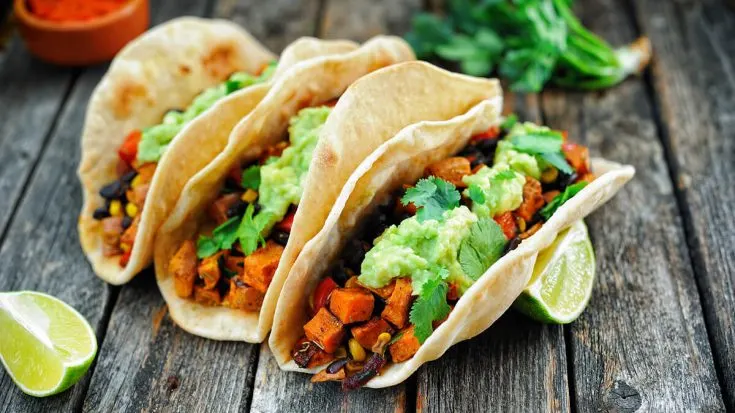 Enjoy delicious Black Beans Potato Tacos that are vegan-friendly and super easy to make!
Ingredients
2 cloves garlic, minced
1 small white onion, diced
2 medium sweet potatoes or regular potatoes, diced
1 tomato, diced
1 tbsp taco seasoning
1 can black beans, rinsed and drained
fresh cilantro
1 avocado, mashed
1 tbsp lime juice
salt, to taste
10 tortillas
Instructions
Add 3 tablespoons of water to a skillet over medium heat. Add garlic and onion, then sauté until fragrant and onions become translucent, around 3-4 minutes.
Add potatoes, tomato, and taco seasoning. Toss to combine well. Cover the skillet and let the potatoes cook, adding more water if required to prevent burning. Stir occasionally as it will take around 10 minutes to cook the potatoes.
In the meantime, prepare your avocado. Mash in a bowl and add lime juice and salt to taste. Set aside.
Once potatoes are done, add black beans to warm through for about a minute. Remove skillet from heat and set aside.
Warm the tortillas either by using a non-stick skillet or the oven. Assemble tacos by scooping potato mixture onto a piece of tortilla. Top with mashed avocado and cilantro. Add additional toppings according to personal preference. Serve and enjoy!
Nutrition Information:
Yield:
5
Serving Size:
1
Amount Per Serving:
Calories:

551
Total Fat:

13g
Saturated Fat:

3g
Trans Fat:

0g
Unsaturated Fat:

10g
Cholesterol:

0mg
Sodium:

1059mg
Carbohydrates:

93g
Fiber:

15g
Sugar:

5g
Protein:

17g
Nutrition information is only an estimate and can vary depending on ingredients used.
Which of the potato taco recipes have you tried so far?
Let us know in the comments below!
For more awesome recipes that you might like, check out the following:
The Little Potato Company
Canned Potato
Soyrizo
Chicken Salad Chick Broccoli Salad
Golden Beet
Deviled Eggs
Pork Cutlet
Lamb Breast
Smoked Duck
Grand Marnier Cocktails
Share on your favorite social media platform and tag us @GloriousRecipes – we can't wait to see what you have made!