Roma tomatoes are a popular variety of tomatoes that have a low water content, thick walls, and a slightly sweet flavor!
They are a prized ingredient for making sauces and in dishes where you don't want too much moisture, plus they are packed with tons of vitamins and minerals that are great for the body.
If you need to add bright flavors or a touch of color to your dish, Roma tomatoes are perfect for the job!
From tasty sauces to delicious pasta, we've got you covered with some of the best Roma tomato recipes that you can easily try at home!
Whip up an awesome starter with these Roasted Roma Tomatoes that are incredibly easy to make and taste absolutely amazing!
This simple appetizer involves tomatoes coated with a blend of olive oil, garlic, thyme, and salt, all roasted in the oven until they become tender with intensified flavors.
Everyone will be fighting for seconds and you'll be gobbling these babies down like no tomorrow because they are just that delicious!
You can also incorporate them in salads or pizza to give them a simple upgrade!
For something a little bit more elaborate but still super easy to make, you've got to check out these Garlic Parmesan Baked Tomatoes that taste fantastic!
Roma tomatoes are first cut into halves and tossed in oil before being topped with salt, pepper, garlic, panko breadcrumbs, Parmesan cheese, and parsley.
The oven does all the cooking for you and you'll come back to superbly tasty baked tomatoes that are juicy, cheesy, and just irresistible.
With how easy it is to make, it's definitely one of our favorite Roma tomato recipes!
Enjoy a light pasta dish that's exceptionally tasty and super easy to make with only 4 main ingredients required!
The Roma tomato pasta sauce is made from scratch and it's a delectable combination of tomatoes, garlic, and fresh basil, cooked down into a flavorful sauce.
Add al dente penne into the mix and you have an awesome pasta dish that's perfect any day of the week!
Top with Parmesan cheese before serving to enhance the flavors further!
Impress your friends and family with this excellent dish that's loaded with great flavors and it's a visual treat to boot!
Featuring mozzarella cheese and fresh basil leaves stuffed into slits that have been cut into tomatoes, plus a topping of pesto sauce and olive oil, this is a mouthwatering dish that's perfect for an awesome appetizer or side dish.
It's so easy to make with only a few ingredients and the herbaceous flavor from the pesto sauce helps to elevate the dish to another level.
Give it a try and you'll definitely not be disappointed!
This bruschetta is a must-add to your cooking repertoire because it's one of the best-tasting starters that's also incredibly easy to whip up!
It's a delectable mix of Roma tomatoes, sun-dried tomatoes, garlic, basil, and balsamic vinegar atop crusty bread slices and they taste so good.
Every bite is a heavenly taste sensation that's sure to bring a smile to your face because of how delicious this bruschetta is!
You'll definitely develop a craving for it once you've taken your first bite!
Savor an awesome pasta with this Linguine alla Caprese that's loaded with bright and vibrant flavors that are sure to whet your appetite!
In this terrific dish, al dente linguine is tossed in an extremely flavorsome sauce that's made with a combination of tomatoes, chicken stock, garlic, and red pepper flakes.
It's completed with a garnish of freshly chopped parsley and this easy recipe is perfect for a splendid weeknight dinner because everything can be whipped up in under 30 minutes!
There's no reason not to try out this quick and easy Roma tomato recipe!
Sip on this fantastic Roma Tomato Soup that's creamy, delicious, and super comforting!
It's a lovely combination of garlic, onion, vegetable broth, and tomatoes, all blended until a purée is achieved before heavy cream is added to make it extra creamy.
Be warned, this soup is extremely addictive!
Once you start, you just can't stop!
Serve with some homemade crusty bread to maximize your enjoyment of this tasty soup!
Try your hands at making this incredible Roma tomato jam that's the perfect condiment for adding to almost any dish to give a boost in flavor!
Made simply by simmering tomatoes in a pot with apple cider vinegar, onion, sugar, and other lovely spices, this is a recipe that even beginner home cooks should have no trouble with.
It's sweet and savory with just the right amount of spice to it and you can use it to add a burst of flavor to crackers, toasts, and other dishes.
Simple and delicious, just the way we like it!
Grace your taste buds with these amazing Mexican Meatballs smothered in an extremely flavorsome tomato sauce that's loaded with tons of incredible flavors!
The meatballs are already very tasty on their own with ground pork, breadcrumbs, cumin, coriander, and other ingredients combined but the highlight is the sauce that's made by blending roasted Roma tomatoes, chipotle peppers, adobo sauce, garlic, and oregano together.
It's the perfect blend of spices and seasonings with fantastic ingredients that make it a mouthwatering delight.
Garnish with cilantro before serving and enjoy an outstanding meal with this recipe!
Tomatoes and tart make for a terrific combo and this savory tart is an absolute must-try in our books!
Featuring a Parmesan tart shell and a filling of herbed soft cheese and marinated Roma tomatoes, this dish is the ultimate comfort food.
The seasonings of the marinade help to provide depth to the flavor of the tomatoes and you'll love how tasty they are with every bite.
Whether you serve it for brunch or as a side dish, you're sure to enjoy the lovely taste of this delicious tart!
Recreate the exotic flavors of Nigerian cuisine with this chicken stew that's sure to tantalize your taste buds!
Perfectly cooked chicken is smothered in a flavorful red sauce that's made with a bunch of lovely ingredients that include tomatoes, bell peppers, habanero peppers, aromatics, and herbs.
All the flavors combine really nicely together and it can be turned into a wholesome meal simply by serving it with rice or your favorite carbs!
If you love rich and bold flavors, you will love this delicious stew!
Get ready for Mexican night with these fantastic Entomatadas that are amazingly delicious!
If you haven't had it before, it's basically enchiladas in a tomato-based sauce!
Fried tortillas are coated in homemade salsa and stuffed with queso freso and refried beans in this superb dish, and they are made even tastier with a topping of cilantro and Mexican crema.
Packed with incredible flavors and textures, this is definitely one of our favorite Roma tomato recipes!
Keep things simple with this excellent Caprese Salad that combines some of our favorite ingredients in one dish!
Arranged neatly in a sequence of sliced tomato, sliced mozzarella cheese, and fresh basil leaves, this salad is given a drizzle of a mix of balsamic vinegar and olive oil to complete it.
That's all it takes to make this tasty salad and it just can't get any easier than that!
You'll love the bright flavors of this fantastic Roma tomato salad!
This is another easy tomato salad that you can try to keep your salad rotation refreshing and it's so simple to make!
Chopped tomatoes are combined with garlic, olives, oregano, and olive oil in this salad and the complementary flavors make this an absolutely delightful dish.
It's best served with crusty Italian bread and the pairing is superbly satisfying.
This recipe is incredibly versatile and you can easily add other mix-ins to suit your palate!
It's easy to make your own salsa at home with this simple recipe and it takes no more than 5 minutes to whip up!
This tasty salsa is a mix of Roma tomatoes, onion, cilantro, and bell peppers, plus lime juice, red pepper flakes, salt, and pepper to make it super delicious.
It's a handy recipe to have because this salsa can be used in a wide variety of Mexican dishes!
You can also enjoy this Roma tomato salsa simply with tortilla chips!
Capture the wonderful flavors of Roma tomatoes by using this simple recipe to make a superbly tasty sauce!
Tomatoes and garlic are roasted in the oven to bring out a touch of smokiness that adds so much to the flavor of the sauce and it's made even tastier with the addition of onion, basil, oregano, and olive oil.
It doesn't take much effort to make and you get to enjoy an extremely flavorsome sauce that you're bound to finish every last drop!
This roasted Roma tomato sauce is perfect for making a delicious shakshuka for an awesome breakfast or brunch!
Jazz up your Roma tomatoes with this brilliant recipe that's ridiculously simple but makes a refreshing dish!
All it takes to make this fantastic starter is some roasted tomatoes and a topping of feta cheese and za'atar spice.
It's sweet and savory with depth and complexity to the flavor, making it a really delightful dish that the whole family can enjoy!
Everyone loves a good pizza but what makes this Roma tomato pizza great is that it's tasty and really easy to make!
Pizza dough is combined with a topping of garlic cream sauce, spinach, tomatoes, and shredded cheese before it's cooked in the oven until melted cheesy goodness is achieved with a beautifully browned pizza crust.
It's a mouthwatering delight that can be made in under 30 minutes, perfect for an awesome weeknight dinner!
With how delicious it is, this definitely makes it to our list of favorite Roma tomato recipes!
Inject a little Persian flair to your next meal with this amazing Shirazi Salad that's healthy and super delicious!
It's a terrific combination of tomatoes, cucumbers, onion, cilantro, green onions, parsley, and dill, all tossed in a dressing made with lime juice and mint.
This salad is extremely delectable with refreshing flavors that are sure to brighten your day!
Served it chilled for an excellent meal packed with tons of nutrients and great flavors!
Reward yourself with this fantastic Pesto Mozzarella Pizza that's amazingly delicious with only a few ingredients required!
This recipe involves topping pizza dough with homemade pesto sauce, sliced tomatoes, mozzarella cheese, and Parmesan cheese before baking until crispy with bubbly cheese.
It's straightforward to make and you get to enjoy a tasty pizza with little effort!
There's nothing not to like about this quick and easy Roma tomato recipe!
Expand your cooking repertoire with this splendid Roma tomato pasta that's incredibly tasty and is sure to delight your senses!
Al dente spaghetti is tossed in a sauce made with olive oil, garlic, red pepper flakes, and tomatoes before being topped with basil and Parmesan cheese to finish it off.
It has light but really enjoyable flavors that are perfect for a wonderful meal any time of the day!
Add this to your pasta rotation and you'll definitely not regret it!
For a great-tasting pasta that's simple to make with fantastic ingredients, you've got to check out this Garlic Eggplant Penne Pasta!
It's a lovely mix of diced tomatoes, cubed eggplants, minced garlic, and penne, all cooked in tomato sauce with the flavors melding together really well.
You'll be devouring this before you even know it because it's extremely tasty and it's definitely one of our favorite Roma tomato recipes as well!
At Glorious Recipes, we have our favorite Roma Tomato Caprese Salad that we absolutely adore and it tastes heavenly! Check out the recipe below!
Yield: 6
Roma Tomato Caprese Salad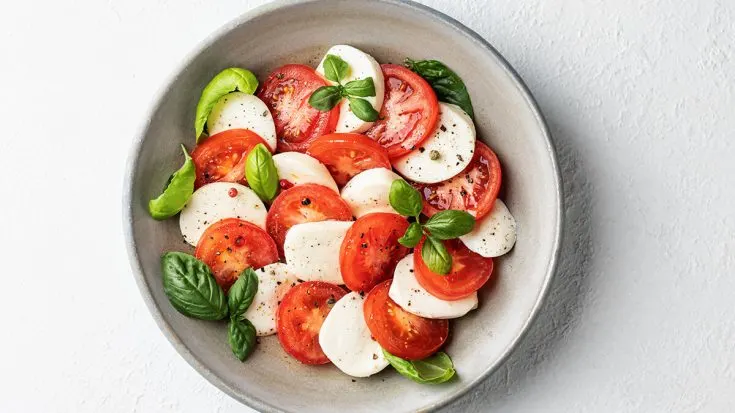 This Roma Tomato Caprese Salad is loaded with bright flavors that are sure to delight your taste buds! And it's so easy to make!
Ingredients
1½ lbs Roma tomatoes, sliced to ¼-inch thickness
16 oz mozzarella, sliced to ¼-inch thickness
1 bush of fresh basil leaves
½ tsp salt (adjust to taste)
¼ tsp pepper (adjust to taste)
3 tbsp extra virgin olive oil
2 tbsp balsamic glaze
Instructions
Arrange tomatoes, mozzarella, and basil leaves on a serving plate, ensuring that all layers can be seen.
Season with salt and pepper to taste. Drizzle oil and balsamic glaze over. Adjust the amount accordingly to suit your preference. Enjoy!
Nutrition Information:
Yield:
6
Serving Size:
1
Amount Per Serving:
Calories:

321
Total Fat:

24g
Saturated Fat:

11g
Trans Fat:

0g
Unsaturated Fat:

11g
Cholesterol:

60mg
Sodium:

676mg
Carbohydrates:

9g
Fiber:

1g
Sugar:

7g
Protein:

18g
Nutrition information is only an estimate and can vary depending on ingredients used.
Which of the Roma tomato recipes have you tried so far?
Let us know in the comments below!
For more awesome vegetable recipes that you might like, check out the following:
Baby Eggplant
Savoy Cabbage
Hominy
Honeynut Squash
Banana Peppers
Japanese Eggplant
Taro
Canned Spinach
Frozen Green Beans
Frozen Cauliflower
Share on your favorite social media platform and tag us @GloriousRecipes – we can't wait to see what you have made!