Golden beets are slightly sweeter than their more common red counterparts and are milder as compared to the earthy flavor of red beets.
With a beautiful golden hue, they are also perfect for adding a burst of color to your dishes to make them even more appetizing.
Golden beets are also extremely nutritious and a great source of fiber, manganese, folate, vitamin C, and other essential minerals.
From tasty salads to hearty soups, we've got you covered with some of the best golden beet recipes that you can easily try at home!
Treat yourself to a fantastic golden beet salad that's healthy, easy to make, and tastes absolutely delicious!
Featuring roasted golden beets and carrots, topped with feta cheese, walnuts, and a flavorful honey-vinegar dressing, this is a tasty salad that you can enjoy any time of the day.
The sweet and tangy dressing makes this an incredibly appetizing dish and you'll be gobbling everything up before you even know it.
Give it a try and you'll definitely not be disappointed by its amazing flavor!
Savor a terrific side dish with this Golden Beet Gratin that's superbly tasty and a great addition to any meal!
It involves baking a combination of golden beet slices along with coconut milk, thyme, salt, pepper, and garlic, with Parmesan cheese and walnuts added at the end to achieve melted cheesy goodness and toasted nuts that add plenty of incredible flavors.
This dish is an absolutely delightful treat that the whole family is bound to love and it's super easy to whip up since the oven does all the cooking for you.
With how delicious it is, this is definitely one of our favorite golden beet recipes!
Add some cultural richness to your next meal with these Finnish beetroot patties that are exceptionally delicious!
Made by frying golden beets dipped in eggs and coated with breadcrumbs, this is a straightforward recipe that requires only a few basic ingredients.
The beet fritters make for an amazing appetizer or side dish and you might just end up snacking on them all day long because they are just that tasty!
Serve with sour cream for maximum enjoyment of this awesome dish!
This golden beet salad recipe is an absolute must-try in our books because it's simple to make with flavors that combine extremely well together!
It's a delectable combination of roasted beets, onions, lettuce, and crumbled goat cheese, tossed in a dressing of balsamic vinegar, olive oil, and Dijon mustard.
Because golden beets are slightly sweeter and taste mellower as compared to other colored beets, they go really well with the other ingredients to create a well-balanced flavor that makes this a mouthwatering salad.
You'll love how tasty it is for something so easy to whip up!
This is another golden beet salad that you absolutely need to try because it's filled with incredible flavors and vibrant colors!
Beets, onions, and carrots are marinated in a mixture of orange juice, olive oil, balsamic vinegar, dill, and salt before being topped with crushed pistachios for added flavor and texture to finish off this excellent dish.
The citrus marinade adds tons of delightful flavors to the vegetables and helps to make them really addictive and appetizing.
There's just nothing not to like about this recipe that makes a superb salad!
Enjoy a hearty and comforting golden beet soup that tastes outstanding and is sure to whet your appetite!
It's made by blending a mix of roasted apples and beets, along with sautéed aromatics such as celery, onions, garlic, and carrots, and the result is an exceptional soup that's incredibly tasty.
This soup is given a simple upgrade by adding a touch of heavy cream and then topping it with hazelnut granola to add texture and give the dish a beautiful presentation.
Make this for your next meal and be prepared to be showered with loads of compliments!
Grace your taste buds with this splendid Golden Beet Salsa that's incredibly easy to make and tastes absolutely divine!
It's a lovely combination of beets, apples, green peppers, mint, and parsley, all tossed in a flavorsome mixture of olive oil, sugar, coriander, red pepper flakes, cumin, pepper, and lemon juice.
This tasty salsa can be served as a side dish to complement your favorite main courses or incorporated into other recipes as a topping to create awesome dishes!
Try it for yourself and you might just have a new favorite salsa after your first bite!
In what is one of our favorite golden beet recipes, this hummus makes for an amazing dip that's sure to delight your senses!
Made simply by blending a mix of roasted beets, tahini, garlic, lemon juice, turmeric, cumin, and other lovely ingredients, this is as easy as it gets.
The hummus is extremely delicious and is perfect as a dip for your favorite crackers, biscuits, chips, and bread!
You can also use it as a sandwich spread and you'll be pleasantly surprised by how good it tastes!
Reward your taste buds with this amazing Golden Beet Smoothie that you definitely don't want to miss out on!
It's a lovely marriage of golden beets, frozen banana, frozen mango, orange juice, coconut water, turmeric, and hemp seeds to create this excellent beverage that's healthy and delicious.
This smoothie has a well-balanced flavor that makes it incredibly enjoyable any time of the day, making it a perfect drink when you're on the move.
If you need a refreshing drink to add to your smoothie rotation, this is an absolute must-try!
This gluten-free and vegan Golden Beet Cauliflower Soup is healthy, nutritious, and tastes absolutely heavenly!
It's ridiculously easy to make as well and all you need to do is blend a combination of beets, garlic, onion, celery, vegetable broth, cauliflower, and turmeric to create this terrific soup.
This cozy soup is filled with bright and vibrant colors and flavors that are sure to bring a smile to your face and it's perfect as your new comfort food.
Taking under 30 minutes to cook, this is a great addition to your weeknight meal rotation!
For a wonderful vegetable side dish that's tasty and easy to whip up, check out these Butter-Roasted Carrots and Golden Beets that require only 6 ingredients to make!
Carrots and beets are first tossed in a mixture of melted butter, garlic, rosemary, and salt before being roasted in the oven until they come out tender and delicious.
This roasted golden beet recipe that doesn't take much effort and you get to enjoy a delectable dish at the end of it.
Enjoy it with your favorite main courses to turn it into a wholesome meal!
If you have a spiralizer or noodle maker and love some awesome homemade noodles, you've got to check out these Beet Noodles with Cilantro Tahini Sauce!
This recipe makes use of the entire vegetable including beet greens so none of the nutrients are wasted!
The golden beets are used to make the noodles while the beet greens are sautéed with garlic before everything is combined together.
They are tossed in a cilantro tahini sauce that adds plenty of amazing flavors and it's a stunning dish that's sure to impress!
Sign us up for these Pickled Golden Beets that are superbly delectable and extremely easy to make with little effort!
All you need to do is simmer a mixture of beets, white vinegar, rice vinegar, allspice, tarragon, sugar, and salt before storing them in the refrigerator for a week!
You'll end up with tangy pickled beets that are perfect as a side dish or condiment that you can use to enhance your meals.
With how incredibly simple it is to make something so tasty, this definitely makes it to our list of favorite golden beet recipes as well!
Get the best of both worlds by using red beets and golden beets together to create an awesome side dish that you're sure to love!
The beets are smothered with a melted butter mixture of brown sugar, thyme, rosemary, and salt before they are baked in the oven until the sugar has caramelized.
These candied beets taste extremely delicious and they are strangely addictive!
It's a mouthwatering delight that might just steal the show in any meal because of how delectable they are!
Take golden beets to new heights with this fantastic dish that's sure to tantalize your taste buds with its incredible flavors!
Tender beets are combined with a flavorsome dressing made with curry powder, oil, mustard, and vinegar, and they are topped with toasted pistachios to add some crunch and texture.
It's simple to make but tastes exceptionally good, and it's a culinary masterpiece that's sure to impress with both its looks and flavor.
You can eat this every day and never get tired of it because of how awesome it is!
At Glorious Recipes, we have our favorite Golden Beet Smoothie that we absolutely adore and it tastes heavenly! Check out the recipe below!
Yield: 1
Golden Beet Smoothie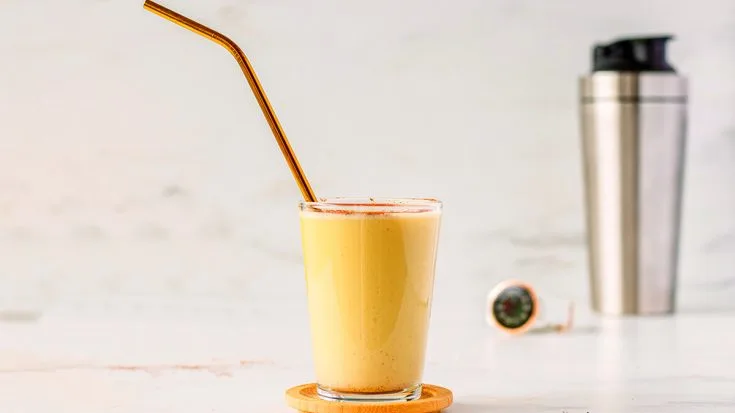 Enjoy a refreshing and delicious Golden Beet Smoothie that's loaded with nutrients and incredibly easy to make!
Ingredients
1 cup orange juice
1 cup coconut water
2 tbsp hemp seeds
¼ tsp ground turmeric
1 medium frozen banana
1 small golden beet
¼ cup frozen mango
Instructions
Add the ingredients in order of the list (orange juice first and frozen mango last) to a blender. Blend until smooth and pour into a serving glass. Enjoy!
Nutrition Information:
Yield:
1
Serving Size:
1
Amount Per Serving:
Calories:

422
Total Fat:

11g
Saturated Fat:

2g
Trans Fat:

0g
Unsaturated Fat:

9g
Cholesterol:

0mg
Sodium:

296mg
Carbohydrates:

75g
Fiber:

9g
Sugar:

51g
Protein:

12g
Nutrition information is only an estimate and can vary depending on ingredients used.
Which of the golden beet recipes have you tried so far?
Let us know in the comments below!
For more awesome vegetable recipes that you might like, check out the following:
Sunchoke
Black Garlic
Grape Tomato
Mayocoba Beans
Kelp Noodles
Daikon
Baby Eggplant
Savoy Cabbage
Hominy
Honeynut Squash
Share on your favorite social media platform and tag us @GloriousRecipes – we can't wait to see what you have made!