Sablefish is a delicious white fish with flaky flesh and a mildly sweet flavor that makes it a popular delicacy!
You might also know it as black cod or butterfish, nicknamed after its buttery and luxurious mouthfeel due to its rich fatty acid content.
It is incredibly versatile as it takes on various seasonings and sauces really well, making it the perfect ingredient for whipping up tasty dishes.
High in omega-3 fatty acids that are great for heart and brain health along with other health benefits, this is a fish that you definitely should add to your meal rotation!
Whether you like it grilled, pan-seared, or baked, we've got you covered with some of the best sablefish recipes that you can easily try at home!
Enjoy a hearty meal with this fantastic dish that's amazingly delicious and super easy to whip up!
Marinated in a mix of lovely ingredients that include honey, sesame oil, soy sauce, ginger, and rice wine vinegar, the sablefish is extremely delicious when pan-seared until perfectly cooked and browned.
Served on top of your favorite ramen noodle, this is a sumptuous dish that's full of delightful flavors and makes for awesome comfort food.
You'll be devouring everything up before you even know it because it tastes absolutely wonderful!
Savor a decadent indulgence with this Pan-Seared Sablefish with Brown Butter that's sure to whet your appetite!
It's ridiculously easy to make and all you need to do is sear the fish in a skillet with oil and butter until it's fully cooked.
A simple sauce that's made with butter, lemon juice, honey, and cayenne is poured over the fish and it adds tons of depth and complexity to the flavor, instantly enhancing the dish.
With how delicious it is, this is definitely one of our favorite sablefish recipes!
Treat yourself to a terrific meal with this Honey Garlic Sablefish that combines some of our favorite ingredients in one dish!
The highlight of this dish is the extremely flavorsome sauce that's made with a combination of coconut aminos, sesame oil, honey, ginger, garlic, oil, and red pepper flakes.
It's used to coat everything from the roasted broccoli to the pan-seared fish, and it's also used to baste the fish to give it plenty of great flavor.
There's nothing not to like about this quick and easy sablefish recipe!
This outstanding Pan-Roasted Orange Maple Sablefish is exceptionally tasty and a visual treat to boot!
It's a delectable combination of green beans, blackberries, roasted sweet potatoes, and marinated fish, with a flavorful herb sauce that's made by blending a mix of basil, tarragon, shallot, dill, and other ingredients.
Everything comes together really well and this is a dish that's easy enough to make yet fancy enough to impress.
Give it a try and you'll definitely not be disappointed with its amazing flavor!
Expand your cooking repertoire with this miso sablefish that's superbly tasty and incredibly straightforward to make without much hassle!
The fish is first marinated in a mixture of white miso paste, soy sauce, sake, mirin, sugar, ginger, and garlic so you know you're guaranteed an exceptionally flavorsome fish even before it's cooked.
It's then baked in the oven until fully cooked and you'll be enjoying a delicious fish that's bursting with umami flavors before you even know it!
This baked sablefish recipe is a must-try with how simple it is to make!
This Sablefish Tandoori with Mango Relish is an excellent dish that tastes heavenly and is sure to tantalize your taste buds!
Coated with a flavorful mixture that includes garam masala, turmeric, honey, and yogurt, the fish is then broiled until cooked.
It's paired with a brilliant mango relish before serving to complete this remarkable mouthwatering delight that's sweet, savory, and tangy all at the same time.
You'll love how all the flavors meld together to create this culinary masterpiece!
Amplify your next meal with this splendid recipe that makes a sumptuous dish that's amazingly delectable!
The fish is made flavorful by marinating in a mixture of coconut nectar, coconut vinegar, ginger, and oil before being pan-seared until beautifully browned and tasty.
The marinade is not wasted and is used to cook the vegetables until the flavors are well-infused into the greens.
This dish is finished off with a simple topping of green onions and it's incredibly delicious for something so simple to make!
In what is one of our favorite sablefish recipes, the fish is combined with grape tomatoes to create an absolute treat that you definitely don't want to miss out on!
The grape tomatoes are cooked with shallots, garlic, white wine, and chicken broth to create a simple sauce that helps to add tons of depth to the flavor of this dish.
Add perfectly pan-seared fish into the mix and you have a thoroughly enjoyable dish that's just irresistible.
Taking under 30 minutes from start to end, this dish is perfect for an awesome weeknight meal!
Fire up your grill and try out this simple grilled sablefish recipe that makes an absolutely mouthwatering delight!
The fish is first grilled until it's fully cooked before being drizzled with an exceptional garlic oil filled with fresh herbs that provide tons of incredible flavors.
The herbaceous flavors help to give complexity to the fish and fully complements the sweet flesh to elevate it to the next level.
It's so easy to make and it tastes oh-so-yummy!
Shake things up a little and try out this smoked sablefish recipe that makes delicious cured sablefish fillets with a slightly smoky flavor!
A simple mix of salt, sugar, and garlic powder is used to cure the fillets before they are smoked until fully cooked with honey glazed over them every hour to provide some sweetness that makes them extra tasty.
They are finished off with a sprinkle of paprika and they taste absolutely divine and luxurious.
Make sure to try this for your next smoking session and you'll be pleasantly surprised by how good they taste!
Feast on this terrific Teriyaki Sablefish that's loaded with umami flavors and tastes out of this world!
Broiled in the oven and brushed constantly with a homemade teriyaki sauce that's made by combining sake, soy sauce, sugar, garlic, ginger, and lemon juice, this dish is super easy to whip up and extremely flavorsome.
A simple garnish of sesame seeds and green onions serves to enhance the dish further and it's sure to be a hit with the crowd with its phenomenal flavor.
Quick and easy to whip up, just how we like our recipes to be!
Dig into this simple but tasty dish that you absolutely should add to your protein rotation!
Broiled sablefish is combined with a delightful mushroom caramel sauce to create a stunning dish that will make you salivate with its awesome aroma.
With whiskey, honey, and heavy cream used in the making of the sauce, this is one of those sablefish recipes that you know is going to turn out great!
Serve with steamed white rice and some veggies to turn it into a complete meal!
Sablefish is given an instant upgrade in this simple recipe that uses a fantastic glaze that adds tons of incredible flavors!
The glaze is made by combining sriracha sauce and honey, giving it a sweet and spicy flavor that helps to make the fish irresistible.
It's used to brush the fish while broiling to create an extremely flavorsome dish that's sure to satisfy any appetite!
The flavors are perfectly balanced and you're sure to fall in love with this amazing dish!
If you love bold flavors and spicy food, you've got to check out this excellent dish that's sure to ignite your taste buds!
Marinated with a mix of sambal oelek, garlic powder, soy sauce, vinegar, and sugar, the fish is then broiled until fully cooked and tender.
Every bite of this excellent fish provides an addictive kick that will surely bring a smile to all spicy food lovers!
Serve with a bowl of white rice and your favorite side dishes for an easy but sumptuous meal!
Get a taste of the Mediterranean with this splendid dish that's loaded with bright and vibrant colors and flavors!
It's unbelievably easy to make and all you need to do is top fish fillets with a mix of vegetables that include bell peppers, olives, cherry tomatoes, parsley, garlic, and other lovely ingredients before baking until everything is tender and cooked.
With high-quality protein and vegetables settled in a single dish, you can just pair them with your favorite carbs to enjoy a healthy and wholesome meal that's perfect any day of the week!
You're sure to love how incredible this dish tastes for something that takes so little effort to make!
This Ginger Lime Black Cod is one of the easiest sablefish recipes that even beginner home cooks should have no trouble with!
Marinated in a mixture of lime juice, lime zest, garlic, ginger, syrup, oil, and salt, the fish fillets are extremely flavorsome once they are fully baked in the oven.
A simple garnish of cilantro is used to complete this dish and it's as easy as it can get!
There's no need to worry about oil splatters or massive clean-up with this quick and easy recipe!
Enjoy a light yet flavorful soup with this fantastic recipe that makes such a hearty and comforting dish!
It's a delectable combination of butternut squash and sablefish with aromatics and spices such as cumin, turmeric, and garlic helping to provide depth to the flavor of the soup.
With healthy fats and tons of nutrients, this is a soup that you can sip on all day long that's great for your body!
This is also a great option if you need a tasty soup to warm you right up on a chilly day!
Spruce up your parties with this amazing appetizer that tastes exceptional and is sure to steal the show with its terrific flavor!
Toasted baguette slices are paired with a mixture of crème fraîche, smoked sablefish flakes, mustard, horseradish, lemon zest, and lemon juice to create this absolutely mouthwatering delight.
It's incredibly easy to make and everyone will definitely be fighting for seconds with how delicious it is!
Make this for your next party and be prepared to be showered with loads of compliments!
At Glorious Recipes, we have our favorite Miso Sablefish (Black Cod) that we absolutely adore and it tastes heavenly! Check out the recipe below!
Yield: 4
Miso Sablefish (Black Cod)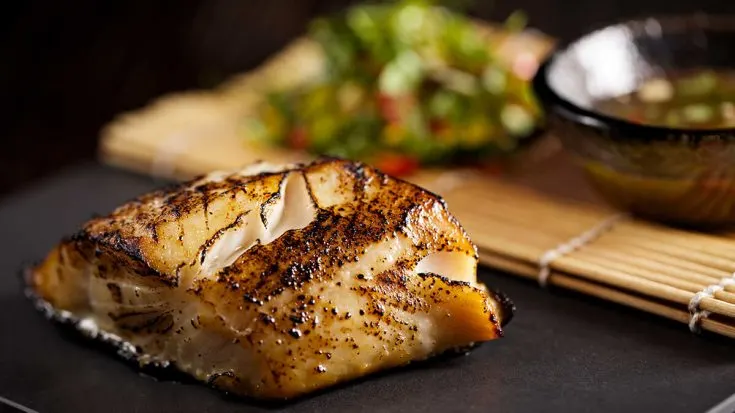 This Miso Sablefish is exceptionally tasty with umami flavors that you're bound to enjoy!
Total Time
8 hours
20 minutes
Ingredients
4 sablefish fillets (about 6 oz each)
sesame seeds (for garnish)
green onions, freshly chopped (for garnish)
Marinade
½ cup white miso paste
¼ cup sake
¼ cup mirin
2 tbsp soy sauce
2 tbsp sugar
2 tbsp ginger, freshly grated
2 cloves of garlic, minced
Instructions
Add the marinade ingredients to a bowl and stir or whisk to combine well until the sugar is fully dissolved.
Add fish fillets to a resealable plastic bag and pour marinade in. Ensure the fillets are well coated. Refrigerate and leave to marinate for at least 8 hours or overnight, up to 24 hours.
Preheat oven to 400°F (200°C).
Add marinated fillets to a baking dish that has been lined with parchment paper. Discard marinade. Bake the fish for around 15 minutes or until the flesh can be flaked easily with a fork.
Serve and enjoy!
Notes
If you are short of time, you can marinate for half an hour at room temperature.
Nutrition Information:
Yield:
4
Serving Size:
1
Amount Per Serving:
Calories:

956
Total Fat:

65g
Saturated Fat:

13g
Trans Fat:

0g
Unsaturated Fat:

43g
Cholesterol:

190mg
Sodium:

1944mg
Carbohydrates:

27g
Fiber:

3g
Sugar:

15g
Protein:

59g
Nutrition information is only an estimate and can vary depending on ingredients used.
Which of the sablefish recipes have you tried so far?
Let us know in the comments below!
For more awesome fish recipes that you might like, check out the following:
Wahoo
Porgy
Coho Salmon
Whole Tilapia
Salmon Bites
Yellowtail
Tilefish
Cobia
Blackfish
Smoked Cod
Share on your favorite social media platform and tag us @GloriousRecipes – we can't wait to see what you have made!