Protein bowls are perfect for healthy and nutrient-dense meals that you can make in one convenient package!
They are extremely versatile and you can easily vary the ingredients to keep your meals refreshing, making them ideal for meal prep!
Whether you feel like having chicken, fish, or tofu, you're bound to find a recipe that fits your personal needs!
From classic poke bowls to tasty Buddha bowls, we've got you covered with some of the best protein bowl recipes that you can easily try at home!
Enjoy a terrific meal with this Honey Sriracha Ground Chicken and Broccoli that's crazy delicious and so easy to make!
It's a delectable mix of sautéed ground chicken and broccoli with an extremely flavorful sauce that's made by combining honey, soy sauce, sriracha, sweet chili sauce, sesame oil, garlic powder, and ground ginger.
Everything comes together really well and every bite is filled with delightful flavors that you're sure to love.
Pair it with your favorite carbs to make it a complete meal!
If you love burritos but don't want all that calories, you've got to check out this Grilled Chicken Burrito Bowl!
Marinated in a mixture of lime juice, cumin, chili powder, olive oil, and salt, the chicken breasts are then grilled to perfection with a juicy and tender interior.
It's combined with pico de gallo, beans, roasted corn, avocado cubes, and rice, with a cilantro ranch dressing to tie everything together.
This is a simple protein bowl with great flavors and healthy ingredients that you won't mind putting into your body!
Reward yourself with this fantastic Caribbean Bowl that's amazingly tasty and is sure to tantalize your taste buds!
There's no lack of wonderful flavors with the chicken being marinated in green seasoning and then coated with a blend of dry rub that includes paprika, cayenne powder, cinnamon, nutmeg, and coconut sugar before it's grilled until nicely charred.
Add quinoa, pigeon peas, and pineapple salsa into the mix, and you have an absolutely mouthwatering delight that's just irresistible.
Give it a try and you'll definitely not be disappointed!
This Teriyaki Salmon Bowl is one of our favorite protein bowl recipes because it's just incredibly delicious!
The highlight of this dish is the teriyaki sauce that's made with a mixture of honey, tamari soy sauce, sesame oil, ginger, garlic, and Sriracha sauce.
It adds so much depth and complexity to the flavor of the salmon, and when you combine it with edamame, avocado slices, and sushi rice, you have an exceptional dish to enjoy.
Every bite is bursting with umami flavors and you're sure to love the wonderful flavors of this simple protein bowl!
Prefer something sweet instead?
Try making this splendid Yogurt Bowl that combines some of our favorite ingredients in one dish!
The base is made with a lovely mix of Greek yogurt, chocolate protein powder, cinnamon, and peanut powder, and you're free to add any of your favorite toppings to elevate this dish further!
Great options include fruits, granola, cacao nibs, and nuts!
Go wild and let your creativity shine!
Start your day right with an excellent High Protein Breakfast Power Bowl filled with tons of healthy ingredients to give you all the energy you need!
It's a lovely marriage of almond milk, rolled oats, chia seeds, and vanilla protein powder, topped with fresh and dried berries, Greek yogurt, sunflower seeds, walnuts, and maple syrup.
This protein bowl is filled with well-balanced sweetness that doesn't overwhelm but makes it incredibly enjoyable.
With how easy it is to make, it's definitely a must-add to your breakfast rotation!
Steak and quinoa make for an awesome combination and this recipe will show you how to make a protein bowl that tastes great!
Featuring perfectly grilled steak, tomatoes, cucumbers, quinoa, basil, and scallion, this is a dish that's incredibly easy to make with refreshing flavors that you're sure to enjoy.
No fancy ingredients are required as a simple seasoning of salt and pepper is sufficient to enhance the taste of this protein bowl.
If you're looking for a quick and easy steak protein bowl recipe, this is it!
Ramp up your next meal with this amazing Korean Tofu Bowl that's superbly tasty and is sure to whet your appetite!
Tofu cubes coated with soy sauce, breadcrumbs, and cornflour are baked until they come out browned and crispy, and they are smothered in an extremely flavorful sauce made with lovely ingredients that include gochujang, honey, tomato paste, and sesame oil.
It's the perfect blend of spices and seasonings that make this such a tantalizing delight!
Combine with rice and other vegetable toppings to make it a hearty and wholesome meal!
This Greek Chicken Orzo Power Bowl is one of those chicken protein bowl recipes that you'll want to keep handy because it's just so tasty!
Pan-seared chicken is combined with orzo, tomatoes, shallots, and cucumbers to create this awesome dish, and it's topped with Tzatziki sauce, feta cheese, and fresh mint to inject a dose of refreshing and delightful flavors.
Everything comes together exceptionally well and it's a high-protein bowl that's loaded with fantastic ingredients and flavors.
Easy to make and delicious, just how we like our recipes to be!
If you're looking for a gluten-free and vegan protein bowl recipe, this Sweet Potato Chickpea Buddha Bowl definitely fits the bill!
This tasty bowl involves roasted sweet potatoes, onions, chickpeas, kale, and avocado slices, served over quinoa and topped with a flavorsome lemon tahini dressing.
It's a fantastic mix of great flavors and textures that work extremely well together to create a palatable dish that everyone will love.
You definitely need to try it for your next meal prep session!
Delight your taste buds with this terrific Chipotle Protein Bowl that's incredibly mouthwatering and exceptionally delicious!
Marinated in a mixture of chipotle peppers in adobo sauce, garlic, cumin, olive oil, and salt, the chicken is extremely flavorsome even before it's cooked.
The chicken is grilled until nicely browned before it's combined with brown rice, salsa, black beans, lettuce, and sour cream to create this lovely bowl.
There's nothing not to like about this simple and tasty chicken protein bowl!
Grace your taste buds with this fantastic Miso Salmon Bowl that's amazingly delectable and really easy to whip up!
It's a wholesome dish with salmon, broccoli, sweet potatoes, mushrooms, and quinoa providing all the carbs, protein, and fiber that you need to power through your day.
The potatoes are coated with a miso dressing that adds so much umami flavor, making them incredibly delicious and addictive.
You might just have a new favorite dish once you've taken your first bite!
Savor an exceptional dish with this Teriyaki Chicken Bowl that's super tasty and makes for an amazing meal any day of the week!
Chicken meat, marinated in a mixture of honey, soy sauce, sesame oil, rice vinegar, garlic, and ginger, is baked and combined with an extremely flavorful homemade teriyaki sauce to create a heavenly protein that's sure to satisfy.
Add rice and broccoli into the mix and you have a wholesome and nutritious meal to enjoy!
The perfect blend of sweet and savory makes this one of our favorite protein bowl recipes!
If you feel like having some seafood instead, you've got to check out this excellent Shrimp Buddha Bowl that's oh-so-yummy!
Pan-seared shrimp seasoned with paprika and lemon pepper seasoning is combined with roasted honeynut squash, sautéed kale, and asparagus in this wonderful dish that uses quinoa as the base.
An extremely flavorsome honey mustard dressing is drizzled over and it adds a delightful punch to the flavor of this Buddha bowl.
You definitely don't want to miss out on this awesome dish!
BBQ chicken just can't go wrong in any meal and this BBQ Chicken Power Bowl recipe is a must-try in our books!
It's an appetizing medley of lovely ingredients that includes chicken, corn, avocado, beans, bell pepper, tomatoes, cheddar cheese, onion, and cilantro, all served on top of a bed of quinoa or rice.
This bowl is packed with tons of nutrition and flavor, making it an absolute delight!
The family is definitely going to love this wonderful dish!
Dig into this outstanding Asian Turkey Meatball Bowl that's incredibly delicious and palatable!
The meatballs are made with a mix of ground turkey, sriracha, ginger, garlic, panko breadcrumbs, and other lovely ingredients that help to make them extremely flavorful.
Baked until fully cooked, they are then coated with a tasty sauce that's made with a blend of ingredients that includes hoisin sauce, honey, soy sauce, and rice vinegar.
This delectable bowl is assembled with brown rice as the base and topped with meatballs, cucumbers, jalapeño, edamame, and carrots.
It's a delightful combination of simple and healthy ingredients that taste great together!
Poke bowls usually involve raw fish but this recipe gives a simple twist by using cooked salmon instead and it tastes fantastic!
Marinated in a sauce made with soy sauce, chicken broth, honey, garlic powder, ginger powder, and rice wine vinegar, the salmon fillets are then pan-seared until nicely cooked before they are combined with other vegetables and rice to create a wholesome dish.
It's loaded with tons of nutrition and it's made even tastier with a simple squeeze of lime and a garnish of cilantro.
The refreshing flavors make this one of those easy protein bowl recipes that you'll definitely want to try!
On days when you want a light meal without all that starchy carbs, try making this Fish Taco Bowl that's incredibly tasty!
This simple bowl features cod that's made flavorful with taco seasoning, cabbage and cilantro in honey-lime dressing, diced tomatoes, and a refreshing sauce made with yogurt, avocado, and salt.
It tastes fantastic and you'll love the simple flavors and ingredients used in this healthy protein bowl.
Give it a try and you'll be pleasantly surprised by how good it tastes!
This Tuna and Rice Protein Bowl is one of the easiest protein bowl recipes because the only cooking you need to do is to cook rice and boil some eggs!
If you have leftover rice, making this protein bowl will be even easier!
This tasty bowl involves an assortment of canned tuna, canned garbanzo beans, carrots, hard-boiled eggs, lettuce, and pineapples, ensuring plenty of delightful ingredients and flavors.
It has all the carbs, protein, and fiber that you need, with sweet and savory flavors all in one bowl!
Shake things up a little and enjoy the awesome flavors of enchilada in a bowl instead!
It's a wonderful combination of lentils, rice, and black beans, coated with a flavorsome enchilada sauce that's made with a variety of lovely ingredients that include tomato sauce, garlic, onion, nutritional yeast, cumin, and oregano.
Paired with tofu and a side of avocado slices, this is a super satisfying dish that's sure to be a hit with the family.
Garnish with freshly chopped parsley to complete this amazing protein bowl!
Amplify your next meal with this terrific Tofu Buddha Bowl that's extremely delicious and is sure to captivate your taste buds!
It's a mix of tofu, broccoli, and chickpeas, all baked in the oven and combined with quinoa, zucchini, and cabbage to form an awesome dish.
The star of this dish, however, is the super flavorsome satay sauce that adds so much depth and complexity to the flavor of this tasty Buddha bowl.
Try it once and you'll develop a craving for it sooner or later!
If you fancy some Mexican protein bowl, then this recipe is definitely right for you!
This wonderful bowl uses a mixture of quinoa, onions, tomatoes, corn, and cilantro as its base, and it's topped with chicken breast and avocado slices to create a mouthwatering delight.
The chicken breast is marinated in a blend of honey, cumin, lime, coriander, and cayenne pepper, ensuring plenty of great flavors that work really well together.
For how simple it is to make, this Mexican Grilled Chicken Bowl sure tastes fantastic!
With vibrant colors and bright flavors, this Mango Barbecue Chicken with Mango Salsa and Rice is absolutely one of our favorite protein bowl recipes!
It's incredibly easy to make as well and you'll be enjoying a tasty protein bowl with little effort!
BBQ-marinated chicken breast is paired with a tasty mango salsa that's made with a mix of mango, avocado, blood orange, jalapeño, and onion, creating a satisfying combination that's sure to please.
Served with rice as a base, this is a wholesome meal that everyone will love!
Inject a little Thai flair to your next meal with this excellent Pad Thai Spaghetti Squash Protein Bowl that's amazingly delicious!
Spaghetti squash is combined with ground beef, eggs, garlic, bean sprouts, and scallion in this terrific dish that's loaded with tons of great flavor, thanks to a flavorful sauce made with honey, rice vinegar, fish sauce, lime juice, and red pepper flakes.
It's a refreshing addition to your meal rotation and helps to keep your meals interesting!
Try it and you might just fall in love with the taste of this simple protein bowl!
This vegan and healthy protein bowl recipe is an absolute must-try because it's filled with lovely ingredients and tastes superb!
It's super easy to whip up and features a base of brown rice that's topped with julienned carrots, lentils, avocado, grapes, and cilantro leaves.
Fresh ingredients help to make this easy protein bowl stand out and you'll feel invigorated after trying out this wonderful dish!
At Glorious Recipes, we have our favorite Greek-Styled Chicken Protein Bowl that we absolutely adore and it tastes heavenly! Check out the recipe below!
Yield: 4
Greek-Styled Chicken Protein Bowl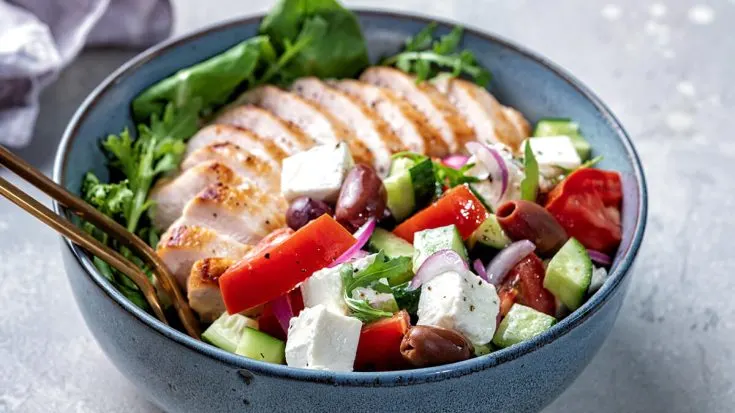 Enjoy a healthy and nutritious meal with this Greek-Styled Chicken Protein Bowl that's exceptionally tasty and it's so easy to make!
Ingredients
Base
4 chicken breasts
4 tomatoes, chopped
1 cucumber, diced
1 cup feta cheese, cubed
1 medium red onion, diced
1 cup spinach (or any of your favorite vegetables)
1½ cups quinoa, cooked
Dressing and Marinade
¼ cup olive oil
2 lemons, juiced
1 garlic clove, minced
2 tsp dried oregano
1 tsp dried basil
1 tbsp honey
½ tbsp lemon zest
salt and pepper, to taste
Instructions
Add the ingredients for the dressing and marinade to a small jar. Stir well to combine. Add chicken to another plate and pour ⅓ of the marinade over chicken. Toss to coat well.
Add chicken to a grill pan or skillet over medium-high heat and cook for around 7 minutes or until the chicken is fully cooked through. The internal temperature of the meat should reach 165°F (75°C).
Add quinoa to serving bowl, then top with chicken and the rest of the ingredients. Drizzle the remaining ⅔ of the dressing over.
Serve and enjoy!
Nutrition Information:
Yield:
4
Serving Size:
1
Amount Per Serving:
Calories:

480
Total Fat:

20g
Saturated Fat:

3g
Trans Fat:

0g
Unsaturated Fat:

15g
Cholesterol:

102mg
Sodium:

208mg
Carbohydrates:

34g
Fiber:

7g
Sugar:

11g
Protein:

44g
Nutrition information is only an estimate and can vary depending on ingredients used.
Which of the protein bowl recipes have you tried so far?
Let us know in the comments below!
For more awesome recipes that you might like, check out the following:
Potato Tacos
Kelp Noodles
Korean Soup
Turkey Tenderloin
Thin Sliced Chicken Breast
Bay Scallop
Sandwich Maker
Vitamix Soup
Lemon Cucumber
Chicken Salad Chick Broccoli Salad
Share on your favorite social media platform and tag us @GloriousRecipes – we can't wait to see what you have made!