Bay scallops are extremely delicious with a tender and buttery texture that will make your taste buds dance with joy!
They will definitely satisfy your seafood cravings and their perfect size makes them ideal for whipping up a wide variety of tasty dishes.
From seafood pasta to flavorful chowders, we've got you covered with some of the best bay scallop recipes that you can easily try at home!
Enjoy a fantastic bay scallop appetizer that's amazingly delicious with this easy recipe that you absolutely have to try!
Seared in the skillet with shallots and white wine, the scallops are filled with incredible flavors that make them a mouthwatering delight!
A simple garnish of freshly chopped parsley and a squeeze of lemon is enough to enhance the dish further with refreshing flavors.
Serve it as is for a crowd-pleasing appetizer or combine it with your favorite carbs for a wholesome meal!
Whip up an awesome meal with this Baked Scallops Gratin that's superbly tasty and it's so easy to make!
Mixed with parsley, garlic, lemon juice, and olive oil, then topped with breadcrumbs and butter, the scallops are baked in the oven until a beautiful golden brown top is achieved.
It's super yummy and the toasted breadcrumbs help to provide a great texture that makes this such an addictive treat.
Served with lemon wedges, this gratin has a refreshing flavor that you just can't get enough of!
If you feel like making a delicious scallop pasta, you've got to check out this amazing Bay Scallops and Linguine dish!
The scallops are browned in a skillet before being combined with al dente linguine and a flavorful garlic oil that ties everything together.
Topped with grated Parmesan cheese, this is an absolute delight that's sure to satisfy any pasta cravings!
It's quick and easy to make, and definitely one of our favorite bay scallop recipes with its fantastic flavor!
Treat yourself to this Buttery Bay Scallops Casserole loaded with great flavors that are sure to tantalize your taste buds!
It's a delectable combination of scallops, white wine, herbed garlic butter, panko breadcrumbs, lemon juice, olive oil, and other lovely ingredients, making it a mouthwatering delight.
Baked in the oven and ready in just 10 minutes, this is a quick and easy dish that you can make for an awesome weeknight dinner.
Garnish with freshly chopped parsley and lemon wedges before serving for maximum enjoyment of this delicious casserole!
If you feel like having a seafood feast, try out this fantastic dish that features shrimp and bay scallops with cannellini beans!
Pan-seared bay scallops and shrimp are combined with cannellini beans that have been simmered in a flavorful mix of chicken stock, shallot, garlic, paprika, and crushed red pepper to create a heavenly delight that's incredibly delicious.
Garnished with basil leaves and lemon zest, this is an exceptional dish that's sure to impress with its amazing flavors.
This quick and easy bay scallop recipe will definitely be part of your handy list to make a tasty meal any day of the week!
In what is one of the easiest baked bay scallop recipes, you'll get to enjoy tasty scallops with little effort and it makes for an incredible meal!
Topped with a mixture of breadcrumbs, garlic powder, onion powder, parsley, paprika, and salt, the scallops are baked in the oven until cooked.
The scallops are filled with splendid flavors that pair easily with pasta and veggies for a wholesome meal.
It doesn't take long at all and you'll be enjoying succulent scallops before you even know it!
Dig into a hearty meal with this terrific orzo dish that combines scallops and asparagus to provide all the carbs, proteins, and fiber you need!
The orzo is made tasty with the addition of Parmesan cheese, butter, and heavy cream, making it an awesome base for which the sautéed bay scallops, onions, and asparagus help to enhance further.
It's incredibly simple to make and you'll have a delicious meal with delightful flavors that you can easily enjoy with the family.
Garnish with parsley before serving for the best flavor of this dish!
Keep things simple and whip up these scampi-style bay scallops that are super appetizing with refreshing flavors!
It's ridiculously easy to make and all you need to do is pat the scallops dry before coating them with flour and sautéing with minced garlic.
Finish off with a simple garnish of freshly chopped parsley and lemon wedges, and you'll be devouring these cute and tasty scallops in no time at all!
You can also serve it with rice or pasta to turn it into a complete meal!
Discover your new favorite comfort food with this Creamy Crab and Scallop Chowder that's amazingly delicious!
The chowder soup base is a delightful mix of blended potatoes, onions, thyme, seafood stock, white wine, cornstarch, and whipping cream, with fried bacon added to make it extra yummy.
When you add scallops and crabmeat into the mix, you have yourself a heavenly soup that's just irresistible!
If you're a fan of scallops and crabmeat, this is definitely a must-try soup for you!
Another wonderful chowder that you can try is this Bay Scallop Chowder that's loaded with vegetables to make it a tasty and nutrient-dense soup!
With a combination of garlic, carrots, celery, onions, and corn, this chowder is filled with aromatic ingredients that are made even better with thyme, clam juice, and seafood stock.
All the lovely flavors meld together really well and you have one of the most satisfying soups when you add tender bay scallops.
There's nothing not to like about this easy-to-make and delicious scallop chowder!
Expand your cooking repertoire with these meunière-styled bay scallops that make for both a fantastic main course or appetizer!
Pan-seared in butter until nicely browned on both sides, the scallops are combined with a simple pan sauce made with butter, lemon juice, and parsley.
This dish is elegant and the scallops are superbly tasty for something so easy to whip up!
Serve as it is or pair them with a baguette or white rice to enjoy this splendid dish!
Super easy to make with refreshing flavors, this is definitely one of our favorite bay scallop recipes!
Sautéed in a skillet with melted butter and garlic, the scallops are given a simple enhancement in flavor that doesn't take away the natural sweetness of the shellfish.
The addition of lemon juice helps to brighten the flavor and it pairs extremely well with the scallops in this dish.
Garnish with parsley and you have a wholly enjoyable seafood dish in less than 10 minutes!
On days when you just want a convenient but still tasty meal, try out this simple air fryer bay scallop recipe!
It's so easy that even beginner home cooks can whip it up in an instant and all you need to do is mix scallops, mushrooms, asparagus, and all the delightful seasonings in a bowl before tossing them into the air fryer and let the magic happen.
The machine will do all the cooking for you and you'll come back to a tasty meal with extremely little effort.
It's a quick way to enjoy some tasty scallops and you can make it even more wholesome by serving it over rice!
For some delicious creamy bay scallop pasta, don't miss out on this wonderful recipe that makes a mouthwatering delight with incredible flavors!
The highlight of this dish is the refreshing lemon-dill sauce that absolutely brings the pasta to the next level.
Made with a combination of flour, chicken stock, cream, paprika, dill, parsley, and lemon juice, the pasta is coated with this tasty sauce and paired with scallops to create an exceptional dish.
With how flavorsome it is and how easy it is to make, this is definitely one of our favorite bay scallop recipes!
Indulge in an excellent New Orleans-styled Po'boy with bay scallops and a spicy mayo that absolutely amplifies the flavor!
The tasty mayo is made with a mixture of garlic, mayonnaise, hot sauce, lemon juice, and paprika, ensuring plenty of wonderful flavors to tantalize your taste buds.
Combined with pan-fried scallops and fluffy hot dog buns, this is a sumptuous sandwich that can be enjoyed any time of the day!
You might just have a new favorite sandwich once you've taken your first bite at it!
Cooking bay scallops is an easy feat when all you got to do is bake them in the oven!
Topped with a garlic cream mixture followed by a combination of breadcrumbs, Parmesan cheese, butter, and salt, the scallops are baked until cooked with a nice golden brown top.
It's a luxurious treat that's simple to make and they are an absolute mouthwatering delight with a fantastic flavor!
Pair them with pasta or homemade bread to make it even more hearty and don't forget to mop up all that wonderful sauce!
Enjoy a terrific plate of creamy risotto with this easy bay scallop recipe that makes for an appetizing meal!
Arborio rice cooked in white wine and chicken stock is combined with bacon and scallops to create a scrumptious dish that's sure to satisfy any appetite.
Topped with Parmesan cheese, this is a simple dish that's big on flavor and definitely has a place in your meal rotation.
With how delicious it is, you've got to give it a try soon!
Spruce up your next meal with this exceptional linguine that's amazingly delicious and is sure to be a crowd-pleaser with its incredible flavor!
It's a lovely combination of al dente linguine, garlic, spinach, and tomato, with white wine and parsley imparting complex flavors to make this an absolutely delightful dish.
Packed with nutrients and great flavors, this is definitely one of the best bay scallop recipes that you can try when you want an awesome meal!
You'll be slurping everything up because it's just that delicious!
This pasta is a wonderful treat with creamy lemon garlic sauce and scallops to elevate the dish to a whole new level!
If you're a seafood and pasta fanatic and love the refreshing flavor of lemon plus the fragrance of garlic, this impeccable combination is bound to bring a smile to your face!
Made in under 30 minutes from start to end, this is a great option for a splendid weeknight dinner.
Give it a try and you'll definitely not regret it!
Ramp up your next meal with delicious fried bay scallops that are incredibly easy to make and require only a few basic ingredients!
It's as simple as patting the scallops dry, coating them in flour, and frying them in a skillet until nicely browned on all sides.
Sprinkle a little sea salt and you have an absolutely delectable dish that focuses on the natural sweetness of the lovely shellfish!
Serve it as a side dish or combine it with your favorite carbs and veggies for a complete meal!
Inject a little Chinese flair to your meal with this simple stir-fry that makes an exceptional dish and it's sure to whet your appetite!
With a wonderful combination of scallops, carrots, bell peppers, scallions, and ginger, this is an extremely aromatic dish that's just irresistible.
A mixture of sesame oil, soy sauce, vinegar, and cornstarch helps to form the sauce that ties everything together, creating a delectable delight that can be served over rice for a terrific meal.
Every bite is bursting with umami flavors that you'll surely enjoy!
At Glorious Recipes, we have our favorite Garlic Butter Soy Sauce Bay Scallops recipe that we absolutely adore and they taste heavenly! Check out the recipe below!
Yield: 4
Garlic Butter Soy Sauce Bay Scallops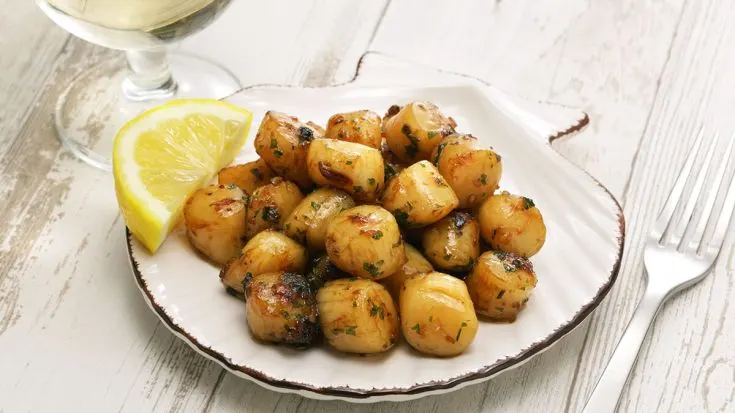 Enjoy delicious bay scallops cooked to perfection in a tasty garlic butter and soy sauce mix!
Ingredients
1½ lb bay scallops
½ cup all-purpose flour
4 tbsp unsalted butter
2 cloves garlic, minced
2 tbsp soy sauce
salt, to taste
black pepper, to taste
parsley, freshly chopped (for garnish)
lemon wedges (for garnish)
Instructions
Rinse the scallops with water, then pat dry with paper towels.
Add flour to a bowl, then toss in scallops to coat with flour. Shake off any excess flour.
Add butter to a skillet over medium-high heat. Add garlic and sauté until fragrant. Don't overcook or the garlic will be burnt. Add the scallops and soy sauce. Sauté until scallops just turn opaque.
Garnish with parsley and lemon wedges before serving. Enjoy!
Nutrition Information:
Yield:
4
Serving Size:
1
Amount Per Serving:
Calories:

362
Total Fat:

13g
Saturated Fat:

8g
Trans Fat:

0g
Unsaturated Fat:

4g
Cholesterol:

100mg
Sodium:

1723mg
Carbohydrates:

24g
Fiber:

1g
Sugar:

1g
Protein:

38g
Nutrition information is only an estimate and can vary depending on ingredients used.
Which of the bay scallop recipes have you tried so far?
Let us know in the comments below!
For more awesome seafood recipes that you might like, check out the following:
Colossal Shrimp
Rock Shrimp
Argentine Red Shrimp
Calamari Steak
Razor Clam
Shrimp Ramen
Langostino
Whole Tilapia
Porgy
Sablefish
Share on your favorite social media platform and tag us @GloriousRecipes – we can't wait to see what you have made!