Kelp noodles are perfect for those looking for a low-calorie, low-carb, gluten-free, vegan-friendly, and keto-friendly alternative to traditional noodles or pasta!
They are super easy to prepare and incredibly versatile – you can even eat them raw!
Packed with nutrients and minerals, kelp noodles can be a healthy addition to your meals and it's easy to use them to whip up great-tasting dishes.
From awesome salads to tasty stir-fries, we've got you covered with some of the best kelp noodle recipes that you can easily try at home!
Enjoy a tantalizing treat with this kelp noodle pad thai salad that's superbly tasty and loaded with fantastic ingredients!
There are plenty of great flavors with a sauce that's made with a blend of coconut aminos, almond butter, lemon juice, pitted dates, olive oil, cayenne pepper, ginger, and water, ensuring an amazing salad when you add bell peppers, cabbage, and noodles into the mix.
It's completed with a simple garnish of parsley to inject a refreshing flavor and almonds for a nice crunch.
Everything comes together really quickly, making it perfect for an easy meal any day of the week!
If you're looking for a light meal or an awesome starter, you've got to check out this simple kelp noodle recipe!
The highlight of this dish is the sauce that's made by puréeing a combination of almond butter, jalapeño, sesame oil, honey, aromatics, and other lovely ingredients.
Tossed together with noodles, carrots, and scallions, this is incredibly easy to whip up and it tastes terrific!
Give it a try and you'll definitely not regret it!
Inject a little Chinese flair to your next meal with this exceptional chow mein that's amazingly delicious and is sure to whet your appetite!
It's a delightful combination of kelp noodles, shrimp, aromatics, and vegetables, all stir-fried until fragrant and drizzled with an extremely flavorsome sauce that consists of sesame oil, coconut aminos, fish sauce, and other ingredients.
Every mouthful of this chow mein is bursting with umami flavors that you're sure to enjoy!
With how tasty it is, this is definitely one of our favorite kelp noodle recipes for a sumptuous meal!
Grace your taste buds with this excellent dish that combines kelp noodles with a flavorsome curry!
The curry is made by blending a mix of coconut milk, tomato paste, and spices that guarantee tons of incredible flavors and it's sure to be a crowd-pleaser with its amazing taste.
Pour the curry over kelp noodles and let it sit for a while to soften the noodles, making every bite even more enjoyable!
If you love rich and bold flavors in your food, you definitely need to give this a try!
Bring kelp noodles to another level by pairing them with an Alfredo sauce that's exceptionally flavorsome!
The two go extremely well together because the noodles themselves are flavorless but chewy and super nutritious, hence the sauce helps to add a little savory flavor to make it a terrific dish.
The Alfredo sauce is entirely vegan and is made by blending cashews, vegetable stock, nutritional yeast, and coconut milk, with sautéed minced garlic added to make it really fragrant and delicious.
We have no doubts that this will quickly become one of your go-to recipes with how tasty it is!
Discover your new late-night favorite comfort food with this splendid recipe that you definitely don't want to miss out on!
Sautéed cabbage, onion, ginger, and carrots are mixed with yellow curry paste, coconut cream, and kelp noodles to create an irresistible dish that's exceptionally tasty.
A simple garnish of basil and cilantro helps to add depth to the flavor and elevates this dish to another level.
You'll develop late-night cravings for this after you've given it a try!
On cold and chilly days, sometimes you just want something soupy to soothe your body and this simple kelp noodle soup is sure to warm you right up!
With a mix of lovely ingredients that include garlic, jalapeño, beef broth, sriracha sauce, and kelp noodles, this is a comforting dish that's also really delicious.
A touch of sesame oil and fresh herbs helps to provide depth and complexity to the flavor and make it an absolute treat.
You'll love how simple and tasty this noodle soup is!
This vegan dish is packed chock-full of nutrients and definitely one of the healthier kelp noodle recipes that you need to add to your meal rotation!
It's a delectable combination of noodles, broccoli, spinach, and aromatics, along with vegetable broth and a garnish of sesame seeds and red pepper flakes.
There's no lack of vitamins and essential minerals in this dish because every main ingredient is great for your body!
If you're trying to change to a healthy diet, this needs to be on your list for consideration!
Dig into a fantastic meal with this simple dish that's incredibly delicious and a visual treat to boot!
Thanks to a sauce that's made by blending almond butter, chickpea miso, onion powder, garlic powder, and other delightful ingredients, you're guaranteed tons of awesome flavors that make the noodles exceptionally tasty.
Sliced avocados, cilantro, and almonds are added to give a beautiful presentation that will surely impress your friends and family.
There's nothing not to like about this pretty and delectable dish!
For a superb vegan and delicious dish that you can incorporate into your meal plans, check out this Kelp Noodles With Miso Dressing!
With a dressing that's a blend of avocado, miso paste, garlic, lemon juice, and olive oil, you get to enjoy creamy and flavorful noodles along with vegetables that make this exceptionally nutritious.
It's incredibly easy to whip up and the amazing flavor will make you come back to it time and time again.
Try it soon because it's just that delicious!
Jazz up your noodles with a tasty and creamy sunflower and tahini sauce that tastes out of this world!
Tahini, sunflower butter, sesame oil, honey, and other lovely ingredients come together to create a flavorful blend that adds loads of incredible flavors to make the noodles and vegetables amazingly delicious.
With a mix of broccoli, mushrooms, edamame, and kelp noodles, this is not only a tasty dish but also one that's nutrient-dense.
It's definitely a must-try kelp noodle recipe in our books because of how delicious it is!
Reward yourself with this outstanding pesto noodle dish that's sure to captivate your taste buds!
The pesto sauce is made by blending a mix of basil, garlic, lemon juice, pine nuts, and other fantastic ingredients that help to impart an impressive herbaceous flavor to the noodles.
After that, it's as simple as tossing the noodles with the pesto sauce before serving for an awesome meal that's perfect any day of the week!
The exceptional flavor makes this one of our favorite kelp noodle recipes as well!
This stunning noodle salad is loaded with splendid ingredients, amazing flavors, and vibrant colors!
With red cabbage, bell peppers, carrots, and green onions, you have a beautiful and appetizing dish that's sure to be loved by everyone.
A flavorsome peanut sauce helps to tie everything together and adds tons of nutty and savory flavors that go really well with the vegetables and noodles.
Healthy, delicious, and full of great flavors, just how we like our recipes to be!
Give an instant upgrade to kelp noodles with this Asian-styled stir-fry that's incredibly fragrant and easy to make!
It's a lovely combination of aromatics, shiitake mushrooms, carrots, tofu, bok choy, spinach, and noodles, with rice vinegar, soy sauce, and sugar added for some depth to the flavor.
Everything is stir-fried until nicely cooked and the aroma will make you salivate at an instant.
Completed with a simple garnish of chives, this is a quick and easy recipe that you absolutely need to try!
Skip the Chinese take-out and whip up your own tasty chicken lo mein with this simple recipe that's sure to make you go wow!
Low-carb kelp noodles are combined with garlic, green onion, carrots, cabbage, and broccoli to create a dish that's loaded with tons of nutrients, and chicken forms the main protein to make it a super hearty meal.
Tying everything together is a sauce that includes oyster sauce, mirin, soy sauce, and other delightful ingredients, so you know this is going to be an extremely flavorful dish.
It's a heavenly combination of flavors and textures that makes this superbly enjoyable!
Add some cultural richness to your next meal by making this Korean Japchae with a simple twist!
Traditionally made using glass noodles, this simple recipe uses kelp noodles instead to make it keto-friendly and it tastes as good as the original!
This wholesome dish features a combination of marinated beef, bell peppers, shiitake mushrooms, carrot, baby spinach, onion, and green onions to complement the noodles and it's an absolutely tasty delight.
Garnish with sesame seeds to complete this dish and enjoy an awesome meal!
Shake things up a little and make sushi rolls with kelp noodles instead of the usual salads and stir-fries!
These sushi rolls are filled with a delightful combination of lettuce, pumpkin purée, noodles, carrot, cucumber, and avocado, all wrapped in nori sheets and they are oh-so-yummy!
Paired with a tahini soy sauce, these sushi rolls taste absolutely divine and you'll be gobbling these down before you even know it.
With how creative and delicious they are, we have no doubts that this will quickly become one of your favorite kelp noodle recipes!
For a quick and easy recipe that you can whip up for a tasty meal, check out this Spicy Pork with Kelp Noodles!
It's a simple combination of noodles, pork loin, and cucumber but it tastes so good thanks to the condiments and spices used to enhance the flavor.
Sesame oil, rice vinegar, ginger, and coconut aminos help to provide a little Asian flavor and red pepper flakes help to give an addictive kick with every bite.
Try it and you'll be pleasantly surprised by how good it tastes!
This tasty salad is loaded with great flavors and makes for an excellent addition to any meal as a side dish or main course!
It's a delectable medley of kale, bell pepper, carrot, avocado, and kelp noodles, with a flavorsome avocado-tahini dressing that tastes amazing.
This mouthwatering dish is completed with the addition of nutritional yeast and black sesame seeds at the end to make this salad even tastier.
You'll love the satisfying textures and flavors that combine really well together!
Keep it simple with this raw kelp noodle recipe that makes an awesome salad using some of our favorite ingredients!
Kale, bell pepper, mushrooms, carrot, avocado, spring onion, and kelp noodles come together in this delicious salad that's tossed with sweet chili sauce to create a flavorsome dish you're bound to love.
It's quick and easy to whip up, making it perfect for a light lunch or healthy weeknight dinner!
Boost your health with this Mixed Veggie and Kelp Noodle Salad that's loaded with tons of vitamins and essential minerals!
With a mix of baby spinach, carrot, bell pepper, parsley, shallot, celery, kelp noodles, and black sesame seeds, you're getting plenty of nutrients in one dish.
A simple drizzle of olive oil and tamari is enough to lift this salad and make it super delicious.
Give it a try and enjoy this nutrient-dense and tasty salad!
In what is one of our favorite kelp noodle recipes, this dish puts together a simple combination that works extremely well to create a splendid noodle salad!
Shiitake mushrooms, carrots, green onions, and kelp noodles are tossed in a flavorsome peanut sauce that adds tons of incredible flavors and helps to tie everything together.
It's supremely delicious and so easy to whip up, making it perfect for a quick and tasty meal any time of the day!
This noodle salad is a great way to expand your meal options and keep things fresh!
At Glorious Recipes, we have our favorite Easy Kelp Noodle Salad that we absolutely adore and it tastes heavenly! Check out the recipe below!
Yield: 2
Easy Kelp Noodle Salad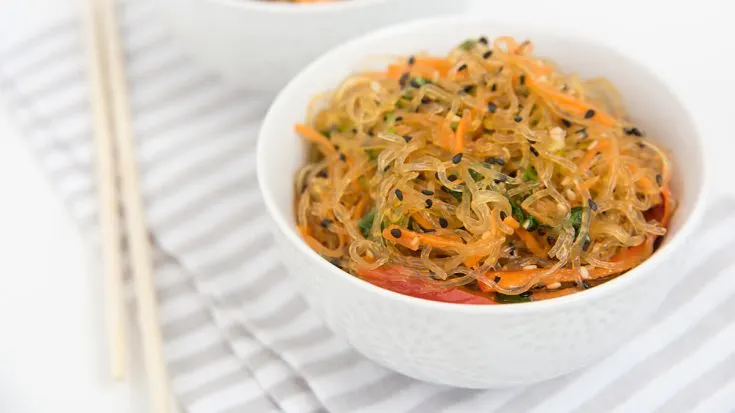 Go healthy with this Easy Kelp Noodle Salad that's incredibly nutritious and delicious!
Ingredients
1 package kelp noodles, rinsed
1-2 red bell pepper, sliced
2 cups carrots, shredded
1-2 scallions, chopped
black sesame seeds, for garnish
white sesame seeds, for garnish
lime wedges, to serve
Dressing
3 tbsp peanut butter
2 tbsp apple cider vinegar
1 tbsp tamari
1 tbsp maple syrup
1 clove garlic, grated
¾-inch ginger, minced
Instructions
Add all the ingredients for the dressing to a small bowl and mix well. Set aside and let the flavors meld. You can thin it out if required by adding a little water.
Add kelp noodles, bell pepper, carrot, and scallion to a large mixing bowl. Add sauce and toss to mix everything. Let it sit for a while to soften the noodles, if desired. Garnish with sesame seeds. Serve and enjoy!
Nutrition Information:
Yield:
2
Serving Size:
1
Amount Per Serving:
Calories:

443
Total Fat:

26g
Saturated Fat:

4g
Trans Fat:

0g
Unsaturated Fat:

19g
Cholesterol:

0mg
Sodium:

737mg
Carbohydrates:

47g
Fiber:

13g
Sugar:

19g
Protein:

14g
Nutrition information is only an estimate and can vary depending on ingredients used.
Which of the kelp noodle recipes have you tried so far?
Let us know in the comments below!
For more awesome vegetable recipes that you might like, check out the following:
Grape Tomato
Daikon
Baby Eggplant
Roma Tomato
Savoy Cabbage
Hominy
Honeynut Squash
Banana Peppers
Japanese Eggplant
Taro
Share on your favorite social media platform and tag us @GloriousRecipes – we can't wait to see what you have made!