Neck bones are a staple in Southern cuisine and they are a great option for budget-friendly meals that taste awesome!
They are an inexpensive cut of meat but extremely versatile and flavorful.
Whether you're using pork, turkey, or even beef neck bones, you're bound to enjoy their incredible flavors no matter how you cook them.
From stews to braised dishes, we've got you covered with some of the best neck bone recipes that you can easily try at home!
Savor delicious pork neck bones with this simple recipe that makes a fantastic dish and it's so easy to whip up!
The neck bones are given a nice sear in the skillet before being immersed in a mixture of tomatoes, Italian seasoning, and red pepper flakes to cook until extremely flavorful and tender.
No fancy ingredients are required to make this delightful dish and you'll be enjoying tasty meat with little effort!
Give it a try and you'll definitely not be disappointed!
For a hassle-free neck bone recipe that you can use to cook up a tasty meal, look no further than this Soul Food Style Pork Neck Bones!
It's ridiculously easy to make for something that tastes so good and all you need to do is dump all the ingredients into a slow cooker and let the appliance do all the cooking for you.
There's no lack of flavor with garlic powder, onion powder, paprika, chicken broth, and other lovely ingredients that help to make the meat extra delicious.
You'll love how simple it is to put great-tasting food on the table!
Treat yourself to tender and juicy beef neck bones with one of our favorite braised neck bone recipes that make an incredible dish!
Browned neck bones are simmered in a mixture of sautéed onion, carrot, garlic, celery, tomato paste, red wine, and beef broth, cooking until they become extremely flavorful.
Paprika, allspice, and bay leaf help to provide depth to the flavor, making it even tastier and absolutely irresistible.
This braised dish is a great way to experience the awesome flavor of beef neck bones!
This is another fantastic dish and if you have a slow cooker or crockpot, you absolutely need to give this recipe a try!
Seasoned with smoked paprika, garlic powder, salt, and pepper, the neck bones are then added to a slow cooker with broth, chopped onions, and bay leaf.
Cooked until extremely tender and flavorsome, this is a mouthwatering delight that's not only delicious but also really easy to make!
You can go about your daily routine and come back to a terrific meal!
Enjoy a splendid meal with this Southern neck bone recipe that makes an incredible dish and is sure to whet your appetite!
The bones are seasoned with a variety of spices that includes sage, garlic powder, and paprika, before being baked in the oven with onion slices.
A simple gravy made with water, chicken bouillon, and flour is added to give extra texture and flavor to the meat.
Serve with your favorite carbs and greens to turn it into a complete meal!
Reward yourself with an excellent Korean neck bone soup that's amazingly delicious and is sure to tantalize your taste buds!
With a broth made tasty by adding a whole host of lovely ingredients that include green onions, ginger, onion, garlic, rice wine, fermented soybean paste, fish sauce, and Korean red pepper flakes, you're guaranteed tons of incredible flavors with every sip.
Add neck bones, potatoes, and napa cabbage into the mix, and you have a hearty and wholesome dish that the whole family can enjoy!
This soup makes for great comfort food on cold and chilly days!
Give an instant upgrade to collard greens by cooking with neck bones to impart a smoky flavor and create an awesome dish!
This lovely dish involves boiling neck bones in a pot of water before adding collard greens, garlic, onion, mustard greens, turnip, bell peppers, and jalapeño to cook.
A blend of seasoning that includes onion powder, garlic powder, apple cider vinegar, sugar, and cinnamon is added to make everything extra delicious, and all the flavors meld together really nicely.
With tender meat and tasty vegetables, there's nothing not to like about this simple recipe!
This Braised Pork Neck Bone recipe is an absolute must-try with its amazing taste and ease of cooking!
The neck bones are simmered in a mixture of chicken stock, bay leaves, aromatics, pickled vegetables, chipotle peppers, and other delightful ingredients that make them extremely flavorsome.
Cooked in the oven until the meat is tender and everything is well-flavored, this is a dish that's not only tasty but also really easy to whip up.
Simple and delicious, just how we like our recipes to be!
In what is one of our favorite neck bone recipes, this is definitely a must-add to your meal rotation because it's just that delicious!
Sautéed mushrooms and garlic are paired with beef neck bones and simmered in a mixture of beef stock and tomato paste to create an absolutely delightful dish.
Rosemary is added to impart its fragrance and give depth to the flavor, making it extremely flavorful and mouthwatering.
You'll love the rich flavors of this simple dish that's so easy to make!
Indulge in a fantastic sandwich that's superbly delectable and is sure to delight your taste buds!
Braised beef neck bones, Fontina cheese, caramelized onions, and a homemade beer sauce are combined between two burger buns to create an exceptional sandwich that's super tasty and just irresistible.
The beer sauce is made with a mix of Dijon mustard, maple syrup, soy sauce, beer, garlic powder, salt, and pepper, and it adds so many wonderful flavors to the sandwich.
Every bite is bursting with incredible flavors and you'll be hard-pressed to limit yourself to just one serving!
Dig into an amazing dish with this Barbecue Pork Neck Bones recipe that's super easy to make and tastes absolutely wonderful!
It's incredibly straightforward to whip up and all you need to do is combine neck bones, onions, seasoning salt, liquid smoke, and other lovely ingredients together before adding them to a pressure cooker along with your favorite barbecue sauce.
From there on, all the work is left to the pressure cooker and you'll come back to extremely flavorful and tender meat!
With little prep work required, this is a great option for making a delicious meal on those busy days!
This is one of the easiest beef neck bone recipes that you can try and it makes such a flavorful and tasty dish!
Seasoned neck bones are pan-seared until a nice crust develops, which helps to provide texture and flavor that makes the meat exceptionally delicious.
Along with a mix of bay leaves, onions, Worcestershire sauce, and water, the neck bones are roasted in the oven until fully cooked and tender.
Complete the meal by serving with a side of rice, beans, and your favorite veggies!
Get ready for a superb meal with tender and flavorsome meat, topped with gravy that's really easy to make!
Pork neck bones are simmered in a mixture of onions, red pepper flakes, salt, and pepper until they are so tender that the meat falls off the bones, creating the perfect comfort food.
The gravy is made simply by taking a little broth to mix with butter, oil, and flour, whisking until it thickens.
Serve over rice and smother everything with the tasty gravy to enjoy a delightful meal!
Add some Mexican flair to your next meal with this excellent dish that you'll definitely want to give a try!
Featuring neck bones cooked in a boiling mixture that includes bay leaves, garlic, onion, chicken bouillon, cumin, and oregano, you're bound to enjoy extremely flavorful and tender meat.
It's made even tastier by adding a blended mixture of chilies, tomatoes, corn masa dough, garlic, and other lovely ingredients, adding tons of wonderful flavors to the broth and meat.
With how delicious it is, we have no doubts that this will quickly make its way to your list of favorite neck bone recipes!
We all love a good one-pot recipe that makes delicious food and has minimal cleanup, and this Neck Bones & Rice recipe is exactly that!
Neck bones, seasoned with salt, pepper, and red pepper flakes, are given a nice sear and then simmered in salted water until tender before rice is added to cook it as well.
It's simple and rustic but has that homecooked flavor that is exceptionally comforting.
This dish is remarkably easy to make and is great to enjoy any day of the week!
Discover your new favorite comfort food with these Pino Beans with Pork Neck Bones that are incredibly tasty!
It's a delectable combination of pinto beans, neck bones, onion, and garlic, made flavorful with chicken stock, paprika, onion powder, garlic powder, cumin, and other lovely ingredients.
Everything is slow-cooked until the flavors meld together and they become super delicious.
Serve over white rice and enjoy a hearty and wholesome meal!
If you're looking for a new soup recipe to add to your rotation, this brilliant Pork Neck Bone Soup definitely fits the bill for something tasty and easy to make!
Pork neck bones are combined with aromatics, potatoes, corn, tomatoes, and other delightful ingredients to create an incredibly hearty soup that's sure to satisfy any appetite.
Made flavorsome with a variety of spices, you'll be slurping up every last drop before you even know it!
Pair it with some homemade bread to maximize the enjoyment of this delicious soup!
Enjoy a terrific meal with these Mixed Beans and Smoked Pork Neck Bones that are filled with great flavors and textures!
It's a lovely combination of neck bones, red beans, pinto beans, onion, and jalapeño, all cooked and simmered together until they become flavorful and delicious.
A simple addition of onion powder, garlic powder, salt, and pepper is sufficient to enhance the flavor of this fantastic dish.
Try it for your next meal and you'll definitely be pleasantly surprised!
Try your hands at making this Beef Neck Bone Noodle Soup that's absolutely delicious and is sure to captivate your taste buds!
Roasted neck bones are simmered in a broth along with other vegetables such as carrots, onions, and ginger, and then combined with noodles, corn, and cabbage to create a wholesome dish.
It's light yet tasty, making it one of those neck bone recipes that you'll definitely want to keep handy!
Everyone will be asking for seconds with how delectable it is!
Grace your taste buds with this exceptional baked neck bone recipe that makes an amazingly delicious dish!
It's a tantalizing mixture of pork neck bones, BBQ sauce, onion, garlic, and bell peppers, all baked in the oven until perfectly cooked.
The meat is extremely flavorsome thanks to the lovely flavor of BBQ sauce, making it an absolute mouthwatering delight.
It's a perfect blend of sweet and savory that you definitely don't want to miss out on!
At Glorious Recipes, we have our favorite Beef Neck Bone Soup that we absolutely adore and it tastes heavenly! Check out the recipe below!
Yield: 6
Beef Neck Bone Soup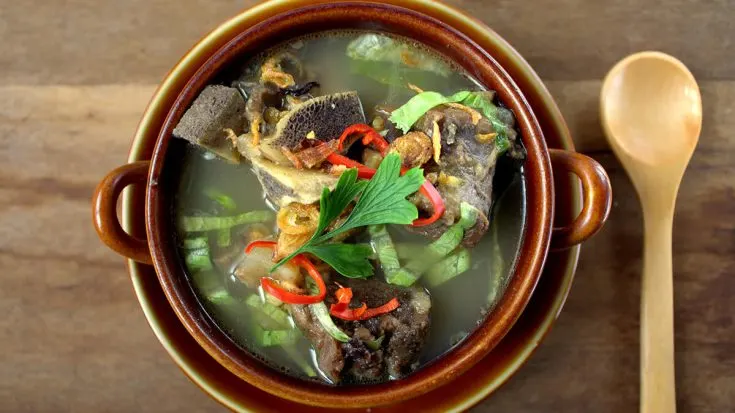 Cook up a pot of delicious Beef Neck Bone Soup that's sure to delight your taste buds!
Total Time
2 hours
15 minutes
Ingredients
oil
6 cloves garlic, minced
1 large onion, quartered
1 thumb-sized ginger, thinly sliced
2 tbsp ground coriander
1 tbsp ground cumin
4 pieces cardamoms
1 stick cinnamon
1 piece star anise
3½ lb beef neck bones
3½ cups water
2¼ cups beef stock
1 stalk celery, sliced
2 medium tomatoes, sliced into wedges
fish sauce, to taste
black pepper, to taste
chopped celery leaves, to garnish
Instructions
Add a little oil to a large pot over medium heat. Add garlic, onion, and ginger, and sauté until fragrant. Then, add ground coriander, cumin, cardamom, cinnamon stick, and star anise. Stir-fry for about a minute or so.
Increase the heat to high, then add beef neck bones. Cook for about 5 minutes. to brown them.
Add beef stock and water, then season with black pepper generously. Bring the mixture to a boil, then lower to a simmer and let it cook on low heat for around 1½ hours.
Add tomatoes and celery and cook for a further 10 minutes.
Add fish sauce to taste, then garnish with freshly chopped celery leaves.
Serve and enjoy!
Nutrition Information:
Yield:
6
Serving Size:
1
Amount Per Serving:
Calories:

882
Total Fat:

63g
Saturated Fat:

27g
Trans Fat:

4g
Unsaturated Fat:

36g
Cholesterol:

265mg
Sodium:

622mg
Carbohydrates:

10g
Fiber:

3g
Sugar:

3g
Protein:

71g
Nutrition information is only an estimate and can vary depending on ingredients used.
Which of the neck bone recipes have you tried so far?
Let us know in the comments below!
For more awesome recipes that you might like, check out the following:
Smoked Duck
Kelp Noodles
Protein Bowl
Diced Chicken
Pit Boss Smoker
Turkey Chop
Pheasant
Goose Breast
CanCooker
Oaxaca Cheese
Share on your favorite social media platform and tag us @GloriousRecipes – we can't wait to see what you have made!