Calamari steak is great for sprucing up your meals with a unique seafood option that's versatile and absolutely delicious!
Made from the body of a squid, it has a tender texture and can be made extremely flavorful in a wide variety of dishes.
It's also a fantastic source of protein and is low in fat, making it perfect for healthier meals!
Whether you prefer it grilled or pan-fried, we've got you covered with some of the best calamari steak recipes that you can easily try at home!
Enjoy a superb meal with this terrific Grilled Calamari Steak recipe that makes an exceptional dish you definitely don't want to miss out on!
Tossed in a mixture of olive oil, lemon juice, and parsley, the calamari steaks are then grilled to perfection and they taste absolutely amazing.
They are topped with a Mediterranean salsa that consists of garlic, cherry tomatoes, olives, capers, oil, parsley, lemon juice, and lemon zest, creating a delightful dish that everyone is bound to love.
The vibrant flavors of this tasty dish make it a great addition to your meal rotation!
Try your hands at making these excellent Lemon Caper Calamari Steaks that are amazingly delicious and so easy to whip up!
Dredged in flour and egg, the steaks are then pan-seared until fully cooked and a beautiful golden brown color is achieved.
They are paired with a simple but flavorsome sauce made from butter, lemon juice, and capers, resulting in a wonderful dish that's sure to bring a smile to your face.
Give it a try and you'll definitely not be disappointed!
Dig into this Thai-styled calamari steak that's sure to tantalize your taste buds and it's just incredibly delectable!
There's no lack of wonderful flavors with a mix of garlic, ginger, shallots, lemongrass, red curry paste, fish sauce, and Thai chili paste imparting their fragrance to the steak, ensuring a dish that tastes divine.
Add bok choy into the mix and you have a hearty dish that definitely has a place in any meal!
With how tasty the steak is, this is definitely one of our favorite calamari steak recipes!
Keep it simple with these amazing Grilled Calamari Steaks with Olive and Bean Salad that's loaded with refreshing flavors!
Perfectly grilled steaks are paired with a splendid salad that's made with capers, mixed olives, white beans, minced anchovy, garlic, lemon juice, and other lovely ingredients to create an absolutely mouthwatering delight.
It's extremely delicious with light flavors that are sure to satisfy any appetite!
The family is bound to love this simple but tasty dish!
Indulge in a sensational sandwich with this fried calamari steak recipe that you definitely need to try!
Dredged in whisked eggs and then coated with panko breadcrumbs, the steak is then deep-fried until golden brown and crispy to create an irresistible patty.
The sandwich is a wonderful assembly of pickles, calamari steak, coleslaw, lemon vinaigrette, and burger buns that have been spread with a flavorsome spicy gochujang mayonnaise.
All the flavors meld together extremely well and this is a sandwich that will make you salivate at the thought of it!
Expand your dinner options with this incredible Calamari Piccata that's crazy delectable and is sure to whet your appetite!
The steaks are dredged in flour and egg before they are pan-fried until nicely browned and then combined with a simple sauce made with butter, white wine, lemon juice, and capers.
Everything comes together really quickly and you'll be enjoying a delicious meal in no time at all!
This quick and easy pan-fried calamari steak recipe is perfect for a fantastic weeknight dinner!
Treat yourself to a terrific meal with this easy calamari steak recipe that's filled with Spanish flavors and is sure to delight your taste buds!
Seasoned with a basic combination of olive oil, salt, and pepper, the steaks are then pan-seared until fully cooked, and they are paired with a simple sauce that's made with white wine, garlic, Spanish pepper, and olive oil.
It's ridiculously easy to make and the incredible flavors will make you crave a second serving because they are just that delicious!
With how tasty it is for something so simple to make, this is definitely one of our favorite calamari steak recipes as well!
Sign us up for this exceptional sandwich that's super delicious and loaded with fantastic flavors you'll definitely love!
Marinated in chimichurri, the steak is extremely flavorsome even before it's cooked and you just know you're going to have a delectable dish at the end.
Grilled until beautiful grill marks form on the surface of the steak, it's then combined with pickled onions and baby arugula in between two toasted buns, creating an outstanding sandwich.
The herbaceous flavor makes this an absolute must-try in our books!
On days when you want a simple but tasty meal, you've got to check out these easy Calamari Steaks with Lemon Butter and Parsley!
It's incredibly straightforward to make and all you need to do is tenderize the steaks before coating them with egg white and panko breadcrumbs, then pan-seared until golden brown and crispy.
Finished with a garnish of parsley and a squeeze of lemon juice, this is an appetizing dish with refreshing flavors that everyone can enjoy!
With how easy it is to whip up this tasty dish, it's perfect for a delightful meal any day of the week!
Level up your cooking skills with this stunning dish that's incredibly delicious and is sure to captivate your taste buds!
Pan-fried calamari steaks are paired with charred lemons and served on top of a rich butter sauce made with white wine, shallot, garlic, lemon juice, and butter, creating a culinary masterpiece that tastes absolutely divine.
Be prepared to be showered with compliments because this is a dish that'll definitely impress the crowd with its great flavors!
We have no doubts that this will quickly make its way into your list of favorite calamari steak recipes!
Reward yourself with a hearty meal that's superbly tasty and perfect for whipping up any day of the week!
Breaded calamari steak is paired with fantastic lemon anchovy spaghetti and a side of julienned zucchini in this simple but absolutely delectable dish.
It's so flavorful that you'll be devouring the entire thing before you even know it!
With all the carbs, protein, and fiber you need for a wholesome meal, this is one recipe that you'll definitely want to keep handy!
Inject a little Asian flair to your next meal with this awesome take on calamari steaks that's sure to make you go wow!
Marinated in a mixture of soy sauce, sweet chili sauce, lime juice, garlic, and red pepper flakes, the steaks are then grilled until fully cooked and finished off with a simple sprinkle of salt.
Served with lime wedges and reserved marinade as a dipping sauce, this is an extremely flavorful dish that's sure to excite your palate!
Try it yourself and you'll be pleasantly surprised by how good it tastes!
At Glorious Recipes, we have our favorite Panko-Breaded Calamari Steaks that we absolutely adore and they taste heavenly! Check out the recipe below!
Yield: 2
Panko-Breaded Calamari Steak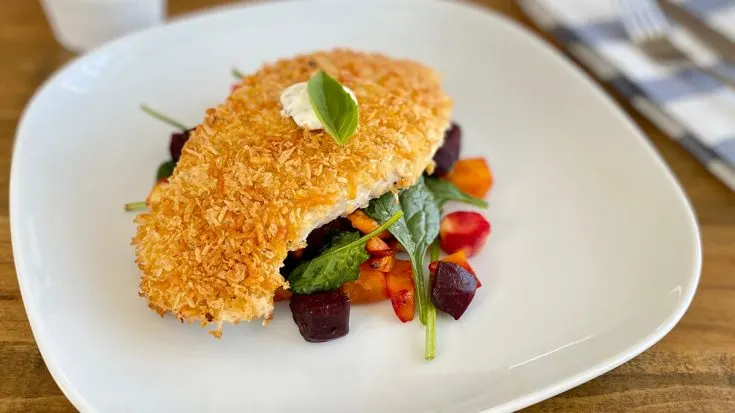 Enjoy a seafood delight with this amazing Panko-Breaded Calamari Steak that's absolutely delicious!
Ingredients
2 calamari steaks
1 cup flour
2 tsp homemade seasoning (recipe below)
1 egg
½ cup breadcrumbs
½ cup panko breadcrumbs
salt and pepper, to taste
1 tbsp olive oil
2 tbsp butter
Homemade Seasoning
2½ tsp paprika
2 tsp salt
2 tsp garlic powder
1 tsp onion powder
1 tsp black pepper
1 tsp dried oregano
1 tsp cayenne pepper
1 tsp dried thyme
Instructions
Ensure calamari steaks are dry by patting them with paper towels. Season with salt and pepper.
Get ready 3 shallow bowls. In the first bowl, pour flour and 1 teaspoon of homemade seasoning and mix well. In the second bowl, whisk egg. In the third bowl, add breadcrumbs, panko breadcrumbs, and 1 teaspoon of homemade seasoning, then mix well.
Add oil and butter to a skillet on medium-high heat. Dredge calamari steaks one by one, starting with flour, then egg, then breadcrumb mixture. Add the breaded steak to the skillet and let it cook untouched for about 2 minutes or until browned. Flip once and cook for another 2 minutes. Transfer to a serving plate.
Serve with your favorite dipping sauce and sides! Enjoy!
Notes
Cook in batches if your skillet is too small to hold both steaks.
There will be leftovers of the homemade seasoning, which you can use for other recipes. It adds great flavors to everything!
Nutrition Information:
Yield:
2
Serving Size:
1
Amount Per Serving:
Calories:

1337
Total Fat:

60g
Saturated Fat:

19g
Trans Fat:

1g
Unsaturated Fat:

34g
Cholesterol:

423mg
Sodium:

4832mg
Carbohydrates:

132g
Fiber:

8g
Sugar:

4g
Protein:

65g
Nutrition information is only an estimate and can vary depending on ingredients used.
Which of the calamari steak recipes have you tried so far?
Let us know in the comments below!
For more awesome seafood recipes that you might like, check out the following:
Colossal Shrimp
Rock Shrimp
Argentine Red Shrimp
Bay Scallop
Razor Clam
Shrimp Ramen
Langostino
Whole Tilapia
Porgy
Sablefish
Share on your favorite social media platform and tag us @GloriousRecipes – we can't wait to see what you have made!