Venison burgers are a great option when you want a healthier red meat alternative as compared to traditional beef burgers!
They are leaner, lower in fat, and higher in protein, making them a superb choice when you want to whip up an excellent meal!
Leaner doesn't mean less flavorful in this case and you can easily create juicy and delicious venison burgers with various toppings and sauces.
From classic mushroom Swiss to blue cheese toppings, we've got you covered with some of the best venison burger recipes that you can try at home!
Get ready to experience a mouthwatering delight with this exceptional burger that tastes absolutely incredible!
There's no lack of flavor with Worcestershire sauce, Dijon mustard, bacon, garlic powder, and onion powder used to impart depth to the patty, and it is exceptionally tasty.
A smoky aioli made simply by combining mayonnaise, smoked paprika, Dijon mustard, and pickle relish adds even more wonderful flavors to bring this burger to another level.
You'll love how easy it is to make this delicious burger!
Jazz up your burgers with this brilliant recipe that you definitely don't want to miss out on!
The highlight of this dish is the chutney made with tamarillos, apples, red currants, onions, sugar, and other spices which adds so much excellent flavor to the burger.
A tasty smoked ricotta cream is spread on the patty before being topped with wild rockets to create a well-balanced burger that tastes heavenly.
With how delicious it is, this burger is sure to be a hit with the family!
Enjoy a fantastic meal with these Mushroom Swiss Burgers that are amazingly delectable and sure to whet your appetite!
With flavorsome patties that contain ground venison, onion powder, garlic powder, diced Swiss cheese, and Worcestershire sauce, plus a topping of caramelized onions, mushrooms, and cheese slices, these burgers are absolutely irresistible!
Every bite is incredibly satisfying and transports you to culinary heaven in an instant.
It's one of our favorite venison burger recipes so make sure to give this a try!
Savor delicious burgers with this simple recipe that incorporates apples to create an extremely flavorsome dish!
Featuring patties made with a delightful combination of diced apples, ground meat, onions, garlic, breadcrumbs, mustard, and other lovely ingredients, these burgers are superbly flavorful.
Add lettuce, mayonnaise, and your favorite toppings to enjoy a simple but tasty meal any day of the week!
This is a great way to expand your lunch and dinner options with some awesome food!
Treat yourself to a spectacular meal with these venison burgers and fries that are sure to delight your senses!
Toasted brioche buns, homemade whisky mayonnaise, flavorsome patties, cheddar cheese, red onion chutney, and watercress come together in this dish to create something truly special.
Along with baked fries coated with mustard powder, this is a hearty meal that will definitely satisfy your appetite!
Give this a try and your taste buds will thank you!
If you have a sous vide machine or immersion circulator, you've got to check out this terrific recipe that makes great-tasting burgers!
It's ridiculously easy to make evenly cooked patties consistently with this method and you can even make a big batch to freeze them ahead of any large parties or gatherings.
Season and sear them after that to add even more wonderful flavors and textures to the patties before assembling the burgers with your favorite toppings.
It's a foolproof way to get burgers that taste awesome!
Fire up your grill and try making these exceptional Smoked Venison Burgers with Beer Cheese that are sure to be a crowd-pleaser!
This dish involves a combination of BBQ-seasoned patties, crispy bacon, jalapenos, onions, mayonnaise, and beer cheese made with shredded cheddar and Swiss cheese, butter, flour, beer, Worcestershire sauce, mustard, and other lovely ingredients.
The burgers taste absolutely divine and you'll be craving a second serving right after your first bite because they are just that delicious.
They are bound to steal the show at your next grilling session so be prepared for plenty of compliments!
Sign us up for these excellent burgers that are mind-blowingly tasty and the ultimate indulgence with splendid flavors!
Seasoned with umami powder, onion powder, salt, and pepper, the patties are extremely flavorful once they are fully cooked, and they are paired with homemade roasted tomato blueberry jam and onion rings to create a mouthwatering delight.
Thanks to gluten-free flour and buns, these delicious burgers are gluten-free as well!
With impeccable taste, this is one of those easy venison burger recipes that you'll definitely want to keep handy!
Shake things up a little and try making this awesome burger that brings together some of our favorite ingredients in one dish!
Ground beef, venison steak, and chorizo are combined with smoked paprika, and ground clove to create juicy and extremely flavorful patties that are incredibly delicious.
Along with toasted buns, garlic-parsley mayonnaise, pickled red onion, grilled peppers, and lettuce, this is an absolutely scrumptious treat that you definitely need to try!
This juicy burger is a great way to expand your burger options!
These venison burgers are paired with sweet potato fries to create a quick and easy meal that you can prepare any day of the week!
The star of this dish is the caramelized onions, cooked with balsamic vinegar, sugar, and sweet chili sauce to add tons of amazing flavors to the burgers.
Along with other ingredients such as horseradish mayonnaise, tomato sauce, feta cheese, and lettuce, these are top-notch burgers that taste fantastic!
Served with sweet potato fries that are baked until crispy, you'll definitely be happy and satisfied with this simple venison burger recipe!
If you've never tried smash burgers, you don't know what you're missing out on!
Instead of forming thick patties that have been seasoned beforehand, smash burgers use loosely packed ground meat which is pressed down on a hot surface to develop a nice sear on both sides right after they are seasoned.
The result is burgers that have maximum flavor, thanks to Maillard reaction.
To assemble this amazing burger, spread blackberry jam on a toasted bun and top it with onions, smashed ground venison with cheese, lettuce, and classic burger sauce that's made with ketchup, mayonnaise, and Dijon mustard!
Ramp up your next meal with an outstanding burger that's supremely delicious and sure to captivate your taste buds!
It's a delectable combination of juicy venison patty made with a mix of ground venison, balsamic vinegar, and brown sugar, plus arugula, goat cheese, and a splendid raspberry sauce that consists of raspberries, balsamic vinegar, and honey.
Every bite is bursting with immense flavors and you're sure to develop a craving for this excellent burger.
It's a must-add to your meal rotation in our books!
Level up your cooking skills with these innovative Venison Burgers with Blue Cheese that will surely excite your palate!
Juniper berries, chives, bacon, ground venison, and other ingredients combine to form extremely flavorful patties, and they are topped with blue cheese and peaches that have been flambéed in gin.
Each ingredient imparts its distinct characteristic to help make these burgers gloriously delicious with sweet, savory, and tangy elements.
If you feel like having something special, this is one of the best venison burger recipes to try!
Spruce up your next meal with these remarkable Open-Faced Roasted Pepper Swiss Venison Burgers!
It's a lovely assortment of sourdough bread, basil mayonnaise, tomatoes, lettuce, Swiss cheese, and burger patties made with grilled bell peppers, jalapeños, ground meat, and breadcrumbs.
The peppers help to add a nice kick to the patties and it's a thoroughly enjoyable meal that's super easy to whip up!
Give it a try and you'll not be disappointed!
If you have an Instant Pot, make sure to check out this terrific recipe that makes juicy and delicious patties!
The patties are formed with a tantalizing combination of diced jalapeños, shredded cheddar cheese, chorizo, ground venison, garlic powder, onion powder, salt, and pepper.
Cooked in the Instant Pot in under 15 minutes, this is a great option for a quick and easy meal any time of the day!
Add your favorite toppings and you'll have a fabulous burger to enjoy!
This ground venison burger is exceptionally tasty and it's a guilty pleasure that you'll need to indulge in at least once!
Made with a mix of ground meat, bacon, garlic, and onion, the pan-fried patty is super juicy and loaded with tons of great flavors.
Pimiento cheese, which is a combination of cream cheese, mayonnaise, cheddar cheese, pimientos, bacon, and spices, is used to top the patty along with bacon strips.
You might just have a new favorite burger after your first bite because it's just that delicious!
In what is one of our favorite venison burger recipes, pears lend their sweetness to create a sweet and savory delight that tastes absolutely divine!
Rosemary, balsamic vinegar, onion, and chili powder are combined with ground venison to form patties, which are then cooked until they become super tasty.
Pears are then pan-fried until beautifully colored and used as a topping for the burgers.
Add watercress and chutney into the mix and you'll have mouthwatering burgers that are just irresistible!
This grilled venison burger recipe is a must-try for your next grilling session because it makes incredibly juicy and delicious burgers!
To ensure the patties remain moist after they are grilled, butter is placed in between two patties before they are cooked.
A wonderful cherry salsa, made by blending cherries, cilantro, onions, jalapeños, lime juice, balsamic vinegar, and sugar, serves as a delightful topping to elevate the burgers to the next level.
You won't believe how something so simple to make can taste this good!
This is another grilled venison burger recipe that you'll want to try because the burgers taste absolutely sensational!
Topped with a homemade barbecue sauce that includes Dijon mustard, maple syrup, apple cider, tomato sauce, and bourbon, these burgers are extremely flavorful and delicious.
Bacon, cheddar cheese, and caramelized onions help to complete these amazing burgers and you'll be gobbling everything down before you even know it.
It's a heavenly combination of flavors and textures that you're sure to enjoy!
If you're thinking of what to serve as a starter for your next gathering, these Savory Venison Sliders are here to save the day!
This dish involves adding garlic powder, diced tomatoes, balsamic vinegar, fresh herbs, and other delightful ingredients to ground venison before they are cooked to ensure plenty of incredible flavors.
Topped with cheese and tomatoes, these miniature burgers are absolutely delectable and make for an awesome starter.
Serve with your favorite sauces for maximum enjoyment of these fantastic sliders!
Get ready to be amazed by this excellent recipe that makes a succulent and flavorsome burger!
Featuring patties that have been seasoned with ground coffee, garlic powder, brown sugar, salt, and pepper, as well as crispy bacon, red onion slices, and melted cheddar cheese, this burger tastes absolutely stupendous.
Filled with fantastic flavors and super easy to whip up, this burger is sure to be a hit with the crowd!
It's one of those ground venison burger recipes that you definitely need to try!
For a simple venison burger recipe that's loaded with tons of flavors, you've got to check out this splendid recipe!
Venison patties are basted with butter while cooking to ensure they remain juicy and moist, and they are topped with caramelized onions simmered in white wine, resulting in super yummy burgers.
Arugula, aged cheddar, Dijon mustard, and mayonnaise helps to complete this amazing gem and you'll be surprised something so easy to make can taste this good.
You can eat this every day and not get tired of it!
Add a little extra nutrition to your burger patties with this fantastic recipe that helps to keep your burgers refreshing!
The patties are made with a tantalizing combination of ground meat, garlic, blue cheese, spinach, and breadcrumbs, resulting in loads of wonderful flavors and nutrition.
Serve them with toasted brioche buns, melted cheese, onions, tomatoes, and lettuce for an easy but tasty meal!
There's nothing not to like about this quick and easy recipe!
Keep it simple with this terrific Chipotle venison burger that's superbly tasty and super easy to whip up!
It's a lovely marriage of ground venison, chipotle chilies, garlic, onion, and other ingredients to create absolutely scrumptious and extremely flavorsome patties.
Once grilled, they are combined with melted pepper jack cheese, tomatoes, onions, and lettuce to form delightful burgers that everyone is sure to fall in love with.
Be sure to try this for your next grilling session!
Inject a little Mexican flair to your next burgers with this terrific Spicy Venison Fajita Burger recipe!
It's a tantalizing mix of ingredients and toppings to create a mouthwatering masterpiece and it's finger-licking good!
With a sour cream mixture that consists of sour cream, garlic, cilantro, smoked paprika, and lime juice, along with avocados, pistachios, chipotle cheddar, bell peppers, and onions, you're guaranteed tons of incredible flavors.
Every bite is exceptionally satisfying and it's simply one of the best venison burger recipes!
At Glorious Recipes, we have our favorite Venison Burger with Blackberry Jam that we find to be absolutely delicious and tastes spectacular! Check out the recipe below!
Yield: 2
Venison Burger with Blackberry Jam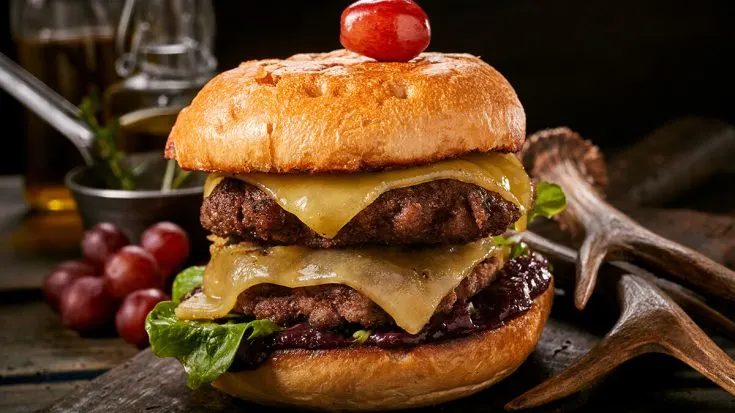 This Venison Burger with Blackberry Jam is the ultimate indulgence for all burger lovers! It's exceptionally tasty and really easy to make!
Ingredients
1 lb ground venison
1 egg, beaten
½ tbsp Worcestershire sauce
½ tbsp Dijon mustard
½ tsp garlic powder
½ tsp onion powder
½ tsp salt
¼ tsp black pepper
2 tbsp butter
4 slices cheddar cheese
2 brioche buns, halved
6 tbsp blackberry jam
Instructions
Add ground venison, egg, Worcestershire sauce, mustard, garlic powder, onion powder, salt, and pepper to a large mixing bowl. Mix to combine well, then form 4 patties. Let them rest for 15 minutes to allow the flavors to meld.
Add a tablespoon of butter to a skillet over medium-high heat. Add 2 patties without overcrowding the skillet and cook for around 3-4 minutes per side for medium doneness. Top with a slice of cheese on each patty during the last 2 minutes to melt the cheese. Once done, repeat for the other 2 patties.
Spread a little butter on the buns and toast in skillet with cut side down for about a minute or 2 until nicely golden brown.
Time to assemble the burgers! Spread jam on the bottom bun and top with patties along with any of your favorite toppings such as tomatoes, onions, and lettuce. Enjoy!
Nutrition Information:
Yield:
2
Serving Size:
1
Amount Per Serving:
Calories:

1258
Total Fat:

66g
Saturated Fat:

36g
Trans Fat:

1g
Unsaturated Fat:

21g
Cholesterol:

510mg
Sodium:

1733mg
Carbohydrates:

80g
Fiber:

2g
Sugar:

36g
Protein:

84g
Nutrition information is only an estimate and can vary depending on ingredients used.
Which of the venison burger recipes have you tried so far?
Let us know in the comments below!
For more awesome recipes that you might like, check out the following:
Ground Elk
Goose Breasts
Ground Bison
Quail
Pheasant
Dove
Smoked Duck
Lamb Breast
Ooni
Pit Boss Smoker
Share on your favorite social media platform and tag us @GloriousRecipes – we can't wait to see what you have made!