Quail might be a small game bird but it doesn't lose out on taste and is very versatile when it comes to cooking up a delicious meal.
The taste of quail meat is similar to chicken so everyone can easily enjoy quail dishes and some might even rank it higher than chicken in terms of flavor!
If you manage to get your hands on some quail meat, you've got to check out the recipes that we have in store for you.
Whether you like it roasted, fried, or braised, we've got you covered with some of the best quail recipes that you can easily try at home!
Savor delicious quail meat with this fantastic recipe that's quick and easy to whip up for a satisfying meal!
Marinated in a sesame soy mixture that includes honey, garlic chili, garlic, and ginger, the meat becomes extremely flavorful and the Asian-styled sauce works to great effect here.
The meat is seared and then roasted in the oven until it's perfectly cooked before the marinade is reduced and drizzled all over.
It's a delightful dish that pairs really well with a side of carbs to make it a wholesome meal!
Another simple way of cooking delicious quail will be to give it a quick glaze that provides so much flavor to the meat.
In this wonderful dish, a tasty glaze made up of orange marmalade, orange juice, tarragon, and garlic is painted on the roasted meat before it's sent back into the oven to finish cooking with the sauce.
It's sweet, savory, and tangy all at the same time and the combination helps to make the quail meat really delicious.
With such a lovely presentation, this quail dish is bound to be a crowd-pleaser!
Fire up your grill for this amazing BBQ quail recipe that you'll definitely love!
The game birds are cooked over a grill and painted with a fantastic homemade barbeque sauce that's just mouth-watering.
With honey, sage, tequila, and hot chilies among the ingredients, the sauce is extremely flavorful and goes really well with the meat.
Try it the next time you're having a barbeque and you'll be adding this quail recipe to your favorites list not before long!
Treat yourself to this delicious quail dish that's roasted with cornbread, apples, and pecans to create a superb meal!
The beauty of this recipe is that it's very versatile and can take on any fruit to suit the season so it will always be refreshing when you make this dish!
Stuffed, seared, and then roasted, the meat becomes extremely flavorful and tasty when cooked and it's just so irresistible when it comes out of the oven.
This wonderful dish is completed with a drizzle of vinaigrette sauce to add even more depth to the flavor!
If you're looking for a crockpot quail recipe, look no further because this recipe will give you tasty meat and it's so easy to make!
Once the meat has been browned, it's added to the crockpot along with chicken broth, soups, white wine, onion, and bay leaves to let it cook and absorb all the wonderful flavors.
There's minimal manual cooking required and it's great for anyone who's getting started on their first quail dish.
Serve with your favorite carbs to complete the meal!
Enjoy a delightful meal with this one-pot Greek braised quail recipe that you definitely need to add to your lunch or dinner rotation!
The quails are cooked in white wine, aromatics, oregano, and lemon zest, ensuring they are loaded with wonderful flavors once done.
With the addition of artichokes, olives, and capers, this dish becomes even more flavorful and delicious.
It's so tasty and easy to make that it's easily one of our favorite quail recipes!
Add some Spanish flair to your next meal with this Majorcan specialty that's amazingly delicious and easy to whip up!
Tender quail meat is delicious on its own, but when paired with pomegranate sauce, it becomes a heavenly dish that will definitely satisfy any appetite.
The sweet and tart flavors of the pomegranate sauce go really well with the meat and you'll be wanting a second serving right after the first bite!
Serve this at your next gathering and get ready to be showered with compliments!
Dig into tender braised quails along with some tasty mushrooms that are perfect for a great meal!
In this simple recipe, mushrooms are sautéed with garlic and shallot to provide plenty of flavor before the meat is added to the pan and braised in beef stock.
Heavy cream is added at the end to make a rich and creamy sauce to complement the meat and everything combines to create a delicious quail dish.
It's easy to make and tastes really great so if you're a mushroom and poultry lover, you definitely got to give this a try!
Rosemary and lemon make such a great combination and are perfect for making delicious grilled quails!
They are blended to create a seasoning paste that is slathered under and over the skins of the quails and left to let the birds marinate and absorb all that flavors.
The meat is then grilled until nicely cooked and they taste so delightful with a refreshing flavor.
Serve with your favorite sides to make a wholesome meal for the family to enjoy!
Level up your cooking skills with this incredible peach barbecued quail and smoked cheese grits that look as good as it tastes!
The meat is brushed with a peach barbeque sauce that is extremely flavorful and then cooked over a grill until it's tender and delicious.
Served on smoked cheese grits with a garnish of freshly chopped parsley, this dish is a magnificent visual treat in addition to its great flavor.
It makes a wonderful meal and is easily one of our favorite quail recipes!
Inject a little Middle Eastern flair with this tasty sweet and sticky roast quail that will definitely tantalize your taste buds!
With a marinade that includes saffron threads, pomegranate molasses, and cumin, you get super delicious and extremely flavorful meat.
A sprinkle of za'atar helps to add even more depth to the flavor and everything combines to form an impressive dish.
Eat with some flatbread or homemade bread for an awesome meal!
Try your hands at this fantastic sausage-stuffed grilled quail recipe and enjoy a great barbeque meal!
The sausage stuffing is given additional flavors by mixing with jalapeño and cheese, and the stuffed quail is given an awesome glaze of peach mango habanero sauce and BBQ sauce.
They help to make the meat extremely flavorsome and the cooked dish is as delectable as it can be.
You'll be enjoying tender and juicy meat when done!
Indulge in delicious quail that's covered with a citrusy lavender balsamic glaze and oven-roasted to perfection in this amazing recipe that you just can't miss out on!
It's served on top of creamy camembert grits with a sprinkle of toasted pecans that add so much flavor and texture to the entire dish.
The meat is just irresistible as it's tender on the inside and crispy on the outside when cooked.
It's a wonderful dish that's restaurant-quality and you can easily make it at home at a fraction of the cost!
Grace your taste buds with this decadent fried quail recipe that you just can't help yourself with because it's so delicious!
Brined quail is coated with a seasoned chicken-fry mixture and then fried till crispy and golden brown, ensuring it's loaded with flavors that are so sinfully good.
It's topped with pecan streusel and a homemade honey hot sauce that totally elevates the dish to the next level.
This dish tastes heavenly and is one of our favorite quail recipes to make!
For a delicious and wholesome meal, check out this grilled quail recipe!
Glazed with a pomegranate orange barbeque sauce, the meat is packed with flavors and every bite is so delightful.
The meat is served with tabouli, a salad made with quinoa, kale, and lots of other wonderful ingredients.
This dish is sweet, zesty, and savory, plus it has so much depth and complexity to the flavor!
Try out this fantastic dish and it might just be your new favorite!
Honey and pecan make a great combination and in this braised recipe, they help to enhance the taste and texture of quail to deliver a mouth-watering delight.
The seasoned meat is well-seared before being topped with crushed pecan and honey.
It's placed in the oven to do the rest of the cooking and when it's done, you get tender and juicy meat, packed with loads of flavors.
It's a simple recipe that's easy to follow and great for an enjoyable meal!
Bring on the heat with this hot fried quail dish that is spicy and satisfying at the same time!
Quail knots are coated in flour and fried to perfection when they come out golden brown and crispy.
They are made even tastier with a hot honey butter glaze that provides all the wonderful flavors that really make this dish stand out.
Add some sliced jalapeño peppers and it's ready to be served!
It's great as finger food for snacking or you can serve it as a tasty side dish as well!
Recreate the flavors of Japanese cuisine with this amazing teriyaki quail recipe!
The meat is cooked in a frying pan until golden and it's then simmered together with a homemade teriyaki sauce until the sauce has thickened and the meat has absorbed the flavors.
The combination of the sauce and meat is a match made in heaven because the sweet and savory flavors of teriyaki go so well with the meat, making it a delectable dish that you just can't miss out on.
It's served alongside fragrant steamed rice with a garnish of chives and sesame seeds to complete this simple yet delicious meal!
For a delicious fried dish that's easy to make, you've got to check out this buttermilk fried quail recipe!
The meat is coated in a buttermilk mixture that's seasoned with paprika, Italian seasoning, garlic powder, and cayenne, providing all the delightful flavors when cooked.
They are fried until extra crispy in hot oil and they become really appetizing when you see the golden hue.
Once you've tasted these fried quails, you might even rank them on top of fried chicken!
Introduce a little Greek flair and make tasty kebabs with this wonderful recipe!
The breast fillets are marinated in mint, garlic, lemon, and oil, giving them a really refreshing taste, and they are grilled together with vegetables on skewers until fully cooked.
It's served with a homemade feta sauce that goes so well with the kebabs and fetta bread helps to mop up any of the remaining sauce to complete this fantastic Greek-styled dish!
It's a great Mediterranean delight that you'll definitely enjoy!
This Cajun roasted quail is packed chock-full of amazing flavors and is one of our favorite quail recipes to make!
The meat is covered in bacon grease and sprinkled with Cajun seasoning to give it a superb taste, and it's then roasted in the oven until cooked.
It's drizzled with an amazing andouille sausage cream sauce that fully complements the meat in this dish.
You definitely need to add this simple recipe that's quick and easy to make to your meal rotation!
Expand your cooking repertoire with this salt and pepper fried quail recipe that infuses some Chinese elements to create an impressive dish!
The breast meats are coated in a flour mixture that combines all-purpose flour and a dry rub mix which includes five-spice powder and Sichuan peppercorns, giving it a flavor reminiscent of classic Chinese food.
They are fried until crispy and the final flavor is a heavenly delight that is just so irresistible.
Pair it with a side of fragrant steamed rice and some vegetables for a wholesome meal or they can also be served as tasty bites to snack on!
Give the classic étouffée a twist and make it with quail instead of the traditionally used shellfish!
The tasty stew is made with vegetables, chicken stock, and clam juice, giving plenty of awesome flavors to the dish.
It's thickened with a roux and Cajun seasoning is added to provide even more wonderful flavors that fully complement the meat.
The meat is given a simple sear and then finished off by cooking in the oven.
Serve by scooping the stew over rice and add the meat on top for a fantastic meal!
If you have an instant pot, you can also easily cook quail without having to endure the heat of a hot oven!
In this simple recipe, whole quails are stuffed with thyme and browned in the pot, along with bacon, onion, and other herbs.
They are then cooked under high pressure with chicken broth and you'll get tender and juicy meat in no time!
It's quick and easy to whip up a delicious meal with the Instant Pot!
In this fantastic slow cooker recipe, you get to enjoy a tasty meal with tender and delicious meat that's really easy to make!
The wine-based gravy is extremely flavorful and it's made even more awesome with the addition of Worcestershire sauce, chicken stock, and vegetables.
Boneless quails are placed in the slow cooker, smothered with the gravy, and left to cook until they are done.
Serve with rice and you'll have a wholesome meal to enjoy!
At Glorious Recipes, we have our favorite Roasted Quail with Potatoes recipe that we absolutely adore. It's easy to make and tastes so delicious! Check out the recipe below!
Yield: 2
Roasted Quail with Potatoes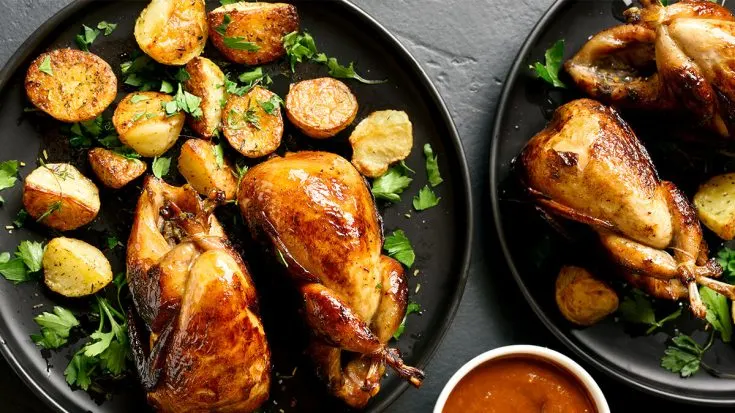 Enjoy delicious roasted quails that are tender and juicy, complete with delicious potatoes for a wholesome meal!
Ingredients
2 whole quail
12 oz baby potatoes, quartered
4 tbsp olive oil, divided
salt, to taste
pepper, to taste
2 sprigs rosemary
1 sprig sage
1 lemon
freshly chopped parsley, for garnish (optional)
Instructions
Preheat oven to 450°F (or 230°C).
Using kitchen shears, remove the backbone from the quails by cutting from top to bottom. Divide the quails into halves by cutting between the breasts, with the skin-side down.
Toss potatoes in a bowl with olive oil and season to taste with salt and pepper. Transfer to baking sheet and roast in the oven for 15 minutes, or until tender and browned.
In the meantime, season the quails with salt and pepper. Add remaining oil to a large skillet over medium-high heat. Place quails in with the skin-side down, and sear for about a minute undisturbed. Use tongs to lift and move the quails to brown as much of the skin as possible.
Flip the quail and add rosemary, sage, and 2 strips of lemon peel. Baste with oil and place in oven after potatoes are done. Roast for about 10-15 minutes, with an internal temperature of 165°F (or 74°C). Remove the quails and transfer to serving plates.
Add potatoes and garnish with parsley before serving. Enjoy!
Nutrition Information:
Yield:
2
Serving Size:
1
Amount Per Serving:
Calories:

611
Total Fat:

40g
Saturated Fat:

7g
Trans Fat:

0g
Unsaturated Fat:

30g
Cholesterol:

73mg
Sodium:

355mg
Carbohydrates:

42g
Fiber:

6g
Sugar:

3g
Protein:

26g
Nutrition information is only an estimate and can vary depending on ingredients used.
Which of the quail recipes have you tried so far?
Let us know in the comments below!
Don't miss out on our Venison Burger, Goose Breast, Ground Bison, Dove, Pheasant, Elk Steak, and Ground Elk recipes for more wild game meat, or check out the best recipes for Quail Eggs!
For more lunch and dinner recipes, check out Chicken and Shrimp, Minute Steak, or Beef Shanks for more ideas!
Share on your favorite social media platform and tag us @GloriousRecipes – we can't wait to see what you have made!