Potatoes are a kitchen staple and there are endless possibilities to turn them into fabulous meals!
Russet potatoes are a large and oblong variety with dry flesh and thick skin, making them great for all sorts of potato recipes that you can imagine.
From classic hand-cut fries to tasty potato salads, we've got you covered with some of the best russet potato recipes that you can try for your next meal!
Turn whole potatoes into yummy potato wedges with this simple recipe that you'll definitely love!
Russet potatoes' properties are perfect for achieving a soft interior and crisp exterior, resulting in awesome potato wedges.
With a simple mix of garlic, onion powder, and smoked paprika, the wedges are super flavorful and just so irresistible.
Serve with your favorite dipping sauce or pair it with tasty Tiger sauce or Bitchin' sauce!
Mix things up a bit and bake some Hasselback potatoes for your next meal!
It looks impressive but it's actually really easy to make, great for adding some flair to your cooking!
The potatoes are cut into thin slices and brushed with melted butter, plus a simple seasoning of salt and pepper before they are baked till the skin becomes crisp.
Pair it with some sour cream and you'll have an awesome side dish to enjoy!
Enjoy a delicious side dish with this fantastic crispy potato casserole that's so easy to make and tastes so good!
Diced potatoes are well-seasoned with garlic powder, onion powder, and thyme, ensuring plenty of wonderful flavors that everyone can enjoy.
Baked till crispy, the potatoes are tossed together with sautéed onion and garlic to make it even more delicious with the aromatics.
It's a delightful crowd-pleasing dish that's perfect for any gathering!
If you're tired of having the same old potato dishes, try out this amazing smashed russet potato recipe for something different!
Whole potatoes are boiled and with a potato masher, they are pressed down to smash them with most of the pieces still intact.
Instead of mashed potatoes, you'll get chunks that have a great texture and mouthfeel!
They are well-seasoned and topped with shredded Parmesan cheese before being baked until cooked.
Try it once and you might just have a new favorite side dish!
For a comforting bowl of warm soup that's perfect on a cold and chilly evening, check out this hearty potato soup!
Made with chicken stock, milk, sour cream, and cheddar cheese, it's extremely flavorful and creamy but doesn't overwhelm at all.
Topped with green onions and bacon bits, they help to add even more wonderful flavors to make the soup super tasty!
This potato soup is so easy to make and really delicious!
Indulge in a fabulous meal with this potato nacho recipe that you definitely need to add to your lunch or dinner rotation!
No tortilla chips are needed as the potatoes are sliced thinly in place of them and baked in the oven after they are seasoned with onion powder, Cajun seasoning, and thyme.
Topped with cheese, bacon, and green onions, they combine to create an amazingly delicious dish that's just mouth-watering.
It's one of our favorite russet potato recipes so definitely give it a try and you'll not regret it!
Have a hearty and sumptuous breakfast with this fantastic potato hash that's tasty and easy to make!
Seasoned with oregano, paprika, and cayenne, the cubed potatoes are super flavorsome and the vegetables just make this dish even better.
There's no lack of protein with over-easy eggs and bacon bits being added to make this a wholesome meal!
Sprinkle freshly chopped cilantro before serving and enjoy a delicious breakfast!
Impress your guests with some homemade gnocchi that's simple to make from russet potatoes!
The boiled and peeled potatoes are riced and combined with egg, flour, and salt to form a dough that's kneaded and shaped accordingly.
They are boiled and once they float on the water, they are ready to be served!
Pair it with a pesto or bolognese sauce for an easy home-cooked meal made from scratch!
Skip the store-bought frozen fries and make your own with this simple recipe that guarantees tasty hand-cut russet potato fries!
Sprayed with oil and seasoned with a few spices, the thin-cut potato slices are air-fried until they become brown and crispy.
It's so easy to make and you get to control the amount of oil and types of seasoning, making this a healthier option to indulge in.
Serve with your favorite dipping sauce or just eat them as they are because they're already so delicious!
Enjoy delicious melting potatoes with this simple baked russet potato recipe that makes a fantastic side dish with little effort!
Potato slices are browned in a skillet and seasoned with herbs and spices before chicken broth is added to give them a wonderful flavor.
They are then baked until tender and you have luscious melting potatoes once they come out of the oven!
Savor tasty potato salad that's the perfect side dish that can be enjoyed by everyone!
Cubed, roasted, and browned, the potatoes are tender with a nice bite and it's made even better with a topping of bacon, scallion, and celery.
They are tossed in a flavorful BBQ dressing with mustard and mayonnaise to create a delightful dish that's super satisfying.
Serve this BBQ potato salad along with your favorite protein for a wholesome and delicious meal!
Make something a little special with this fantastic leek and potato gratin that'll definitely tantalize your taste buds!
The leek, garlic, and thyme add so much fragrance and depth to the flavor, and the combination of cheddar and Parmesan cheese make this a dish that's just irresistible.
Baked until the potatoes are tender with melted cheese on top, it's an awesome side dish that you'll definitely be making regularly.
With how simple it is to make, it's easily one of our favorite russet potato recipes!
For a cold appetizer or side dish, you've definitely got to check out this loaded potato salad that's super tasty!
Coated with sour cream and mayonnaise, the potato chunks are filled with delicious flavor and they are made even more delicious with garlic powder and onion powder.
With a topping of crumbled bacon, green onions, and shredded cheese, it's a delightful dish that's perfect for serving at your next party!
Make a potato casserole in your slow cooker with this fantastic russet potato recipe that delivers a wholesome dish!
There is no lack of flavor in this dish as the potatoes are cooked in chicken stock and with the addition of spices, sour cream, and bacon, you can be sure it's loaded with wonderful flavors that make a tasty meal!
This recipe is a cross between smashed potatoes and potato salad, and you get to enjoy the best of both worlds in a single meal!
Cook up a pot of comforting soup with this recipe that's perfect on cold days to warm you right up!
With herbs, ham bone, and aromatics, the soup is extremely flavorful and you'll be sipping it till the last drop.
The ham and potatoes make this soup wholesome and hearty, and the addition of whipping cream and pureed potatoes makes it luscious and delicious.
It's definitely a great recipe to add to your soup rotation!
Grace your taste buds with this amazing sloppy joe baked potato that adds so many wonderful ingredients to a russet potato!
The star of this dish is the sloppy joe mixture and it's extremely flavorful with ground beef, onions, garlic powder, ketchup, and mustard combined to create a tasty topping.
Shredded cheddar cheese, sour cream, and green onion add even more awesome flavors to make it a meal that you just can't resist!
If you're looking for a tasty potato side dish that's super easy to make, you've got to check out this russet potato recipe!
Coated in a ranch dressing mix and garlic powder, the potatoes are filled with delightful flavors that will leave you satisfied.
They are baked in the oven along with shredded cheese to ensure you add some melted cheesy goodness that makes it even more delicious.
This side dish requires minimal effort and the oven will do all the work for you!
Sometimes you just want to go back to the basics and this classic russet potato salad recipe is perfect for a simple side dish.
No fanciful ingredients are required and the combination of potatoes, eggs, pickles, mustard, and mayonnaise makes for an awesome salad that you can pair with any of your favorite proteins such as minute steak or even elk steak.
Serve it cold and enjoy this classic potato salad!
Dig into delicious roasted potatoes that are given an upgrade with Parmesan and garlic to make them extremely tasty and flavorful!
It's a simple recipe that anyone can make, and it's an awesome way of varying your potato dishes to keep things interesting.
Garlic powder helps to add some depth to the flavor and Parmesan cheese is added to make the roasted potatoes even more savory.
They are baked in the oven until the potatoes become tender and garnished with freshly chopped parsley.
Serve it on their own or pair it with another meat dish for a complete meal!
Recreate tasty potato chips at home with this simple recipe that just might make you skip buying commercial chips because they are just that delicious!
Using a mandolin makes it really easy to cut up the potatoes into thin slices and they are baked in the oven until they achieve a nice golden brown color.
The beauty of making your own potato chips is that you can sprinkle them with any of your favorite seasonings and it's easy to vary and try out new flavors!
These russet potato chips will likely be your new favorite snack once you realize how easy it is to make them!
It's easy to make yummy steak fries to pair with your tasty proteins and by baking them instead of frying them, you don't need to worry about a messy kitchen!
These thick-cut potato wedges are coated with grated Parmesan cheese, ranch dressing mix, parsley, and other seasonings to make them extremely flavorsome.
Serve with your favorite dipping sauce or stick with classic ketchup to fully enjoy this awesome side dish!
These twice-baked potatoes are perfect for a gathering or party because they are so easy to prepare ahead and make for a great appetizer or side dish!
They are named as such because the potatoes are baked twice, once to roast the potatoes before a portion of their flesh is scooped out and mixed with other ingredients that get stuffed back in, and the second time to warm through everything.
With bacon, sour cream, and cheddar cheese added, they become super delicious with a crisp exterior.
Serve these at your next party and watch as they get wiped out instantly!
Fancy some easy-to-make potato snacks that taste delicious with all your favorite ingredients?
Check out these fantastic potato skin bites that are perfect for your next home party!
Cut into coin-shaped slices, the potatoes are seasoned with garlic powder and cayenne before they are baked until done.
Topped with bacon, cheese, sour cream, and green onion, they are absolutely a delight to snack on!
It's an easy russet potato recipe that you definitely need to try!
Discover a decadent indulgence with these amazing cheesy scalloped potatoes that make the perfect side dish!
Layers of potato slices are coated with a creamy sauce that makes everything taste so awesome and they are topped with melted Parmesan cheese to add even more wonderful flavors.
They are perfect for making during holidays and they are always a crowd-pleaser with how delicious they are, plus everyone loves some melted cheese for their meals!
It's so tasty and easily one of our favorite russet potato recipes!
If you're looking for a vegan and gluten-free potato dish, you've got to check out this potato bake casserole recipe!
The potato cubes are coated with a creamy sauce made with vegetable stock, non-dairy milk, vegan butter, chickpeas, and Dijon mustard, ensuring that it's safe for a vegan-friendly diet.
With leek, mushrooms, and vegan feta cheese added to the potato layers before baking, the baked casserole is amazingly delicious and even non-vegans will be loving it!
For an easy air fryer russet potato recipe that you can make with plenty of flavors, check out these mojo potatoes!
The potato coins are dredged in a seasoned flour mixture and eggwash before being air-fried till they become golden and crispy.
Chili powder, paprika, garlic powder, salt, and pepper form the spices that make these potato slices so tasty and it's amazing how something so easy to make can taste so good!
Try your hands at making the richest and creamiest mashed potatoes with this fabulous recipe!
It's so simple to whip up and all you need are common ingredients that you probably already have in your kitchen!
The secret to making fluffy and creamy mashed potatoes is using russet potatoes, cream cheese, and whole milk to achieve a rich texture.
Combining all that with butter and some salt and pepper will get you the perfect side dish that everyone will definitely enjoy!
Shake things up and make fondant potatoes that are delicious and perfect for a great side dish to be served alongside your favorite mains!
Russet potatoes are halved and cooked in a skillet along with aromatics and chicken broth to brown the sides and add delightful flavors.
They are then finished off by roasting in the oven to fully cook through and served with a drizzle of the pan sauce.
It's simple and delicious so definitely give this a try!
Everyone loves a good potato pancake and this russet potato recipe definitely doesn't disappoint!
Eggs, flour, baking powder, and seasoning are added to grated potatoes and onions to bind them together before the mixture is cooked in a hot pan until everything is golden and crispy.
It's absolutely delicious and when served with sour cream, the taste becomes heavenly and super irresistible!
You'll definitely want to add this to your meal rotation because of how delectable it is!
Spruce up your next meal with these cute little Romanoff potatoes that make a great side dish!
Baked in muffin tins, the potatoes are mashed and mixed with sour cream, cheddar cheese, onion, scallion, and cayenne to create a delightful potato mixture.
Once they turn golden brown, they are ready to be popped out of the muffin tin and served alongside your main dishes!
Yield: 1
30 Best Russet Potato Recipes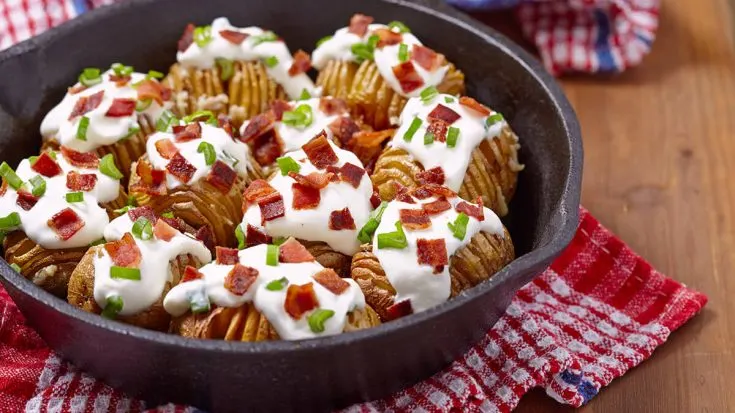 Try these russet potato recipes and make delicious side dishes and appetizers to go with your mains! From hand-cut fries to potato salads, there's something for every occasion!
Instructions
Choose your favorite recipe.
Prepare all the required ingredients.
Whip up the tasty potato dish and enjoy!
Nutrition Information:
Yield:
30
Serving Size:
1
Amount Per Serving:
Calories:

352
Total Fat:

16g
Saturated Fat:

6g
Trans Fat:

0g
Unsaturated Fat:

8g
Cholesterol:

51mg
Sodium:

598mg
Carbohydrates:

41g
Fiber:

4g
Sugar:

5g
Protein:

12g
Nutrition information is only an estimate and can vary depending on ingredients used.
Which of the russet potato recipes have you tried so far?
Let us know in the comments below!
For delicious main dishes that you can pair with russet potatoes, check out Ham Hock, Cobia, Beef Shanks, Wagyu Steak, and Sauerkraut with Meat recipes!
For more potato recipes, check out Canned Potato and The Little Potato Company!
Share on your favorite social media platform and tag us @GloriousRecipes – we can't wait to see what you have made!