Ham hock, also known as pork knuckle, might not be the most popular pork cut but it's easy to turn it into a delicious meal in many different ways!
It's relatively inexpensive and a great way of enjoying pork, especially if you're on a tight budget.
They taste fantastic both on their own and when you add them with other ingredients, for example, to make tasty soups.
Whether you like it braised or roasted, we've got you covered with some of the best ham hock recipes that you definitely need to try!
Ham hocks might be filled with skin but that's the best part of this amazing recipe that you just can't miss out on!
Roasted till the meat is tender with crispy crackling, this dish is a classic German favorite and it is absolutely irresistible.
The highlight is the crispy skin that really brings out the best of this dish and it's easily made by roasting in the oven.
Serve with some sauerkraut for authentic German cuisine and you will appreciate how the tart flavor balances out the savory aspect of the hocks.
It's so delicious and easily one of our favorite ham hock recipes!
Savor tasty hocks that will surely make your day with how good they taste!
Cooked in ginger beer along with peppercorns, bay leaf, and ginger, the pork knuckles are extremely flavorful and amazingly delicious.
The sweet honey mustard glaze brings the dish to another level by adding a whole new layer of flavor that provides even more depth.
It's a simple recipe that's perfect for whipping up an awesome meal!
Making braised ham hocks is as easy as it comes and you'll be enjoying a delicious meal in no time!
The hocks are pan-fried on a skillet to achieve a nice crispy exterior that provides an amazing crunch and texture to this dish.
They are then cooked in vegetable broth until the interior is tender and the meat is easily falling apart when forked.
It's an easy recipe that showcases the beauty of braising – you can go about doing other things while the hocks cook themselves!
When you crave a bowl of hot soup to warm you up during chilly days, you'll need to check out this delightful ham hock soup recipe!
It's easy to make and with potatoes, carrots, and onions, this soup is as comforting as it can get.
The hocks are cooked until extremely tender and it's super delicious along with the soup and vegetables.
Enjoy it with some homemade bread to mop up the remaining soup or serve it as it is because it's already very tasty!
For an amazing appetizer or side dish, check out these fantastic croquettes that are filled with cheesy goodness!
These tasty little bites are filled with shredded hocks and cheddar cheese, plus a coating of panko breadcrumbs that are baked to perfection with a beautiful golden color.
They are gooey and delicious, and an absolute treat that everyone will definitely love.
Enjoy it with a honey mustard mayo that pairs superbly well with these croquettes!
With how delicious they are, we have no doubts that this will quickly become one of your favorite ham hock recipes!
Inject some Polish flair to your next meal with this exceptional golonka recipe that's great for an awesome meal!
The hocks are first cured in brine filled with aromatics and spices, then cooked till the meat becomes tender.
After which, they are baked in the oven with beer and herbs to give them even more complexity to the flavor and they become really delicious!
Prepared from scratch the classic way, it takes some time but requires little effort and it's all worth it in the end once you've taken the first bite!
This Instant Pot ham hock recipe will save you so much time and effort, plus you'll end up with a bowl of comforting soup that is just so delicious!
With vegetables and herbs imparting their sweetness and complex flavors, this soup is extremely flavorful and it's made even better with the meat and beans to provide a dose of protein.
It's so easy to make and everything can be dumped into the Instant Pot to let it work its magic!
Serve with bread for a warm and hearty meal that everyone can enjoy!
Impress your friends and family with this ham hock terrine recipe that's perfect for an amazing starter!
Cooked in water with a variety of herbs and spices, the meat is filled with wonderful flavors and the liquid is not wasted as it's added back to the meat along with gherkins, parsley, and tarragon before being chilled.
It's perfect for a large gathering as it's easy to make and can be prepared in advance!
Serve with crusty bread for a fantastic appetizer that'll definitely be a crowd-pleaser with how good it tastes!
In this collard greens recipe with ham hock, you get a wholesome dish that's filled with nutrients and protein!
Best of all, it's super easy to make and you get to enjoy this fantastic dish with little effort.
The hock and greens are cooked in a pot of water that's seasoned with black pepper, garlic powder, and cayenne powder, giving them plenty of flavor once cooked.
When the meat is cooked, it's super tender and it's chopped before being added back to the vegetables.
It's a great dish to be served alongside a bowl of fragrant rice to enjoy a hearty meal!
For tender meat and crispy skin all at once, check out this roasted smoked ham hock recipe!
The hock is cooked in water and roasted in the oven until you get soft and juicy meat, plus a tasty skin that combines together to form an impressive dish.
With roasted potatoes to supplement the protein, you get a wholesome and satisfying meal that's great for an awesome lunch or dinner.
Try it for your next meal and you might just fall in love with it!
Level up your cooking skills with this excellent braised ham hock dish that's cooked in a superbly tasty sauce!
Seasoned with classic Chinese spices such as five-spice powder, white pepper, and star anise, the hock is pan-seared and then cooked in the braising sauce until done.
The sauce is then thickened and drizzled over the hock, creating an extremely flavorful and delicious dish.
It's a restaurant-quality dish that you can easily make to impress anyone and definitely one of our favorite ham hock recipes!
On busy days when you don't want to spend hours in the kitchen, try out this crockpot ham hock recipe that frees up your time and lets the crockpot do all the work!
This Southern-styled dish combines pinto beans and hocks together, along with garlic and onion, to create a hearty meal that's perfect for the family.
The ingredients are added to the crockpot and cooked for 6 hours and when you return, you have a delicious meal ready to be served!
Serve with rice to enjoy a wholesome and tasty meal!
Dig into this mouth-watering dish so tasty that you'll be craving a second serving right after you take your first bite!
Seasoned with spices and roasted with clementines, the meat is cooked until extremely flavorful and tender.
It's made even better with a sweet mustard glaze that really elevates the dish to another level when it caramelizes.
Serve with a side of carbs to complete this tasty meal!
Expand your cooking repertoire with this fantastic gratin that's perfect for an unforgettable meal!
Filled with leek and hocks, the gratin is absolutely delicious and it's made even tastier with Parmesan cheese and a rösti topping.
The top is nicely browned with a superb taste and mouthfeel, and the interior has all the cheesy goodness that makes this dish delectable.
It's easy to make and definitely one to add to your meal rotation!
Spruce up your next meal with this amazing ham hock macaroni cheese recipe that's super comforting and great for a hearty meal!
It's so easy to cook the hocks with a crockpot or slow cooker and all you need to do is pop the meat in with some coke and let it do its job of cooking until the meat becomes extremely tender.
Add the meat and cooked macaroni to a cheesy paste made with butter, flour, and cheese, before popping them into the oven to bake to perfection.
It's a great recipe especially if you're trying to prepare ahead for a big meal!
Indulge in this restaurant-quality ham hock recipe that tastes as good as it looks and you're bound to impress on any special occasion!
Poached in a mixture of pilsner, honey, and ginger, the hocks are extremely flavorful and delicious.
It's made even more delectable by using the reduced mixture as a fantastic glaze that coats the meat and glistens under light.
Pair that with a potato salad and you have a complete meal that's just so irresistible!
If you love pies, you've got to check out this amazing recipe that's definitely going to tantalize your taste buds!
The filling is a mixture of leek and shredded hock meat, infused with cider and mustard, and spiced with green peppercorns with parsley to impart some depth to the flavor.
It's extremely delicious and satisfying, and easily one of our favorite ham hock recipes because it's so easy to make!
Make an incredible meal with this potato dauphinoise recipe that's simple to make and fancy enough to impress!
Layers of sliced potatoes are arranged in a baking dish with shredded hock between them, and a mustard cream sauce is poured over before everything gets baked in the oven.
Garlic, shallots, and thyme help to impart their aroma to this dish and bring about a nice level of complexity to the flavor.
You'll definitely love this for how delicious it is and it's so easy to whip up!
Nothing compares to a bowl of warm stew on a cold and rainy night, and this recipe delivers a comforting stew that definitely doesn't disappoint!
Cooked in chicken stock with aromatics, carrots, chilies, black beans, and spices, this stew tastes excellent and you'll want to sip it to the very last drop.
It can be served with rice for a simple but tasty meal that's perfect any day of the week!
It's super tasty and easily one of our favorite ham hock recipes to make!
Recreate the flavors of French cuisine with this ham hock and beans garbure that's hearty and delicious!
With white beans, shredded hock, vegetables, aromatics, and herbs, the stew is filled with many kitchen staples and it's as flavorful as it can be.
It's perfect for serving with some crusty bread to mop up the delicious stew and it's definitely a dish that you'll be making more than once!
At Glorious Recipes, we have our favorite German Roasted Crispy Ham Hock that we absolutely adore! It's super crispy and super delicious! Check out the recipe below!
Yield: 2
German Roasted Crispy Ham Hock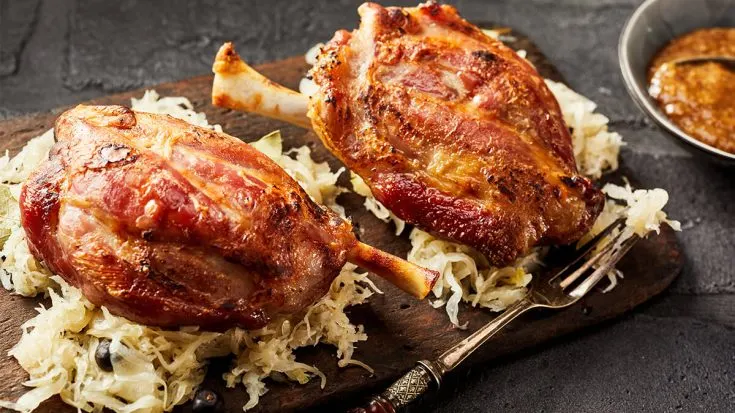 This German Crispy Ham Hock recipe is so easy to follow and you end up with the most delicious crispy pork ever!
Total Time
3 hours
10 minutes
Ingredients
2 ham hocks, unsmoked and uncured
1 tsp black peppercorns
4 bay leaves
4 juniper berries
1 large onion, peeled and quartered
1 tbsp caraway seeds
salt
Instructions
Add water to a pot big enough to fully fit the hocks. Bring it to a boil, then add 2 tsp of salt, onions, black peppercorns, bay leaves, and juniper berries. Lower the temperature so that it doesn't simmer but still remains hot, then fully submerge the ham hocks into the water. Cook for 1.5 hours.
After they are cooked, remove from water and incise the skin in a diamond pattern with a sharp knife.
Preheat oven to 390°F (or 200°C). Rub the hocks with caraway seeds and salt. Transfer to a roasting pan and place them into the oven and bake for another 1.5 hours. Turn them halfway through.
In the last 5-10 minutes, turn on the broiler to achieve a crispy skin. Closely monitor as they can get burnt easily. It should crackle and become really crispy.
Serve with some sauerkraut or mashed potato and enjoy!
Nutrition Information:
Yield:
2
Serving Size:
1
Amount Per Serving:
Calories:

174
Total Fat:

8g
Saturated Fat:

2g
Trans Fat:

0g
Unsaturated Fat:

5g
Cholesterol:

46mg
Sodium:

336mg
Carbohydrates:

12g
Fiber:

4g
Sugar:

3g
Protein:

15g
Nutrition information is only an estimate and can vary depending on ingredients used.
Which of the ham hock recipes have you tried so far?
Let us know in the comments below!
For more pork recipes that you might enjoy, check out the following:
Korean Pork Belly
Pork Cutlet
Linguiça
Thin Pork Chops
Canned Ham
Pigtails
Ring Bologna
Canned Pork
Ground Pork Pasta
Pork Jowl
Share on your favorite social media platform and tag us @GloriousRecipes – we can't wait to see what you have made!