Sauerkraut is one of the most popular fermented cabbage with a distinct taste that's really appetizing!
With its savory and sour flavor, sauerkraut pairs exceptionally well with all kinds of meat and it's a combination that gives you lots of flexibility in whipping up awesome dishes!
From classic bratwursts to delicious pork roasts, we've got you covered with some of the best sauerkraut recipes with meat that you can try at home!
Enjoy a delicious meal with this incredible roasted pork loin that's paired with an amazingly tasty sauerkraut!
The tangy flavors of sauerkraut are balanced with the addition of brown sugar and the herbs help to add complexity to both the pork and sauerkraut.
Baked in the oven until the pork loin is cooked, the pork juices blend really well with sauerkraut and everything comes together nicely to create a fantastic dish.
It's ridiculously easy to make and it's definitely one of our favorite sauerkraut recipes with meat to whip up for an awesome meal!
This sauerkraut and sausage recipe is a must-try at your next grilling session because it's that easy and delicious!
Perfectly grilled sausages and onion rings are combined with a sauerkraut mixture that has an amazing flavor with apple juice, celery seed, caraway seed, and Dijon mustard.
They are placed on the grill to simmer and let all those delightful flavors seep in to create a fantastic dish that's oh-so-yummy!
It's super tasty and a must-try for any grilled food lovers!
Add some German flair to your next meal with this fantastic bierock recipe that makes absolutely delicious buns!
Filled with tender meat, sauerkraut, shredded cabbage, and onion, plus a mix of seasoning with mustard, thyme, and black pepper, these bierocks are loaded with wonderful flavors that combine well together.
It's so easy to tweak the recipe and make it your own because you can fill the buns with any of your favorite ingredients, making it a really versatile dish.
You'll get hooked right after the first bite because they are just that tasty!
Feast on these awesome German meatballs with sauerkraut that's hearty and comforting for an incredible meal!
Made with ground pork, ground beef, aromatics, herbs, and seasonings, the meatballs are loaded with delightful flavors that everyone will definitely enjoy.
They are combined with a stew that consists of sauerkraut, tomato paste, sugar, sour cream, and water, creating a simple dish that's absolutely tasty.
It's the perfect comfort food on a cold and rainy day and you're definitely going to love it!
We all love a good crock pot recipe because it's easy to whip up delicious food with minimal work and it's no different with this pork and sauerkraut recipe!
The meat is first browned in a skillet before being transferred to a crock pot, along with aromatics, caraway seeds, sauerkraut, apple, and apple juice.
They are slowly cooked until all the flavors gel together and the pork meat becomes tender, resulting in an exceptional dish that's simple to make!
It's a straightforward sauerkraut recipe with meat that's a must-add to your dinner rotation!
Do it like the Amish and replicate this fantastic sauerkraut meatloaf that's moist and delicious!
Garlic and onion are cooked in butter before being combined with ground beef, thyme, eggs, mustard, milk, and sausage to form a loaf shape.
The meatloaf is baked until nicely cooked and then topped with a simple ketchup and brown sugar mixture that makes it a delightful dish.
Serve with a side of potatoes and vegetables to enjoy a wholesome meal!
Indulge in this fantastic Beer Braised Bratwurst with Caramelized Sauerkraut that'll absolutely blow your mind with how delicious it is!
Onions and bratwurst are cooked in beer until the onions become nicely caramelized before beef broth is added and they are simmered till the sausages are cooked.
Sauerkraut and frozen peas are added towards the end to heat them through and everything combines to create a wholesome meal that's super tasty.
It's so easy to whip this up for a hearty meal any time of the day!
Inject some Hungarian flair to your next meal with this fantastic sauerkraut recipe with meat that makes an awesome stew!
Cooked with aromatics, herbs, and seasonings that include paprika powder, thyme, caraway seeds, and marjoram, the stew is loaded with delightful flavors that give depth and complexity to the dish.
Pork and sauerkraut impart even more wonderful flavors and they help to make this goulash a hearty and comforting dish that's perfect on a chilly day!
Whip up an awesome meal with this simple sauerkraut recipe with pork chops that are absolutely tasty and irresistible!
The tangy flavor of sauerkraut is well-balanced with the addition of apple cider, giving it a nice sweet and sour taste that's super addictive.
Brown sugar and chopped apples also help to impart sweetness to this dish and help to make the pork chops really tasty.
The oven does most of the cooking and you'll be enjoying this superb dish with minimal hassle!
Recreate the flavors of Polish cuisine with this Bigos Stew that's just incredibly tasty and a must-try for your next meal!
It's loaded with wonderful ingredients such as Polish sausages, kielbasa, bacon, pork meat, cabbage, sauerkraut, prunes, porcini mushrooms, and even beer!
Everything combines with delightful herbs to create an exceptional dish that'll get you hooked from the very first bite!
It's extremely flavorful and easily one of our favorite sauerkraut recipes with meat to try!
Make a classic German dish with this straightforward Pork Hocks and Sauerkraut recipe that you definitely need to add to your meal rotation!
The pork hocks are first cooked and simmered in a pot along with onion, bay leaf, peppercorn, and salt before sauerkraut and caraway seeds are added.
It's a dish that you can easily find in any restaurant that serves traditional German food and now you can make it in the comfort of your home at a fraction of the cost!
It's simple to make and delicious, and you might have a new favorite dish after you've tried it!
For an incredibly easy-to-make dish with minimal ingredients required, you've got to check out this wonderful recipe!
All you need is country-style spare ribs, sauerkraut, oil, and black pepper, and you'll be enjoying a tasty meal with minimal manual cooking required!
The ribs are first seasoned with black pepper before getting a nice sear until they are golden brown, ensuring a great taste and texture at the end.
They are then baked in the oven with sauerkraut while you go about your daily routine.
It's that simple and you'll come back to a tasty meal fresh out of the oven!
If you love meatballs and sauerkraut on their own, you'll be glad to know that they taste even better when combined together!
With a mix of ground beef and ground pork, the meatballs are tender, juicy, and absolutely delicious with breadcrumbs, eggs, and garlic powder added.
They are smothered in a cranberry-sauerkraut sauce that's extremely tasty and everything is slow-cooked before serving, ensuring the meatballs are filled with all that wonderful flavors.
You'll be wanting a second serving right after the first bite with how delicious these meatballs are!
Bring the flavors of Oktoberfest to your next meal with this amazingly delicious Knockwurst Sandwich that you'll definitely love!
Crisp pretzel rolls with layers of Muenster cheese, knockwurst, and sauerkraut, plus a topping of homemade thousand island sauce make for an incredible sandwich and it's so easy to whip this up!
It's loaded with simple flavors that blend well together and it's perfect for a quick and delicious lunch because you can make this sandwich in less than 30 minutes!
With how delicious this sandwich is, it's easily one of our go-to recipes for a quick and simple meal!
It's easy to have a delicious and affordable meal with this Kielbasa and Sauerkraut recipe that definitely scratches the itch for a delightful savory meal!
Sauerkraut is seasoned with sugar, onion, garlic, and pepper to balance out the tangy flavor and create a nice base which is topped with butter and smoked sausages before everything is baked in the oven.
This dish is super flexible and herbs can easily be added for a more complex flavor, or if you prefer some added sweetness, apples are a good option that goes really well with sauerkraut!
It's a comforting dish with familiar flavors that everyone will enjoy!
This casserole recipe is perfect for making a delicious side dish that pairs really well with any other main course!
Sautéed onion is combined with sauerkraut, bacon, tomatoes, and sugar in a casserole dish before being baked in the oven for an hour.
It's extremely easy to make and you'll end up with a side dish that's loaded with satisfying flavors that the whole family will love.
Pair it with sausages or pork roasts for a wholesome meal!
For another dish that you can whip up for a wholesome and hearty meal, check out this easy sheet pan recipe!
Cubed potatoes combine with sausages and sauerkraut on a sheet pan, along with bay leaves and beer before they are baked in the oven until everything is nicely cooked.
They are garnished with a paprika spread that goes really well and adds so much to the flavor of this simple dish.
It's easy to add your favorite sausages and make this recipe your own!
Throw together a quick and delicious meal using this sauerkraut recipe with meat, potatoes, and green bean!
The main ingredients are combined with aromatics and beef broth to create a tasty stew that bursts with delightful flavors with every sip.
You get your protein and carbs all in one dish, and the green beans add even more nutrition to it, making this stew an enjoyable dish that you can add to your meal rotation!
You'll love this slow cooker recipe because it's so easy to follow and you can just leave it to cook once everything is set!
Seasoned corned beef is layered on top of potatoes and carrots in a slow cooker before they are submerged in beer and left to slow cook until done.
Sauerkraut is added near the end and you'll have juicy, tender, and extremely flavorful beef that's absolutely delicious with the sauerkraut and vegetables!
It's a must-try recipe in our books because it's so simple and delectable!
This Beer and Bacon Sauerkraut is the perfect condiment to have on hand because it's absolutely delicious and pairs exceptionally well with so many things!
Sauerkraut is combined with garlic, onion, and bacon before being simmered in a mixture of chicken broth and Pilsner beer to make them extremely flavorful and tasty.
It's great for adding to burgers or sausages and they complement the taste of meat really well, making it an invaluable item to incorporate into many other recipes.
You'll definitely love the taste once you've given it a try!
Make something a little special for Taco Tuesdays with these exceptional Reuben Tacos that are absolutely delicious!
Corned beef combines with tangy sauerkraut, Swiss cheese, and Russian dressing in tortillas to create a tasty dish with loads of wonderful flavors.
These tacos are a great way to use any leftover corned beef and they are so tasty that you'll probably be making them time and again to satisfy your cravings!
It's incredibly delectable and definitely makes it into our list of favorite sauerkraut recipes with meat to try!
Savor this amazing Kielbasa, Pierogies, and Sauerkraut Bake that'll fill your tummy and leave you feeling super satisfied with how delicious it is!
Potato and cheese-filled pierogies combine with browned kielbasa and sauerkraut in a beer and mustard mixture before they are left to simmer, absorbing all those wonderful flavors.
They are topped with melted Cheddar and Swiss cheese, plus a garnish of scallion, making them even tastier.
It's an incredible mix of fantastic ingredients and flavors to create an awesome dish that's just irresistible!
Expand your cooking repertoire with these Hungarian Stuffed Cabbage Rolls that make for a wholesome meal that's amazingly delicious!
With a filling of ground pork, ground beef, aromatics, and rice, these cabbage rolls are filled with satisfying flavors that everyone will definitely enjoy.
They are layered with a sauerkraut-tomato mixture and topped with bacon before everything is baked until fully cooked.
It's great for adding some variety to your meals and you might just fall in love with cabbage rolls after trying this!
Impress your friends and family with this excellent dish that's incredibly delicious and simple to make!
Juicy pork tenderloin combines with crisp potatoes and a flavorful sauerkraut that's balanced with a mustard-maple sauce to create an awesome dish that's super tasty.
They are browned in a skillet and baked in the oven with a garnish of parsley at the end to complete the dish.
It's a classy dish that doesn't take too much effort to make and is perfect for a weeknight dinner!
You won't believe how effortless it is to make this Pork Roast and Sauerkraut dish because all you need is 3 ingredients and some patience!
Pork roast, sauerkraut, and brown sugar are placed in a slow cooker and mixed before leaving them to cook for 3 to 4 hours till the pork is tender.
It's that simple and you'll end up with juicy pork paired with tasty sauerkraut that makes an easy and delicious meal!
Yield: 25
25 Best Sauerkraut Recipes with Meat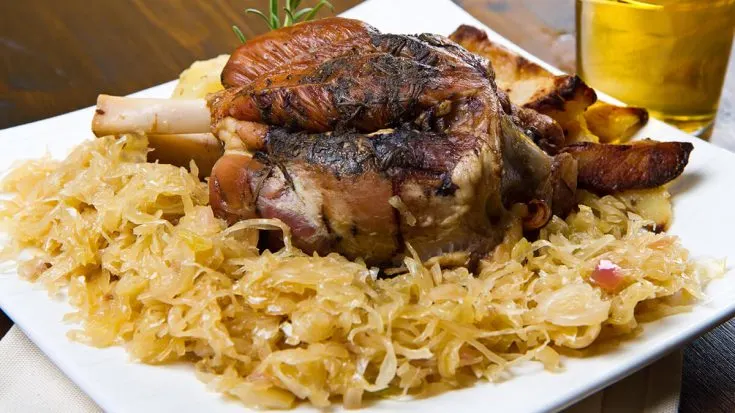 Try these sauerkraut recipes with meat and enjoy a delicious meal! From classic bratwursts to delicious pork roasts, there's always something for every occasion!
Instructions
Choose your favorite sauerkraut recipe with meat.
Prepare all the required ingredients.
Whip up the tasty dish and enjoy an awesome meal!
Nutrition Information:
Yield:
25
Serving Size:
1
Amount Per Serving:
Calories:

512
Total Fat:

32g
Saturated Fat:

11g
Trans Fat:

0g
Unsaturated Fat:

18g
Cholesterol:

105mg
Sodium:

1853mg
Carbohydrates:

27g
Fiber:

5g
Sugar:

7g
Protein:

28g
Nutrition information is only an estimate and can vary depending on ingredients used.
Which of the sauerkraut recipes with meat have you tried so far?
Let us know in the comments below!
For more vegetable recipes that you can pair with meat, check out the following:
Hubbard Squash
Black Garlic
Shredded Carrot
Frozen Okra
Malabar Spinach
White Eggplants
Mirlitons
Chicken of the Woods
Enoki Mushrooms
Share on your favorite social media platform and tag us @GloriousRecipes – we can't wait to see what you have made!