The Little Potato Company is a Canadian company that specializes in selling a variety of creamer-sized potatoes that are exceptionally delicious!
With products ranging from red to purple potatoes, as well as some that come with a pre-packed blend of herbs, The Little Potato Company's potatoes are a fantastic ingredient to incorporate into your meals.
The petite size, creamy texture, and wonderful flavor of these little potatoes are sure to elevate your dining experience like no other!
From potato salads to comforting soups, we've got you covered with some of the best The Little Potato Company recipes that you can easily try at home!
Cook up a pot of delicious soup that's loaded with incredible flavors and perfect on a chilly day to warm your body right up!
It's a delectable combination of vegetable broth, cashew cream, potatoes, vegan sausages, spinach, aromatics, and spices, all simmered until the flavors meld and the soup becomes super tasty.
The aromatics and dried herbs help to provide depth to create a well-balanced flavor and they make this soup exceptionally enjoyable!
This hearty soup will have you sipping up every last drop because it's just that flavorful!
Jazz up your potatoes with this fantastic recipe that makes an amazingly delicious dish you definitely don't want to miss out on!
Featuring perfectly roasted little potatoes and onion wedges, plus a topping of parsley and blue cheese, this is a mouthwatering dish that's filled with tons of great flavors.
Smoked paprika is added for a smoky touch to the potatoes and all the ingredients come together really well to create an easy but tasty meal!
There's nothing not to like about this quick and simple The Little Potato Company recipe!
In what is one of the easiest The Little Potato Company recipes, creamy potatoes are combined with chicken breast and broccoli to create an incredibly wholesome meal!
It's straightforward to make and involves tossing chicken breast, potatoes, olive oil, and the seasoning packet before everything is roasted in the oven.
Broccoli and grated cheese are added in the later part of the cooking process and you'll end up with a tasty dish that's covered with melted cheesy goodness and it's so satisfying!
This easy one-sheet recipe is great with tons of nutrition in a single dish so make sure to give it a try!
Enjoy a terrific side dish with this Warm Maple Bacon Little Potato Salad that's superbly tasty and sure to whet your appetite!
It features a wonderful marriage of ingredients that include roasted potatoes, crispy bacon, rice wine vinegar, onions, garlic, maple syrup, and thyme.
It's sweet and savory with a pleasant tang, ensuring that every bite of this potato salad results in maximum satisfaction!
Pair it with your favorite protein to turn this The Little Potato Company potato salad into a wholesome meal!
Get ready for Taco Tuesday with these vegan tacos so delicious that even non-vegans will be devouring them!
These tacos feature a mix of soy chorizo, potatoes, pico de gallo, and fresh cilantro, creating a dish that's filled with refreshing flavors.
Wrapped in warm tortillas, these tacos are pure comfort food that will send your taste buds to overdrive with how good they taste!
Squeeze a little lime before serving to enhance the flavor further!
For a quick and easy meal that tastes wonderful, check out this splendid Quick Barbecue Potato Skillet recipe from The Little Potato Company!
Potatoes, Italian sausages, bell peppers, and onions come together in this simple dish with barbecue sauce adding tons of great flavor to the ingredients.
Everything comes together really quickly and you can enjoy a marvelous meal in under 30 minutes, making it perfect for an awesome weeknight dinner!
Give this a try and you definitely won't regret it!
Feast on this excellent Lemon Chicken with Roasted Potatoes that's incredibly delectable and it's an easy one-pan recipe to boot!
Chicken leg and potatoes are baked in the oven with a flavorsome sauce that's made with chicken broth, lemon juice, mustard, garlic powder, and oregano, rendering plenty of amazing flavors in a single dish.
The chicken leg is tender and juicy, and it goes extremely well with the creamy potatoes to create a mouthwatering delight!
This dish is so easy to make and so tasty!
This is one of our favorite The Little Potato Company recipes and it makes such hearty and comforting Scalloped Potatoes!
It's a lovely combination of sliced potatoes, carrots, and a wonderful sauce made with heavy cream, milk, chicken broth, Parmesan cheese, and aromatics, all baked in the oven until tender and delicious.
This simple dish is loaded with remarkable flavors that make this such a scrumptious treat and it's sure to be a hit with the family.
With how delicious it is, you've definitely got to add it to your meal rotation!
Whip up a marvelous side dish with these mashed potatoes that are incredibly easy to make and taste absolutely fantastic!
The potatoes are first boiled until tender before they are mashed and combined with butter, milk, sautéed shallots, kale, and goat cheese to create this tasty treat.
This simple dish is a heavenly combination of flavor and texture, and it fully complements any of your favorite proteins such as chicken or beef!
Skip bland mashed potatoes and make this for your next meal instead!
Savor delicious bites with these Spicy Bacon-Wrapped Potatoes that are so adorable and exceptionally appetizing!
Coated with hot sauce, garlic powder, onion powder, and salt, then wrapped with bacon and baked until tender, these little potatoes make for a divine-tasting starter or side dish.
The contrast in texture between the crispy bacon and tender potatoes is incredibly satisfying and everyone will be popping these babies into their mouth before you even know it!
Make this for your next gathering and be prepared to be showered with plenty of compliments!
Go healthy with this outstanding Tex-Mex Three Bean Potato Salad recipe from The Little Potato Company!
It's a wonderful medley of ingredients that include roasted potatoes, black beans, kidney beans, chickpeas, corn, bell peppers, onions, and cilantro, with a spicy dressing to tie everything together.
The fresh ingredients and brilliant flavors make this a palatable dish that you can enjoy any day of the week!
Don't skimp on the lime juice to make this potato salad even more refreshing!
Ramp up your next meal with delicious vegetables that are roasted to perfection and you won't believe how easy it is to prepare them!
Carrots, potatoes, bell peppers, green beans, onions, and garlic come together to provide a beautiful multi-colored dish that you can use to spruce up any meal to create a visual treat.
Make sure to bake them on a rimmed baking sheet to avoid trapping any moisture so that these delightful vegetables come out crisp!
We have no doubts that this will become your go-to recipe for delectable vegetables once you've given it a try!
This is one of those The Little Potato Company recipes that you'll want to keep handy because it makes such a classy and elegant appetizer!
This dish features thinly sliced little potatoes combined with butter, oil, rosemary, thyme, salt, and pepper, stacked in mini muffin tins and then baked until they become fully cooked.
Topped with grated Parmesan cheese, these mini potato stacks are an absolute joy to eat and they taste astonishingly good!
If you need an appetizer to impress, this is definitely one of the top contenders!
Expand your cooking repertoire with this fantastic potato salad that's amazingly delectable and makes for an excellent side dish!
Tender potato slices are combined with a flavorsome dressing made by blending olive oil, Dijon mustard, shallots, parsley, and white wine vinegar to create an irresistible delight!
The tangy herb dressing adds plenty of depth and complexity to the flavor, making this potato salad incredibly delicious.
Pair it with grilled meat to enjoy a sumptuous meal!
Make this Creamy Hamburger Hash Soup on a chilly day and be comforted by its warm and splendid flavors!
This soup is a lovely combination of ground beef, onions, garlic, and potatoes in a soup base made with chicken stock, heavy cream, and instant mashed potatoes.
Topped with shredded cheese, bacon bits, and chives, this is an exceptionally tasty soup that goes extremely well with crusty homemade bread!
The flavors of this hearty soup will surely delight your taste buds!
At Glorious Recipes, we have our favorite Bacon-Wrapped Little Potatoes that we absolutely adore and they taste heavenly! Check out the recipe below!
Yield: 8
Bacon-Wrapped Little Potatoes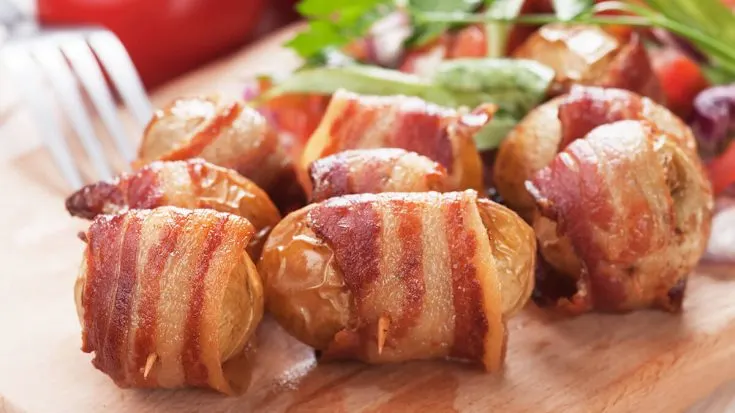 Enjoy a delicious bite with these Bacon-Wrapped Little Potatoes that make for a fantastic appetizer!
Ingredients
1½ lbs little potatoes
2 tbsp hot sauce
1 tsp garlic powder
1 tsp onion powder
½ tsp salt
12 strips bacon, sliced in half
Instructions
Preheat oven to 375°F (190°C).
Add potatoes, hot sauce, garlic powder, onion powder, and salt to a ziplock bag. Shake well to coat. Alternatively, add them to a bowl and toss.
Prepare a baking dish lined with foil. Take 1 potato and wrap it with half a bacon strip, securing the ends with a toothpick. Place on the baking dish. Repeat for the remaining potatoes and bacon strips.
Roast the potatoes for 45 minutes or until they become tender. Bacon should be crispy. Let them cool before serving. Enjoy!
Nutrition Information:
Yield:
8
Serving Size:
1
Amount Per Serving:
Calories:

163
Total Fat:

6g
Saturated Fat:

2g
Trans Fat:

0g
Unsaturated Fat:

4g
Cholesterol:

17mg
Sodium:

446mg
Carbohydrates:

19g
Fiber:

2g
Sugar:

1g
Protein:

8g
Nutrition information is only an estimate and can vary depending on ingredients used.
Which of these The Little Potato Company recipes have you tried so far?
Let us know in the comments below!
For more awesome recipes that you might like, check out the following:
Russet Potato
Canned Potato
Potato Taco
Hubbard Squash
Cubanelle Pepper
Prickly Pear
Sunchoke
Pumfu
Golden Beet
Mayocoba Beans
Share on your favorite social media platform and tag us @GloriousRecipes – we can't wait to see what you have made!