Canned potatoes are great timesavers because they come peeled and cut, saving you the hassle of having to prepare them before whipping up tasty dishes.
They are as delicious as fresh potatoes and they have a longer shelf-life so you might want to grab a few cans when you head to the grocery store next!
If you're skeptical about the taste of canned potatoes, try out one of the recipes below and you'll definitely change your mind!
From cheesy potato bake to au gratin, we've got you covered with some of the best canned potato recipes that you can try at home!
Enjoy delicious potatoes that you can easily make for a delightful meal and you'll be surprised by how simple it is!
The secret to a quick and hassle-free way of coating the potatoes is to throw all the ingredients into a plastic bag and shake it well.
With flour, breadcrumbs, chives, paprika, and other seasonings, the potatoes are superbly tasty and you'll definitely be reaching out for your second serving once you've had your first bite.
Cooked in butter until they turn golden brown, these potatoes are absolutely irresistible!
When you want a healthy canned potato recipe, you've got to turn to your trusty air fryer!
Using less oil than deep frying, air-fried potatoes taste equally good with lower calories and you'll love this healthier alternative.
Coated with a variety of herbs and spices that includes sage, thyme, basil, rosemary, and paprika, these potatoes definitely have depth in their flavor.
Try making these for a tasty snack or side dish that everyone can enjoy!
Go simple with these caramelized potatoes that are ridiculously easy to make and taste absolutely fantastic!
All you need are three main ingredients and you'll be enjoying delectable potatoes in no time.
Adding brown sugar to melted butter in a heated skillet, it caramelizes perfectly and when you pop in the potatoes to coat and heat through, you end up with amazing browned potatoes that look and taste awesome.
Serve with a side of protein such as elk steak or minute steak for a complete meal!
Turn canned whole potatoes into mashed potatoes with this simple recipe that makes the perfect comfort food!
It's as easy as using the potato masher to mash the potatoes until we have the desired texture.
The addition of butter, garlic powder, onion powder, Parmesan cheese, sour cream, and milk makes the potatoes really nice and creamy with just enough flavor to create a delightful experience.
It's already delicious on its own but you can add any of your favorite brown sauces to make it even tastier!
These roasted canned potatoes are amazingly delicious with a crispy exterior and tender interior that'll definitely whet your appetite!
Potatoes are added to a baking dish with melted butter and sprinkled with paprika before they are roasted in the oven until nicely cooked.
Once they turn golden brown and crispy, they are seasoned with salt and pepper and ready to be served!
It's that simple and they make great sides or use them as carbs in your main dishes!
Spruce up your breakfast with this incredible potato pie that's filled with wonderful ingredients that make it wholesome and absolutely delicious!
With crumbled bacon, mushrooms, egg, cheese, and potatoes, it's loaded with delightful flavors that the whole family will definitely enjoy.
The best thing is that it's all cooked in one skillet so there's minimal cleanup required and you can spend more time doing the things you love!
It's super tasty and easily one of our favorite canned potato recipes!
This is an easy canned sliced potato recipe that you can try to make a delicious side dish for any meal!
Cooked in butter and seasoned with garlic salt, Italian seasoning, and paprika, these sliced potatoes are really tasty for something so easy to make!
They are great for pairing with any main dishes or you can serve them with other sides plus a bowl of steamed rice for a wholesome meal.
There's no doubt spuds taste great however they are cooked!
Indulge in these creamy bacon potatoes that are filled with wonderful flavors that'll definitely tantalize your taste buds!
It's also an easy crock pot recipe where you don't have to stand around in the kitchen and just let the crock pot do all the cooking!
Canned sliced potatoes, sour cream, cream of celery soup, and bacon combine to create a fantastic dish that you can serve for a satisfying meal any day of the week.
Top with green onions for added depth and enjoy this awesome dish!
It's really simple to use canned potatoes to make potato salad and you'll be loving this quick and easy recipe that's great for an appetizer or side dish!
Potato salads are best served chilled and canned potatoes come fully cooked so it means you don't even need to heat them through, saving loads of time and hassle.
Mixed with eggs, mayo, vegetables, and mustard, plus a garnish of paprika, this potato salad is excellent to bring to a potluck and let everyone enjoy.
It's delicious and easy to make so make sure to add it to your meal rotation!
This canned diced potato recipe saves you even more time by helping you pre-cut the potatoes for even quicker meal prep!
It's also really simple to whip up these tasty potato bites as all you need to do is melt some butter and add paprika, salt, and pepper to it before tossing in the potatoes.
This ensures an even coating of the spices and every bite of the potatoes will be filled with wonderful flavors.
It's a great and tasty side dish to add to your meals for some variety!
If you've always put off making au gratin potatoes because it sounds like a hassle, using canned sliced potatoes will alleviate the issue!
With the peeling, slicing, and boiling all already done, this cuts your work by more than half!
All that's left is to season the potatoes in a baking dish before topping them with heavy cream and shredded cheese.
The potatoes are then baked in the oven to perfection with melted cheese and a beautiful golden brown color.
Making au gratin isn't so hard after all!
Canned potatoes in air fryer is a cooking hack that everyone should utilize more often because it's so simple to whip up a delicious meal!
With only four main ingredients required, you can have a wholesome meal that's high in protein in less than twenty minutes and the air fryer will be doing most of the work!
The only manual step required is to toss the chicken and potatoes with seasoning and some olive oil before transferring them to the air fryer to cook.
Top with shredded cheese and bacon and air-fry for a few minutes to achieve awesome melted cheese and crispy bacon!
Enjoy delicious potato bake with this simple canned diced potato recipe that you definitely should add to your meal rotation!
It's super easy to make this tasty dish and with onion, smoked ham, sour cream, cheddar cheese, and chives, there's no lack of flavor to create a delightful meal.
Everything is mixed together before being baked in the oven until they are cooked with the cheese melted.
This potato bake is perfect for a quick and easy meal!
Cook up a pot of warm soup with this incredibly simple recipe that uses the crock pot to do all the cooking and you can just go about your daily routine!
Making use of cream of mushroom soup to form the flavor base, water, minced onion, chicken bouillon, cream cheese, and canned diced potatoes are added to the crock pot and cooked until it's done.
It's extremely creamy and flavorful, and it's the kind of comforting soup that you know the whole family will definitely enjoy.
Whip this up on a chilly evening and you'll get hooked on it from the first sip!
Treat yourself to a ground linguica and potato bake that's absolutely delicious and it's really simple to whip up this fantastic dish!
Linguica and canned sliced potatoes are cooked in a skillet along with seasonings to give them loads of delightful flavors before they are layered with cheese and popped into the oven for a good baking session.
With bubbly melted cheese, this dish is great as comfort food that can be served all day long!
If you're looking for a quick and simple side dish that you can easily whip up with kitchen staples, you've got to check out this recipe!
No complicated steps or hard-to-find ingredients are required and all you need to do is sauté the canned potatoes with butter until slightly browned before adding herbs and seasonings like rosemary, parsley, salt, and pepper.
It's straightforward to make and you just can't go wrong with potatoes as a tasty side dish!
This is one of our favorite canned sweet potato recipes because it tastes wonderful and it's really simple to make with only four ingredients required.
These sweet potatoes are buttery with cinnamon undertones that make them an absolute delight that's easy to serve as a side dish or dessert.
They go really well with proteins like fried chicken and you'll be enjoying a refreshing change in flavor from savory to sweet.
It's a simple dish that you definitely need to try for your next meal!
Enjoy a fantastic sweet potato casserole that's amazingly delicious and easy to make!
With a sweet potato filling that's made creamy by mashing the canned potatoes and adding vanilla extract, plus a crumbled topping that adds a nice crunchy texture, this casserole is the perfect dessert to serve for any occasion.
It's super addictive and easily one of our favorite canned potato recipes!
Try it for your next meal and you'll get hooked immediately!
Make delicious glazed sweet potatoes with this simple recipe that'll definitely be a hit with your friends and family!
The sweet glaze is made by combining butter, brown sugar, syrup, and cinnamon before bringing the mixture to a boil.
Then, it's as simple as pouring the mixture over the canned potatoes to give them a nice glaze and flavor!
It's one of the easiest canned potato recipes that you can try and with how tasty it is, you should definitely add it to your dessert rotation!
Expand your dessert options with this amazing sweet potato pie that'll instantly become your family favorite because it's super delicious!
It's incredibly tasty with great flavors and hints of cinnamon and allspice, making it an irresistible sweet treat that's perfect for serving any time of the day.
Using refrigerated pie crust and canned sweet potatoes really cuts down the time required to make this sweet potato pie and it'll quickly be your go-to dessert because of how easy it is to whip this up!
Try it for your next dessert and you'll definitely not regret it!
This canned sweet potato casserole with marshmallows recipe is a must-add to your dessert rotation and it's the perfect dessert to make during the holidays because it's a guaranteed crowd-pleaser!
The combination of mashed sweet potatoes, butter, cinnamon, and sugar creates a creamy treat that's absolutely delicious and the cinnamon gives a slight depth to the flavor that's really enjoyable.
Topped with mini marshmallows and baked until golden brown, this is the ultimate dessert that everyone will definitely love.
It's one of our favorite canned potato recipes as well with how kid-friendly and tasty it is!
Another variation of sweet potato casserole that's also really delicious is this recipe that uses Ritz crackers for the topping instead!
It's really easy to make the topping and all you need to do is add the crackers to a food processor and pulse them or do it the old-fashioned way and use a rolling pin to crush them.
With a slightly savory flavor, the Ritz crackers are a great addition to this casserole that creates a well-balanced treat.
Combined with a creamy sweet potato filling, the casserole is baked to perfection and it's a sweet treat that will satisfy any craving!
Grace your taste buds with these tasty muffins that are moist on the inside and crunchy on the outside!
It's incredibly delicious with the combination of canned sweet potato, nutmeg, and cinnamon creating an awesome flavor profile that's just irresistible.
These muffins are made even tastier with an oatmeal crumb topping that delivers a great texture to balance out the moist interior.
You'll definitely get addicted to these delectable muffins once you've taken your first bite!
If you love some homemade quick bread, you've got to check out this amazing sweet potato bread recipe that uses canned potatoes to make things even easier!
Chai spice helps to impart loads of complexity and wonderful flavors that really make this bread stand out and with depth in the flavor, you can eat this all day long.
You can also mix things up and add chocolate chips or nuts to vary the taste so it's a very versatile recipe that you can modify to suit your palate.
Get creative and enjoy this sweet treat!
Impress your friends and family with this super yummy sweet potato dump cake that'll have everyone fighting for a second serving!
With a combination of canned sweet potatoes, crushed pineapples, orange zest, and orange juice, you're guaranteed an incredibly tasty cake that's sure to please.
It's made even more irresistible with a topping of pecans and a drizzle of caramel sauce!
Try it for your next gathering and get ready to be showered with compliments!
Yield: 25
25 Amazing Canned Potato Recipes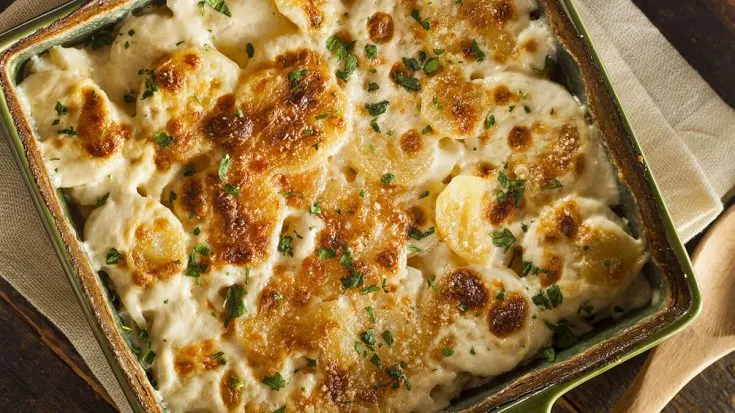 Try these canned potato recipes and enjoy a delicious meal! Whether you like them roasted, mashed, or baked, there's always something for every occasion!
Instructions
Choose your favorite canned potato recipe.
Prepare all the required ingredients.
Whip up the tasty dish and enjoy an awesome meal!
Nutrition Information:
Yield:
25
Serving Size:
1
Amount Per Serving:
Calories:

313
Total Fat:

12g
Saturated Fat:

4g
Trans Fat:

0g
Unsaturated Fat:

6g
Cholesterol:

45mg
Sodium:

339mg
Carbohydrates:

43g
Fiber:

4g
Sugar:

13g
Protein:

9g
Nutrition information is only an estimate and can vary depending on ingredients used.
Which of the canned potato recipes have you tried so far?
Let us know in the comments below!
For more awesome recipes that you might like, check out the following:
The Little Potato Company
Blackstone Chicken
Langostino
Ham Hock
Cobia
Beef Shanks
Wagyu Steak
Canned Beef
Canned Oysters
Canned Pork
Share on your favorite social media platform and tag us @GloriousRecipes – we can't wait to see what you have made!