Nothing beats the comfort of a warm bowl of delicious shrimp ramen for a hearty meal on a chilly day!
It's extremely easy to whip up when the cravings hit and there are so many variations to keep this dish refreshing!
From spicy sriracha ramen to curry ramen, we've got you covered with some of the best shrimp ramen recipes that you can easily try at home!
Enjoy a fantastic meal with this fantastic ramen that's easy to make and tastes absolutely delicious!
The shrimp is made fragrant and tasty by cooking with garlic, and along with broccoli and ramen noodles, they combine to create a wholesome dish that's just irresistible.
It's made healthier by using low-sodium vegetable broth so you can enjoy this bowl of delightful ramen anytime without feeling guilty!
With how delectable this homemade shrimp ramen is, it's a must-add to your meal rotation!
If you like your ramen spicy, you've definitely got to check out this wonderful recipe!
The broth is given some heat with the addition of sriracha sauce and it's also filled with loads of delightful ingredients such as carrots, onions, sweet peppers, brown sugar, and lime, making it extremely flavorful.
Along with shrimp, cabbage, and ramen noodles, they combine to create a wonderful dish that's hearty and comforting.
You'll love how delicious it tastes for something so simple to make!
Prefer dry ramen instead?
We've got just the recipe for you with this delicious stir fry that's quick and easy to whip up!
There are all the usual ingredients to make it a wholesome and nutritious meal with shrimp, noodles, and vegetables, plus a garnish of green onions and sesame seeds.
The secret in this dish is the sauce that's used in place of a broth, with oyster sauce, sesame oil, soy sauce, rice vinegar, and cornstarch to create a slurry that coats the ramen noodles and make it super flavorsome.
This dish is a great way to add some variety to your ramen meals and you just might have a new favorite after trying it!
This easy shrimp ramen noodle recipe takes less than 20 minutes from start to finish and you'll be enjoying a warm bowl of delicious ramen in no time!
It's really simple to make and it's loaded with wonderful flavors contributed by carrots, aromatics, and sesame oil.
It also has delightful ingredients such as mushrooms and shrimp to provide a boost of nutrients and protein to make it a hearty meal!
This ramen soup is perfect for satisfying any late-night cravings!
Indulge in this ramen dish that's absolutely delicious and easily one of our favorite shrimp ramen recipes!
The broth is made spicy by adding chili powder and it can be adjusted accordingly to suit your palate, but the highlight of this dish is the addition of lime juice to chicken broth, making it really appetizing.
It's also nutrient-rich with shrimp, spinach, and egg providing all the vitamins and macros that you need for a healthy and well-balanced diet!
With how addictive the broth is, you'll be sipping till the last drop of this wonderful ramen!
On days when you feel lazy, try out this fantastic shrimp ramen recipe that can be made with just a microwave oven!
Not only is it effortless to make, but it's also high in protein and low in carbs and fat, making it a great go-to dish when you want a quick and easy meal.
There's no lack of flavor either as the shrimp are marinated in a mixture of garlic, lime juice, paprika, and black pepper, making it extremely tasty.
Along with frozen vegetables and ramen noodles, everything is microwaved until a delicious meal is ready to be served!
Try your hands at this quick and easy shrimp teriyaki ramen that's delectable and perfect for a weeknight dinner!
It's ridiculously easy to make and you really only need 4 main ingredients for this delicious ramen dish.
Shrimp and broccoli help to provide all the nutrients, and instant ramen makes it really convenient to create a wonderful combination.
Teriyaki sauce gives a fantastic sweet and savory flavor that goes exceptionally well with the other ingredients and it's definitely a dish that'll please the taste buds!
Amplify your next meal with these ramen noodles infused with Cajun flavors to create a mouth-watering delight!
The shrimp taste wonderful with Cajun seasoning and along with corn, mushroom, and soft-boiled eggs, they help to add texture and nutrients to this wonderful dish.
The broth is also given an upgrade with the addition of ginger paste, coconut milk, garlic chili paste, and even shrimp shells to make it extremely flavorful.
Garnish with furikake and sesame seeds before serving this Cajun shrimp ramen noodles for maximum flavor!
This spicy shrimp ramen recipe will get your meals ready in 20 minutes and you're just going to love how tasty it is!
The broth is extremely flavorful with loads of wonderful ingredients such as chicken stock, aromatics, tomato paste, and a variety of spices combined together to create an awesome dish!
Ramen noodles, shrimp, spinach, and lemon juice are added to complete this fantastic ramen dish that'll definitely impress with its taste!
It's the perfect weeknight meal and you definitely need to add it to your dinner rotation!
Experience an Asian delight with this superb ramen stir fry that's delicious and easy to make!
Shrimp, ramen noodles, broccoli, carrots, and aromatics come together to create an amazing dish that's coated with a flavorsome sauce made with oyster sauce, fish sauce, sesame oil, soy sauce, and other lovely ingredients common in Asian cuisine.
It's a straightforward one-pot recipe that can put a tasty ramen dish on the table in under 20 minutes, perfect for a quick weeknight meal!
Mix things up a little and make this incredible Coconut Curry Ramen that's oh-so-yummy!
The broth is a combination of chicken stock, red curry paste, and coconut milk, with aromatics such as onion, garlic, and bell pepper imparting their fragrance to make it even tastier.
Add shrimp and ramen noodles into the mix and you have an awesome bowl of delicious ramen waiting to be devoured!
Finish off by squeezing a lime and garnishing with cilantro for a refreshing flavor!
Peanut butter and ramen might seem like an unlikely combo but they actually go really well together to create an awesome dish!
The sweetness and nuttiness of peanut butter are well-balanced with the spiciness from the curry paste and they help to create a mouth-watering broth that'll definitely tantalize your taste buds!
Every sip is bursting with delightful flavors and the shrimp and vegetables add wonderful texture to this ramen dish.
It's super flavorful and definitely makes it to our list of favorite shrimp ramen recipes!
Impress your friends and family with this homemade Shrimp Wonton Ramen that's incredibly tasty!
Making your own wontons is really easy with wonton wrappers and chopped shrimp mixed with sesame oil, salt, and cornstarch.
Fill them up, pinch the sides, and drop them into boiling water until they float to the surface and they are done!
Add them to instant miso ramen and you have a fantastic shrimp miso ramen that's perfect for a hearty lunch or dinner!
If you love Panda Express' honey walnut shrimp, you've definitely got to check out this terrific shrimp ramen recipe that aims to replicate that familiar flavor!
Walnuts and shrimp are cooked together before getting mixed with ramen noodles that have been tossed in a tasty sauce made with honey, soy sauce, chicken stock, and red pepper flakes.
Mayonnaise is added right at the end and everything comes together to create an amazing dish that's just irresistible!
It's a delightful dish that can elevate any meal with how flavorful it is!
Spice up your next meal with this fantastic red curry ramen that'll definitely whet your appetite!
Garlic butter-infused shrimp combines with zucchini, red curry, and ramen noodles to create a simple but flavorsome dish that's absolutely delicious!
Topped with cilantro and jalapeño slices, it's a refreshing spicy ramen that's surprisingly addictive, especially if you love spicy food!
Yield: 15
15 Incredible Shrimp Ramen Recipes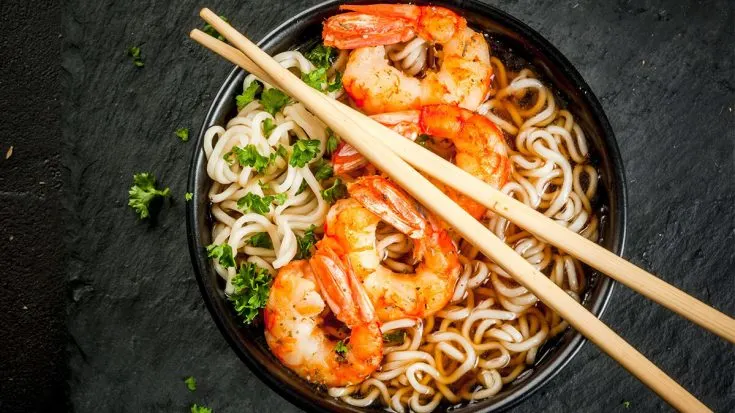 Try these shrimp ramen recipes and enjoy a delicious meal! From spicy sriracha ramen to curry ramen, there's always something for every occasion!
Instructions
Choose your favorite shrimp ramen recipe.
Prepare all the required ingredients.
Whip up the tasty dish and enjoy an awesome meal!
Nutrition Information:
Yield:
15
Serving Size:
1
Amount Per Serving:
Calories:

198
Total Fat:

2g
Saturated Fat:

0g
Trans Fat:

0g
Unsaturated Fat:

2g
Cholesterol:

146mg
Sodium:

859mg
Carbohydrates:

26g
Fiber:

1g
Sugar:

0g
Protein:

15g
Nutrition information is only an estimate and can vary depending on ingredients used.
Which of the shrimp ramen recipes have you tried so far?
Let us know in the comments below!
For more lunch and dinner ideas, check out our list of Maruchan Ramen, Shin Ramen, Momofuku Noodles, Reames Noodles, Pappardelle, and Ditalini recipes!
Or pair your ramen with some Enoki Mushrooms and Silken Tofu for a more nutritious meal!
Share on your favorite social media platform and tag us @GloriousRecipes – we can't wait to see what you have made!