Silken tofu is an excellent plant-based ingredient that's made from soybean and packed with protein, iron, and calcium.
You can easily make both sweet and savory dishes with it as it has a neutral taste and absorbs flavors really well!
With a smooth and silky texture, it's also soft and creamy, perfect for making tons of wonderful dishes, limited only by your imagination!
From delicious tofu scramble to smoothies and cakes, we've got you covered with some of the best silken tofu recipes that you can try at home!
This Korean silken tofu recipe delivers an amazingly delicious soup that can warm your soul and fill your belly!
Red pepper flakes and kimchi provide the heat in this soup and it's super addictive if you love spicy food!
Add in your choice of protein, tofu, and egg, plus a seasoning and garnish of garlic, green onions, soy sauce, and fish sauce to get a delightful bowl of tasty soup that's great with a side of steamed rice.
It's the perfect comfort food to enjoy on a chilly evening!
For a tasty and simple side dish, check out this quick and easy recipe to make steamed tofu with a delicious soy garlic sauce!
Combining garlic, soy sauce, oyster sauce, vinegar, sesame oil, and sugar creates an extremely flavorful sauce that tastes superbly good and goes really well with something like tofu to soak up all that delightful flavors.
The tofu blocks are steamed before the sauce is poured over with a garnish of green onions to finish off this wonderful dish!
Did you know that you can use tofu to make a delicious and creamy pasta sauce that's vegan-friendly?
In this delightful recipe, tofu is added to the blender along with garlic, onion, nutritional yeast, and lemon juice to add simple but great flavors to achieve a tasty sauce.
Toss that with your favorite al dente pasta and you have a wonderful meal that you can enjoy in no time at all!
It's a great way of adding tons of protein to your meal, especially if you're on a vegan diet!
Make an incredible quiche without eggs by using tofu instead with this amazing vegan silken tofu recipe!
Filled with scallion, leek, spinach, and peas, it's a fantastic pastry that's not only healthy but also loaded with tons of nutrition.
It's made even tastier with the addition of pesto to give it a herbaceous flavor that makes this quiche absolutely irresistible!
Try it for your next meal and you might just fall in love with it!
Add more Asian flair to your next meal with this Chinese silken tofu recipe that makes a traditional mapo tofu!
Spicy bean sauce provides the heat in this authentic Szechuan dish that is extremely flavorful and with minced meat, tofu, and a variety of aromatics and vegetables, there is no lack of nutrition.
This tasty side dish is perfect for serving with a bowl of rice and if you love spicy food, you've definitely got to try this!
Make a tofu scramble and have an eggless breakfast that tastes awesome and is loaded with nutrition!
Tofu by itself has a plain and neutral taste but with a seasoning of onion, garlic, and turmeric powder, it becomes a flavor sponge and tastes really delicious.
Spinach and onions are added to the scramble as well to make it even tastier and more nutritious!
Serve on toast with homemade bread and enjoy an amazing breakfast!
Enjoy a flavorful dish with this fantastic tofu with black bean sauce that's bound to tantalize your taste buds!
Mushrooms and tofu take on the flavors of the sauces they are coated in really well and they are the perfect ingredients in this delightful dish.
The black bean sauce is filled with umami flavors and every bite is a flavor bomb that you just can't help yourself with.
Pair with a bowl of steamed rice to enjoy a sumptuous meal!
You can still enjoy a tasty omelet even if you're vegan with this eggless recipe that uses tofu instead!
The combination of tofu, chickpea flour, nutritional yeast, cornstarch, and seasonings is blended into a batter before it's cooked with your desired fillings.
Turmeric helps to give a nice yellow hue to replicate the look of a regular omelet and it looks and tastes as good as an egg omelet!
Impress your friends and family with this exceptional mushroom pasta smothered in a creamy sauce that's vegan-friendly and dairy-free!
Blended with a mixture of tofu, nutritional yeast, garlic, and white wine, the sauce is flavorful with a nice consistency that gets reduced till it becomes thick and creamy.
Coat your favorite pasta with this delicious sauce and add sautéed mushrooms to complete this fantastic dish!
Garnish with fresh thyme before serving and enjoy a delectable meal that you can't believe is made with tofu!
Mix things up and combine tofu and an egg replacement that tastes just like the real thing in this recipe that you definitely need to try!
Using JUST egg, this plant-based egg substitute has zero calories but tastes and cooks like regular eggs.
Tomatoes, JUST egg, and vegan sausage are stir-fried before the addition of tofu and an incredibly flavorful sauce to combine everything.
It's absolutely delicious and a great vegan recipe to try for your next meal!
Discover a tofu dish so simple and delicious that you can't believe you've been missing out on it!
This steamed silken tofu recipe utilizes basic ingredients such as shallots, ginger, chili, and soy sauce to deliver a great flavor that fully complements mild-tasting tofu.
With a topping of coriander, you get a fragrant side dish that's great with any mains that you want to serve.
Pair it with some noodles or rice for a complete meal!
Dig into this cold Korean tofu side dish that you can easily whip up in mere minutes, perfect for a quick and hassle-free meal!
It's as simple as draining the packed tofu and pouring a soy-sesame mixture over it before serving.
The sauce is sweet and savory with a little kick coming from Korean chili flakes, making it an addictive combination that's elevated with the addition of sesame seeds and green onions.
We love how easy it is to make and how delicious it tastes!
Indulge in a tasty vegan pastry with this incredible broccoli tofu quiche that is just irresistible!
There is no lack of nutrition with broccoli, tofu, and nutritional yeast combined as part of the filling.
Nutritional yeast also gives a cheesy flavor that adds so much to this dish and with the addition of nutmeg, mustard powder, salt, and pepper, they help to create a quiche that's extremely delectable.
Once baked, you'll be hard-pressed to stop yourself at just one serving!
Treat yourself to this fried silken tofu recipe that you can easily whip up for an awesome side dish!
The tofu slices are fried in sesame oil, giving them plenty of fragrance and they are paired with a flavorsome sauce that's made with ginger, garlic, soy sauce, lime, chili sauce, and tomato paste.
Everything combines to create a fantastic dish with loads of delightful flavors that you can serve alongside a bowl of white rice for a wholesome meal!
Spruce up your next meal with this fried tofu dish with an incredible salted egg sauce that you'll definitely get hooked on!
Salted duck eggs are cooked together with minced garlic and butter to create a rich, creamy, and savory sauce that's super tasty.
The sauce is used to coat double-fried tofu pieces and the combination is a heavenly treat!
If you've never tried salted egg before, you don't know what you're missing out on!
Amplify your next meal with this fantastic tofu curry that's super flavorful and absolutely delicious!
With broccoli, spinach, bell pepper, and tofu, this amazing dish is filled with nutrition and it has so much depth in flavor with the mix of red curry paste, peanut butter, sriracha sauce, and lime.
It's an excellent dish to pair with steamed rice and you're guaranteed a sumptuous meal to satisfy your cravings for something hot and flavorsome!
There are so many wonderful flavors in this curry and it's easily one of our favorite silken tofu recipes!
On days when you want a light and easy meal, check out this steamed tofu dish that's tasty and simple to make!
Combining soy sauce and oyster sauce to create a simple seasoning, the mixture is drizzled over ground pork and tofu slices before they are steamed until fully cooked.
It's a healthy and tasty dish packed with protein that's great as a side dish to complement any other main dishes!
Enjoy more tofu delights post-dinner with this amazing vegan chocolate pudding recipe that's great for a light and delicious dessert!
All you need to do to create this wonderful silken tofu pudding is to blend tofu, syrup, cocoa powder, and vanilla extract before chilling it to achieve a thick consistency.
It's that simple to make but it tastes so good with a rich and chocolatey flavor.
Serve up this sweet treat with some shortbread biscuits for maximum enjoyment!
Try your hands at making this vegan silken tofu chocolate mousse pie with a rich and creamy filling that's super delicious!
Tofu is pureed to achieve a smooth consistency before combining it with semi-sweet chocolate chips and syrup to create a tasty filling.
It's baked in the oven along with a pastry crust before topping with fresh banana slices and whipped cream to complete this simple dessert!
This is one of our favorite silken tofu recipes because these brownies are absolutely delicious and just irresistible!
With a great texture and flavor, you can indulge in these tasty brownies feeling less guilty as they are high in protein, featuring tofu in both the brownie base and the chocolate ganache.
It's super addictive and you'll be asking for a second serving once you've taken your first bite!
Serve this for your next dessert and your friends and family will definitely be impressed!
Have a protein-packed plant-based breakfast that's delicious with these fantastic tofu pancakes!
With cinnamon and cacao nibs being incorporated into the batter, they are incredibly tasty with depth in flavor that makes them really enjoyable.
Top with maple syrup and extra cacao nibs to make it even tastier and everyone will definitely gobble them all up and ask for seconds!
Make your dessert indulgence less sinful with this exceptional silken tofu cheesecake recipe that's absolutely delicious!
It's vegan, nut-free, and doesn't require any baking at all, perfect for making an impressive dessert that everyone can enjoy.
This sweet treat is layered with a tasty crust, dark chocolate, and caramel cheesecake, plus a topping of caramel sauce and pretzels for a fantastic dessert.
You'll definitely be making this more than once because it's just that delicious!
For a tasty dessert that you can make in advance for a gathering or just for enjoying during the week, check out this tofu lemon posset recipe!
It's ridiculously easy and all you need to do is blend tofu, syrup, lemons, coconut oil, and vanilla extract before pouring into ramekins and refrigerating them.
With a creamy texture and tangy flavor, they are absolutely addictive and make a great post-dinner dessert.
Top with some fruits and pistachio flakes for maximum flavor!
This raspberry mousse is a great way of getting extra protein into your dessert and making it a healthier sweet treat that everyone can enjoy!
With a raspberry-tofu mixture at the bottom layer and a vanilla-tofu layer at the top, it makes for an eye-pleasing presentation, especially when you add extra raspberries to the cup.
It's easy to make and can be enjoyed instantly so it's perfect as a last-minute dessert in case the cravings hit!
Sign us up for this fantastic no-bake, vegan-friendly, dairy-free, and gluten-free tiramisu that's healthier than the traditional recipe but tastes just as awesome!
That extra dose of protein from tofu really helps to make this less sinful and it tastes just as rich and creamy as regular tiramisu.
With a coffee-soaked oat base, you get the same caffeine-packed bottom layer that's super fragrant and really delicious.
Garnish with cocoa powder for an amazing presentation that will definitely impress!
This silken tofu smoothie is an easy way to make a great-tasting breakfast or snack that's healthy with lots of nutrients!
It's really simple to make and the trusty blender will help to do the work of turning delightful ingredients into a tasty smoothie.
With spinach, mixed berries, milk, and tofu, there is no lack of vitamins, minerals, antioxidants, and protein in this nutrient-dense drink.
You'll love how quick and easy it is to whip this up and the nutrition it provides!
Level up your dessert-making skills with this amazing tofu cheesecake recipe that'll deliver a fantastic dessert that can impress anyone!
The base is a mixture of dates, oats, and pecans, giving a great taste that's absolutely delightful while a tangy tofu middle layer provides a rich and creamy texture.
It's topped with clementine jelly and coconut flakes, adding even more depth and complexity to the flavor of this wonderful dessert.
If you love tasty desserts but want to make them a little healthier for a less guilty indulgence, you've definitely got to check out this tofu peanut butter pie recipe!
Blended tofu helps to give a nice creamy texture and provides protein to add nutrition to this wonderful sweet treat while peanut butter gives a great flavor that no one can resist.
Using store-bought ready vegan crust, this becomes a no-bake recipe that everyone can easily make.
Top with crushed peanuts and vegan chocolate to complete this fantastic silken tofu dessert recipe!
This banana bread is eggless, dairy-free, and an absolutely delicious treat that's great for both breakfast and as a dessert!
With soft tofu, banana, and walnuts, the bread has an amazing flavor and texture that's just delightful and you'll have to resist the temptation of eating more than one slice.
It's an exceptional sweet bread that you can make with common baking ingredients so definitely give it a try for your next baking session!
Expand your dessert selection with this vegan cannoli that's super tasty and fancy enough to impress anyone!
Tofu, sugar, vanilla extract, and cinnamon are blended to create a delicious mixture that is used to fill cannoli shells made by frying egg roll wraps.
They are made even more delectable by dipping them into chocolate chips to add an extra chocolatey flavor.
With such incredible taste, it's a must-try for all dessert lovers!
Spruce up your next meal with this elegant dessert that tastes absolutely wonderful and looks amazing!
With a cream made with tofu, oranges, and almond butter, it's a fantastic sweet treat that you can't believe its main ingredient is tofu.
The top layer is a combination of orange and papaya or mango, pureed into a smooth consistency and combined to deliver a tropical punch with every spoonful of this delightful dessert.
Top with fruits to complete this exceptional vegan dessert, which is one of our favorite silken tofu recipes!
Yield: 31
31 Best Silken Tofu Recipes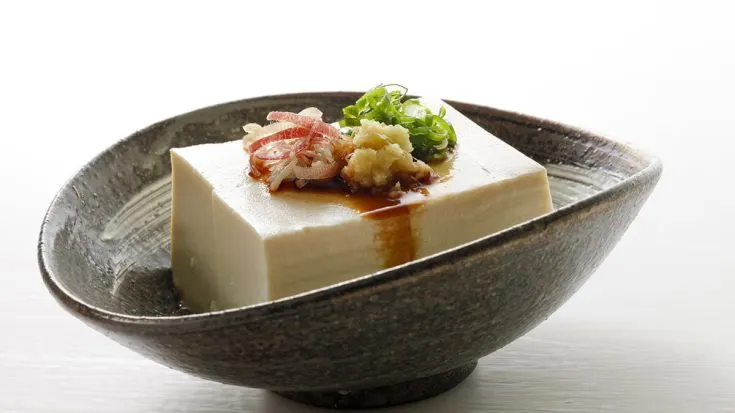 Try these silken tofu recipes and enjoy a delicious meal! Whether you like them steamed, fried, or even as a dessert, there's always something for every occasion!
Instructions
Choose your favorite silken tofu recipe.
Prepare all the required ingredients.
Whip up the tasty dish and enjoy an awesome meal!
Nutrition Information:
Yield:
31
Serving Size:
1
Amount Per Serving:
Calories:

375
Total Fat:

22g
Saturated Fat:

9g
Trans Fat:

0g
Unsaturated Fat:

11g
Cholesterol:

101mg
Sodium:

456mg
Carbohydrates:

28g
Fiber:

3g
Sugar:

16g
Protein:

19g
Nutrition information is only an estimate and can vary depending on ingredients used.
Which of the silken tofu recipes have you tried so far?
Let us know in the comments below!
For delicious main dishes that you can pair with silken tofu, check out the following:
Reames Noodles
Momofuku Noodles
Shin Ramen
Shaved Steak
Chicken and Shrimp
Langostino
Tilefish
Shrimp Ramen
Share on your favorite social media platform and tag us @GloriousRecipes – we can't wait to see what you have made!