Pappardelle is a wide ribbon egg pasta that's perfect for whipping up a variety of tasty pasta dishes that everyone will enjoy.
It has a great texture and a broad surface area which is fantastic for mopping up flavorful sauces!
If you haven't tried pappardelle before, it's time to add it to your pasta rotation because you're bound to fall in love with it!
From delicious ragus to seafood pasta, we've got you covered with some of the best pappardelle recipes that you can try at home!
Enjoy delicious pasta that you can easily whip up in less than 30 minutes with this simple recipe!
This dish is filled with amazing garlicky flavors and the addition of fresh lemon juice and shredded Parmesan cheese makes it refreshing and super tasty.
Italian seasoning and freshly chopped parsley help to give complexity to the flavor and everything combines really well to coat the shrimp and pasta noodles.
With such incredible taste, it's a must-add to your pasta rotation!
Feast on classic Italian comfort food with this incredible recipe that makes a fantastic pasta dish!
With a creamy tomato sauce, wide pasta ribbons are the perfect choice to use for coating all that wonderful sauce to deliver an umami bomb with every bite.
It's filled with delightful flavors and smoked bacon, Parmesan cheese, onion, and garlic help to make it even tastier.
You'll be licking the plate at the end of the meal because it's just that delicious!
If you love a simple and good mushroom pappardelle pasta, you'll need to check out this wonderful recipe that you can try for a quick and easy meal!
Filled with loads of garlic flavors and with a creamy mushroom sauce base, this is an irresistible pasta dish that's super delicious.
Pecorino Romano cheese is used to add a savory and tangy flavor that balances out the earthy flavors of the mushrooms, creating a delectable dish that's easy to enjoy.
Pair it with a glass of wine and enjoy a hearty meal any time of the week!
Let the slow cooker do most of the cooking with this incredible beef ragu pappardelle recipe that makes an extremely flavorful pasta meal!
Beef chunks are cooked with vegetables, aromatics, and herbs in beef broth until they become really tender, creating the perfect combination for an awesome pasta dish.
The pasta noodle is coated with this incredible sauce and served with a topping of grated Parmesan cheese which makes this dish a delightful treat.
It's the kind of meal that you'll be making time and again because everyone will definitely be asking for it!
Seafood lovers must definitely give this recipe a try because it makes an incredible seafood pappardelle pasta dish!
With a rich tomato sauce base, there is no lack of wonderful flavors and when you add shrimp, scallops, and clams into the mix, it becomes super delish!
White wine helps to make it even tastier and the wide pasta noodle is coated with a wonderful sauce that you just can't get enough of.
It's delicious and quick to make, and easily one of our favorite pappardelle recipes!
Enjoy pasta with all your favorite summer vegetables and it's an easy side dish that you can serve either warm or cold!
Seasoned with oregano and garlic powder, the vegetables are tasty with delightful flavors and they are roasted in the oven until cooked.
Corn, zucchini, cherry tomatoes, and orange grape tomatoes combine with walnuts and goat cheese to create an amazing pasta dish that goes really well with a side of protein such as shaved steak or beef shank.
It's a wonderful dish that you definitely must try!
This braised short rib pappardelle pasta recipe is incredibly flavorful with tender meat and a velvety mushroom sauce that makes a fantastic meal!
With aromatics and herbs such as parsley, thyme, and tarragon, the sauce is loaded with wonderful flavors that go really well with wide pasta ribbons.
Red wine helps to make the sauce even more flavorful and when you pair it with juicy shredded short ribs, you have a pasta dish that's just exceptional.
It takes some time to cook the meat but you'll definitely feel it's worth it once you've taken your first bite!
Savor delicious pasta with this lamb ragu pappardelle recipe that makes a satisfying dish for an awesome meal!
It's an incredible combination of ground lamb, garlic, onion, tomato paste, and a variety of herbs that add so much depth to the flavor.
Deglazed with red wine and simmered with chicken stock, the ragu is filled with loads of delightful flavors that pair exceptionally well with the pasta noodles.
Top with Parmesan cheese and thyme before serving for maximum enjoyment!
Expand your cooking repertoire with this amazing creamy pappardelle Alfredo that's great for a comforting meal and it's so easy to make!
It's made with simple ingredients that combine to create a pasta dish loaded with delightful flavors and you can whip this up in less than 20 minutes.
With crispy pancetta and green peas, you have a wholesome combo that gives you the carbs, protein, and nutrition that you need for a hearty meal.
Try this rich and tasty pasta dish for your next lunch or dinner and you might just find a new favorite!
Everyone loves a good carbonara and this pasta dish will definitely satisfy any craving!
With pancetta, egg, cream, and Parmesan cheese, it has all the delightful flavors that we have all come to love and enjoy.
The addition of arugula gives a nice touch to balance out the taste so that the creamy sauce doesn't overwhelm.
It's a quick and easy recipe that you can use for a simple dinner that's perfect for a weeknight meal!
Another simple pappardelle recipe that you can easily whip up in under 15 minutes is this fantastic pasta with brown butter sage sauce.
It only requires 3 main ingredients to make the sauce and it pairs really well with the wide pasta noodles for a delightful meal!
The sauce is made by adding sage and lemon juice to melted butter and it's tossed with al dente pasta to coat the surface of the noodles.
Top with freshly grated Parmesan cheese for a wonderful meal!
Grace your taste buds with this amazing pasta dish so delicious that you just can't get enough of it!
The pesto sauce is made by processing basil, pine nuts, olive oil, garlic, and lemon juice to create a tasty sauce loaded with herbaceous flavors.
It's mixed with Parmigiano Reggiano and Pecorino Romano cheeses before being tossed with al dente pasta to coat the wide noodles.
Filled with delightful flavors, it's a dish that the whole family will definitely enjoy!
Dig into this tasty pasta dish that you can easily make for a quick weeknight dinner that doesn't sacrifice the flavor!
With pancetta, garlic, parsley, chives, and grated Parmesan cheese, you have familiar flavors that you know will combine well together.
Add burrata cheese into the mix and you have a heavenly delight that'll leave you wondering how something so simple to make can taste so good.
Try it for your next meal and you'll be pleasantly surprised!
If you're a garlic lover and you like something spicy, you've definitely got to check out this simple recipe that makes an excellent pasta dish!
All you need are garlic, crushed red pepper, plum tomatoes, and olive oil to go with your pasta noodles.
The garlic is first added to the skillet and cooked until fragrant before the rest of the ingredients are popped in to combine and they come together to create a delicious sauce to coat the wide pasta noodles.
We love how incredibly simple it is to make this wonderful dish!
This chicken pappardelle recipe is a great addition to your list of pasta recipes for meal rotations because it's really delicious!
With a rich and creamy homemade Alfredo sauce coating the wide pasta noodles, this is an irresistible dish that will satisfy any craving.
The grilled chicken is tender and juicy, making a great combination with the noodle and sauce to create an awesome dish.
Garnish with parsley before serving for a wonderful meal!
Discover an amazingly tasty pasta dish that you can make with simple ingredients and they come together in a flash!
Sausage, crushed fennel seeds, garlic, and tomato puree combine to create a delightful mixture that's extremely flavorful and delicious.
White wine is used to deglaze the pan and helps to elevate the flavor of everything it touches, resulting in a super yummy pasta dish!
Add grated Parmesan cheese and freshly chopped parsley before enjoying a wholesome meal!
With lemon juice, white wine, garlic, olive oil, and butter, this pasta dish has all the ingredients required to make incredible seafood pasta!
This pappardelle pasta recipe combines all that with lemon pepper-seasoned shrimp to create a wholesome and delicious pasta that's bound to be a crowd-pleaser.
It's filled with refreshing flavors that are easy to enjoy and you'll be asking for a second serving once you've had your first bite!
Garnish with lemon slices and freshly chopped parsley for maximum enjoyment of this delightful dish!
This recipe leaves out tomatoes and uses plenty of white wine and milk instead to create an authentic white ragu sauce that's amazingly delicious and pairs really well with the pasta noodles.
It's an awesome dish with prosciutto, ground pork, and chicken liver combined to create a wonderful protein pairing.
There's no lack of depth in the flavor as well with onion, rosemary, and nutmeg imparting their fragrance to the dish.
It's really delicious and you're definitely going to love this classic pappardelle bolognese recipe!
Impress your friends and family with this incredible black garlic pasta that'll definitely tantalize your taste buds!
Black garlic has a soft and creamy texture with sweet notes and eliminates the sharp taste that some might dislike, making this a perfect ingredient for making an awesome dish!
With shallots, black garlic, butter, and white wine, it's a simple sauce that tastes really good and it's used to coat the pasta noodles before serving.
This vegetarian dish is super delicious and easily one of our favorite pappardelle recipes!
One-pot recipes are great for a hassle-free meal and this recipe delivers awesome pasta with Tuscan flavors that'll definitely be popular with the family!
Wide pasta noodles coated with a creamy sauce are combined with seared chicken, sundried tomatoes, and spinach to create a wholesome pasta dish that's super satisfying.
It's incredibly tasty and when you add cheeses into the mix, it becomes a heavenly delight that you can serve any time of the day.
This is one pasta dish we absolutely don't mind eating regularly!
Perfectly seared scallops go extremely well with pasta and this is one of our favorite pappardelle pasta recipes that deliver an awesome meal!
With a refreshing lemon flavor to brighten up the dish, scallops have never tasted any better than this!
They go really well with wide pasta noodles plus a creamy sauce made with mascarpone, ricotta, and Parmesan cheese.
It's a simple dish to make with big flavors that are hard to resist!
Indulge in a plate of delectable shrimp pasta loaded with Cajun and garlic flavors that are perfect for a fantastic weeknight dinner!
With Cajun seasoning, paprika, Old Bay seasoning, oyster sauce, and hot sauce, there is no lack of flavor in this Vietnamese-Cajun fusion cuisine.
The shrimp is super tasty and when combined with the wide pasta noodles, they come together to create a really enjoyable pasta dish!
Nothing compares to classic bolognese when you crave comfort food and it's a versatile dish that you can easily tweak the ingredients to achieve a tasty plate of pasta to suit your palate.
With a rich bolognese sauce that's made with ground veal, ground pork, vegetables, wine, tomato passata, and milk, it's extremely flavorful and absolutely delicious.
It's best served with wide pasta ribbons to mop up all that tasty sauce so that none of it goes to waste!
Make a plate of bolognese the next time the cravings hit!
Spruce up your next meal with this fantastic pasta dish that's fancy enough to impress but easy enough to make!
With cherry tomatoes, bacon, and fresh basil, this pasta is loaded with fresh and savory flavors that are just irresistible.
Add garlic, cream, and Parmesan cheese into the mix, and you have a delightful dish that's ideal for an awesome meal any day of the week!
Everything comes together really quickly and you'll be enjoying this delectable pasta before you even know it.
It's surprisingly easy to make for something so tasty and that means it goes straight to our list of favorite pappardelle recipes!
Shake things up and cook up a plate of delicious lobster pasta with this incredible recipe that'll definitely whet your appetite!
The creamy Meyer lemon sauce goes extremely well with lobsters and it's the perfect heavenly treat that you can indulge in and leave feeling satisfied.
Goat cheese helps to make the sauce creamy and imparts wonderful flavors and consistency that coat the wide pasta noodles, creating an awesome combination that will keep you coming back for more!
Yield: 25
25 Simple Pappardelle Recipes To Try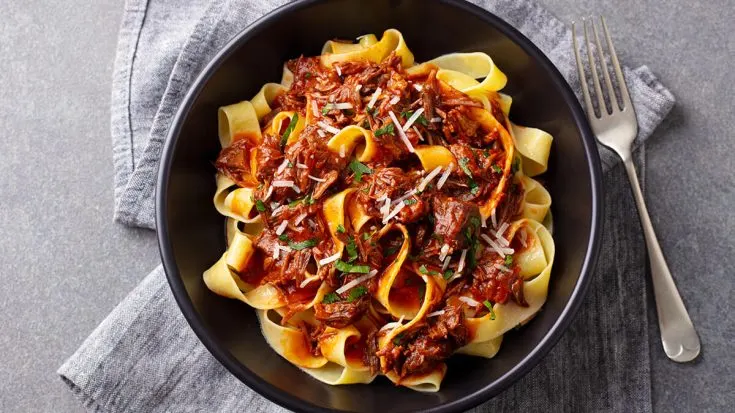 Try these pappardelle recipes and enjoy a delicious meal! From delicious ragus to seafood pasta, there's always something for every occasion!
Instructions
Choose your favorite pappardelle recipe.
Prepare all the required ingredients.
Whip up the tasty dish and enjoy an awesome meal!
Nutrition Information:
Yield:
25
Serving Size:
1
Amount Per Serving:
Calories:

431
Total Fat:

17g
Saturated Fat:

7g
Trans Fat:

0g
Unsaturated Fat:

8g
Cholesterol:

106mg
Sodium:

330mg
Carbohydrates:

50g
Fiber:

2g
Sugar:

2g
Protein:

21g
Nutrition information is only an estimate and can vary depending on ingredients used.
Which of the pappardelle recipes have you tried so far?
Let us know in the comments below!
For more awesome pasta recipes, check out the following:
Hearts of Palm Pasta
Kielbasa Pasta
Chicken Tortellini
Bow Tie Pasta
Ground Turkey Pasta
Pastina
Ditalini
Creamy Gnocchi
Ground Pork Pasta
Share on your favorite social media platform and tag us @GloriousRecipes – we can't wait to see what you have made!