Momofuku is celebrity chef David Chang's creation with packed restaurants in New York City, Las Vegas, and Los Angeles.
If you want a taste of Momofuku in the comfort of your home, these Momofuku noodles are the next-generation packaged noodles that you definitely need to try!
Momofuku has teamed up with Taiwanese brand A-Sha to create a line of noodles that are different from your usual instant ramen.
They are air-dried and not fried, hence they contain fewer calories as compared to conventional instant noodles and also have higher amounts of protein!
Types of Momofuku Noodles
Momofuku Sweet And Spicy Noodles: With a flavorful sauce made from Korean chili paste, soy sauce, and sesame oil, these noodles have a mildly spicy and sweet flavor.
Momofuku Spicy Chili Noodles: If you like your food spicy, this will definitely be up your alley with a bold sauce made from chili sauce and soy sauce.
Momofuku Soy And Scallion Noodles: These noodles come with a sauce made from soy sauce and sesame oil, plus a scallion pack to ramp up the aromatic level.
Momofuku Tingly Chili Noodles: With a sauce made from Sichuan peppercorns, chili paste, and sesame oil, these spicy noodles have an addictive kick with a numbing sensation that tingles your taste buds.
Momofuku Spicy Soy Noodles: These noodles have a well-balanced flavor thanks to a sauce made with soy sauce, sesame oil, and chili.
Momofuku Noodles Recipes
Even though Momofuku noodles taste amazing on their own, there are many ways to elevate them further!
From creamy to soupy noodles, we've got you covered with some of the best Momofuku noodles recipes that you can easily try at home!
Discover an exceptional dish with this fantastic recipe that upgrades Momofuku Spicy Soy Noodles to the next level!
Sautéed chicken, broccoli, and cashews are made flavorsome with soy sauce, hot honey, garlic, and rice vinegar, creating a wholesome combination that pairs perfectly with the noodles.
This dish is extremely delicious and makes for an easy but tasty meal that comes together really quickly!
It's great for those busy weeknights when you have little time to spare but still want to put quality food on the table!
Inspired by the classic Sichuan dish, dan dan noodles, these Tangy Chili Pork Noodles combine ground pork with various aromatics and condiments to create an absolutely mouthwatering delight!
There's no lack of flavor with peanut butter, seasoned salt, spicy chili crunch, ginger, and scallion used in the making of this wonderful dish, and it's sure to be a crowd favorite.
It's loaded with incredible flavors that are easy to enjoy and if you need a go-to Chinese food for an awesome meal, skip the take-out and make this instead!
You'll definitely not be disappointed because it's just that delicious!
In what is one of our favorite Momofuku noodles recipes, tofu is combined with noodles and a variety of aromatics for a remarkable meal that's great any day of the week!
This dish features a flavorful sauce made with sesame oil, hot honey, chili crunch, soy sauce, garlic, and scallions, coating both the noodles and tofu to make them extra delectable.
Tofu acts as a flavor sponge to absorb all the delightful flavors present in the amazing sauce and it brings so much to this dish.
You'll love how incredible it tastes for something so simple to prepare!
Reward yourself with these Creamy Miso Noodles that are superbly tasty and exceptionally easy to whip up!
It's a delectable combination of mixed mushrooms, white miso paste, noodles, and butter, filled with umami flavors that are just irresistible.
With only a few main ingredients required to make this delicious and delightful dish, this is as simple as it gets!
It's a heavenly combination of flavors and textures that you're sure to fall in love with!
Classic mac and cheese might be everyone's favorite comfort food but this Momofuku noodles recipe makes a dish that might usurp the throne of cheesy indulgence with its delightful twist!
It's incredibly straightforward to make and all you need to do is combine Momofuku noodles, sauce packets, sour cream, whole milk, ground mustard, sharp cheddar cheese, panko bread crumbs, and dried scallion before baking everything in the oven.
With melted cheesy goodness and crispy breadcrumbs, this is a scrumptious treat that can satisfy any appetite!
Make this for your next meal and be prepared to be showered with plenty of compliments!
Expand your salad options with this Crunchy Noodle Coleslaw that's super easy to make and tastes extraordinary!
This salad is a wonderful assortment of napa cabbage, radishes, scallions, toasted noodles, and toasted almonds, with a refreshing vinaigrette dressing that consists of rice vinegar, grapefruit juice, sugar, sesame oil, and other lovely ingredients.
Everything comes together really well and this dish has a fantastic mouthfeel with incredible flavors that make it an awesome side dish.
Serve with any of your favorite proteins to enjoy a complete meal!
Keep it simple with these Brown Butter Scallion Noodles that bring together some of our favorite ingredients to create an incredible Asian delight!
Butter is combined with garlic, scallions, and sesame oil in a heated pot until the flavors meld and the butter becomes fragrant and nutty.
Along with the sauce packets and chili crunch, they help to form a flavorsome sauce that coats the noodles to make them incredibly delicious.
Furikake is added before serving and it's a topping we recommend not skipping because it provides plenty of texture and flavor!
This is one of the easiest Momofuku noodles recipes that you can try and it only requires a few simple ingredients to whip up!
Featuring caramelized onions, tomato paste, chili crunch, milk, Momofuku noodles, and a combination of soy sauce and sesame oil from the sauce packets, this is an absolutely delightful treat!
It's creamy with tangy flavors and a tinge of spiciness that makes it incredibly addictive, and you just can't get enough of this tasty dish.
Complete this dish with a topping of Parmesan cheese and basil to make it extra delicious!
Whip up an awesome meal with this terrific recipe that you definitely don't want to miss out on!
Sautéed mushrooms, garlic, and onions are combined with white wine, milk, and tingly chili sauce to create a mixture for braising tender chicken thighs in this dish and it is extremely flavorful.
The chicken thighs are immensely delicious and this dish is elevated with a topping of Momofuku noodles, broiled until super crispy.
With great flavors and textures, there's no way you won't fall in love with this amazing recipe!
Jazz up your bowl of noodles with this splendid recipe that makes a divine-tasting dish you're sure to enjoy!
Rotisserie chicken, spinach, Momofuku noodles, and scallions come together in this simple dish with a sauce mixture of Kewpie mayonnaise, spicy sauce packet, and egg, coating all the ingredients to make them superbly tasty.
It's incredibly easy to make and with how delicious it is, this Spicy Chicken Ramen is perfect for a comforting meal any day of the week!
You'll be surprised by how amazing it tastes for something so straightforward to make!
Inject a little Vietnamese flair to your next meal with these Spicy Peanut Summer Roll Noodles that tastes absolutely heavenly!
This dish features a delectable combination of spicy soy noodles, shrimp, and a pickled mix of vegetables that include carrots, cucumbers, and radishes.
An extremely flavorful peanut sauce is drizzled over to impart tons of depth and complexity to the flavor, creating a supremely tasty dish.
Top with fresh herbs such as basil and mint leaves to make this dish even more refreshing!
This is a Momofuku Spicy Soy Noodles recipe that you definitely need to try!
If you love rich and bold flavors, you've got to check out this outstanding Coconut Curry Chicken Noodle Soup that's sure to tantalize your taste buds!
With a soup base made from curry powder, coconut milk, chicken broth, aromatics, and other lovely ingredients, this extremely fragrant dish is just absolutely irresistible.
The chicken meat is also seasoned with curry powder to provide that extra oomph with every bite and it's gloriously delicious!
You'll be sipping every last drop of this amazing curry because of how flavorful it is!
This is one of those Momofuku noodles recipes that you'll want to keep handy because it requires only 4 main ingredients and 5 minutes of your time to whip up!
The highlight of this dish is the flavorsome sauce made by combining peanut butter, hot honey, rice vinegar, and the packets of sauces that come with your Momofuku noodles.
It's a simple upgrade to your instant noodles with tons of incredible flavors and you can make it even more palatable by topping it with toasted peanuts for a splendid crunch!
You're sure to love this quick and easy recipe!
It's easy to cook up a pot of tasty noodles with this terrific Momofuku noodles recipe that you definitely need to try!
Using pumpkin purée to provide additional depth, these noodles have a familiar fall flavor that everyone is bound to enjoy.
Along with browned butter and fried sage leaves, this is a simple dish that doesn't require much to get going!
Try it with the Momofuku Tingly Chili Noodles as they taste awesome with this recipe!
Grace your taste buds with these Hot Honey Beef Noodles that are loaded with incredible flavors you're sure to love!
Featuring Momofuku noodles, cucumbers, and beef mixed with aromatics, hot honey, soy sauce, and sauces from the packets, this is a mouthwatering dish that's superbly tasty.
The heat from the hot honey adds so much to the noodles and the aromatics provide an unparalleled fragrance to make this an absolute treat!
If you need a quick and delicious weeknight meal, this is definitely a top contender in our books!
Mix things up a little and try making this astonishing Crispy Noodle Pizza that's sure to be a hit with the crowd!
This innovative instant noodle hack uses the noodles as a pizza base, all baked in the oven until super crispy and delicious.
Topped with a mix of tomato paste, gochujang, onion, garlic, ground pork, and mozzarella cheese, this noodle pizza is a tasty novelty everyone needs to try!
It's spicy, savory, and super satisfying!
If you haven't tried chilled noodles before, you definitely need to check out this simple recipe because you don't know what you're missing out on!
These Chilled Sesame Noodles are ridiculously easy to whip up and all you need to do is cook the Momofuku noodles and rinse them with cold water before combining them with a delightful mix of tahini, sesame oil, rice vinegar, garlic, ginger, and other lovely ingredients.
Filled with impeccable flavors, you just can't stop slurping all the noodles up because they are just that delicious!
Top with sesame seeds and crushed peanuts to add some texture for maximum enjoyment of this marvelous dish!
Prepare an awesome feast with this terrific Wine-Braised Short Rib Noodle Bake that combines tender and flavorful meat with crisp noodles!
Beef short ribs are braised in a mixture of red wine, soy sauce, water, and thyme, rendering plenty of great flavors and they are combined with carrots, onions, and mushrooms in the braising liquid to infuse the amazing flavors into the vegetables as well.
They are topped with Momofuku noodles and then broiled until the noodles turn crispy, creating a divine-tasting dish that you can indulge in.
With so many incredible flavors present in this dish, this is definitely one of our favorite Momofuku noodles recipes!
Cacio e Pepe is like a stripped-down version of mac and cheese but it's given a simple upgrade with this brilliant recipe!
Traditionally made with cheese and pasta, white miso paste and Momofuku noodles take over in this dish along with butter, oil, soy sauce, sesame oil, and black pepper to create a sumptuous treat.
It's easy to whip up and takes less than 5 minutes to cook, making this a quick and easy recipe that can satisfy your sudden cravings instantly!
Make sure to give this a try and you won't regret it!
This Momofuku noodles recipe combines silky noodles with delicate and flaky salmon to create a scrumptious dish that's perfect any time of the day!
The salmon is made delicious by brushing a glaze of soy sauce, hot honey, and sesame oil before baking in the oven, and it's basted with the same sauce during the cooking process to keep it moist and flavorful.
Broccoli is added to make this a nutritious and wholesome meal that the whole family can enjoy and it's a dish that you definitely need to incorporate into your meal rotation!
Taking only 20 minutes from start to end, you don't need to wait long before digging into this superb noodle bowl!
At Glorious Recipes, we have our favorite Creamy Miso Mushroom Momofuku Noodles that we absolutely adore and it tastes heavenly! Check out the recipe below!
Yield: 3
Creamy Miso Mushroom Momofuku Noodles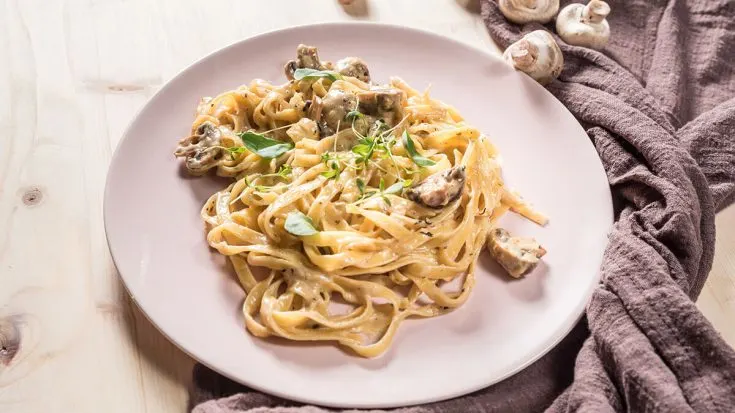 Enjoy an incredible meal with these Creamy Miso Mushroom Momofuku Noodles filled with umami flavors!
Ingredients
1 lb assorted mushrooms, chopped or torn
4 tbsp olive oil
4 packs Momofuku Noodles
salt
¼ cup white miso paste
2 tsp black pepper
4 tbsp butter, unsalted
Instructions
Add 2 tablespoons of oil to a skillet over high heat. Add half of the mushrooms without overlapping and cook undisturbed for around 3 minutes. Toss the mushrooms, then cook undisturbed for another 2 minutes. Add a single packet of sauce and stir to mix well. Cook for an additional minute to reduce the liquid. Transfer the mushrooms to a plate and repeat for the remaining half of the mushrooms.
Cook the noodles in salted boiling water for around 2 minutes. Drain but reserve 1 cup of liquid.
Add the reserved liquid to a skillet, along with miso paste and black pepper. Bring the mixture to a boil and stir well to dissolve the miso paste. Add cooked mushrooms and noodles to the skillet and toss for a minute. We want the mixture to reduce slightly so that it coats the noodles well.
Remove skillet from heat and add butter. Stir well and adjust seasonings, if required. Serve and enjoy!
Notes
This recipe uses only 2 packets of sauce from the noodles so you can save the remaining 2 for another use.
Nutrition Information:
Yield:
3
Serving Size:
1
Amount Per Serving:
Calories:

648
Total Fat:

37g
Saturated Fat:

13g
Trans Fat:

0g
Unsaturated Fat:

22g
Cholesterol:

41mg
Sodium:

1056mg
Carbohydrates:

66g
Fiber:

8g
Sugar:

6g
Protein:

16g
Nutrition information is only an estimate and can vary depending on ingredients used.
Which of the Momofuku noodles recipes have you tried so far?
Let us know in the comments below!
For more awesome recipes that you might like, check out the following:
Maruchan Ramen
Reames Noodles
Shin Ramen
Shrimp Ramen
Kelp Noodle
Korean Soup
Silken Tofu
Enoki Mushroom
Diced Chicken
Black Garlic
Share on your favorite social media platform and tag us @GloriousRecipes – we can't wait to see what you have made!