Sweet, sour, tart, yet refreshing, a Vodka Sour is the perfect cocktail for a lovely evening and it's so delicious!
If you haven't tried this delightful drink before, you're in luck as we're excited to share with you 13 of the best Vodka Sour recipes and they are so easy to make!
What's In A Vodka Sour
For a classic Vodka Sour, the basic proportion would be 2 ounces of vodka, ¾ ounce sour, ¾ ounce sweet, and with the optional but highly recommended addition of bitters and egg white foam.
The ingredients required are:
Vodka
Lemon Juice
Simple Syrup
Angostura bitters (optional)
Egg White (optional)
Bitters and egg white impart their own flavor and really elevate the cocktail to the next level so if you're thinking of making a basic Vodka Sour, don't skip out on them!
But if it's too difficult to get hold of bitters or if you feel making an egg white foam is too troublesome, don't fret and it's okay to exclude them as well.
Frequently Asked Questions
How to make an egg white foam?
We prefer to do a double shake to get a creamier egg white.
The first step is to pour the egg white into a cocktail shaker and shake vigorously for 15 seconds to achieve the foam without dilution.
The second step is to add ice and shake again to cool the foam, then strain it into the glass for a rich and frothy layer.
How many calories are there in a Vodka Sour?
It varies depending on the ingredients used but there are an estimated 150 calories in 1 glass of classic Vodka Sour.
It's not significant if you're just enjoying a glass but as always when it comes to food and alcohol, moderation is key!
Vodka Sour Recipes
Here are 13 of the best unique Vodka Sour recipes that you can easily make at home and we've also included our own classic version in the recipe card below!
Indulge in a fun and fruity rendition of the classic cocktail with this tasty Cherry Vodka Sour that's perfect for a lovely relaxing weekend.
Bright red colored with a literal red cherry on top makes for an eye-catching visual presentation and it looks as good as it tastes.
The addition of grenadine gives the drink a nice red hue and fully complements the original cocktail as it also helps to intensify the sweet, tart, and refreshing taste of the drink.
Overall, it's a really nice twist and everyone's really going to enjoy it!
Make a really unique and great-tasting cocktail with this amazing vodka drink that's bound to put a smile on your face.
Drambuie is a honey, herbs, and spices-infused whiskey that imparts so much complexity and flavor when used in this Vodka Sour recipe.
Rosemary helps to provide additional depth to the flavor and when combined together with Drambuie, they create a really delicious drink that you'll keep coming back to.
Top it off with a creamy egg white foam and enjoy sipping on this delightful cocktail!
Enjoy an awesome citrusy cocktail with a mix of flavors coming from pink grapefruit, pomegranate, honey, and lemon juice.
A honey pomegranate syrup is used in this vodka sour recipe, and it's really simple to make as you only need to mix and stir equal parts of water, honey, and pomegranate juice.
It's a versatile syrup that can be used in many other cocktails so don't be afraid to make a big batch.
Freshly squeezed pink grapefruit and lemon give the refreshing and tart flavor, and it's balanced off by the sweetness of the honey pomegranate syrup.
A wonderful drink that can easily be enjoyed at any time of the day.
Delicious to drink and beautiful to look at, this Blood Orange Vodka Sour has all the attributes of a great brunch cocktail.
The citrus notes of the blood oranges replace the usual lemons as the sour component in this drink, while simple syrup is added to form the sweet portion of the classic recipe.
Add a dash of orange bitters to enhance the orange flavor, then top it off with a rich and creamy egg white foam and add a piece of dehydrated blood orange to really complete the look of this pretty drink.
Bring on the fun and create these tropical and tasty Vodka Sour cocktail pouches that you can enjoy on the go!
Thanks to pineapple juice and dragon fruit purée, the resulting drink is brightly colored with a refreshing taste when combined with a sweet and sour mix.
You can even give it an additional twist by freezing them to enjoy a cocktail slushie instead, perfect for a warm and sunny day.
Throw in some edible flowers and cut fruits for some additional visual flair!
For a beautiful, fragrant, and floral cocktail, check out this simple recipe that will make you go wow.
Hibiscus lends its floral notes to this drink and it's perfect because it's also naturally sour, which fully complements a drink like Vodka Sour.
Fresh ginger and cinnamon sticks help spice up the drink and add a lot more flavor than the classic cocktail.
This cocktail is great during the festive periods!
This rendition of the cocktail will bring in all the compliments with its delicious taste and is perfect to be served as an aperitif.
Made with a raspberry thyme shrub, this vodka sour is herbal, aromatic, and full of flavor.
Limoncello makes for an excellent addition and works really well when combined with lemon juice and vodka to intensify the citrusy taste.
Top with some egg white foam and fresh raspberries, then serve and enjoy!
Enjoy a simple, pretty, and tasty cocktail with this Prickly Pear Vodka Sour that's perfect for a lovely evening.
This variation of the classic drink is easy to make and provides a different flavor that's equally refreshing and delicious.
All you need to do is to add some prickly pear syrup to vodka, lemon juice, and lime juice, and you're done!
Garnish with a dehydrated lime for a beautiful finish that'll complete the whole minimalistic look.
Grapefruit and maple syrup make for a great combination and that's what you get in this twist on the traditional drink.
The sour component is provided by the citrusy flavor of grapefruit, while the usual simple syrup is ditched in favor of real maple syrup to balance it off.
You don't even need a cocktail shaker for this as the other ingredients required are vodka and bitters.
Stir and enjoy this delightful drink!
For a fragrant and refreshing twist, check out this fantastic Key Lime & Thyme Vodka Sour that'll easily make it to your favorites list.
The floral undertones of key lime work really well with herbs like thyme, and they combine to create an absolutely delicious drink.
A thyme-infused simple syrup is used as the sweetener in this variation, while freshly squeezed key lime is added to vodka, egg white, and bitters, then shaken to mix.
Key lime slices coated with thyme-infused simple syrup and thyme sprigs are used to garnish the drink.
This is one of our favorite Vodka Sour recipes and you just got to try it!
Relax with a delicious and refreshing drink in this Lavender Coconut Vodka Sour that is sure to brighten up your day.
We love the floral notes of the lavender-infused simple syrup that is used here that act as the sweetener, and it really adds depth and complexity to the flavor.
Coconut water helps to provide a tropical feel to the drink and lemon juice gives the sourness that is iconic of a Vodka Sour.
Dried lavender flowers are used to garnish the cocktail and it looks wonderful!
Mango nectar is a very versatile ingredient in cocktails and is used to great effect here in this Mango Vodka Sour recipe.
Together with lime, the two combine really well to create a refreshing and tropical flavor that you'll definitely get addicted to.
Mint leaves are added to help inject an additional cooling sensation to make this cocktail as refreshing as it can be.
It's a great summer cocktail but for us, we're going to be drinking this all year round!
For some specialty cocktails to make, try this Blackberry Tea Vodka Sour that gives a cool twist on the classic drink.
Black tea vodka is used here to provide the black tea flavor and it's mixed together with blackberries, sugar, lemon juice, and egg white before being shaken and strained.
This drink is refreshing with a hint of tea undertones that makes this cocktail really unique!
At Glorious Recipes, we like our classic Vodka Sour recipe that all the unique recipes are based on. Nothing beats a traditional recipe when you just want to unwind. Check out the recipe below!
Yield: 1
Classic Vodka Sour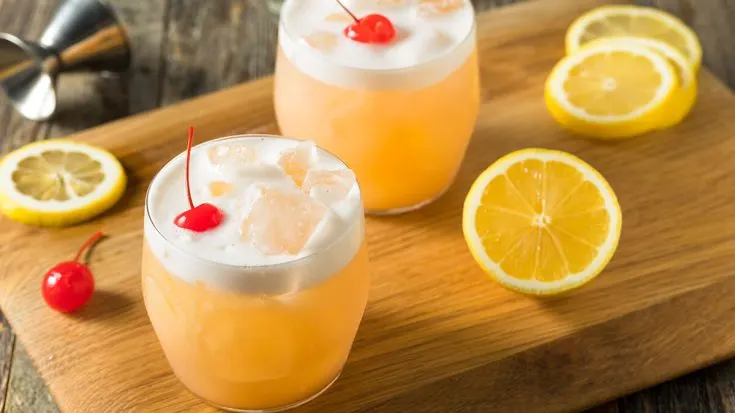 A classic Vodka Sour is the perfect cocktail to enjoy a lovely evening with its refreshing and tangy flavor. And it's really easy to make!
Ingredients
2 oz vodka
¾ oz freshly squeezed lemon juice
¾ oz simple syrup
dash of Angostura bitters
1 egg white
ice
1 cocktail cherry (for garnish)
Instructions
Add vodka, lemon juice, simple syrup, and Angostura bitters into cocktail shaker, along with ice.
Shake well for 15 seconds, then strain into a glass with ice cubes. Empty the cocktail shaker.
Add egg white into the cocktail shaker and shake vigorously for 15 seconds to create foam. Add ice and shake again to cool the foam. Strain into glass for a frothy layer.
Garnish with a cocktail cherry and serve.
Nutrition Information:
Yield:
1
Serving Size:
1
Amount Per Serving:
Calories:

145
Total Fat:

0g
Saturated Fat:

0g
Trans Fat:

0g
Unsaturated Fat:

0g
Cholesterol:

0mg
Sodium:

64mg
Carbohydrates:

23g
Fiber:

0g
Sugar:

21g
Protein:

4g
Nutrition information is only an estimate and can vary depending on ingredients used.
Which of the Vodka Sour recipes have you tried so far?
Let us know in the comments below!
For more alcohol recipes, check out the following:
Grand Marnier Cocktails
Smoked Cocktails
RumChata Drinks
Jungle Juice
White Tea Shot
White Gummy Bear Shot
Goya Coquito
Empress Gin Cocktails
Crown Royal Peach Recipes
Share on your favorite social media platform and tag us @GloriousRecipes – we can't wait to see what you have made!