RumChata is a wonderful blend of Caribbean rum, dairy cream, and other lovely ingredients, creating an amazing cream liqueur that tastes like a mix of rum and horchata!
One sip of this velvety liqueur will transport your taste buds to paradise and its incredible flavor makes it perfect for concocting a wide variety of great-tasting drinks!
From martinis to iced lattes, we've got you covered with some of the best recipes for RumChata drinks that you can easily try at home!
What Does RumChata Taste Like?
RumChata is a cream liqueur that's sweet with notes of cinnamon, vanilla, and spices. It's creamy and rum-based, with a flavor designed to taste like horchata as well.
RumChata Flavors
RumChata has a range of flavors that are available:
RumChata: The original cream liqueur.

RumChata Limón: Injects a hint of lemon to the original cream liqueur.

RumChata Peppermint Bark: A delightful combination of peppermint and chocolate added to the cream liqueur, creating an awesome finish. Great for holiday drinks!

RumChata Coconut Cream: Coconut cream liqueur that can add a dose of tropical flavor to your cocktails.
RumChata Drinks
Give the classic cocktail a slight twist with this fantastic RumChata White Russian that's absolutely delicious and so incredibly easy to make!
With a combination of RumChata, Kahlua, vodka, and cream, this is an extremely creamy and addictive drink because it's oh-so-yummy.
It makes for a perfect post-dinner cocktail but with how tasty it is, you'll want to enjoy it all day long!
You can also easily adjust the proportions of the ingredients to suit your own palate, so try experimenting and find your favorite combination!
Keep things simple with the superb Cinnamon Roll Cocktail that requires only 2 ingredients to make and it tastes so good!
RumChata and Kahlua are combined in this tasty cocktail to create a sweet, smooth, and creamy alcoholic drink that you'll undoubtedly love for its terrific flavor.
Unlike a White Russian, no vodka or additional cream is added to the drink, ensuring the cinnamon notes from RumChata come through with Kahlua helping to add a dose of coffee flavor, making the drink exceptionally delicious.
With how simple it is to make, it's definitely one of our favorite recipes for RumChata drinks!
Get into the festive mood with this RumChata Christmas drink so delicious that you'll definitely want to enjoy it all year round!
RumChata Eggnog is made by combining the creamy liqueur with homemade eggnog, bringing together some of our favorite flavors in one tasty alcoholic beverage.
You can also use store-bought eggnog for this and it'll still taste as good as the homemade version, so fret not if you just want a quick and easy cocktail to enjoy.
This might end up as one of your favorite Christmas cocktails once you've taken your first sip!
Enjoy a tropical delight with one of our favorite RumChata recipes to make an absolutely delicious cocktail!
It's a delectable combination of banana, rum, cream liqueur, and half-and-half all blended nicely to create this outstanding RumChata drink.
All the flavors come together extremely well and you'll love how incredibly tasty it is!
It's exceptionally addictive on a hot and sunny day as it quenches your thirst and makes you want to sip it non-stop!
Give an instant upgrade to your iced latte with this simple recipe that makes an awesome Rumchata cocktail!
With strong-brewed cold coffee, milk, and cream liqueur, this is an absolute must-try for all coffee addicts and booze lovers!
RumChata helps to add a nice kick to the drink and imparts its iconic range of flavors to the latte, creating a top-notch caffeine-filled drink.
It's a great way of enjoying delicious cream liqueur and coffee together, and it's so simple to make!
Treat yourself to a superbly tasty dessert cocktail with this fantastic recipe for one of the best-tasting RumChata drinks!
Made by combining chocolate milk, cream liqueur, vanilla vodka, and cocoa mix, this is a cocktail that's sure to be a crowd-pleaser.
It's finished off with a dash of cinnamon powder and a garnish of truffle balls, making it an irresistible drink for chocolate and cinnamon lovers.
Everyone will definitely be fighting for seconds with how delicious this drink is!
If you love root beer floats and you want something boozy to end the meal with, you've got to check out this fantastic cocktail!
With only 2 ingredients required, this is one of the simplest RumChata drinks that you can make for a lovely alcoholic dessert beverage!
It's a wonderful combination of RumChata and root beer to concoct a tasty drink reminiscent of root beer float but with a boozy kick to it.
This quick and easy cocktail recipe makes for a perfect post-dinner drink that you'll surely enjoy!
Indulge in an exceptional dessert cocktail with this mouthwatering Caramel Martini that's sure to make you salivate at the thought of it!
It's a delectable combination of RumChata, Bailey's Irish Cream, heavy cream, and caramel syrup, all shaken to perfection to let the wonderful flavors meld.
You can easily turn it into a salted caramel version just by adding a pinch of salt if you so desire!
This sweet, creamy, and velvety cocktail is sure to bring a smile to your face with how delicious it is!
What do you do when it's happy hour and you still haven't had your caffeine fix for the day?
This simple but delicious Espresso Martini is here to save the day and it's so incredibly easy to whip up with only 2 basic ingredients required!
Double-shot espresso and RumChata are all it takes to make this tasty beverage and you can elevate it by serving the drink in a sugar-rimmed glass.
Give it a try and you'll definitely not regret it!
Grace your taste buds with this excellent Key Lime Pie Cocktail that's absolutely delicious and a creative way to enjoy the flavors of the classic dessert in a cocktail format!
There's no lack of refreshing flavors with a mix of lime juice, pineapple juice, whipped cream vodka, and cream liqueur coming together to create an outstanding beverage.
Served in glasses rimmed with graham crackers, plus a sprinkle of additional crackers, this is a sweet, tart, and refreshing cocktail that's just irresistible.
Top with whipped cream to finish off this incredible cocktail that's sure to make it to your list of favorite drinks!
These RumChata Pudding Shots are the perfect dessert for your parties and gatherings, and it's easy to make them in advance!
The lovely combination of milk, pudding mix, cool whip, and cream liqueur helps to provide the tasty pudding base that's sure to be a hit with the crowd.
They can be chilled in the refrigerator until the party begins and all you need to do is top them with whipped cream and chocolate sprinkles before serving!
So simple to make and so delicious!
Try your hands at making this terrific Peanut Butter Cold Brew Cocktail that's sure to scratch that boozy coffee itch!
The delightful combination of cold brew coffee, cream liqueur, peanut butter whisky, and half-and-half helps to create an impressive drink with hints of cinnamon, spices, and peanut butter, thanks to the two alcohol bases.
It's a great way to add variety to your coffee beverages and you can enjoy it on the rocks or shaken.
No matter how you serve it, you're bound to love its fantastic flavors!
Inject a little tropical flair to your next cocktail with this viral Lime and Soda Cocktail that's crazy delicious and combines some of our favorite ingredients together!
It's a superb mix of coconut rum, cream liqueur, sweetened lime juice, and club soda to create a sweet and bubbly beverage with hints of coconut and cinnamon.
You'll love the refreshing flavors of this cocktail and you'll want to sip it all day long!
Garnish with a lime wedge to complete this incredible drink that you definitely need to add to your cocktail rotation!
If you're a fan of pina colada, you've got to check out this outstanding cocktail that's rich, creamy, and most importantly, super delicious!
Made by shaking a mixture of pineapple juice, coconut milk, cream liqueur, and simple syrup together, this is a tropical cocktail that you just can't get enough of.
It's super addictive and you'll be wanting a second serving once you've tried it!
Complete with a garnish of mint leaves and crushed pineapple for maximum enjoyment of this top-notch drink!
Savor a mouthwatering Almond Snickerdoodle Cocktail with this RumChata drink recipe that's super easy to make with only 2 ingredients required!
It's a delightful combination of 2 parts cream liqueur and 1 part amaretto, giving rise to an impeccable cocktail that's creamy and super yummy.
With cinnamon notes from RumChata and hints of almond from amaretto, this is a nectarous beverage that you definitely cannot pass up.
It makes for a nice post-dinner cocktail with its sweet and creamy flavors!
Enjoy a delicious cocktail with one of the classic RumChata drinks that's sure to impress the crowd with its simplicity and great flavor!
This easy recipe involves shaking the cream liqueur and either caramel or vanilla vodka together before pouring it into a glass rimmed with salt and caramel syrup.
It has that tasty salted caramel flavor that everyone loves and it's so incredibly easy to make that you'll be hard-pressed to limit yourself to just one serving!
This is one of those RumChata cocktails that you just know you'll be making regularly!
Vanilla chai tea and RumChata make for an amazing combo you never knew and you absolutely need to try this delightful drink!
It's as simple as brewing the tea and serving it in a glass rimmed with sugar and cinnamon, before adding the cream liqueur to the drink.
Top with whipped cream, sprinkle some cinnamon powder, then add a cinnamon stick to complete the beautiful beverage that tastes as good as it looks!
If you're a fan of vanilla chai tea, this is a boozy variation that you definitely should try!
Ramp up your next dessert cocktail with this fantastic RumChata drink that's made by combining 3 different liqueurs to recreate the flavors of classic tiramisu in liquid form!
RumChata, Kahlua, and chocolate liqueur are shaken together with half-and-half before being strained into a glass for an outstanding cocktail!
It's a quick and easy RumChata drink that can be made in an instant and you'll be enjoying a tasty, rich, and creamy cocktail in no time at all.
Garnish with a dusting of cocoa powder or top with whipped cream for a gorgeous presentation!
Spruce up your party with some RumChata shots that are incredibly tasty and you'll be knocking these babies back before you even know it!
These French Kiss Shots are made by layering grenadine, RumChata, and Tequila Rose in a shot glass before topping them with whipped cream and pink sugar sprinkles to finish them off.
The colors signify love and innocence, and with the beautiful red, pink, and white hues, this is a shot that's just irresistible!
Serve it at your next gathering and be prepared to be showered with compliments!
Reward yourself with a comforting beverage that tastes exceptional and gets you right in the festive mood!
This drink combines RumChata Peppermint Bark and Godiva Chocolate Liqueur with tasty hot chocolate, plus a topping of whipped cream and crushed candy canes to create an adult version of everyone's favorite classic drink.
It's delicious and incredibly easy to make, and you'll be craving it the whole year round with how awesome it tastes!
Turn classic White Russian into a delicious holiday cocktail with this fantastic RumChata drink recipe that's sure to satisfy any boozy cravings!
Made by combining Kahlua, vodka, and RumChata Peppermint Bark, it's an easy drink to mix with an exceptional flavor to enjoy.
It's a great way to shake things up a bit and add a simple variation to your recipes for classic cocktails that you can concoct!
Complete the whole package with a candy cane that serves as a stirrer and an edible garnish!
Reward yourself with an excellent dessert cocktail that's amazingly delicious and super addictive!
It's a terrific whipped cocktail made by blending condensed milk, RumChata Limón, whipping cream, and lemon juice, plus a topping of whipped cream to finish it off.
The sweet and tart flavors are well-balanced and it makes for an irresistible drink that you just can't get enough of!
If you need a new summer cocktail that's crazy yummy, this is definitely a must-try drink!
At Glorious Recipes, we have our favorite RumChata Pina Colada that we absolutely adore and it tastes heavenly! Check out the recipe below!
Yield: 1
RumChata Pina Colada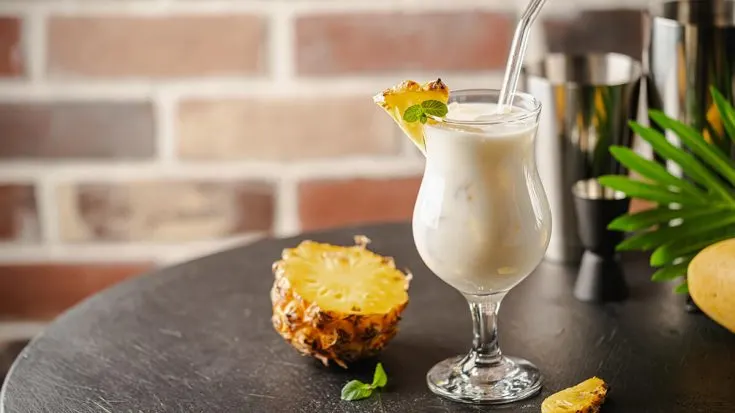 Enjoy a refreshing RumChata Pina Colada with tropical coconut flavors mixed with spiced notes from RumChata!
Ingredients
2 oz RumChata
2 oz unsweetened coconut milk
2 oz pineapple juice
1 oz simple syrup
ice
mint leaves, for garnish
pineapple slices, for garnish
Instructions
Add all the ingredients except mint leaves and pineapple slices to a cocktail shaker. Shake well.
Strain the liquid into a glass.
Garnish with mint leaves and pineapple slices. Serve and enjoy!
Nutrition Information:
Yield:
1
Serving Size:
1
Amount Per Serving:
Calories:

331
Total Fat:

7g
Saturated Fat:

5g
Trans Fat:

0g
Unsaturated Fat:

2g
Cholesterol:

17mg
Sodium:

14mg
Carbohydrates:

36g
Fiber:

2g
Sugar:

30g
Protein:

2g
Nutrition information is only an estimate and can vary depending on ingredients used.
Which of the RumChata drinks have you tried so far?
Let us know in the comments below!
For more awesome alcoholic recipes that you might like, check out the following:
Smoked Cocktails
Crème de Violette Cocktails
Soju Cocktails
Crown Royal Peach Recipes
Empress Gin Cocktails
Jungle Juice
Goya Coquito
Liquid Marijuanas Drink Shot
White Gummy Bear Shot
White Tea Shot
Share on your favorite social media platform and tag us @GloriousRecipes – we can't wait to see what you have made!