Smoked cocktails give a little smoky twist to the usual drinks to bring them to another level and they look magnificent!
The smokiness helps to add depth and complexity to any drink and you'll definitely be impressed by how good the cocktails taste with this simple technique.
Using ingredients such as smoked simple syrup, smoked ice cubes, or directly using a smoking gun on the entire cocktail, there are a variety of ways that you can use to smoke your cocktails.
From classic Old Fashioned to Harry Potter-inspired drinks, we've got you covered with some of the best smoked cocktails that you can easily make at home!
Enjoy a fantastic cocktail with this Smoky Mezcal Negroni that's amazingly delicious and makes for an impressive drink any day of the week!
It's a delightful combination of mezcal, Campari, sweet vermouth, and the star ingredient, smoked simple syrup, which is made by smoking a mixture of water and sugar in a pellet grill smoker.
This wonderful drink is finished off with a garnish of beautifully charred orange wheel, creating an irresistible smoked cocktail that you absolutely need to try.
You might never go back to regular Negroni again after taking your first sip of this excellent drink!
If you don't have a smoker on hand, fret not because this Smoked Rosemary Bramble Sour is just right for you!
Muddled blackberries are mixed with bourbon, simple syrup, and lemon juice to create this refreshing drink that's super tasty.
A sprig of rosemary is added as a garnish and it's torched to release a smoky aroma that definitely sets the mood for a relaxing evening.
For extra smokiness, cover the drink with a glass dome to let the smoke infuse into the liquid!
Give a simple twist to a traditional drink with one of our favorite smoked cocktails that you definitely don't want to miss out on!
Featuring a combination of Angostura bitters, bourbon whiskey, sugar, water, orange peel, and cocktail cherry as a garnish, this is a heavenly libation that remains an all-time classic.
Everything is given a dose of smoky treatment with a smoking gun and the resulting drink is one that you'll be making over and over again.
Give this smoked Old Fashioned recipe a try and you might just have a new favorite drink after that!
Treat yourself to another classic cocktail with this Smoked Manhattan that's incredibly palatable and so easy to make!
This drink involves torching a cinnamon stick and then covering it with a cocktail glass to capture all that smoky flavor before straining a mix of whiskey, sweet vermouth, bitters, and maraschino cherry syrup into it.
The subtle smoke flavor helps to enhance the cocktail, making it an absolute treat that you can serve with any meal to enjoy an awesome experience.
Garnish with maraschino cherries to complete this terrific drink!
If you're looking for an easy way to add a smoky flavor to your cocktail, you've got to check out this excellent Charred Lime Gimlet!
It's incredibly simple to make and the highlight of this cocktail is a charred lime cordial that's used to inject that smokiness into the drink.
Lime halves are given a quick grill to char them and their juice is added to sugar and water to make a cordial, which is ultimately combined with gin and ice to create this fantastic cocktail.
This simple method helps to add a new dimension to the flavor of this tasty drink!
This is another one of those smoked cocktails that you'll want to keep handy because it's so tasty and easy to make!
It's a lovely combination of charred orange, toasted rosemary sprig, smoked gin, honey, and tonic water, ensuring plenty of smoky goodness that'll bring a smile to your face with its amazing flavor.
No special equipment or ingredients are required and you get to enjoy a terrific cocktail with little effort!
You'll definitely want to add this to your cocktail selection for something casual yet fancy!
Dragon's Breath is named as such because it's served with the smoke still oozing out of the glass, creating an impressive image that's sure to turn heads!
Making use of a handheld smoker, a cocktail glass is first filled with smoke and covered with a coaster to prevent the smoke from leaking out.
A mix of Cointreau, St-Germain, bourbon, and simple syrup is then strained into the glass with the smoke spilling out, loosely resembling a dragon's breath.
Make sure to try it because this cocktail tastes as good as it looks!
Jazz up your drink with this exceptional cocktail that tastes out of this world and is sure to captivate your taste buds!
It's a tantalizing mix of cold-brew coffee, rum, cardamom bitters, and cinnamon syrup, all shaken and strained into a glass filled with smoke from torched cloves.
The depth and complexity of this drink are extraordinary and you'll love how sophisticated this drink tastes with all the amazing ingredients.
There's nothing not to love about this tasty and easy-to-make cocktail!
Whip up an awesome cocktail with this Smoked Cinnamon and Maple Whiskey Sour that tastes and looks amazing!
It's a lovely marriage of bourbon, maple syrup, simple syrup, and lemon juice, with everything shaken and strained into a glass that uses a cinnamon stick as a garnish.
To give off the smoky aroma, the cinnamon stick is lighted up when served to provide an awesome experience.
This smoked bourbon cocktail sets the mood just right for a perfect evening!
This outstanding Rosemary-Smoked Negroni is the perfect balance between sweet and bitter with a smoky twist to a classic cocktail!
Sweet vermouth, Campari, and gin are combined to create a Negroni and for a finishing touch, a rosemary sprig is added to garnish and then torched to release a smoky aroma.
It's a simple way to enhance the regular drink but brings an exceptional sensory element that's sure to be a hit with the crowd.
Try it yourself and you'll be pleasantly surprised by this smoked cocktail!
Level up your mixology skills with this Smoked Bloody Mary that gives a simple upgrade to the iconic drink!
Serrano peppers, poblano peppers, red onion, and tomatoes are first chopped and smoked before they are combined with tomato juice and other lovely ingredients to be blended into a purée.
Mixed with vodka, Hellfire Habanero Shrub bitters, and celery bitters, this is an amazing cocktail that's extremely flavorful and is sure to tantalize your taste buds!
If you love smoked cocktails with bold flavors, then this is just right for you!
Reward yourself with a stunning drink that's super delicious and easy to sip on all day long!
Made with a combination of apple cider, agave syrup, and orange bitters with bourbon as the alcohol base, this cocktail is given a smoky flavor by serving in a glass filled with smoke from burning a cinnamon stick.
Garnished with apple slices, cinnamon sticks, and fresh thyme, this cocktail is an absolute treat that's incredibly delightful.
This is one of those simple smoked cocktails that you definitely want to give a try!
If you're a fan of the Harry Potter franchise, you'll definitely want to check out this superb Goblet of Fire cocktail!
This smoked cocktail recipe involves using a smoking cloche to engulf the entire drink in smoke and it makes a visual treat that's sure to make everyone go wow!
The cocktail itself is made by combining bourbon, bitters, and sugar, with rosemary sprig as a garnish.
It's an impressive themed cocktail that'll make any party go wild!
Sign us up for this refreshing cocktail that's exceptionally tasty and incredibly straightforward to whip up!
It makes use of smoked ice cubes to deliver that smoky flavor and the ice cubes are made by placing a mix of cranberry juice and orange juice into a smoker and then freezing the smoked-infused liquid.
The final drink is made simply by combining smoked ice cubes, vodka, and orange juice.
It's ridiculously easy to make for something that tastes this good!
Grace your taste buds with this terrific Smoked Margarita Sour that uses smoked tequila to create a mouthwatering smoked drink!
Cherry wood-smoked silver tequila is mixed with Cointreau, agave syrup, lime juice, and aquafaba in a dry shake to develop a beautiful foam, and then shaken again with ice to cool the cocktail.
Poured into a glass rimmed with smoked salt, this is a heavenly drink that's sure to make it into your list of favorite smoked cocktails!
You'll love how amazing this cocktail tastes!
Inject a little Korean flair to your next cocktail drink with this fantastic Campo Viejo that's absolutely delicious!
With the help of a cloche, smoke from burning threaded Korean pepper is used to infuse a spiced smoky flavor into the drink, which is made by combining vermouth, lime juice, tamarind juice, and Cynar.
The spiced notes help to elevate this cocktail to another level and it's a perfectly well-balanced drink that you can enjoy any time of the day.
It's a unique take on smoked cocktails that you absolutely need to try!
If you're looking for a fabulous cocktail that looks absolutely beautiful and tastes even better, you've got to check out this Smoked Ruby Solstice Sour!
It's a delightful combination of Aquavit, mixed berry juice, lemon juice, cardamom bitters, ginger and honey syrup, and egg white, with fresh flowers used for garnishing.
The cocktail is smoked with rosemary, creating an aromatic and delicious cocktail that's sure to make you salivate at the thought of it.
If there's a drink that can impress, this is it!
Give the classic Old Fashioned a refreshing twist by using tequila as the alcohol base instead!
This Smoked Tequila Old Fashioned is a delectable mix of tequila, agave syrup, and orange bitters, all stirred and strained into a glass, which is then smoked with cherry wood.
Everything comes together really well and you'll be enjoying one of the best-tasting smoked cocktails with little hassle.
This satisfying cocktail is definitely a must-add to your cocktail rotation!
Get ready for a refreshing cocktail that's loaded with the tropical flavor of pineapples in this splendid drink!
This cocktail is made with a lovely combination of spiced rum, pineapple juice, lime juice, lemon juice, smoked paprika, and ground cinnamon, ensuring plenty of incredible flavors that meld really well together.
Smoked by burning wood chips on a strainer over the cocktail glass and using a second glass on top to prevent the smoke from escaping, this is an easy way to infuse a little smoky flavor into your drink!
Try your hands at making this wonderful cocktail that's a simple but refreshing take on classic Old Fashioned!
The smokiness in this cocktail is achieved by burning wood chips and then covering them with a glass to capture all that smoke.
A mix of bourbon, maple syrup, Angostura bitters, peach, and cocktail cherry is then added to the glass to create this amazing drink that's absolutely delicious.
With how easy it is to make and how tasty it is, this is definitely one of our favorite smoked cocktails for an awesome evening!
At Glorious Recipes, we have our favorite Smoked Negroni that we absolutely adore and it tastes heavenly! Check out the recipe below!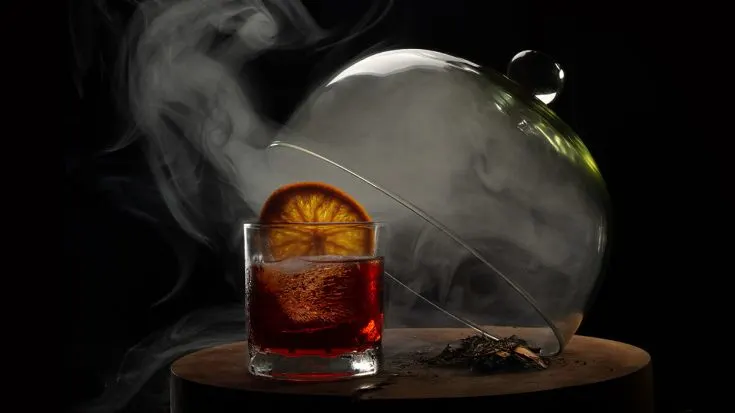 Smoked Negroni is a simple smoky twist on an all-time classic and it's absolutely delicious!
Ingredients
ice
1 oz Campari
1 oz sweet vermouth
1 oz gin
1 dried orange wheel, for garnish
cherry wood chips, for smoking
Instructions
Add Campari, sweet vermouth, and gin to a glass with ice and stir. Garnish with dried orange wheel.
Burn cherry wood chips beside the cocktail on a heat-proof base and cover everything with a cloche for 30 seconds or longer for extra smokiness.
Notes
If you do not have a cloche, burn the wood chips first and cover with a glass. Mix the other ingredients in a separate glass before transferring to the smoked glass.
Nutrition Information:
Yield:
1
Serving Size:
1
Amount Per Serving:
Calories:

414
Total Fat:

10g
Saturated Fat:

1g
Trans Fat:

0g
Unsaturated Fat:

8g
Cholesterol:

0mg
Sodium:

153mg
Carbohydrates:

46g
Fiber:

4g
Sugar:

23g
Protein:

3g
Nutrition information is only an estimate and can vary depending on ingredients used.
Which of the smoked cocktails have you tried so far?
Let us know in the comments below!
For more awesome alcoholic recipes that you might like, check out the following:
Crème de Violette Cocktails
Soju Cocktails
RumChata Drinks
Crown Royal Peach Recipes
Empress Gin Cocktails
Jungle Juice
Goya Coquito
Vodka Sour
Liquid Marijuanas Drink Shot
White Gummy Bear Shot
Share on your favorite social media platform and tag us @GloriousRecipes – we can't wait to see what you have made!