Grand Mariner cocktails are perfect for jazzing up a relaxing evening with their incredible flavor profile and they are absolutely delicious!
With a blend of cognac and bitter orange, Grand Marnier provides an exquisite flavor that elevates any cocktails it touches.
From classic favorites to modern drinks, the distinctive flavor of the orange liqueur is perfect for concocting a wide variety of tasty cocktails!
Whether you feel like having a margarita or tequila sunrise, we've got you covered with some of the best Grand Marnier cocktails that you can easily make at home!
Discover an exceptional cocktail with The Grand 75, an amazingly delicious drink that brings together some of our favorite ingredients!
Made simply by combining Grand Marnier, lemon juice, and champagne, this bubbly cocktail tastes terrific and is the perfect drink for an awesome brunch.
The fizz helps to shine a spotlight on the spiced and orange notes of the orange liqueur and the wonderful flavor makes you want to sip on it all day long.
You'll be hard-pressed to limit yourself to just one glass because it's just that tasty!
This Grand Marnier Margarita is a refreshing and delectable cocktail with well-balanced flavors that are sure to be a hit with the crowd!
It's a lovely combination of Grand Marnier, tequila, orange juice, lime juice, and simple syrup, all shaken and strained into a salt-rimmed glass for a drink that's perfect for any occasion.
The citrusy flavors work really well here and you'll be revitalized with every sip, making it an irresistible cocktail!
With how tasty it is, this is definitely one of our favorite Grand Marnier cocktails!
If you love coffee and alcohol, you need to check out this splendid cocktail that's sure to delight your taste buds!
This cocktail features a fantastic marriage of freshly brewed coffee, Grand Marnier, and cognac to create a drink that's loaded with caffeine and booze.
It's finished off with whipped cream on top and it tastes exceptionally good for something so simple to make!
The clean look and flavor make this a classy and elegant cocktail that definitely has a place in any meal!
Level up your mixology skills with this amazing Satsuma Orange Vodka Cocktail that's unbelievably delicious and an absolute must-try in our books!
Homemade satsuma orange-infused vodka is mixed with pomegranate liqueur and sparkling water to create an outstanding cocktail with flavors that will surely satisfy any appetite.
It's sweet with complexity and is easy to drink, making it ideal for parties or for enjoying on a relaxing evening.
If you're looking for a cocktail with Grand Marnier to impress, this will definitely be a top contender for the job!
Enjoy a superb drink with this Sparkling Blackberry Cocktail with Rosemary and Citrus that is incredibly delicious!
Made by combining muddled blackberries, Grand Marnier, rosemary sprigs, lemon juice, prosecco, and cinnamon sticks, this is a fantastic cocktail that has depth and complexity in its flavor.
Everything comes together extremely well and you'll be sipping on a well-balanced drink with lovely berry and citrus flavors.
Give it a try and you'll definitely not be disappointed!
For a simple and awesome drink with Grand Marnier, it can't get any simpler than The Beautiful Cocktail!
No fancy ingredients are needed in this splendid drink as it features only cognac and Grand Marnier to create a fantastic cocktail to showcase the sophisticated flavors of the two alcohol bases.
With equal parts of each spirit, the sweetness from the orange liqueur helps to accentuate the complex notes of cognac to make this an absolutely divine-tasting cocktail.
It's best enjoyed neat so that you get to taste the pure flavor of this wonderful drink!
Give a classic cocktail a refreshing twist with this Grand Old Fashioned that's superbly tasty and incredibly easy to make!
Grand Marnier, bourbon, and bitters come together in this amazing take on a timeless classic and the result is an extremely palatable drink that you'll definitely love.
There's a delightful complexity to the flavor with hints of orange that might just make this one of your favorite Grand Marnier cocktails with how delicious it is!
This drink is a great way to experiment and experience how an orange liqueur can help to enhance the taste of regular cocktails!
Treat yourself to the tropical flavors of this Grand Marnier Summer Breeze Cocktail that's amazingly delectable and is sure to whet your appetite!
There's no lack of delightful flavors with mango juice, pineapples, rum, and Grand Marnier combining to create a cocktail that tastes divine.
It's super easy to whip up and can quench your thirst under the hot sun while adding a little booze to help you relax.
It's so delicious that you'll be craving it all year round!
This beautiful red cocktail is an elegant and tasty drink that's perfect for an awesome evening any day of the week!
It doesn't take much to make and it's a lovely mix of champagne, cranberry juice, and Grand Marnier.
Garnished with pomegranate arils, this is a visual treat that's sure to turn heads with its simple but classy presentation.
Try making this Grand Marnier cocktail and you'll be pleasantly surprised by how good it tastes!
Red Dragon has an interesting Welsh origin and the name refers to the red dragon on the Welsh flag!
Featuring a mix of Grand Marnier, grenadine, gin, lemon juice, and orange juice, this is a tasty cocktail that has citrusy flavors that are incredibly enjoyable.
The fruity flavors make this a perfect drink that you can sip on all day long and the striking color will make everyone wonder what you're drinking.
With how delicious it is, this stunning drink is an absolute must-add to your cocktail rotation!
Elevate the regular Mimosa by adding Grand Marnier into the mix to create a terrific cocktail with a simple twist!
The orange liqueur helps to add depth and complexity to the popular cocktail that's made with a mix of champagne and orange juice, making the drink incredibly mouthwatering.
It's a fun and easy take on an all-time classic and you'll love how tasty this superb Grand Marnier Mimosa is!
Delicious and easy to make, just how we like our recipes to be!
If you manage to get your hands on a bottle of Grand Marnier Raspberry Peach, you've got to try making this fantastic cocktail!
It's combined with Lillet Blanc, lime juice, raspberries, orange bitters, sugar, and mandarine-flavored sparkling water to create a top-notch drink that's an absolute delight.
This summer cocktail has all the ingredients to be a crowd-pleaser with its amazing taste and fruity properties.
Make this at your next party and watch as everyone goes wild over it!
Grace your taste buds with a remarkable drink that's incredibly tasty and requires only 3 ingredients to concoct!
Grand Apple is a tantalizing combination of apple brandy, Grand Marnier, and cognac, all stirred and strained into a glass with a lemon wheel as a garnish.
The prominent apple flavor is supported by orange and spiced notes, making it extremely tasty and enjoyable.
It makes for an amazing dessert drink or even a casual cocktail as it has a sweetness that doesn't overwhelm!
Ramp up your next cocktail with the Walking Dead, an exceptionally tasty drink and definitely one of our favorite Grand Marnier cocktails!
The orange liqueur is combined with Lillet, gin, lemon juice, and absinthe, then shaken and strained into a cocktail glass with a maraschino cherry as a garnish to complete this fantastic cocktail.
It has a citrusy flavor that's super refreshing and easy on the tongue, making it an ideal cocktail that you can sip on all day long.
Give it a try and you'll definitely not regret it!
Everyone loves a good margarita but this Grand Marnier cocktail takes it up a notch with a frozen margarita!
This cocktail involves blending a mix of frozen dragonfruit chunks, orange tequila, Grand Marnier, lime juice, and agave, served in a sugar-rimmed glass with a lime wheel as a simple garnish.
It's straightforward to make but this drink tastes absolutely out of this world!
We have no doubts that this frozen margarita will make it to your list of favorite cocktails with its exceptional taste!
Expand your cocktail options with this Grand Marnier margarita recipe that makes an absolutely fantastic drink!
This cocktail is made by shaking a combination of tequila, simple syrup, and lime juice before pouring it into a salt-rimmed glass, topped with Grand Marnier for a finishing touch.
It's superbly tasty for something so easy to make and you get to enjoy an outstanding margarita with little effort.
This margarita is incredibly satisfying and you'll find it hard to resist a second serving!
If you love gin as an alcohol base, this amazing cocktail should be right up your alley!
It's a lovely medley of gin, Grand Marnier, Angostura bitters, lime juice, and simple syrup, with all the flavors melding extremely well together to create a mouthwatering drink.
The spiced notes of this cocktail perfectly complement the botanical notes of gin with a hint of orange coming from Grand Marnier.
You'll love how tasty this cocktail is for something so simple to make!
Give a simple twist to another classic cocktail to create a marvelous drink that tastes absolutely fantastic!
Grand Marnier, silver tequila, orange juice, and grenadine come together in this palatable cocktail and it's a wonderful combination with the orange liqueur enhancing an already delicious all-time favorite.
It's extremely easy to drink and it's no wonder why it's always a mainstay in cocktail menus!
The bright flavors certainly make this one of our favorite Grand Marnier cocktails as well!
Indulge in a brilliant martini with this tasty Grand Marnier drink that's sure to captivate your taste buds with its incredible flavor!
Made simply by shaking a mix of gin, vodka, blood orange juice, and Grand Marnier, it's a drink that's extremely easy to make and tastes exceptional.
This heavenly libation has a beautiful red hue that will definitely capture everyone's attention but it's the fantastic flavor that will make you go wow.
Try it for your next cocktail session and you'll certainly fall in love with this amazing Grand Marnier cocktail!
This Peach Moscow Mule is one of the best-tasting Grand Marnier cocktails that we've tried and the peachy flavor makes this an absolute delight!
With fresh peach, peach schnapps, and peach nectar, you're guaranteed an incredibly fruity cocktail that tastes heavenly and when you combine them with Grand Marnier, vodka, lime juice, and ginger beer, you have yourself an excellent drink that you just can't get enough of.
It's a mouthwatering cocktail that tastes amazing and you're bound to receive loads of compliments if you serve this at your next gathering!
For a sophisticated and delicious cocktail, check out this fantastic Winter White Cosmo!
It features a delightful marriage of elderflower liqueur, Grand Marnier, vodka, cranberry juice, simple syrup, and lime juice.
With floral and fruity notes at the forefront of this cocktail, this is a drink that's easy for everyone to enjoy and makes for an ideal evening cocktail.
The flavors are perfectly balanced and make for an incredibly satisfying beverage!
Nothing compares to a delicious sangria on a perfect summer day and this easy recipe definitely makes a great-tasting one!
With an assortment of fruits that include strawberries, blueberries, peaches, and kiwis, this is a drink that definitely has all the makings of an awesome fruity cocktail.
Add white wine and Grand Marnier into the mix, and you have an irresistible drink that everyone will be fighting for!
Make sure to make more than a jug because it's going to be depleted really fast!
This variation of the classic Screwdriver makes for an amazing cocktail that tastes absolutely wonderful and it's so easy to whip up!
All you need to do is combine Grand Marnier, cranberry vodka, and fresh orange juice, and you have a terrific drink with great fruity flavors that complement each other.
It's great as an evening cocktail with a welcome sweetness that doesn't overwhelm, making it easy to enjoy.
With how delicious it is, you might just have a new favorite cocktail after trying it!
Get ready for a fantastic libation with this Perfect Storm Cocktail that's superbly tasty and is sure to excite your palate!
Grand Marnier, lime juice, and aromatic bitters are shaken together before being strained into a highball glass and then topped with ginger beer to create this excellent drink.
The cocktail has an addictive bitterness that's in contrast to other drinks with bright flavors, hence the name.
It's one of the most refreshing Grand Marnier cocktails and you definitely got to try it!
Leap Year Cocktail was created to celebrate February 29 and it's a popular drink that's usually only ordered in bars once every 4 years but this simple recipe will let you indulge in it all year round!
This version of the classic cocktail is made simply by combining Grand Marnier, gin, and lemon juice with a lemon wheel as a garnish.
It's bright and citrusy, making it super easy to enjoy and definitely a crowd-pleaser!
With only simple ingredients required to make this tasty cocktail, you absolutely need to give this amazing drink a try!
At Glorious Recipes, we have our favorite Blood Orange Grand Marnier Margarita that we absolutely adore and it tastes heavenly! Check out the recipe below!
Yield: 1
Blood Orange Grand Marnier Margarita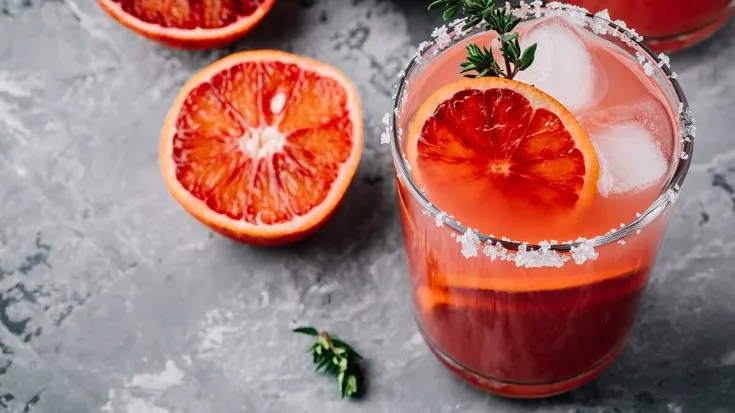 Sip on this excellent Blood Orange Grand Marnier Margarita that's super easy to make and tastes incredibly delicious!
Ingredients
2 oz blood orange juice, freshly squeezed
1 oz Grand Marnier
1 oz tequila
¾ oz lime juice
½ oz simple syrup
salt
Instructions
Pour some salt into a shallow bowl. Use a lime wedge and run it around the rim of your serving glass. Dip the rim into the salt to coat it.
Add all the remaining ingredients to a cocktail shaker with ice and shake well for 15-20 seconds. Strain into salt-rimmed glass and serve. Enjoy!
Nutrition Information:
Yield:
1
Serving Size:
1
Amount Per Serving:
Calories:

123
Total Fat:

0g
Saturated Fat:

0g
Trans Fat:

0g
Unsaturated Fat:

0g
Cholesterol:

0mg
Sodium:

583mg
Carbohydrates:

15g
Fiber:

0g
Sugar:

12g
Protein:

1g
Nutrition information is only an estimate and can vary depending on ingredients used.
Which of the Grand Marnier cocktails have you tried so far?
Let us know in the comments below!
For more awesome alcoholic recipes that you might like, check out the following:
Smoked Cocktails
Crème de Violette Cocktails
Soju Cocktails
RumChata Drinks
Crown Royal Peach Recipes
Empress Gin Cocktails
Jungle Juice
Goya Coquito
Vodka Sour
Liquid Marijuanas Drink Shot
White Gummy Bear Shot
Share on your favorite social media platform and tag us @GloriousRecipes – we can't wait to see what you have made!