Jungle juice is the perfect drink to serve at parties, gatherings, and during holidays!
There are endless ways to concoct this delicious cocktail that's great for serving a large group of people to get the party started!
From cute vodka gummy bear jacuzzi to flower-infused cocktails, we've got you covered with some of the best jungle juice recipes that you can make for your next party!
Get ready for your Halloween party with this fantastic cocktail that combines fruit juices, fresh fruits, and a variety of alcohol!
Orange, mango, and pineapple juices help to give a lovely orange hue to suit the theme and provide a tropical base to add freshly sliced apples, strawberries, and maraschino cherries.
Vodka, tequila, and triple sec are mixed into the drink and the fruits become absolutely tasty when soaked in this delicious cocktail.
Don't miss out on this tasty drink for the coming Halloween!
Turn the classic AMF cocktail into an amazing party drink with this blue jungle juice!
With a mesmerizing blue color that's bound to attract, this mix of liquor is strong and not for the faint-hearted.
Five different spirits are combined to create the alcohol base, with blue curaçao providing the iconic color and lemon-lime soda added to give it a citrusy fizz.
Add some freshly cut orange slices to complete this tasty cocktail that's guaranteed to keep the party going!
If you love strawberry-flavored drinks, you've got to check out this easy jungle juice recipe!
Using a combination of Sweet Revenge liqueur, white rum, and a lemonade base, this cocktail has a strawberry and citrusy flavor that's just irresistible.
Sliced kiwis and strawberries help to add some fresh fruits to make this drink even tastier!
It's perfect for serving a large group as the pretty pink color and familiar flavors can easily be enjoyed by everyone!
For a cheap drink that's tasty and easy to make, you'll be hard-pressed to find another recipe that can beat this budget cocktail!
The only alcohol required is vodka and it's combined with a few mixers including Hawaiian punch, citrus punch, lemonade, and pink lemonade.
Add in sliced oranges for a more citrusy flavor and a simple presentation that can fit any occasion.
It's inexpensive and a great way to keep alcoholic drinks flowing for a large group of people!
No real cannabis is required for this 420-themed cocktail that has a color and shape reminiscent of marijuana!
Melon liqueur helps to provide the classic green color that really makes this drink stand out and the addition of leaf-shaped pineapples definitely fits the theme well.
Other spirits with high alcohol content are added to make this drink really boozy and they are combined with pineapple juice, which acts as the mixer in this cocktail.
It's an amazingly tasty alcoholic drink that you've definitely got to try!
Enjoy this cocktail with your group of friends during the next Super Bowl and have an exceptional time watching the game!
Peach schnapps helps to give a delightful flavor with vodka, rum, and tequila providing even more alcohol to make it really boozy.
Colored with blue curaçao and mixed with white cranberry peach juice and white grape peach juice, this cocktail is a wonderful and delicious drink to have on hand!
Nothing compares to watching a great game live with a delicious cocktail right beside you that can be sipped on at any moment!
For the ultimate party drink that everyone will definitely enjoy, check out this Epic Margarita that's bound to impress your guests!
Mixing tons of tequila with triple sec and peach schnapps to create a tasty alcohol base, this cocktail is absolutely irresistible, especially when you add in fresh fruits in the form of oranges, pineapple, mangoes, mini watermelons, and lots of lime.
Orange and pineapple juice act as the mixer for the drink and they help to give a tropical punch to this tasty margarita that you know will be a hit with everyone!
Try it for your next party and be prepared to be showered with compliments!
This vodka gummy bear jacuzzi is a visual treat and will definitely be the center of attraction at any party!
Gummy bears are layered in a huge bowl by color, creating a fascinating gradient that's absolutely beautiful, and an alcohol mix of vodka, rum, gin, tequila, triple sec, and peach schnapps is added to submerge the candies.
The alcohol-infused gummies are super addictive and you'll get hooked once you tried the first piece!
It's a delicious and exceptional cocktail, and easily one of our favorite jungle juice recipes!
Another marijuana-themed cocktail that you can try which doesn't involve actual cannabis is this 420 Liquid Marijuana!
The dominant green color is thanks to melon liqueur, or the commonly used Midori, mixed with spiced rum, coconut rum, and blue curaçao.
Combined with pineapple juice along with the addition of leaf-shaped cut pineapple chunks and other fruits, they help to create a delicious drink that goes really well with the theme!
It's a great cocktail that can be enjoyed by everyone at the party!
Celebrate Thanksgiving with this incredible cocktail that gives a twist to the regular sangria drink and still tastes amazing!
You get a nice deep red color with merlot, red Moscato, and cranberry grape juice, while the addition of vodka and Fireball whiskey adds a new dimension to the flavor with a hint of cinnamon.
Complete this drink by adding fresh fruits such as grapefruit, cranberries, and blood oranges, along with cinnamon sticks and you'll be enjoying this delicious cocktail in no time!
You've definitely got to try it for the next Thanksgiving!
Get tipsy with Kool-Aid by following this recipe to make your own boozy drink that's beautiful and delicious!
Along with blue curaçao, the blue Kool-Aid helps to impart the attractive hue that makes this drink fun and enjoyable.
With a mix of other spirits and lemonade, this cocktail is superb and tastes really refreshing, especially with the added lemon and orange slices.
It's an awesome drink to serve during parties, just keep it away from the kids!
Take part in the festive spirit of St. Patrick's Day with this delightful recipe to make a delicious green cocktail!
The green color is achieved by using melon liqueur, which is already green by itself, and a mixture of blue curaçao, pineapple juice, and mango nectar.
Other spirits help to form the alcohol base to which the mixers and fresh fruits are added and the resulting drink is tasty with a nice deep green color that definitely suits the theme!
Try it for the next St. Patrick's Day and add some fun to the occasion!
Dig into a delightful cocktail wherever you go with this recipe that makes it easy and convenient to have a sip when you're on the move!
This drink has a fruity flavor with fruit punch, orange soda, and orange juice acting as the mixer while a variety of spirits make it really boozy and enjoyable.
Spoon it into resealable bags along with some freshly cut fruits and you can easily drink on the go with a straw!
It's a great way to premake cocktails when you know you'll be out for the day!
Taste the tropical flavors of Hawaii with this fantastic cocktail that's super delicious and great for sipping all day long!
With pineapple juice, orange juice, coconut rum, blue curaçao, and white rum, the flavor of this drink has an island feel and tastes citrusy and fruity.
Garnish with freshly sliced oranges and pineapples to complete the look and feel of a cocktail reminiscent of a tropical island!
It's really delicious and everyone should definitely give it a try!
Usher in the new year with this tasty champagne punch that's the perfect drink for a New Year's Eve party!
This uber-delicious cocktail is made with coconut rum, strawberry vodka, peach schnapps, rosé champagne, and pink lemonade, creating a pretty pink drink with a great taste.
Topped with fresh berries and lemons, this cocktail is amazingly refreshing and you'll be on your second serving before you know it!
Don't miss out on this at the year-end party!
For an absolutely gorgeous cocktail that's guaranteed to impress everyone at the party, you've definitely got to check out this incredible drink with flower-infused ice cubes!
All you need to do is fill ice cube trays with flowers and let them freeze up before adding them to a mixture of white rum, coconut rum, triple sec, peach schnapps, and grape juice.
You'll end up with a delicious and beautiful cocktail that oozes elegance and class!
It's amazing how simple it is to make something so tasty and pretty!
Treat your guests to intense party shooters that are delicious and filled with loads of alcohol!
Alcohol is at the forefront of this drink with no less than eight different types of spirits and liqueurs combined to create a fantastic alcoholic beverage that's definitely boozy.
Fruit juice, lemonade, and freshly sliced fruits are used to add depth and balance out the flavor to make it irresistible.
Watch your intake with these shots as they really pack a punch!
Enjoy homemade frozen cocktails that taste absolutely amazing with bright colors that you can easily vary depending on your chosen soda or juice for the day!
With a base of vodka, peach schnapps, coconut rum, and grain alcohol, you're guaranteed a boozy drink that's definitely enough to make you tipsy.
Top it up with your favorite soda or fruit juice before freezing and you'll be slurping on these frozen cocktails in no time!
Get tropical and fruity with this awesome recipe that delivers an easy-to-drink and great-tasting cocktail!
It's made with a combination of orange liqueur and four different types of fruit-flavored vodkas to create a really fruity alcohol base that tastes awesome with any mixer.
Adding tropical fruit punch, passionfruit juice, and mango nectar just helps to sweeten the deal and the final drink is a delightful treat that you just can't get enough of.
Make sure to serve this crowd-pleaser at your next party!
Leave all that processed juices and artificial flavorings out with this exceptional cold-pressed beverage made from fresh fruits and vegetables!
It's nutrient-dense as well with carrot, ginger, and beet included in the composition of this drink, and apples, grapes, pineapples, and lime help to provide the fruity aspect of this tasty beverage.
Add your favorite alcohol such as vodka, rum, or gin into the mix and enjoy a healthier and great-tasting cocktail made from scratch!
We love it for the natural ingredients and it's one of our favorite jungle juice recipes!
Sophisticated in taste but not in preparation, this cocktail is easy to make and tastes awesome!
This drink is made with a simple combination of vodka, pineapple juice, cranberry juice, and sparkling lime, with a garnish of your favorite fruits to complete this drink.
It's sweet and tangy with an alcohol aftertaste that ensures you get all the booze with a great flavor that can be enjoyed by everyone!
It's quick and simple to make, so definitely give it a try for your next gathering!
Cheaper than the $40 jungle juice but just as tasty, this budget cocktail is a must-try when you want an inexpensive boozy drink for your party!
It's easily made by combining sour apple pucker, vodka, and white rum with strawberry soda to create a delicious fizzy drink and it's made tastier with sliced strawberries, lemons, and green apples.
It's refreshing with tart flavors and an absolute delight for a cheap jungle juice recipe!
Try it for your next party and you might just have a new favorite cocktail that doesn't break the bank!
If you want a party centerpiece that's fun, creative, and easy to make, check out this jungle juice recipe that uses a whole watermelon as a keg!
With the insides dug out and a tap plugged in, the watermelon is filled with a combination of liqueurs and juices that are mixed before serving.
Don't waste all that watermelon flesh and serve it during the party or make watermelon slushies for everyone to enjoy!
It's an innovative way to liven up the party and everyone will definitely be impressed by this drink!
With only 2 types of alcohol required, this is one of the easiest jungle juice recipes that you can make in a pinch!
Despite the name, the drink is a delightful treat and really satisfying to drink!
Grain alcohol and vodka are combined with Hawaiian punch to create an awesome flavor that's easy to drink and great for any party!
Add fresh fruits into the mix and you have a totally enjoyable cocktail that you can serve at your next party!
Sip on some Toilet Water for a fun drink that tastes exceptional despite the name!
It's a simple cocktail that uses vodka and triple sec as the alcohol base, which gives a fruity flavor and a clear color to work with.
Mixed Berry Powerade is added to give the drink a nice blue color that's beautiful and lemon-lime soda helps to give a citrusy taste and fizz to complete this drink.
It's an awesome blue jungle juice recipe that makes a delicious drink with Powerade and you've definitely got to try it!
If you love rum, you'll love the Wrecked Punch cocktail!
With five different types of rum being used in this recipe, you'll have no lack of rum taste and they are combined with fruit juices and fresh fruits to balance out the flavor.
It's sweet and delightful to drink, and you'll find yourself sipping on this all the time because of how tasty it is!
Serve this at your next party and everyone will be enjoying it the entire time!
Try out this jungle juice with tequila that makes for a great party punch and a delicious cocktail perfect for celebrating Cinco de Mayo as well!
It's made with a combination of tequila, coconut tequila, and triple sec to form the alcohol base, plus the addition of lemonade and mango pineapple juice to complete the beverage.
Fresh fruits are added to impart even more fruity flavors that make it a delightful drink for everyone to enjoy!
Whether it's a casual party or a holiday celebration, this cocktail is an awesome beverage to serve all year round!
This Exotic Lemonade is a stunning cocktail with a dazzling turquoise color that's definitely a head-turner.
Using a blend of vodka, Alizé Bleu, and blue curaçao, the alcohol base has a refreshing fruity flavor that makes it super delicious.
Adding lemonade and club soda serves to make it even tastier with a fizz and sweetness that is really addictive and you'll definitely be making this more than once with how delicious it is!
Watch out because you'll be on your third or fourth drink without realizing it!
If you've any shark-themed or ocean-themed parties to organize or attend, you've definitely got to try out this incredible jungle juice recipe!
With blueberry vodka, Hpnotiq, blue raspberry vodka, and blueberry schnapps, the color of the drink is reminiscent of the ocean waters and has a lovely blue hue.
The highlight of this cocktail is the use of gummy sharks to give the silhouette of the ocean predator and using a fishbowl to contain the drink is the best presentation you can possibly hope for!
Make this fantastic cocktail and impress everyone at the party with its look and taste!
Amplify your next Halloween party with this amazing cocktail that is the complete package with great taste, fascinating color, and a visual presentation that's guaranteed to impress!
It's a beautiful green drink that resembles a witch's potion and the usage of dry ice helps to provide a smoke effect that really spruces up the party!
With coconut rum, spiced rum, peach schnapps, blue curaçao, melon liqueur, and orange juice, you're bound to have a tasty drink that's just irresistible!
Top with lime sherbet to make it extremely delicious and you'll have the perfect Halloween cocktail!
Yield: 30
30 Best Jungle Juice Recipes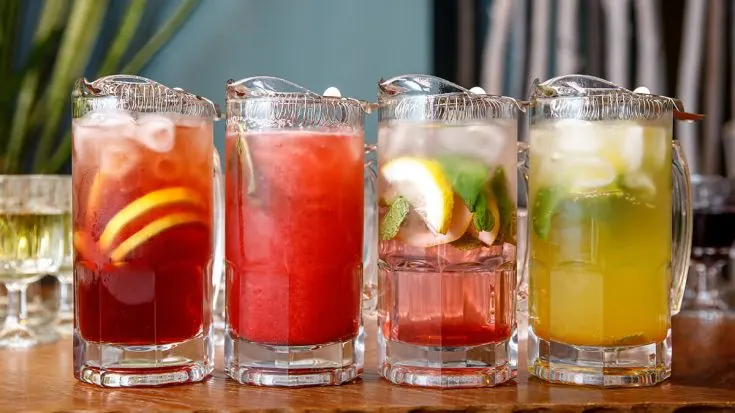 Try these jungle juice recipes and enjoy delicious cocktails! There's always something for every occasion!
Instructions
Choose your favorite jungle juice recipe.
Prepare all the required ingredients.
Whip up the tasty cocktail and enjoy!
Nutrition Information:
Yield:
30
Serving Size:
1
Amount Per Serving:
Calories:

160
Total Fat:

4g
Saturated Fat:

1g
Trans Fat:

0g
Unsaturated Fat:

3g
Cholesterol:

11mg
Sodium:

10mg
Carbohydrates:

24g
Fiber:

5g
Sugar:

24g
Protein:

7g
Nutrition information is only an estimate and can vary depending on ingredients used.
Which of the jungle juice recipes have you tried so far?
Let us know in the comments below!
For more alcoholic recipes, check out the following:
Smoked Cocktails
Crème de Violette Cocktails
Soju Cocktails
RumChata Drinks
White Tea Shot
Goya Coquito
Vodka Sour
White Gummy Bear Shot
Liquid Marijuanas Drink Shot
Crown Royal Peach Recipes
Share on your favorite social media platform and tag us @GloriousRecipes – we can't wait to see what you have made!