Crown Royal is one of the top-selling Canadian whiskeys and with its history of blending a whiskey fit for royalty, it's easy to see why.
They have a range of flavored whiskeys, with Crown Royal Peach being one of the most popular and sought-after whiskeys.
Infused with the sweetness of Georgia peaches, the Crown Royal Peach whiskey is delicious and great for sipping on its own or combining with other ingredients to make heavenly cocktails!
From shooters to summer cocktails, we've got you covered with some of the best Crown Royal Peach recipes that you can easily make at home!
Indulge in an amazing cocktail with this Crown Peach and Cream Soda that's just so mouth-watering!
It tastes refreshing with just the right amount of sweetness and it's the perfect summer cocktail that everyone can enjoy sipping.
Cream soda provides the fizz and sweetness that blends in really well with the peach-infused whiskey, and adding peach juice helps to accentuate the peach flavor even further, creating a delicious drink you just can't get enough of.
It's so easy to make and you can enjoy it all year round!
When you combine soda and peach-flavored whiskey, you get a fantastic drink that's tasty and delicious!
With Peach Crown Royal, you know you'll be getting a cocktail that's smooth to drink, and when you add soda, fresh peaches, and mint leaves into the mix, they totally elevate the drink to the next level!
All the ingredients work really well together to create a cocktail that you'll definitely fall in love with.
This cocktail is so delicious that you'll be hooked after the first sip!
For an amazingly refreshing and delicious cocktail, you've got to check out this Crown Royal Peach recipe!
To get the best experience, you'll need a big glass or bowl to hold all that peach rings and lemon slices, that's why it's called a fish bowl drink!
It has a well-balanced flavor and it's sweet, tangy, and really tasty with peach lemonade added.
With the underlying whiskey giving it a smooth profile, this cocktail is a must-try for everyone!
Enjoy a simple but tasty drink with this Royal Peach Fizz that's sure to delight any time of the year!
The luscious flavor of peach combines with the elegance of champagne to create a really delicious cocktail and when you add orange juice as well, it turns into a really heavenly tropical cocktail.
Garnish with a mint sprig to finish off before serving this wonderful drink!
It's a simple cocktail but it tastes so good, and is easily one of our favorite Crown Royal Peach recipes!
When all you want is a simple but delicious cocktail to sip on a relaxing evening, you've got to check out this easy cocktail recipe.
Thanks to Crown Royal Peach whiskey, there is already a fruity and tropical flavor in addition to the smoothness of the whiskey.
A lemon-lime soda like Sprite helps to impart a refreshing flavor and fizz into the drink, making it a well-rounded cocktail that's easy to enjoy.
Add a squeeze of lime or lemon for maximum enjoyment of this delightful drink!
Be reminded of a warm sunny day on the beach with this fantastic Peach Beach cocktail that's super delicious!
There is no lack of tropical flavor with pineapple and orange juices providing the fruity sweetness.
With a touch of grenadine syrup and the addition of lemon-lime soda to the smooth peach-infused whiskey, you have a cocktail that's sweet, refreshing, and absolutely tasty!
Enjoy this glass of summer Crown Royal Peach cocktail and be sure to add it to your cocktail rotation!
Treat yourself to a glass of Peach Crown Royal Mixed Drink with this simple recipe that only requires 3 ingredients!
Peach flavor is prominent here with the underlying peach-infused whiskey and the addition of peach mango juice, making it a must-try for peach lovers.
Champagne helps to provide the bubbly fizz to make it a really addictive drink and the combination is just superb.
Add some peach rings and mango slices to complete this delicious drink!
When the day is really hot and you want the perfect cocktail to cool off from the heat, you've got to check out this amazing Crown Royal Peach recipe!
Peach-infused whiskey is ice-blended with frozen peaches for maximum peach flavor, along with ginger ale to add a tasty fizz and simple syrup for some additional sweetness to create the ultimate frozen drink.
Squeeze some lime juice to add a refreshing touch and you'll be sipping on this delightful cocktail all day long!
If you love sweet and sour gummy peach rings, you'll love this Peach Ring drink!
It's quick and easy to make, plus it tastes really good!
Lemon-lime soda is added to provide a citrusy fizz that goes really well with the peach-infused whiskey and cranberry juice is also added to give even more fruity flavor.
With the peach rings floating in the drink, it's almost like a boozy cocktail snack that's just so irresistible!
Peaches and lemons go hand-in-hand and they make for a delicious cocktail combo!
With this simple recipe, these two flavors are tuned up to the maximum so you get the best of both flavors!
Peach juice is added to Crown Royal Peach to give even more peach flavor and lemonade is added for the classic tangy lemon flavor that is just so refreshing.
Lemon wheels and peach slices are also added to amp up the fruity cocktail and it's a drink that you just cannot miss out on!
Enjoy a simple glass of Royal Peach Tea that's super delicious and easy to drink!
It's a straightforward recipe and all you need to do is add Crown Royal Peach whiskey to iced tea, then garnish with a lemon wheel or peach slice!
The familiar iced tea flavor means it's really enjoyable to drink and will certainly suit most people's palates.
Mark this down as the tasty cocktail to serve at your next gathering!
When you have a crowd who are all peach lovers, it's time to go all in on the peach flavor!
Serve these tasty peach shooters and watch as everyone gulps them down in record time!
With equal parts of Crown Royal Peach whiskey and peach juice, the peach flavor is strong but not overwhelming, creating a delicious shooter that is just so addictive.
Serve with sweet and sour gummy peach rings for a fun garnish or opt for fresh peach slices for a fruity option!
Give the classic Mimosa cocktail a fun Crown Royal Peach twist with this fantastic recipe that you'll definitely love!
A regular Mimosa only requires equal parts orange juice and champagne but in this modified recipe, peach-infused whiskey is added and the amount of champagne is doubled to achieve a balanced flavor.
It's excellent for sipping and the peach-orange combination makes the drink really tasty.
This is a great brunch cocktail so make sure to try it during your next weekend brunch!
Another twist on a classic cocktail, this Crown Peach Mint Julep will definitely satisfy you with how delicious it tastes!
Mint leaves help to make this drink really refreshing and it's part of the reason why this cocktail is so popular.
Simple syrup adds some sweetness to the peach-infused whiskey, and the optional Angostura bitters help to add depth to the flavor with hints of warm spices.
It all comes together to create a delightful drink that you'll enjoy sipping all day long!
Dessert in a glass is how we would describe this delicious Peach Cobbler Dessert Martini.
The combination of RumChata and Crown Royal Peach makes for an amazing cocktail that's excellent as a post-dinner drink.
It's creamy with hints of vanilla, cinnamon, and peach, and it's an indulgence that you just can't help yourself with.
Rim the martini glass with cinnamon sugar and garnish with a freshly cut peach slice before serving!
This Peach Crown Royal Slushie is so tasty that it will make you break out your blender just to whip up this delicious drink!
With peach mango Kool-Aid as the base, Crown Royal Peach whiskey is added to it and blended with some ice until smooth.
A touch of Grenadine is added to a glass for color before filling it with the blended mixture, imitating the look of real peaches with red and orange contrast.
Slurp down this great-tasting slush to cool yourself down on a hot and sunny day!
Other than cocktail drinks, Crown Royal Peach is also awesome for making delicious alcoholic peach jello shots!
Peach flavor is on full display here by mixing peach gelatin and Crown Royal Peach whiskey to achieve tasty peach jello.
Once the jello is set, it's garnished with gummy peach rings to complete this peachy cocktail appetizer.
Serve these Crown Royal Peach jello shots at your next party and watch as everyone will definitely be fighting for it!
For an amazingly delicious and decadent dessert, you've got to check out this peach cobbler cinnamon rolls recipe!
Cinnamon rolls drizzled with a tasty Crown Royal Peach caramel sauce make this sweet treat just so irresistible!
Pair that with juicy peach slices and you'll have a peachy good time devouring this heavenly dessert.
This mouth-watering sweet treat is easy to make and one of our favorite Crown Royal Peach recipes!
Treat yourself to this fantastic Peach Cobbler Pound Cake that's super tasty and it's drizzled with an amazing Crown Royal Peach glaze!
The pound cake is moist on the inside and crusty on the outside, plus it's filled with vanilla flavor and loaded with sweet peaches.
The peach glaze complements the cake really well and totally elevates it to the next level.
Whether you're making it for breakfast or dessert, you're sure to enjoy this delicious sweet treat!
Level up your baking skills with this delightful upside-down bundt cake that's moist and tasty, complete with caramelized peaches soaked in peach-infused whiskey with a simple drizzle all over the cake.
The whiskey is also used in the cake batter, giving the cake a fantastic flavor that's oh-so-yummy!
This cake is so delicious that you just can't stop after the first bite!
At Glorious Recipes, we have our favorite Crown Royal Peach Minty Iced Tea that we absolutely adore! It's delicious and perfect for sipping all day long! Check out the recipe below!
Yield: 1
Crown Royal Peach Minty Iced Tea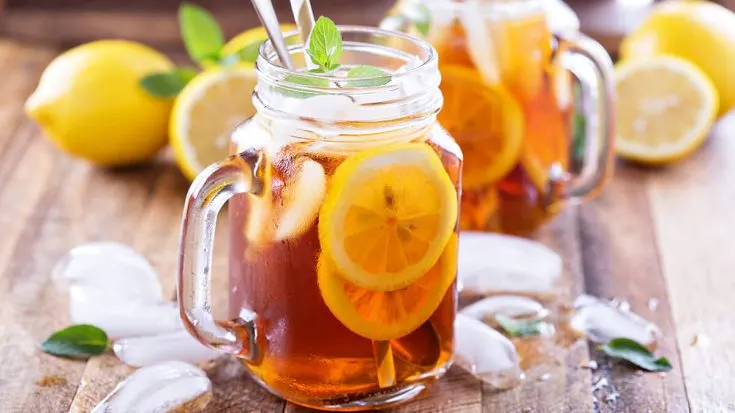 Enjoy this refreshing glass of Crown Royal Peach Minty Iced Tea that's perfect for quenching your thirst on a hot and sunny day!
Ingredients
1½ oz Crown Royal Peach whiskey
6 oz iced tea
2 lemon slices
mint leaves
Instructions
Add mint leaves to a glass or cup and muddle the mint leaves.
Add whiskey and iced tea into a glass.
Add lemon slices and ice cubes.
Garnish with mint leaves and serve.
Nutrition Information:
Yield:
1
Serving Size:
1
Amount Per Serving:
Calories:

124
Total Fat:

0g
Saturated Fat:

0g
Trans Fat:

0g
Unsaturated Fat:

0g
Cholesterol:

0mg
Sodium:

9mg
Carbohydrates:

7g
Fiber:

2g
Sugar:

4g
Protein:

1g
Nutrition information is only an estimate and can vary depending on ingredients used.
Which of the Crown Royal Peach recipes have you tried so far?
Let us know in the comments below!
For more alcoholic recipes, check out the following:
Soju Cocktails
RumChata Drinks
White Tea Shot
Goya Coquito
Vodka Sour
White Gummy Bear Shot
Liquid Marijuanas Drink Shot
Empress Gin Cocktails
Jungle Juice Recipes
Share on your favorite social media platform and tag us @GloriousRecipes – we can't wait to see what you have made!