Bottom round steak is an inexpensive cut of meat that is lean with minimal marbling but still has that great beefy flavor that we've come to love!
Cut from the hind legs of a cow, it's less tender but still very versatile and can be used to make tasty roast beef or even braised to ensure tenderness and plenty of incredible flavors.
When cooked right, bottom round steak is an excellent meat that is tasty and easy on the wallet!
From carne asada to beef stews, we've got you covered with some of the best bottom round steak recipes that you can easily try at home!
Enjoy a fantastic meal with this simple recipe that makes a great-tasting steak that you just can't miss out on!
With a mixture of soy sauce, Worcestershire sauce, white wine vinegar, and minced garlic, the bottom round steak marinade helps to tenderize the meat and infuse plenty of incredible flavors, making the steak extremely tasty.
Seared in a skillet to perfection, this is a mouthwatering steak that's easy to whip up and tastes absolutely amazing.
Give it a try and you'll definitely not regret it!
Slow-cooking bottom round steak is the way to go if you want tender, melt-in-your-mouth meat!
This recipe is ridiculously easy and all you need to do is add the meat in a slow cooker and pour beef gravy and seasoning over, then just let the appliance do all the work for you!
It might take some time to cook but you'll know it's all worth it once you've tasted the extremely tender and delicious steak!
Serve with a side of carbs and veggies and you'll have a wholesome meal to enjoy!
This is one of our favorite bottom round steak recipes because it's quick, easy, and makes incredibly delicious steaks!
With a blend of seasonings that includes onion powder, garlic powder, paprika, cumin, and chipotle chili powder, there's no lack of wonderful flavors in this dish.
The seasoned steaks are given a nice sear in the pan and they are ready to be served after resting to let the juices redistribute.
Cooking tasty steaks isn't too hard when you have a recipe this simple!
Savor an exceptional meal with amazing Swiss Steaks that are superbly tasty and are sure to whet your appetite!
Tenderized bottom round is simmered in a mixture of aromatics, tomato paste, beef broth, and other lovely ingredients until the meat becomes extremely tender and flavorful.
The sauce pairs excellently with the meat and everything comes together really well to create an outstanding dish.
Add a side of mashed potatoes or your favorite carbs to enjoy a hearty meal!
Feast on tender and delicious beef with this simple roasted bottom round steak recipe that's sure to tantalize your taste buds!
Rubbed with a delectable mixture of garlic, thyme, parsley, rosemary, salt, black pepper, and olive oil, the meat is then roasted in the oven until cooked.
The cooking juices are used to make a simple sauce with red wine and beef broth, creating an awesome dish that tastes exceptional.
The herbs help to add depth and complexity to the flavor of the meat and you'll be asking for seconds once you've got your first bite at it.
It's a great way of cooking bottom round steak and getting tender meat every time!
Inject a little Asian flair to your next meal with this easy stir-fry that tastes better than your regular Chinese takeout!
Marinated in a mixture of plum sauce, sesame oil, soy sauce, rice vinegar, garlic, and ginger, the thin sliced bottom round steak is stir-fried with vegetables that include bell peppers, carrots, green beans, and onions.
When served with chow mein, it becomes a sumptuous dish that's packed with nutrients and great flavors.
Skip the takeout and make your own meal when you crave some Chinese cuisine the next time!
Keep things simple with this easy roast recipe that makes such tender and tasty meat for an awesome meal any day of the week!
Seared in a Dutch oven and cooked with vegetables, the meat is simmered in a mixture of beef broth, red wine, and dried herbs.
The oven does most of the cooking, making it a breeze to whip up this mouthwatering dish while you go about your daily routine!
Shred the meat and serve it with your favorite carbs to enjoy a wholesome meal!
In what is one of the easiest bottom round steak recipes, you'll get to enjoy a delectable mix of beef, mushrooms, and onions all in one dish!
The beef cooks fast after being sliced thin and a simple seasoning of garlic powder, salt, and pepper is sufficient to enhance the flavor of the meat.
Combined with onions and mushrooms, it's a simple dish that you can pair with steamed rice for an easy but tasty meal.
Everything comes together really fast, making it perfect for an awesome weeknight dinner!
Fire up your smoker and try out this terrific recipe that makes an incredibly delicious roast beef with little effort!
Given a dry brine to tenderize the meat and stuffed with garlic cloves, the roast is cooked in the smoker or pellet grill until done.
It's then wrapped in foil and a towel to allow the meat to cook further while redistributing the juices, ensuring tender and moist beef at the end.
It's super easy to make and a must-try for your next smoking session!
For more smoky goodness, be sure to check out our Pit Boss Smoker recipes!
Shake things up and try out this fantastic reverse sear recipe that only requires your oven to whip up an awesome meal!
Coated with herbed oil that's made with a combination of olive oil, thyme, sage, rosemary, and parsley, the beef is roasted in the oven along with a variety of vegetables that includes potatoes, parsnips, carrots, and onions.
The meat and vegetables are roasted for a second time at a high temperature to cook evenly and you end up with a juicy and tasty roast to satisfy your meat cravings.
It's easy to make and the vegetables add a dose of nutrients and fiber that makes this a delightful dish for the family to enjoy!
If you want tasty beef that's easy to whip up, you've got to check out this simple crock pot bottom round steak recipe!
This set-and-forget recipe lets the crock pot do all the cooking so it's ridiculously straightforward and even beginner home cooks can make this without much effort.
With a combination of beefy mushroom soup, cream of mushroom soup, ranch dip mix, brown gravy mix, chicken broth, and pepper jack cheese, it's an extremely flavorful dish that you're bound to enjoy.
Tender beef with a savory gravy served over white rice is a combination that you just got to try!
Grace your taste buds with fantastic carne asada that's superbly tasty and a must-add to your taco rotation!
Marinated in a mixture of soy sauce, lemon juice, lime juice, orange juice, apple cider vinegar, and other spices, the steak is incredibly flavorsome and just irresistible.
It's cooked with sautéed onion in the instant pot and you'll come back to tender meat in 20 minutes!
This is one of our favorite instant pot bottom round steak recipes because the meat is just so delicious and it's so easy to make!
Amplify your next meal with an absolutely delectable Orange Beef with Broccoli Stir-Fry that's filled with incredible flavors!
The highlight of this dish is the orange sauce that's made with a combination of soy sauce, orange juice, orange zest, sesame oil, oyster sauce, and cornstarch.
Beef strips are stir-fried with steamed broccoli and the sauce helps to tie everything together to create a terrific dish.
It's simple to make and can be paired with rice for an easy and tasty meal!
If you have a sous vide machine, you've got to check out this wonderful recipe that makes delicious steak every time!
Seasoned with salt, pepper, and garlic powder, the steaks are vacuum-sealed with sprigs of thyme and left to cook for 24 hours.
Drizzled with a sauce made by combining mustard, horseradish, sesame oil, coconut aminos, and the leftover juices from the beef, the steaks become a heavenly delight that you'll surely enjoy.
Keep this recipe handy whenever you want inexpensive tender and delicious steaks!
Indulge in these superb fried steaks that are amazingly delicious and so easy to make with only a few ingredients required!
The seasoned steaks are dredged in a flour mixture before being fried in the skillet until they achieve a beautiful golden brown color that's super appetizing.
It's incredibly simple to whip up and you'll be enjoying tasty fried steaks in no time at all!
Serve with a side of mashed potatoes and brown gravy for a wholesome meal any day of the week!
Mix things up a little for game day and make this incredible steak chili that's bound to get you all the praises with its fantastic taste!
The cubed steaks are browned in a skillet before being slow-cooked with sautéed garlic, onions, jalapeños, plus a mix of other delightful ingredients that includes oregano, cumin, chili powder, green chiles, and tomatoes.
Add your favorite toppings and serve with cornbread for a tasty dish that everyone will be fighting for!
It's a chili that's big on great flavors and with how easy it is to make, it's a no-brainer to give it a try soon!
If you're looking for simple but tasty crock pot steaks, look no further as we've got just the thing for you!
This is one of the easiest bottom round steak recipes and it makes such delectable steaks with so little work!
All you need to do is rub steak seasoning on the steaks and spread a mix of mushroom soup, sour cream, onion soup mix, beef broth, and sliced mushrooms before adding everything to the crock pot.
Once fully cooked, you'll have tasty steaks that you can serve with rice, pasta, or mashed potatoes for a delightful meal!
Cook up a pot of mouthwatering beef stew that's filled with some of our favorite ingredients and it's so incredibly tasty!
It's a delightful mix of round steak, potatoes, carrots, corn, and macaroni combined in a flavorful gravy that makes this such a mouthwatering dish.
You have all your nutrition and awesome flavors all in one bowl, making it a great option for a refreshing meal.
The beefy flavor is just right and you'll be sipping every last drop because it's just that delicious!
Expand your cooking repertoire with this fantastic Creole Beef Rice Bowl that's sure to satisfy your appetite!
Browned beef cubes are combined with seared vegetables, tomato paste, creole seasoning, and stewed tomatoes to create a delectable dish that's loaded with awesome flavors.
It's a simple dish that can be served with white rice for a hearty meal any time of the day!
The flavors in this dish are vibrant and fresh, making it a wholly enjoyable dining experience!
Whip up an awesome meal with this fantastic Braised Bottom Round Steak Roast with a flavorful sherry gravy that you definitely need to try!
Simmered together in beef broth with a variety of ingredients that includes celery, onion, carrot, thyme, peppercorn, and bay leaves, the meat has depth and complexity in its flavor, making it super yummy.
It's paired with a sherry vinegar sauce that totally enhances the dish and elevates it to the next level with its incredible flavor.
With how tasty this simple dish is, it's definitely one of our favorite bottom round steak recipes!
Give an instant upgrade to bottom round steak with this easy recipe that makes a mouthwatering delight!
After seasoning with salt and pepper, the meat is cooked in a slow cooker along with onion, beef bouillon, water, and dill.
The dill helps to add depth to the flavor of the meat, giving a refreshing take on a steak dish and it works to great effect.
Topped with a thickened gravy made from broth, this is an awesome dish that's just irresistible!
Treat yourself to a scrumptious meal with this Sour Cream Round Steak that's amazingly delicious and your taste buds will thank you for it!
Dredged in a flour mixture that includes dry mustard, the steaks are browned in a skillet before being topped with sautéed garlic, onion, and a flavorsome gravy mixture.
Everything is baked in the oven until the meat becomes tender and it's such a versatile dish that can be served with noodles, rice, or a side of potatoes and veggies for an awesome feast!
Bottom round steaks might not be the most tender of all cuts but it's not difficult to make them delicious!
At Glorious Recipes, we have our favorite Easy Bottom Round Steak Roast recipe that we absolutely adore and it tastes heavenly! Check out the recipe below!
Yield: 8
Easy Bottom Round Steak Roast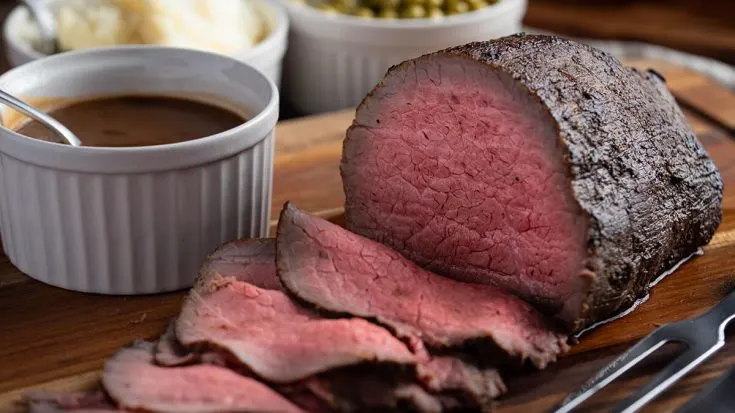 Feast on delicious and tender bottom round steak roast with this simple recipe that you definitely need to try!
Cook Time
1 hour
45 minutes
Total Time
1 hour
50 minutes
Ingredients
5 lb bottom round steak roast
2 tbsp black pepper
1 tbsp salt
2 tsp mustard powder
1 tsp onion powder
1 tsp garlic powder
2 tsp oil
Instructions
Preheat oven to 450°F (230°C).
Combine all the dry seasonings in a bowl. Coat the roast with a thin layer of oil, then an even layer of mixed seasoning.
Place in the oven and roast for 15 minutes before dropping the temperature to 325°F (160°C). Continue roasting until the internal temperature of the meat reaches 130°F (55°C) for medium rare, around 90 minutes.
Rest the meat for 15 minutes before cutting. Serve with your favorite dipping sauce and enjoy!
Nutrition Information:
Yield:
8
Serving Size:
1
Amount Per Serving:
Calories:

598
Total Fat:

27g
Saturated Fat:

10g
Trans Fat:

0g
Unsaturated Fat:

13g
Cholesterol:

255mg
Sodium:

989mg
Carbohydrates:

2g
Fiber:

1g
Sugar:

0g
Protein:

87g
Nutrition information is only an estimate and can vary depending on ingredients used.
Which of the bottom round steak recipes have you tried so far?
Let us know in the comments below!
For more awesome beef recipes that you might like, check out the following:
Steak Tips
Veal Chop
Sirloin Tip Roast
Chuck Steak
Beef Cubes
Beef Cheek
Steak and Rice
Recipes with Beef Broth
Canned Beef
Minute Steak
Share on your favorite social media platform and tag us @GloriousRecipes – we can't wait to see what you have made!