Canned ham is cooked and cured boneless ham that's packed in a convenient format and can be used to make some easy and delicious meals!
It's a cheap source of protein with a long shelf-life, making it a pantry staple for whipping up tasty dishes to satisfy late-night cravings or for making a quick fix for lunch.
From baked ham to ham steaks, we've got you covered with some of the best canned ham recipes that you can easily try at home!
Enjoy a delightful meal with this fantastic Ham Salad Sandwich that's absolutely delicious and really easy to make!
The spread is made with a wonderful combination of ham, egg, mayonnaise, Dijon mustard, sweet relish, onion, and celery, ensuring plenty of great flavors that blend together extremely well.
Assemble with homemade bread for a lovely breakfast or use it as a topping with crackers for a mid-day snack to refuel your body!
It's a quick and easy canned ham recipe that you definitely need to add to your cooking repertoire!
These tasty Canned Ham Bites are pretty much flavor bombs that everyone needs to try because they are just that delicious!
With a filling of ham and pickles enclosed in cream cheese and coated with crackers and potato chips, these appetizing balls are deep-fried until they turn golden brown and crispy.
Every bite is a satisfying crunch with flavors that gel well together and they make for an amazing appetizer or side dish that's sure to please.
Serve with your favorite dipping sauce or try out the awesome Tiger sauce and Bitchin' sauce for something different!
Feast on this incredible Grilled Bourbon Ham that's amazingly delicious and will definitely tantalize your taste buds!
Brushed with orange juice throughout, the ham is cooked to perfection with tender and succulent meat at the end and it's made even more flavorful with an awesome glaze made with bourbon, honey, dark brown sugar, and dark molasses.
Topped with pineapple rings, this dish is a delectable treat with sweet and savory flavors that make it just so irresistible.
It's tasty and simple to make, and an absolute must-try for your next grilling session!
One of the easiest canned ham recipes, this Air Fryer Canned Ham helps to provide quick and delicious protein with little effort!
It's given an upgrade with a terrific sweet and citrusy glaze that's made by combining honey, brown sugar, orange juice, and dry mustard.
All you need to do is pop the ham into the air fryer to cook and baste with the glaze towards the end for simple but tasty ham!
It's ridiculously easy to make for something that tastes this good so don't wait and give it a try soon!
These fantastic biscuits are exceptionally delectable and they make for an amazing snack or appetizer that's sure to impress!
Filled with ham, poppy seeds, Swiss cheese, and dried onions, these tasty bites are oh-so-yummy when baked till they achieve a beautiful golden brown color.
Every bite is bursting with incredible flavors and you'll have a hard time trying to limit yourself to just one serving once you've gotten a taste of them.
Who can resist the powerful combination of ham and cheese?
Savor a fantastic dish with this simple baked canned ham recipe that you definitely need to add to your meal rotation!
It's extremely flavorful with a sweet, tangy, and savory sauce that's made by combining delightful ingredients that include pineapple syrup, chili sauce, Worcestershire sauce, and lemon juice.
The sauce mixture is drizzled all over the meat before baking and it's also used to baste throughout the cooking process to ensure all that wonderful flavors get locked in.
Served over pineapple rings, this tasty baked ham is a lovely dish that's perfect any time of the week!
Musubi is basically rice ball in Japanese and Spam musubi is a popular Hawaiian delight that's great for a mid-day snack or simple lunch!
Glazed in a mixture of soy sauce and brown sugar, the meat is loaded with incredible umami flavors that just explode in your mouth.
Sandwiched between vinegared rice and wrapped with nori sheets, this is a lovely snack that can be enjoyed by the whole family.
Whether you make this a snack or main course, you'll not be disappointed with its remarkable taste!
Impress your friends and family with this Scalloped Potatoes and Ham casserole that's incredibly delicious and a joy to make!
With thinly-sliced potatoes, tasty ham, irresistible cheeses, and herbs to provide depth to the flavor, this is a mouth-watering dish that's sure to be a crowd-pleaser.
It's a dish that's perfect for a family gathering and can easily be served as either a main dish or a side dish, and no matter how you serve it, everyone will definitely be fighting for seconds!
Mark it down on your calendar and whip up this tasty dish for your next party!
This canned ham recipe makes a delicious and comforting ham and bean soup that's perfect on a cold and chilly day!
With chopped ham, pinto beans, and ham concentrate, it's an incredibly easy set-and-forget recipe that uses only 3 ingredients!
Just toss all the ingredients into a slow cooker or crockpot and let the flavors meld while you go about your daily routine.
You'll come back to a pot of hearty soup that's loaded with great flavors and you'll be slurping every last drop of it!
Spruce up your next meal with these ham balls that make for a great side dish or pair them with a side of rice or noodles for a wholesome meal!
With a combination of ham and ground pork, these meatballs are filled with great flavors that are elevated with a brown sugar glaze that also includes mustard and cider vinegar.
They are baked until fully cooked and you'll be popping these babies into your mouth like no tomorrow because they are just that delicious!
It's definitely one of our favorite canned ham recipes with how flavorsome these balls are!
Ham and Potato Hash is one of those classic comfort food that you'll always go back to and this recipe definitely delivers a simple and delicious version of it!
Potatoes, ham, onion, and bell pepper combine to create a fantastic dish that's easy on the wallet and will definitely fill your belly with food that tastes wonderful.
Seasoned with a little bit of salt, black pepper, and red pepper flakes, this potato hash is a tasty delight that'll tantalize your taste buds.
It's a simple one-pan recipe that can be made in under 30 minutes, perfect for an easy breakfast or weeknight dinner!
Expand your lunch and dinner options with this Creamy Ham and Noodle Casserole that's easy to make and tastes absolutely delicious!
Layered with egg noodles, chopped ham, cheddar cheese, and a soup mixture made with cream of mushroom soup, milk, sour cream, onion powder, and garlic powder, the casserole is baked until creamy in the oven.
The dish is loaded with awesome flavors that come together really well and it makes for a sumptuous and hearty meal with all its lovely ingredients.
It's a great way to add some variety to your meal rotation and a useful canned ham casserole recipe to utilize any leftover ingredients!
Indulge in these terrific ham cakes that are amazingly delicious with a garlic dill aioli to whet your appetite!
There's no lack of flavor here with green onion, sage, and dill all adding depth and complexity to the flavor of the aioli that fully complements the ham cakes.
Coated with panko breadcrumbs, the ham patties are fried until golden brown and crispy, and you'll be hard-pressed to keep your hands off these tasty bites.
Serve the ham cakes with the aioli and enjoy a scrumptious snack or side dish that everyone will definitely love!
Cook up a pot of warm chowder that's hearty and comforting as it can get with this simple canned ham recipe!
You have all your favorite ingredients here with bacon, russet potatoes, ham, cheese, aromatics, and spices all combining extremely well together to create a mouth-watering soup that's filled with great flavors.
It's thick, creamy, and superbly delicious for something so easy to whip up!
This chowder will warm you right up on a cold evening and you'll definitely be coming back for more because it's just that tasty!
If you're looking for a keto-friendly canned ham recipe, look no further as this casserole definitely fits the bill!
With diced ham, onion, eggs, cheese, frozen peas, and zucchini noodles, you have a low-carb dish that's not only amazingly delicious but also really easy to make.
The proteins and vegetables are sautéed in a skillet before being added to the noodles in a baking dish and everything is baked in the oven until done.
You'll end up with an awesome casserole that can be served for a wonderful lunch or dinner!
Skip the take-out and make your own delicious Ham Fried Rice with this splendid recipe that you definitely need to add to your meal rotation!
It's quick and easy to make, and is perfect for a sumptuous weeknight dinner that you can whip up in under 30 minutes!
With eggs, ham, peas, aromatics, and condiments such as soy sauce and sesame oil, this fried rice is an absolute treat and is sure to satisfy any cravings.
Garnish with green onions before serving for maximum enjoyment of this simple dish!
Get your can of Spam out and try out this fantastic Spam steak that's one of our favorite canned ham recipes for a tasty dish!
It's easy to make and all you really need is 5 main ingredients to make awesome Spam steaks.
Coated with garlic eggwash and then double-dredged in a mixture of cornstarch and flour, the steaks are deep-fried until golden brown and crispy.
Serve with ketchup or your favorite dipping sauce for maximum flavor!
This simple quiche is truly the perfect comfort food and the best thing is that you can have it for breakfast, lunch, dinner, or even as a late-night supper!
With a filling made by combining ham, cheese, eggs, sour cream, heavy cream, and honey mustard dressing, it's loaded with delightful flavors that everyone will surely enjoy.
Baked in the oven until cooked, the quiche tastes heavenly and in the unlikely event that there are any leftovers, they can easily be stored in the fridge and still tastes as good when reheated!
Make it for your next meal and be prepared to be showered with compliments because it's just that good!
For a simple protein-packed meal that's quick and easy to make, you've got to check out this Caramelized Spam and Eggs dish!
Spam is caramelized in a mixture of soy sauce and sugar and it's paired with fluffy scrambled eggs topped with furikake, sesame seeds, and fried garlic before they are served on top of fragrant white rice.
It's a wholesome meal that gives you all the energy you need for the rest of the day and it's light enough to be a breakfast, yet filling enough for a simple lunch or dinner.
No matter when you serve it, you're bound to enjoy the flavors of this wonderful dish and it's also one of the easiest canned ham recipes so don't hesitate to give it a try!
This tasty pot pie is sure to be a crowd favorite with its incredible flavors and you'll love it for the hearty ingredients as well!
With broccoli, carrots, celery, cheese, herbs, ham, and chicken stock, this pot pie is loaded with nutrition and awesome flavors that combine really well together.
Baked with a flaky pie crust, this amazing dish is extremely delicious and just so irresistible with its aroma and taste.
Give it a try and you just might have a new favorite pie after you've taken your first bite!
Give an instant upgrade to your regular pasta by adding canned ham for a tasty meal!
It's one of the simplest canned ham recipes that you can try and you can whip up this superb dish in under 15 minutes!
Garlic, Spam, pasta sauce, and tomatoes are given a quick sauté before al dente spaghetti is added and everything is tossed to coat the pasta.
Garnish with parsley to complete this easy-to-make dish and enjoy a delectable meal!
Level up your cooking skills with this simple canned ham recipe that makes a mean Ham Tetrazzini!
Pasta, chopped ham, mushrooms, onion, green peas, and other delightful ingredients combine to create a tasty dish that's topped with Parmesan cheese and broiled in the oven until we get all that melted cheesy goodness.
It makes for a wholesome dish that the family will definitely enjoy and it's a great option for adding variety to the usual meal rotation!
At Glorious Recipes, we have our favorite Canned Ham and Bean Soup that we absolutely adore and it tastes heavenly! Check out the recipe below!
Yield: 6
Canned Ham and Bean Soup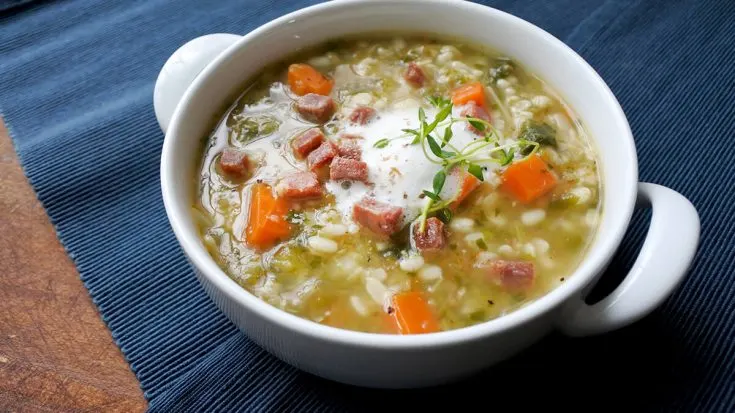 Slurp up this delicious and flavorful Canned Ham and Bean Soup that's super hearty and comforting!
Total Time
1 hour
15 minutes
Ingredients
½ lb dried beans (navy, pinto, cannellini, or any others)
¾ quarts water (or chicken broth)
¼ lb canned ham, chopped to 1-inch pieces
¾ tbsp garlic, minced
3-4 whole peppercorns
½ bay leaf
3 oz carrots, ¼-inch slices
2½ celery stalks, sliced
½ large brown onion, finely chopped
salt, to taste
pepper. to taste
parsley, freshly chopped (both for cooking and garnishing)
Instructions
Rinse the beans with water thoroughly before placing them in a large pot. Fill with 1 quart of water and bring it to a full boil. Reduce the heat and let it simmer for 2 minutes. Remove the pot and set aside to let the beans sit while covered for an hour. Drain the pot after that.
Add prepared beans back into the pot and cover with ¾ quarts of liquid (water or chicken broth). Add ham, garlic, peppercorns, and bay leaf. Cover and let it simmer for 45 minutes. Add carrots, celery, and onion, then simmer for another 45 minutes. Remove peppercorn and bay leaf.
Serve and enjoy while hot!
Nutrition Information:
Yield:
6
Serving Size:
1
Amount Per Serving:
Calories:

85
Total Fat:

2g
Saturated Fat:

1g
Trans Fat:

0g
Unsaturated Fat:

1g
Cholesterol:

11mg
Sodium:

470mg
Carbohydrates:

13g
Fiber:

3g
Sugar:

4g
Protein:

6g
Nutrition information is only an estimate and can vary depending on ingredients used.
Which of the canned ham recipes have you tried so far?
Let us know in the comments below!
For more awesome pork recipes that you might like, check out the following:
Korean Pork Belly
Pork Cutlet
Linguiça
Thin Pork Chops
Canned Pork
Pigtail
Ham Hock
Ring Bologna
Pork Jowl
Share on your favorite social media platform and tag us @GloriousRecipes – we can't wait to see what you have made!