Pastina is a form of tiny pasta that is super versatile and can be used to make many different tasty dishes!
It means "little pasta" in Italian and a few kinds of pasta fall into this category, such as acini di pepe, stelline, and ditalini.
This cute and tiny pasta is great for making food for babies and infants as it's small, soft, and easy to digest, and is also popular with adults as it makes great comfort food when used in soups and broths!
Whether you like hearty soups or delicious baked pasta, we've got you covered with some of the best pastina recipes that you can easily try at home!
Enjoy classic Italian soup with this fantastic Pastina Soup recipe that is both comforting and hearty at the same time!
Made with chicken thighs, vegetables, and aromatics, the soup is incredibly flavorful and is indeed good for your body and soul.
Carrot, celery, zucchini, cherry tomatoes, onion, and garlic all help to impart their sweetness and fragrance to the broth that is used to cook the pasta, making it an incredibly delightful meal.
Serve with Parmesan cheese for maximum enjoyment of this tasty dish!
Savor delicious risotto made with pastina in this quick and easy recipe that's perfect for a weeknight dinner!
It's ridiculously easy to make and all you need are some common ingredients and 15 minutes to whip up an awesome meal!
Just like regular risotto, the pasta is cooked in a broth that is added bit by bit so that the pasta can absorb all that wonderful flavor.
Along with tomato paste, aromatics, and grated cheese, the pastina risotto is cooked to perfection and you'll be enjoying this lovely dish in no time at all!
Sign us up for this simple chicken pastina with egg that's absolutely delicious and a breeze to make!
Pastina cooked in chicken broth is given an upgrade with the addition of a whole egg, butter, and Parmesan cheese to enhance the flavor of the dish.
The egg coats the pasta and the melted butter and cheese help to make the pasta creamy, giving it an awesome taste that everyone will definitely enjoy.
It's one of our favorite pastina recipes because of how tasty it is for something so easy to whip up!
This Chicken Pastina Soup is the perfect comfort food on a rainy and chilly day, and a must-try in our books!
It's made flavorful with a wide array of delightful ingredients and you'll be slurping it up once you've gotten your first sip!
Pastina, chicken breasts, chicken stock, vegetables, spices, and Parmesan cheese come together to create an amazing soup that is extremely flavorful and just irresistible.
This pastina soup recipe is a great addition to your soup rotation and is great for both kids and adults alike!
Mix things up a little and make this incredible Pastina with Mushrooms and Bacon that'll definitely tantalize your taste buds!
Pastina is added to sautéed mushrooms, bacon, scallion, and garlic to create a mouth-watering dish that's loaded with delightful ingredients and an absolute treat any time of the day.
Grated cheese and a simple seasoning of salt and black pepper are sufficient to elevate the pasta to another level.
You'll love how fast everything comes together and it's a great addition to your weeknight dinner rotation when you want a meal that's delicious and easy to make!
Keep things simple with this fantastic pastina recipe that uses fresh vegetables to make a super yummy soup!
Onion, garlic, celery, and carrots combine to provide all the lovely flavors and nutrition in the broth, and they are given a quick blend so you won't even taste them, perfect for those who don't like to eat their veggies!
The soup is added to a bowl of cooked pastina and it's finished off with a dusting of Parmigiano-Reggiano cheese.
It's a simple but flavorful dish that you'll definitely keep coming back to because it's just that delicious!
Amplify your pastina soup with meatballs that provide protein and give a simple twist to the classic Italian dish!
Ground meat, grated cheese, breadcrumbs, egg, and parsley are combined and rolled into meatballs before they are dropped into chicken broth and simmered until they are fully cooked.
The small pasta is then added to the broth and cooked until al dente, after which this wonderful dish is served with even more grated cheese that helps to enhance the flavor.
It's super easy to make and can be enjoyed any time of the year!
For a simple and comforting bowl of soup with great flavors, check out this amazing Pastina with Peas!
6 basic ingredients are all it takes to make this bowl of warm soup and it's so easy that anyone can make this!
Chicken stock is used to give flavor to the broth, while pastina and peas form the main ingredients in this dish.
Butter, olive oil, and Parmesan cheese help to give depth to the flavor and everything comes together really quickly in less than 15 minutes!
It's a handy pastina recipe that you can use to put delicious food on the table for those busy weeknights!
Baked chicken and pastina make an awesome combo and it's one of our go-to pastina recipes when we want an awesome meal!
There's no lack of flavor here with chicken, onion, garlic, tomatoes, cheese, and parsley combined to create an amazing dish that's just irresistible.
Breadcrumbs and Parmesan cheese is sprinkled on top before everything is baked until a beautiful golden brown crust is achieved.
It's a mouth-watering delight that is sure to please the whole family!
If you have leftover Christmas turkey or just want a change from the usual chicken pastina dishes, you've got to check out this fantastic Turkey Pastina Soup recipe!
With a homemade broth from simmering turkey bones, you've got an amazing base to work with, and adding onion, carrots, celery, parsley, and lima beans is enough to elevate this dish to the next level.
Along with pastina and turkey meat, everything combines to deliver a hearty and comforting bowl of soup that's super addictive.
Try it once and you'll definitely develop a craving for it!
Grace your taste buds with this terrific Pastina Soup with Chicken and White Beans that is amazingly delicious!
Made with chicken breasts, aromatics, vegetables, cannellini beans, and a variety of spices and herbs, this soup is incredibly flavorsome and you just can't stop after the first sip!
It's rich, hearty, and loaded with nutrition, perfect for a tasty lunch or dinner that can be enjoyed by everyone.
Serve with some crusty homemade bread for an awesome and unforgettable meal!
For a healthy and straightforward pasta dish that you can whip up easily, check out this fantastic recipe!
Baby spinach and zucchini help to give loads of essential nutrition and texture when combined with pastina pasta, and everything comes together really well to create a delightful meal.
Grated Pecorino Romano completes this lovely dish and it becomes an absolute treat that everyone has to try once!
It's a great way to use any leftover zucchini and spinach, and the lovely greens are a welcome addition to make it a more wholesome meal!
Cook up a pot of tasty pasta that's super satisfying and easy to make with this simple recipe!
It's one of those classic Italian dishes that are great all year round and you might even crave it when you're feeling under the weather because it's just so comforting.
Milk, butter, pasta, and cheese make for a delightful combo that you can easily add other ingredients to even though it already tastes fantastic as it is.
It's also one of the simplest baby pastina recipes that you can use to let the young ones try for their first pasta taste!
Pastina is also known as "the Italian penicillin" because it's a staple food that traditional Italian families will cook for those that are not feeling well, which is why it's such a beloved food!
In this quick and easy recipe, the tiny pasta is combined with vegetables, egg, and cheese to create a rich and delicious soup that's loaded with nutrition.
Chicken thigh is used to make the broth flavorful and can be added back for more protein to turn it into a wholesome meal!
It's a classic dish that has to be given a try and you might just have a new favorite comfort food after this!
For a cute and simple side dish that's super easy to make, check out this Feta Pastina recipe!
The small pasta is tossed in a bowl with feta cheese, olive oil, parsley, garlic, lemon juice, and zest to make an awesome combination that can be served right away.
It's incredibly simple to whip up and you'll have a tasty side dish that's ready in no time at all!
You'll love its light flavors and it's definitely a crowd-pleaser with how delicious it is!
At Glorious Recipes, we have our favorite Comforting Pastina Soup that we absolutely adore and taste heavenly! Check out the recipe below!
Yield: 2
Comforting Pastina Soup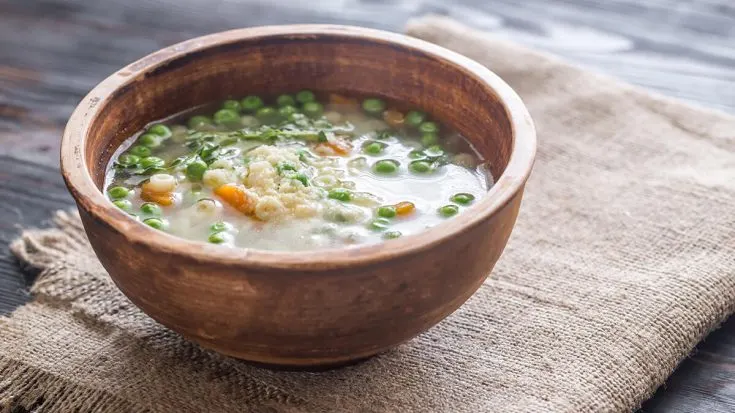 This healthy and comforting Pastina soup is great any time of the year and is loved by both kids and adults alike!
Ingredients
16 oz water
1 tbsp extra virgin olive oil
1 stalk of celery
1 medium carrot
½ cup frozen peas
1 shallot
salt, to taste
1 tbsp pastina of your choice
Parmesan cheese, for topping
Instructions
Add water, oil, vegetables, and salt to a pot. Bring the mixture to a boil, then lower the heat and let it simmer for 20 minutes.
Add pastina to the pot and let it cook as per package instructions.
Scoop the soup into serving bowls and top with Parmesan cheese before enjoying!
Nutrition Information:
Yield:
2
Serving Size:
1
Amount Per Serving:
Calories:

134
Total Fat:

8g
Saturated Fat:

1g
Trans Fat:

0g
Unsaturated Fat:

6g
Cholesterol:

2mg
Sodium:

406mg
Carbohydrates:

13g
Fiber:

4g
Sugar:

5g
Protein:

4g
Nutrition information is only an estimate and can vary depending on ingredients used.
Which of the pastina recipes have you tried so far?
Let us know in the comments below!
For more awesome pasta recipes, check out the following:
Hearts of Palm Pasta
Kielbasa Pasta
Chicken Tortellini
Bow Tie Pasta
Ground Turkey Pasta
Pappardelle
Ditalini
Creamy Gnocchi
Ground Pork Pasta
Share on your favorite social media platform and tag us @GloriousRecipes – we can't wait to see what you have made!