Chicken tortellini is a wonderful pasta dish that combines tender chicken, tasty cheese, and delicate pasta pockets!
It makes for great comfort food with a symphony of flavors that will leave you craving more.
Whether served in a classic Alfredo sauce, a savory broth, or as a salad, chicken tortellini promises a dining experience that is nothing short of extraordinary.
From zesty soups to creamy pasta, we've got you covered with some of the best chicken tortellini recipes that you can easily try at home!
Ramp up your next meal with this fantastic chicken tortellini dish that's amazingly tasty and sure to whet your appetite!
It's a delectable mix of pan-seared chicken and cheese tortellini, smothered in a flavorful cream sauce that consists of baby spinach, garlic, shallots, white wine, chicken broth, and thyme.
This exceptional dish is incredibly satisfying with tons of great flavors that make it an easy crowd-pleaser.
There's nothing not to like about this quick and easy recipe!
Sign us up for this excellent Warm Balsamic Chicken Tortellini Salad that's super easy to make and tastes absolutely superb!
With a sauce made by combining balsamic vinegar, Italian dressing, honey, and red pepper flakes, you're guaranteed plenty of amazing flavors in this wonderful salad.
Chicken breasts, tortellini, asparagus, carrots, and grape tomatoes come together to create a hearty and wholesome dish that can be served warm or cold and it tastes fantastic either way.
Give this a try and you'll not be disappointed with its delightful flavor!
For a dish that's so delicious you'd supposedly get a marriage proposal after the first bite, check out this sensational Marry Me Chicken Tortellini!
This dish features cheesy tortellini pasta and pan-seared chicken breasts baked in a creamy sauce with Italian seasoning, garlic, sun-dried tomatoes, and chicken broth.
It's a simple dish to prepare but the taste is incredible and you'll be licking every drop of this tomato cream sauce because it's just that good.
You might not get a proposal after every single meal but you're sure to be satisfied with how delicious it is!
This is one of those chicken tortellini recipes that you definitely need to try!
This Creamy Chicken Tortellini Soup recipe makes terrific comfort food with a splendid flavor and texture!
It's a lovely combination of shredded chicken, carrots, onions, garlic, celery, spinach, and tortellini, all simmered in a flavorsome chicken broth made creamy with heavy cream.
This hearty soup is perfect on a cold and chilly day, and it's sure to warm your belly up and soothe your soul with comforting goodness and satisfaction.
It's a great dish to expand your soup rotation and the family is sure to love it!
If you prefer clear soups instead, check out this marvelous chicken tortellini recipe that's straightforward to whip up!
This dish involves cooking chicken thighs in a mix of chicken broth and beef broth, with vegetables such as carrots, onions, and celery added to make it even more wholesome.
Throw cheese tortellini into the mix and you'll have an exceptional soup that tastes absolutely fantastic.
It's really easy to make and perfect for an awesome meal any day of the week!
Everyone loves a good one-skillet recipe because it's so convenient and handy with minimal clean-up required, and that's exactly what this recipe is all about!
Baby bella mushrooms sautéed in sage-infused oil and tortellini filled with chicken breast and cheese are combined with a creamy sauce to create an absolutely mouthwatering delight.
Aromatics, spices, mozzarella cheese, and Parmesan cheese help to impart complexity and depth to the flavor, making this a heavenly-tasting dish that's sure to be a hit with the crowd.
You might just have a new favorite pasta dish after your first bite because it's just that delicious!
Try your hands at making this brilliant soup that's superbly tasty and brings together some of our favorite ingredients in one dish!
It's a delightful marriage of tomato paste, onions, garlic, fire roasted tomatoes, white wine, chicken stock, half-and-half, and Parmesan cheese to create a flavorful soup that's incredibly palatable.
Chicken breasts, cheese tortellini, and kale help to complete this amazing dish and it has all the nutrients and flavors that you need for an awesome meal.
This wonderful soup is exceptionally addictive and brings about a comforting feeling like no other.
In what is one of our favorite chicken tortellini recipes, tender chicken breasts are combined with tortellini and a flavorsome basil pesto sauce to create something truly amazing.
The herbaceous flavor of the pesto sauce adds so much complexity to the flavor and it helps to make the dish thoroughly enjoyable.
Sun-dried tomatoes, garlic, Italian seasoning, and paprika help to enhance the dish further and it's a chicken tortellini pasta dish that you definitely don't want to miss out on.
This is also a fantastic one-pot recipe so it's super easy and hassle-free to whip up!
Go healthy with this amazing Chicken Tortellini Soup that's loaded with tons of nutrients and wonderful flavors!
Chicken broth serves as the soup base in which shredded rotisserie chicken, cheese tortellini, green beans, tomatoes, carrots, onions, and celery are added to make it super wholesome.
With healthy ingredients to give you all the nutrition you need in a balanced meal, this is one dish that you definitely need to add to your meal rotation!
You'll love how something so simple to make can taste so delightful!
This chicken tortellini soup recipe is a must-try in our books because it's absolutely delicious with a rich flavor that's easily enjoyable!
The soup base is a fantastic mixture of tomato paste, chicken stock, aromatics, diced tomatoes, Parmesan rind, and heavy cream, rendering plenty of amazing flavors.
Add kale, shredded chicken, and cheesy tortellini into the mix and you'll have an exceptional pasta soup dish that's flavor-packed and superbly comforting.
Make sure to give it a try and your taste buds will thank you!
This Instant Pot or crockpot chicken tortellini soup recipe is an easy way to prepare tasty and hearty soup for an excellent meal any time of the day!
Everything happens in the Instant Pot, which means faster cook time and lesser clean-up so it's superbly convenient!
With aromatics, chicken, tomato sauce, spinach tortellini, and spinach, this is a wonderful dish that has everything you need for an awesome meal.
Easy to make and delicious, just how we like our recipes to be!
Whip up an awesome meal with this chicken tortellini Alfredo bake that's sure to captivate your taste buds with its delightful flavor!
Featuring pan-seared chicken thighs, cheese tortellini, and broccoli covered in creamy Alfredo sauce and then topped with melted mozzarella cheese, this is a dish that's just irresistible.
It's a heavenly combination of amazing flavors and textures, and you're sure to fall in love with this impressive chicken tortellini bake.
Taking under 30 minutes to make, this is perfect for those busy weeknights when you still want to put quality food on the table!
Expand your cooking repertoire with this Lemon Chicken Tortellini Soup that's amazingly refreshing with bright flavors that you're sure to love!
It's a lovely combination of aromatics, mushrooms, herbs, chicken, tortellini, and vegetables such as carrots, spinach, and corn, all simmered in chicken broth to create an extremely flavorsome dish.
Lemon juice helps to add a refreshing tang to the soup and elevates it to another level, making it an absolutely divine-tasting dish.
With how delectable it is, we have no doubts that this will quickly make its way to your list of favorite chicken tortellini recipes!
For a wonderful slow cooker chicken tortellini recipe, you've got to check out this splendid dish that's ridiculously easy to make!
Mushrooms, chicken breasts, onion, bell peppers, olives, and marinara sauce are first cooked in the slow cooker before Alfredo sauce and tortellini are added to complete this amazing dish.
With the appliance doing all the cooking for you, you can go about your daily routine and come back to a delicious meal waiting for you!
It's exceptionally straightforward to make so even beginner home cooks should have no trouble with it!
Enjoy an extraordinary meal with this outstanding Tuscan chicken tortellini pasta dish that's pure food heaven!
Sun-dried tomatoes, spinach, and garlic are combined with pan-seared chicken and tortellini, with everything cooked in a mixture of chicken broth and heavy cream, resulting in an extremely tasty dish.
It's simple to whip up and has a rich flavor that's incredibly enjoyable, making it a perfect pasta when you feel like having something special.
You'll love how amazing it tastes for something so easy to make!
At Glorious Recipes, we have our favorite Creamy Chicken Tortellini Soup that we absolutely adore and it tastes heavenly! Check out the recipe below!
Yield: 4
Creamy Chicken Tortellini Soup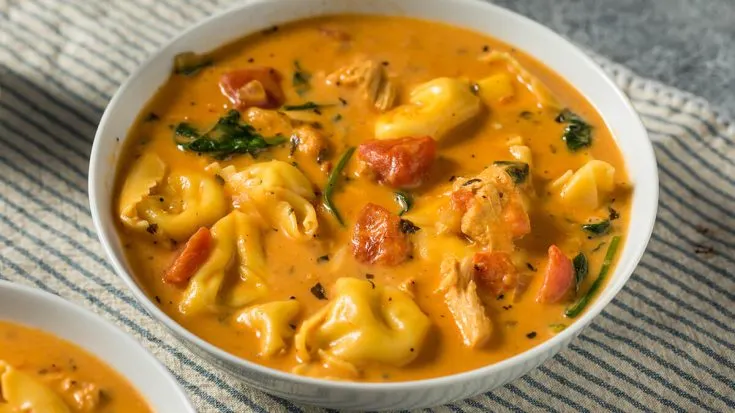 Sun-dried tomatoes, spinach, tender chicken, and cheesy tortellini come together in this fantastic Creamy Chicken Tortellini Soup to create something truly hearty and comforting!
Ingredients
8 oz cheese tortellini (or any other tortellini)
2 tbsp olive oil
4 boneless chicken thighs
1 tbsp minced garlic
3 cups fresh spinach
½ cup sun-dried tomatoes
½ cup reduced-sodium chicken broth
½ cup heavy cream
salt, to taste
pepper, to taste
Instructions
Follow package instructions and cook tortellini. Set aside.
Add olive oil to a skillet over medium heat. Add chicken to the skillet and cook for around 5 minutes on each side on until cooked through. Transfer chicken to a separate plate and set aside but covered.
Add garlic, spinach and tomatoes to skillet over medium heat. Sauté for a couple of minutes til garlic becomes fragrant. Add chicken broth and cook for another couple of minutes until spinach has wilted. Add heavy cream and cook for 3-4 minutes until the soup mixture has reduced and thickened slightly.
Add back chicken and tortellini and cook for a minute to let tortellini warm through. Add salt and pepper to taste. Serve and enjoy!

Nutrition Information:
Yield:
4
Serving Size:
1
Amount Per Serving:
Calories:

548
Total Fat:

31g
Saturated Fat:

13g
Trans Fat:

0g
Unsaturated Fat:

16g
Cholesterol:

194mg
Sodium:

677mg
Carbohydrates:

33g
Fiber:

3g
Sugar:

4g
Protein:

38g
Nutrition information is only an estimate and can vary depending on ingredients used.
Which of the chicken tortellini recipes have you tried so far?
Let us know in the comments below!
For more awesome pasta recipes that you might like, check out the following:
Hearts of Palm Pasta
Kielbasa Pasta
Bow Tie Pasta
Ground Turkey Pasta
Pastina
Pappardelle
Ditalini
Creamy Gnocchi
Ground Pork Pasta
Share on your favorite social media platform and tag us @GloriousRecipes – we can't wait to see what you have made!