Bow tie pasta, also known as farfalle, has a fun and unique shape that makes it perfect for all kinds of tasty dishes!
The wide surface area is great for coating the pasta with delicious sauces, resulting in a satisfying burst of flavor with every bite.
Whether you pair it with Alfredo or marinara sauce, you're sure to enjoy the incredible taste of bow tie pasta.
From simple salads to delectable pasta, we've got you covered with some of the best bow tie pasta recipes that you can easily try at home!
Enjoy an awesome meal with this fantastic Italian Sausage Bow Tie Pasta that's amazingly delicious and is sure to whet your appetite!
Crumbled and browned in a skillet, the sausage is then cooked with onion and garlic before being simmered in a mixture of tomatoes and heavy cream until flavorful.
The addition of spinach helps to provide a dose of nutrients and fiber while red pepper flakes inject a little heat that elevates the dish to another level.
Everything comes together really well to create this bow tie pasta with sausage that the whole family can enjoy!
Savor tasty pasta with this simple recipe that combines some of our favorite ingredients in one dish!
It's a delectable mix of caramelized onions, mushrooms, spinach, and bow tie pasta with a creamy Parmesan sauce to tie everything together, creating an absolutely mouthwatering delight.
All the ingredients complement each other really well and it's an incredibly delicious pasta that's sure to satisfy any appetite.
Give it a try and you'll definitely not be disappointed!
Everyone loves a good one-pot recipe because of how hassle-free it is to make and clean up, and that's exactly what this recipe is all about!
It's ridiculously easy to make and all you need to do is boil pasta and broccoli in hot water until cooked before tossing them in melted butter and finishing it with some grated Parmesan cheese and a squeeze of lemon.
With bright and refreshing flavors, it's a dish that you won't mind serving your kids!
This is one of those bow tie pasta recipes that you'll want to keep handy because of how quick and easy it is!
Give the regular lasagna a simple twist by using bow tie pasta instead with this terrific recipe that you definitely don't want to miss out on!
Ground beef and onion are sautéed in a skillet with tomato paste, tomato sauce, basil, and oregano to create a flavorsome meat mixture that's used in the assembly of the lasagna.
With alternating layers of pasta, meat mixture, and different cheeses, the lasagna is baked in the oven until a beautiful golden brown color is achieved and the cheeses have melted.
It's a divine-tasting dish that makes for great comfort food!
If you're looking for a splendid pasta dish that's extremely easy to make and tastes wonderful, you've got to check out this Creamy Garlic Butter Pasta!
Made simply by combining bow tie pasta with sautéed garlic, spinach, basil, cream cheese, and milk, this is a great-tasting dish that's perfect any time of the day!
Whether you serve it as a light lunch or dinner, you're bound to enjoy the flavors of this incredible pasta.
Garnish with grated cheese before serving for the best experience!
For an amazing side dish to pair with your favorite protein, this simple Creamy Bow Tie Pasta Salad recipe definitely fits the bill!
It's a tantalizing mix of pasta, ham, onion, peas, cheese, and bell pepper, tossed in an extremely flavorsome dressing made with mayonnaise, relish, mustard, and other lovely ingredients.
Everything comes together really quickly and you'll be enjoying this wonderful pasta salad in no time at all!
This salad is also perfect for adding a touch of vibrancy to your meals with its bright colors!
It's not difficult to whip up a plate of delicious pasta and this simple recipe will show you how!
Bow tie pasta cooked to al dente is tossed in a mixture of lemon garlic butter and topped with fresh basil, pine nuts, and Parmesan cheese to create a taste sensation that can't be beaten.
It's incredibly tasty and can be made in under 30 minutes, perfect for a superb weeknight dinner!
With bright and refreshing flavors that are easily enjoyable, this is definitely one of our favorite bow tie pasta recipes!
Sign us up for this terrific chicken and bow tie pasta dish that's extremely delectable and is sure to captivate your taste buds with its amazing flavors!
Sautéed chicken cubes are combined with onions, bell peppers, and pasta to simmer in a mixture of chicken broth, cream, and milk until everything is nicely cooked.
Parmesan cheese is added to make it extra creamy and tasty, and this dish is completed with a simple garnish of freshly chopped parsley.
Everyone will be fighting for seconds with how incredibly delicious this pasta is!
A healthy dish doesn't have to be bland or difficult to make and you'll definitely want to try out this superb Bow Tie Pasta with Simple Tomato Sauce!
Al dente pasta is topped with a mixture of diced tomatoes, garlic, onion, basil, red wine vinegar, and olive oil, creating a dish that's light but flavorful.
It can be whipped up in under 20 minutes from start to end, making it one of the quickest and easiest bow tie pasta recipes!
You'll want to keep this recipe handy for those days when you're pressed for time but still want to put great-tasting food on the table!
Reward yourself with this exceptional pasta that's incredibly delicious and so easy to make!
It's a delightful combination of bow tie pasta, garlic, cherry tomatoes, kielbasa, and asparagus, creating a symphony of taste that's just irresistible.
The sweet burst of flavor from the cherry tomatoes goes really well with the savory kielbasa while asparagus helps to provide a lovely texture to the dish.
It's a hearty dish that's sure to be a family favorite with its fantastic taste!
This easy bow tie pasta recipe is a must-add to your meal rotation because it's incredibly wholesome and delicious!
Thinly sliced chicken breast and roasted cherry tomatoes are combined with pasta coated in a tasty mix of basil pesto and heavy cream to create a culinary masterpiece that's extremely flavorsome.
Topped with pine nuts to provide additional texture, this is a pasta dish that you definitely don't want to miss out on.
With its amazing flavors, this Creamy Chicken Pesto Pasta is bound to be a crowd-pleaser!
If you're looking for a cold bow tie pasta recipe, you've got to check out this BLT Pasta Salad that makes for a wonderful side dish!
It's an outstanding assortment of ingredients that includes bacon, grape tomatoes, romaine lettuce, onion, shredded cheese, and pasta, all coated in a mixture of mayonnaise and ranch dressing.
All the ingredients impart their distinctive flavors and textures to this salad to create a superb dish that's incredibly delicious.
Serve with your favorite protein to make it a complete meal!
If making a lasagna sounds like too much work for you, check out this Baked Bow Tie Pasta Casserole as an alternative!
A meat sauce made with tomato sauce, Italian sausage, onion, garlic, and spinach is layered on with bow tie pasta and a variety of cheeses before everything is baked in the oven until golden brown.
Ricotta, mozzarella, and Parmesan cheese are used in this baked casserole to add tons of incredible flavors to make it extra tasty!
You might just have a new favorite comfort food after you give this recipe a try!
Skip the regular potato chips and make these Pasta Chips instead!
It's super easy to make them and all you need to do is boil the pasta before seasoning it with a blend of Italian seasoning, Parmesan cheese, red chili flakes, garlic powder, salt, and pepper.
Pop them into the air fryer and you'll be enjoying these tasty bites in no time at all!
Be warned, these pasta chips are extremely addictive!
Once you start, you just can't stop!
Grace your taste buds with this excellent pasta dish that's crazy delicious and is sure to delight your senses!
Featuring bow tie pasta coated with a flavorful sauce made with blended roasted red pepper, garlic, tomato paste, vodka, heavy cream, and other lovely ingredients, this is an absolute treat that you'll definitely want to try.
It's so tasty that you'll be mopping up every single drop of the tasty sauce before you even know it!
Elevate this dish by adding your favorite protein to make it extra special!
When you manage to get your hands on some butternut squash, you've definitely got to try making this delicious pasta dish!
Bow tie pasta is combined with roasted butternut squash and sausage in a creamy spinach sauce that makes this a mouthwatering delight.
With bright colors and great flavors, this is a simple dish that's perfect for a hearty meal with the entire family.
It's an easy way to get your kids to eat their greens with this fantastic dish!
Expand your side dish options with this easy bow tie pasta salad recipe that you'll definitely want to give a try!
It's incredibly straightforward to whip up and all you need to do is cook pasta to al dente before mixing it with all the other lovely ingredients that include salami, pepperoni, olives, cucumbers, mozzarella cheese, and Italian dressing.
You can even serve it as a main dish as it has all the carbs, protein, nutrients, and fiber that you need to power through your day!
No matter how you choose to serve it, you're bound to enjoy the delightful flavors of this tasty salad!
Discover your new favorite comfort food with this exceptional recipe that makes such delicious bites!
Dredged in an egg mixture and coated with breadcrumbs, bow tie pasta is fried until golden brown and crispy before being served with a flavorful dip that's made with lovely ingredients such as artichokes, spinach, cream cheese, and Parmesan cheese.
The pairing works supremely well and you'll find it difficult to limit yourself to just a few pieces of fried bow tie pasta because they are super addictive!
It's a fantastic way to experience the unique pasta and it's definitely one of our favorite bow tie pasta recipes!
Fill your house with an amazing aroma with this easy set-and-forget slow cooker recipe that makes an incredibly palatable pasta dish!
Chicken breasts are cooked in the slow cooker along with mushrooms, bacon, onion, pasta sauce, and a variety of seasonings to make it extra tasty.
Once done, the meat is combined with bow tie pasta and spinach before the dish is completed with a garnish of Parmesan cheese.
It's perfect for an awesome meal that's really simple to whip up!
Go healthy with this amazing Springy Lemon Bow Tie Salad that's loaded with bright and refreshing flavors!
It's a lovely combination of bow tie pasta, peas, basil, and Parmesan cheese, with a squeeze of lemon juice to deliver a citrusy punch and tie everything together.
The light flavors make this a salad that doesn't overwhelm and is super easy to enjoy with any of your other main courses.
We love how this pasta salad is healthy, delicious, and easy to make!
Ramp up your next meal with one of our favorite bow tie pasta recipes and make this superb Chicken Piccata Pasta!
Sautéed chicken is simmered in a mixture of white wine, chicken stock, garlic, capers, thyme, heavy cream, lemon juice, and other delightful ingredients until all the flavors meld together to create an irresistible dish.
Add bow tie pasta into the mix and you have an awesome pasta dish that's sure to satisfy any cravings.
It's extremely delicious with depth and complexity to the flavor, making it a must-try for everyone!
Dig into this Creamy Asparagus Bow Tie Pasta that's exceptionally tasty and doesn't take much effort to make at all!
There's no lack of flavor in this dish with aromatics, vegetable broth, heavy cream, and Parmesan all helping to impart their fragrance to the creamy sauce.
The wide surface area of bow tie pasta comes into play here and is coated with the tasty sauce to make it incredibly delicious.
Add asparagus into the mix, you have an absolutely delicious pasta dish that's perfect any day of the week!
At Glorious Recipes, we have our favorite Creamy Bow Tie Pasta with Vodka Sauce that we absolutely adore and it tastes heavenly! Check out the recipe below!
Yield: 4
Creamy Bow Tie Pasta With Vodka Sauce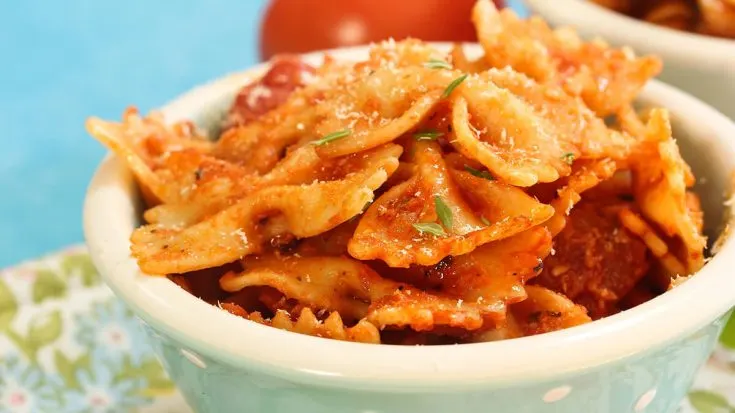 This Creamy Bow Tie Pasta with Vodka Sauce is a crowd-pleaser with its amazing flavor and it's so easy to make!
Ingredients
salt
12 oz bow tie pasta
2 cloves garlic
2 jars roasted red peppers in olive oil, drained (12 oz each)
½ cup vodka
4 tbsp tomato paste
1 tsp red pepper flakes
2 tsp granulated sugar (optional)
½ cup heavy cream
basil leaves, freshly chopped (for garnish)
Instructions
Bring a pot of water to a boil, then season with salt. Add pasta and cook according to package instructions until al dente. Once cooked, drain and return pasta to pot.
While pasta is cooking, add garlic and red peppers to a blender and process until a smooth purée is achieved. Transfer puréed mixture to a saucepan, then add vodka, tomato paste, and red pepper flakes over medium heat. Stir well for about 3 minutes until heated through and taste. It should be a little sweet but if not, add sugar and stir till dissolved. Reduce heat to low and add cream. Stir until well-combined and taste for any adjustments to the seasonings.
Pour sauce over pasta in the pot. Toss to mix evenly.
Transfer to serving plates. Garnish with parsley. Enjoy!
Notes
Feel free to add any of your favorite protein!
Nutrition Information:
Yield:
4
Serving Size:
1
Amount Per Serving:
Calories:

386
Total Fat:

17g
Saturated Fat:

8g
Trans Fat:

0g
Unsaturated Fat:

8g
Cholesterol:

34mg
Sodium:

166mg
Carbohydrates:

37g
Fiber:

3g
Sugar:

8g
Protein:

7g
Nutrition information is only an estimate and can vary depending on ingredients used.
Which of the bow tie pasta recipes have you tried so far?
Let us know in the comments below!
For more awesome pasta recipes that you might like, check out the following:
Hearts of Palm Pasta
Kielbasa Pasta
Chicken Tortellini
Ground Turkey Pasta
Pastina
Pappardelle
Ditalini
Creamy Gnocchi
Ground Pork Pasta
Share on your favorite social media platform and tag us @GloriousRecipes – we can't wait to see what you have made!