High in protein and low in saturated fat, ground turkey is a leaner and healthier alternative to ground beef, and pairs perfectly with pasta to create delicious meals!
It's a very versatile ingredient and can be incorporated into many recipes to come up with incredible dishes.
From tasty pesto pasta to delectable tetrazzini, we've got you covered with some of the best ground turkey pasta recipes that you can easily try at home!
Savor an incredible ground turkey pasta that's amazingly delicious and is sure to be a hit with the crowd!
Whole wheat rigatoni is combined with an extremely flavorful sauce made with ground turkey, capers, tomatoes, garlic, olives, anchovies, and tarragon to create a delightful dish that'll definitely whet your appetite.
It's a simple recipe that makes a superb dish and you might just have a new favorite pasta after trying it!
Serve with freshly shaved Parmesan cheese and a garnish of freshly chopped parsley for maximum enjoyment of this wonderful pasta!
For a hearty and satisfying comfort dish, look no further than this fantastic Ground Turkey Pasta Bake that you definitely don't want to miss out on!
It's a combination of lovely ingredients which includes turkey, mushrooms, aromatics, tomato sauce, wine, and Italian seasoning to create a terrific sauce that's loaded with tons of rich and enjoyable flavors.
Along with cooked pasta plus a topping of cheddar cheese, the casserole is baked in the oven until an awesome melted cheese goodness is achieved.
It makes for a filling and impressive meal that's perfect for the whole family!
Enjoy a sumptuous meal with this amazing pasta that combines some of our favorite ingredients into one dish!
With ground turkey, spinach, cannellini beans, and pasta simmered in a delectable tomato sauce made fragrant with aromatics and spices, this dish is filled with nutrients and great flavors that are just irresistible.
You get all your carbs, protein, fiber, vitamins, and essential minerals all in one dish, making it the perfect go-to pasta for an awesome dinner.
There's nothing not to like about this healthy ground turkey pasta recipe that's quick and easy to make!
This creamy ground turkey pasta is a joy to eat with flavors that are sure to please even the most demanding palate!
The sweetness from sun-dried tomatoes goes extremely well with the rest of the ingredients and the pasta is made even tastier with oregano-seasoned ground turkey, chicken stock, garlic, and shallots.
Greek yogurt helps to make it creamy and the addition of spinach helps to provide a dose of fiber and nutrients that enhances the dish further.
It's incredibly easy to make for something that tastes so good, making it one of our favorite ground turkey pasta recipes!
Everyone loves a good one-skillet recipe because it's easy to make with minimal clean-up required, and this recipe definitely doesn't disappoint!
Penne pasta and ground turkey is simmered in a creamy tomato broth that's made flavorful with garlic, onion, peppers, and herbs, creating a tasty dish that's perfect any day of the week.
Made creamy with half and half, and topped with mozzarella and cheddar cheeses, this pasta dish tastes divine when cooked.
This is a dish that can be made in under 45 min, making it perfect for an excellent weeknight dinner!
Spruce up your next meal by adding bright colors to your pasta with this splendid recipe that you absolutely need to add to your lunch or dinner rotation!
It's a vibrant dish with roasted butternut squash, spinach, and ground turkey combined with fusilli to form a delightful pasta meal.
The ingredients are coated with a creamy sauce made from heavy cream and Parmesan cheese, ensuring plenty of satisfying flavors with every bite.
It's a visual treat at the end when fully cooked and well-tossed, making it an Instagram-worthy dish that tastes as good as it looks!
This Turkey Pasta Primavera is one of the easiest ground turkey pasta recipes and the best thing is that you'll have delicious pasta in 20 minutes!
It starts with a quick sauté of aromatics before ground turkey and a variety of basic seasonings are added to make the meat extra flavorsome.
Diced tomatoes, spinach, and pasta are then added to cook and the final dish is topped with Parmesan cheese before serving.
It's ridiculously easy to make and it's definitely a must-try dish in our books!
Dig into this excellent pasta dish that's super yummy and makes for an easy meal that you can whip up in under 30 minutes!
It has a creamy tomato sauce base that's made flavorful with the addition of aromatics, mushrooms, beef broth, and seasonings, and it's incredibly delicious.
Shell pasta has a large surface area and the curvature means you get to slurp up all that wonderful sauce with ease!
Give this simple recipe a go and you'll definitely make this regularly because of how tasty it is!
Amplify your next meal with this fantastic Pink Pasta Sauce that combines delightful ingredients together to create an awesome dish!
With oregano, thyme, basil, and garlic powder, you're guaranteed lots of depth and complexity in flavor, and it's a first-rate dish that combines tomato puree, ground turkey, spinach, and pasta together for a wholesome meal.
Parmesan cheese and cream cheese help to make it creamy and this is an addictive pasta that you'll be devouring non-stop.
This dish is a great way of adding some variety to your pasta meals and it can't be any simpler to make!
This Mexican-inspired ground turkey pasta recipe is sure to bring a refreshing change to your usual pasta options!
There are plenty of great flavors in the sauce with the addition of salsa, cumin, oregano, aromatics, and other delightful spices, and when paired with shell pasta, it's a culinary masterpiece that everyone has got to try.
It's completed with a topping of shredded cheddar cheese and a garnish of sour cream and parsley, elevating the dish from good to great!
It's a quick and easy recipe that's great for making a fast but tasty weeknight meal!
Keep things simple with this easy ragu that uses ingredients you probably already have stocked in your kitchen!
Ground turkey is combined with onion, garlic, carrot, white wine, tomatoes, rosemary, and of course, spaghetti to create a terrific pasta so delicious that everyone will be fighting for seconds.
It's completed with a garnish of parsley and Parmesan cheese before serving and it makes for an awesome dish that you can pair with your leftover white wine!
It's incredibly simple to make so give it a try soon!
Treat yourself to this fantastic ground turkey casserole that's absolutely delicious and will definitely tantalize your taste buds!
A little mushrooms, ground turkey, mozzarella cheese, and Alfredo sauce is all it takes to make this creamy and cheesy delight, and when you pair it with pasta like rotini, it becomes an exceptional dish.
Baked in the oven until all the cheese has melted, this is a superb pasta dish that's sure to please.
Garnish with freshly chopped parsley before serving and enjoy a hearty and comforting meal!
Sign us up for this amazingly tasty pumpkin pasta that's loaded with incredible flavors and it's so easy to make!
Al dente spaghetti is complemented with an incredibly flavorsome sauce that's made from pumpkin puree, tomato sauce, ground turkey, aromatics, herbs, and other spices to create an exceptional dish.
Add mushrooms and kale into the mix, and you have a tasty and wholesome pasta dish that's definitely up there as one of our favorite ground turkey recipes!
It's also a great meal prep dish so you can make a big batch and freeze the excess for future consumption!
Enjoy a healthy and delicious meal with this Easy Ground Turkey Pasta Broccoli that's loaded with nutrients and awesome flavors!
The ground meat is made flavorful with garlic, paprika, salt, and red pepper flakes, and it's combined with pasta, broccoli, and basil for a splendid dish.
Finished with a sprinkle of Parmesan cheese, this pasta dish is perfect for the whole family and even the kids will love it.
It's quick and easy to make, and definitely a must-add to your meal rotation!
This pesto ground turkey pasta is filled with herbaceous flavors that are incredibly fragrant and definitely a highlight of this amazing dish!
The meat is made flavorsome with a basic seasoning of salt, pepper, and garlic powder, and it's combined with kale, pasta, and pesto sauce for an absolute treat.
Tossed in feta cheese, this pasta dish makes for an excellent meal that you just can't get enough of.
You'll be craving this time and again once you've given it a try because of how delicious it is!
Grace your taste buds with this outstanding baked ground turkey pasta recipe that's incredibly delicious and makes for a hearty dinner!
Layered with seasoned ground meat, pasta, a mixture of sour cream and ricotta, and a topping of mozzarella cheese, the baking dish is placed in the oven and left to cook until all the cheese has melted and browned.
It's a hearty delight and with all those wonderful flavors and it's easy to get the kids to eat this, making it an awesome option for a great family meal.
Or whip this up for your next potluck session and watch as everyone asks for a second serving!
Give your regular meat sauce an upgrade with this simple recipe that you definitely don't want to miss out on!
Using a lean protein such as turkey helps to reduce the amount of fat and the combination of carrots, zucchini, bell peppers, tomatoes, aromatics, herbs, and spices help to make it nutrient-dense with loads of incredible flavors.
Serve over al dente spaghetti and you'll have a heavenly meal that you can enjoy any day of the week!
The best thing is that it's great for freezing so don't be afraid to cook up a big batch in one go!
If you love a great gnocchi dish, you've got to check out this simple dish that's superbly delicious and a great weeknight dinner option!
Gnocchi is simmered together with ground meat, crushed tomatoes, garlic, seasonings, and white wine until cooked, making this a hassle-free one-pan recipe that's super handy for minimal clean-up.
Basil is added to provide some depth to the flavor and it's completed with a garnish of grated Italian cheese before serving.
This dish is definitely one of the more straightforward ground turkey pasta recipes that don't sacrifice great flavors for ease of cooking!
Check out our list of creamy gnocchi recipes as well if you're a fan of great gnocchi dishes!
Level up your cooking skills with this pasta bake that taste out of this world and is definitely one of our favorite ground turkey pasta recipes!
It's a divine combination of penne pasta with ground turkey, plus loads of other wonderful ingredients such as onion, garlic, bell peppers, tomatoes, dried herbs, and heavy cream to make this a creamy delight that's big on flavors.
The highlight of this dish is the addition of vodka which enhances the flavors and elevates the dish to the next level with the hint of warmth it provides.
It's an impressive dish that you'll surely want to add to your meal rotation and you can even pair it with the leftover vodka afterward!
Turn up the heat with this incredibly simple but tasty spaghetti, a must-try for all spicy food lovers!
The ground meat is combined with vegetables and seasonings that include red pepper flakes, which provide all the heat for an addictive kick with every bite.
It's super easy to adjust the amount of red pepper flakes added to vary the heat level of the dish so that it suits your palate.
You can even leave it out entirely for a mellow sauce that still tastes as good as the spicy version!
Refresh Taco Tuesdays by making this fantastic Turkey Taco Pasta that's creamy and really delicious!
With a combination of pasta shells, ground turkey, taco seasoning, salsa, aromatics, and cheeses, this is an exceptional Mexican-styled pasta dish that's sure to satisfy.
It's a great meal prep option as well and you can easily freeze the leftover taco meat for the week, although you'd probably gobble up the entire batch because of how tasty it is.
Serve with your favorite toppings to enhance this dish further and enjoy an awesome meal!
Try your hands at making this amazing Turkey Mac that's perfect for a simple dinner and tastes absolutely wonderful!
You are guaranteed plenty of depth and complexity in flavor with a mixture of seasonings that include paprika, garlic powder, onion powder, Italian seasoning, and parsley.
Along with aromatics, ground turkey, and pasta, this is a delectable dish that's just irresistible.
It's one of those sought-after one-pot ground turkey pasta recipes so you'll definitely want to add this to your weeknight dinner rotation!
This Instant Pot ground turkey pasta recipe is a convenient one because it makes incredible pasta with so little effort!
Onion, garlic, ground turkey, and sun-dried tomatoes are given a sauté with a variety of seasonings before other ingredients such as broth, fire-roasted tomatoes, marinara sauce, and pasta are added and cooked under high pressure.
Stir in spinach, heavy cream, and cream cheese once everything is cooked and you'll end up with a pot of superbly tasty and creamy pasta.
Add some basil before serving for even more depth to the flavor of this delightful dish!
Impress your friends and family with these Turkey Stuffed Shells that are super satisfying and absolutely delicious!
The filling is made with a mixture of ground turkey, vegetables, and cream cheese, plus a seasoning of herbs and spices that make it incredibly flavorsome.
Stuffed into jumbo macaroni shells, the entire batch is baked in the oven with marinara sauce and you'll have an amazingly delectable dish to enjoy.
It's a great way to add variety to your pasta rotation and everyone will definitely love the great taste of this splendid dish!
In what is one of our favorite ground turkey pasta recipes, this Turkey Tetrazzini makes for a fantastic meal with easily enjoyable flavors!
It's a delightful combination of spaghetti, ground turkey, mushrooms, and peas to create a simple pasta dish that's incredibly delicious.
Made creamy with heavy cream and Parmesan cheese, this addictive pasta will have you devouring it within minutes.
Garnish with freshly chopped parsley before serving and enjoy this terrific dish!
At Glorious Recipes, we have our favorite Ground Turkey Bolognese that we absolutely adore and it tastes heavenly! Check out the recipe below!
Yield: 4
Ground Turkey Bolognese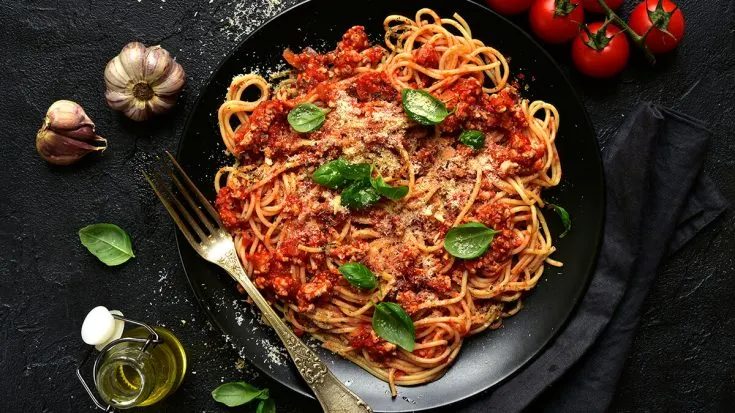 Indulge in a healthy and delicious pasta dish with this fantastic Ground Turkey Bolognese that's really easy to make!
Ingredients
12 oz spaghetti
1 tbsp extra virgin olive oil
2 cloves of garlic, minced
1 onion, diced
1 carrot
1 lb ground turkey
salt, to taste
black pepper, to taste
1 cup white wine
1 can crushed tomatoes (28oz)
2 tbsp rosemary, freshly chopped
parsley, freshly chopped, for garnish
Parmesan, freshly grated, for garnish
Instructions
Cook spaghetti until al dente, according to package instructions.
Add oil to skillet over medium heat. Add garlic, onion, and carrot to skillet and cook until they are tender, around 5 minutes. Add ground meat and cook until browned, then add salt and pepper to taste. Add white wine, tomatoes, and rosemary, then cook for another 5 more minutes.
When spaghetti is cooked, add to skillet and toss with the meat sauce. Garnish with a sprinkle of parsley and Parmesan cheese before serving. Enjoy!
Nutrition Information:
Yield:
4
Serving Size:
1
Amount Per Serving:
Calories:

539
Total Fat:

25g
Saturated Fat:

6g
Trans Fat:

0g
Unsaturated Fat:

16g
Cholesterol:

121mg
Sodium:

340mg
Carbohydrates:

35g
Fiber:

4g
Sugar:

4g
Protein:

35g
Nutrition information is only an estimate and can vary depending on ingredients used.
Which of the ground turkey pasta recipes have you tried so far?
Let us know in the comments below!
For more awesome pasta recipes that you might like, check out the following:
Hearts of Palm Pasta
Chicken Tortellini
Bow Tie Pasta
Pastina
Pappardelle
Ditalini
Creamy Gnocchi
Ground Pork Pasta
Share on your favorite social media platform and tag us @GloriousRecipes – we can't wait to see what you have made!