Kielbasa pasta brings together the rich essence of Polish sausage and the satisfying comfort of perfectly cooked pasta!
With a smoky and savory profile, kielbasa helps to elevate any dish by adding depth and complexity to the flavor.
It's an easy combination that ensures a great-tasting meal and there are so many ways to put the two fantastic ingredients together.
Whether you prefer them baked or smothered in a creamy sauce, we've got you covered with some of the best kielbasa pasta recipes that you can easily try at home!
Savor an excellent meal with this Creamy Mushroom Pasta that's amazingly delicious and incredibly simple to prepare!
Filled with ingredients such as zucchini, onions, kielbasa, spaghetti, and baby portobello mushrooms, this is a quick and easy recipe that's perfect for those busy weeknights!
Heavy cream is used to create a flavorsome sauce to coat the spaghetti and this dish is completed with a garnish of fresh basil to impart a refreshing flavor.
It takes little effort to whip up so be sure to give this a try!
Dig into this fantastic creamy kielbasa pasta that's superbly tasty and definitely a must-add to your pasta rotation!
It's a delectable combination of penne pasta, kielbasa, white wine, Dijon mustard, heavy cream, and Parmesan cheese, creating an absolutely mouthwatering delight.
Thanks to the mustard, every bite brings about a satisfying zing and you just can't get enough of this wonderful dish.
It's an easy and comforting dish that you're sure to fall in love with!
Discover your next favorite comfort food with this Turkey Kielbasa Pasta Bake that's sure to whet your appetite!
This dish features a mix of penne, kielbasa, garlic, onions, vegetable broth, milk, Italian seasoning, and mozzarella cheese, all baked in the oven until creamy with melted cheesy goodness.
It's a heavenly combination of flavors and textures that makes it such an irresistible treat and it's sure to be a hit with the family because of how delicious it is.
There's no doubt why this is one of our favorite kielbasa pasta recipes!
This recipe combines kielbasa sausage with pasta and veggies to ensure you're getting a wholesome and tasty meal!
With carrots and frozen peas, these ingredients not only add a pop of color to the dish but also help to provide tons of nutrition for a balanced meal.
Add ditalini, kielbasa, chicken stock, and bay leaves into the mix, and you'll have a splendid pasta dish that's full of wonderful flavors!
There's nothing not to like about this quick and easy kielbasa pasta recipe!
When it comes to making a delicious and wholesome meal that's easy to whip up, this Sausage and Peppers Pasta is definitely one of our favorites!
Rotini is combined with grape tomatoes, kielbasa, bell peppers, chicken broth, milk, and other lovely ingredients in this simple pasta dish and it tastes exceptional.
Everything comes together really well and it's a refreshing dish that's loaded with incredible flavors!
It's also an awesome one-pot kielbasa pasta recipe so you get to spend more time eating and less time cleaning!
Whipping up a superb plate of kielbasa pasta is easy when you have an Instant Pot and this recipe will show you exactly how to do it!
Sautéed onions and garlic are combined with penne, tomatoes, and chicken broth in the Instant Pot, all cooked under high pressure until all the flavors meld.
Milk and cheddar cheese are stirred in after that to make it extra tasty and the kielbasa sausages are added to complete this palatable dish.
Everything comes together quickly and with the appliance doing most of the cooking for you, this is as easy as it gets!
For one of the easiest kielbasa pasta recipes that you can try, you've got to check out this brilliant Pesto Penne with Polska Kielbasa!
It's a simple combination of penne, pesto sauce, cherry tomatoes, and kielbasa sausages, but the flavor is anything but simple.
The herbaceous flavor of the pesto sauce adds plenty of complexity to the dish, making it an absolutely scrumptious treat.
Using store-bought pesto sauce makes this a breeze to whip up but you can also use any of your favorite homemade pesto!
Sign us up for this outstanding Jalapeño Popper Kielbasa Pasta Bake that's crazy delicious and sure to captivate your taste buds!
Imagine a combination of smoky kielbasa, jalapeños, cream cheese, cheddar cheese, heavy cream, chicken stock, and your favorite pasta, all baked in the oven until creamy and cheesy.
This pasta bake is extremely tasty and it's sure to satisfy any appetite with its wonderful flavor and texture!
Make sure to top it with panko breadcrumbs for maximum enjoyment of this amazing dish!
Expand your cooking repertoire with this remarkable Creamy Tortellini and Kielbasa that's loaded with some of our favorite ingredients!
It combines cheese tortellini, kielbasa sausages, asparagus, mushrooms, aromatics, tomatoes, and green chilies, with half-and-half making everything creamy and extremely appetizing.
Cajun seasoning helps to impart depth to the flavor, creating an absolutely delightful treat, and this dish is finished off with the addition of grated Parmesan cheese to enhance the flavor further!
If delicious Cajun kielbasa pasta sounds good to you, this is definitely a recipe that you should try!
Reward yourself with a terrific meal by making this fabulous Creamy Tomato Kielbasa Pasta that's mind-blowingly delicious!
It's a lovely marriage of pasta shells, kielbasa sausages, cherry tomatoes, spinach, and basil, with melted goat cheese helping to create a creamy sauce without any butter or cream required.
With great ingredients, great flavors, and great nutrition, this is a dish that's sure to be a crowd favorite!
Add more vegetables such as carrots or zucchini to make it even more wholesome!
Keep it simple with this amazing pasta dish that you can whip up for a healthy and delicious weeknight dinner!
Featuring broccoli and spinach, this is a nutrient-dense dish that's given a flavor upgrade with the addition of smoky kielbasa.
Add bow tie pasta and Parmesan cheese into the mix and you'll have a perfectly balanced meal that's quick and easy to prepare!
This is one of those kielbasa pasta recipes that proves healthy food doesn't have to be bland and tasteless!
Whip up an awesome meal with this splendid Pasta Carbonara that combines some of our favorite ingredients in one dish!
Made with a lovely combination of pasta, baby spinach, kielbasa, egg, bacon, and aromatics, this is an extremely flavorsome dish that you're sure to love!
It's full of wonderful flavors and it's so easy to prepare, making this a great addition to your pasta rotation!
Give this a try and you'll not be disappointed with its amazing taste!
Turn up the heat with this terrific Spicy Kielbasa Pasta that tastes absolutely divine and is an absolute must-try in our books!
There's no lack of flavor with tomatoes, chiles, Cheddar Jack, aromatics, and kielbasa used in the making of this wonderful dish and everything comes together extremely well.
Penne serves as the perfect delivery vehicle for the creamy sauce with its wide surface area, creating a phenomenal pasta dish that you definitely don't want to miss out on.
It's so easy to make and so delicious!
In what is one of our favorite kielbasa pasta recipes, Polish sausage and pasta are coated with an extremely flavorful sauce to create something truly special!
The highlight of this dish is the honey mustard sauce that adds so much depth to the flavor of both the meat and pasta.
Every mouthful of this fantastic dish is incredibly satisfying and this simple pasta is unbelievably delicious!
It's amazing how something so tasty can be so easy to make!
If you need a new and tasty salad to freshen up your options, you've got to check out this Kielbasa Pasta Salad that's filled with amazing ingredients!
It's a splendid assortment of farfalle pasta, kielbasa, baby spinach, corn, bell pepper, shallot, and avocado, all tossed with a lemon-basil dressing to make it a superbly flavorsome salad.
The sweet, savory, and tangy flavors are well-balanced and there are tons of nutrients in this hearty dish.
Whether you serve this as a side dish or main course, you're sure to enjoy the refreshing flavors of this wonderful pasta salad!
Spruce up your next meal with this fantastic pasta dish that requires only 5 main ingredients to make and it's so delicious!
Made with farfalle, garlic, asparagus, kielbasa, and cherry tomatoes, this dish combines great texture, nutrition, and flavors all in one dish.
No creamy sauce is required for this light dish because it tastes excellent on its own and it's definitely a recipe you must try!
Top with Parmesan cheese to enhance the flavor further!
These extraordinary Kielbasa Lasagna Rolls give a simple twist on classic lasagna to create a dish that tastes heavenly!
Kielbasa and mozzarella cheese are wrapped in lasagna noodles before being smothered in spaghetti sauce and then topped with shredded mozzarella cheese.
Baked in the oven until fully cooked with awesome melted cheese topping, this is a dish that will make you salivate at the thought of it.
Make sure to keep this kielbasa pasta recipe handy because it's an easy crowd-pleaser!
This pasta bake is one of those kielbasa pasta recipes that you absolutely must try because it's incredibly tasty!
Featuring penne pasta, garlic, chicken broth, half-and-half, kielbasa, and a mix of Parmesan cheese and mozzarella cheese, all baked until warm and cheesy, this dish is an absolutely palatable treat.
It's like a party in your mouth with every bite and the symphony of flavors will surely delight your taste buds.
Quick to whip up and delicious, just how we like our recipes to be!
Mac and cheese is everyone's favorite comfort food and the addition of kielbasa sausages can only help to elevate it to another level!
Using a mix of Gruyere cheese and cheddar cheese, this pasta dish has the perfect combination to deliver a sharp and creamy taste profile with kielbasa adding a smoky touch.
You don't have to stick to macaroni as any short pasta will work equally well so you can go wild and experiment!
With how delicious it is, this might just become your favorite variation of the classic dish!
If you fancy something light, delicious, and super easy to make, you got to check out this marvelous kielbasa pasta recipe!
It combines olive oil, pasta, kielbasa, bell peppers, and onions, along with basil and cayenne pepper to create an incredibly refreshing dish.
This oil-based pasta has plenty of amazing flavors and you'll be pleasantly surprised by how good it tastes for something so simple to put together!
It's a combination that works really well so make sure to include this for your next meal rotation!
At Glorious Recipes, we have our favorite Kielbasa Pasta with Bell Peppers that we absolutely adore and it tastes heavenly! Check out the recipe below!
Yield: 4
Kielbasa Pasta with Bell Peppers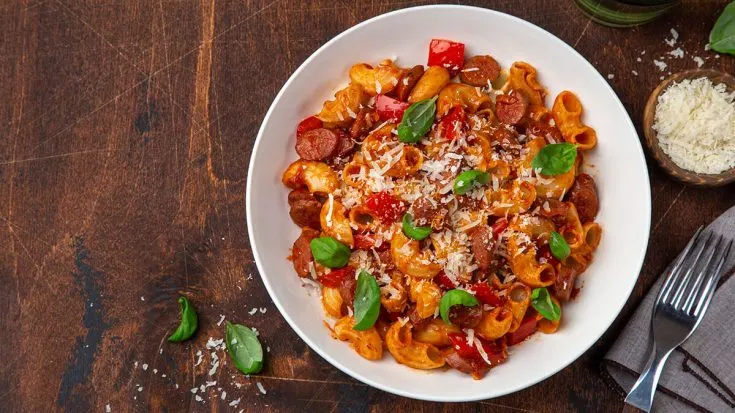 This Kielbasa Pasta with Bell Peppers is a hearty and comforting dish that makes for an easy and delicious weeknight dinner!
Ingredients
10.5 oz pasta (macaroni, fusilli, penne all work great)
1 tbsp olive oil
1 lb kielbasa sausage, sliced
1 bell pepper, chopped
2 shallots, diced
¼ tsp red chili flakes
1 tsp Italian seasoning
2 large garlic cloves, chopped
1 cup chicken stock
2 tsp tomato paste
14 oz crushed tomatoes, canned
⅓ cup Parmesan cheese, grated
salt, to taste
pepper, to taste
Instructions
Boil a pot of salted water and cook pasta according to package instructions. Reserve 2 cups of pasta water. Drain the remaining.
Add oil to a Dutch oven or deep skillet over medium heat. Add kielbasa and brown for around 3-4 minutes. Remove kielbasa and set aside. Don't clean the pot/skillet.
Add bell pepper and shallots to the pot/skillet and cook for another 3-4 minutes, or until they become tender. Add red chili flakes, Italian seasoning, and garlic. Stir well to combine for around 1 minute.
Add chicken stock, tomato paste, and tomatoes. Stir to combine, then bring the mixture to a boil. Lower the heat to a simmer and cook for around 10 minutes.
Add back kielbasa and pasta to heat through. If the mixture is too thick, add a little reserved pasta water. If it's too thin, cook a bit longer till the mixture is reduced.
Add Parmesan and toss before serving. Add salt and pepper if desired. Serve and enjoy!
Nutrition Information:
Yield:
4
Serving Size:
1
Amount Per Serving:
Calories:

648
Total Fat:

41g
Saturated Fat:

13g
Trans Fat:

0g
Unsaturated Fat:

25g
Cholesterol:

92mg
Sodium:

1775mg
Carbohydrates:

46g
Fiber:

5g
Sugar:

11g
Protein:

25g
Nutrition information is only an estimate and can vary depending on ingredients used.
Which of the kielbasa pasta recipes have you tried so far?
Let us know in the comments below!
For more awesome pasta recipes that you might like, check out the following:
Hearts of Palm Pasta
Chicken Tortellini
Bow Tie Pasta
Ground Turkey Pasta
Pastina
Pappardelle
Ditalini
Creamy Gnocchi
Ground Pork Pasta
Share on your favorite social media platform and tag us @GloriousRecipes – we can't wait to see what you have made!