Goose breasts are dark meat with a rich and robust taste that makes them exceptional for cooking a variety of tasty dishes.
They are also very lean and are loaded with iron and many other essential nutrients, making them a great alternative to more common poultry such as chicken.
Whether you like it roasted, grilled, or pan-seared, we've got you covered with some of the best goose breast recipes that you can easily try at home!
Tip: As geese are red meat birds, the goose breasts' internal temperature should be around 140-150°F (60-65°C) and served medium-rare for the best taste!
A simple way to enjoy goose breast is to slow-cook it until the meat becomes super tender and you just can't go wrong when paired with your favorite BBQ sauce.
The meat is also given depth in flavor by cooking it with onion, Worchestershire sauce, and chicken stock, so you know there'll be plenty of great taste in every bite.
Get some brioche buns and add all that cooked meat in between to enjoy a delicious BBQ pulled goose burger!
For a complete meal, serve some tasty side dishes made from russet potatoes or shredded carrots!
Skinless goose breasts are great for making delicious goose tacos that'll definitely tantalize your taste buds!
Whether you have a Canadian goose breast or snow goose breast on hand, they both work great in this wild game meat recipe!
Placed in a marinade made with soy sauce, beer, and spices, the meat becomes extremely flavorful and when seared in a skillet, they become heavenly tasting.
Assemble in tortillas and serve with your favorite taco toppings to enjoy a hearty meal!
This instant pot goose breast recipe is a must-try in our books because of how easy and convenient it is to whip up an awesome meal!
There's no lack of flavor with beef broth, red wine vinegar, almond milk, paprika, mushrooms, and onions all adding to the incredible taste of the meat and gravy.
Everything is prepared and cooked in under an hour and clean-up is also minimal since we're using an instant pot to do all the cooking.
Serve with your favorite sides for an awesome meal that you can enjoy with the family!
If you've cooked beef steak before, you'll find making this Bourbon-and-Butter Goose Breast a breeze!
The meat is left to cook in a really hot pan and seared so that a nice crust develops on all sides.
The pan is also deglazed with a splash of bourbon and a simple pan sauce is made by adding stock and butter to it.
This simple dish is filled with umami flavor and the bourbon sauce goes extremely well with the meat, and when served with some greens on the side, you'll have a super satisfying meal that's just irresistible!
This is one of our favorite goose breast recipes because of how easy it is to cook the meat and you really only need 2 main ingredients to make it work.
If you haven't tried it before, reverse searing involves cooking the meat at a low temperature first before searing the meat in a hot skillet to finish it off.
This ensures that the meat is cooked to perfection both inside and out, making it a delectable dish that can be enjoyed any time of the day.
Rosemary helps to add some depth to the flavor and a sprinkle of salt and black pepper is all that is required to ensure a delightful meal!
Fruits and meat go superbly well together and this goose breast recipe is sure to be a crowd-pleaser with how incredible it tastes!
Seared in a skillet and cooked to perfection in an oven, the meat is paired with an amazing topping made with apples, raisins, cinnamon, marmalade, red wine, and chicken stock, creating a delectable dish that will whet your appetite.
This sweet and savory dish makes for an awesome dinner and is easy enough to make without having to spend hours in the kitchen!
With how delicious it is, you've definitely got to add it to your meal rotation!
For a complete meal that is bound to impress your friends and family, you've got to check out this incredible sous vide goose breast recipe!
Perfectly cooked meat smothered in a flavorful wild mushroom sauce is paired with a potato cake that has been fried till nicely golden brown, plus a side of Swiss chard to give you all the nutrition you need.
Everything is amazingly tasty and it's a great way to try goose meat if you haven't tried it before!
Just be prepared to be showered with compliments because it's just that delicious!
Try your hands at this fantastic dish that's incredibly delicious with a creamy sauce that adds so much flavor to the meat!
The goose breast is first marinated in a mixture of garlic and red wine vinegar, giving it a wonderful fragrance even before cooking.
Seared in a skillet and roasted in an oven, the meat comes out perfectly cooked and it's smothered in a rosemary mushroom cream sauce that really makes this dish stand out.
Serve with some fragrant white rice to enjoy a wholesome meal!
Mix things up a little and make these amazing goose breasts with an absolutely delicious orange glaze!
The highlight of this dish is of course the glaze that's made with a combination of orange juice, lemon juice, orange zest, garlic, brown sugar, soy sauce, mustard, and caraway.
It's incredibly flavorful and goes extremely well with the meat that is baked together in the oven until nicely cooked.
This sweet, tangy, and savory dish takes only 30 minutes to cook, making it an awesome choice for a delightful weeknight dinner!
Inject some Mexican flair to your next meal with this fantastic slow cooker goose breast recipe that goes extremely well with tortillas!
Cooked in a slow cooker with aromatics, orange juice, lime juice, and beer, the meat becomes extremely tender and is loaded with great flavors that are just irresistible.
Assemble with tortillas and any of your favorite taco toppings such as salsa, pico de gallo, and avocado slices to enjoy a heavenly treat!
Now you know what to prepare for your next Taco Tuesday!
This is one of the most amazing smoked goose breast recipes and an awesome way to make some cured meat!
With the help of pink salt, brown sugar, and other herbs and spices, the meat is cured and given a dry rub before it is smoked.
It is super delicious and a dipping sauce such as mustard serves only to elevate the taste even further, making it a tasty delight.
If you're feeling adventurous, try pairing it with Tiger sauce or Bitchin' sauce, which goes super well with the meat as well!
Turn up the heat with this exceptional recipe that combines goose breast and sweet chili sauce to create a dish that you'll definitely keep coming back to!
You only need a handful of ingredients to make this dish and everything comes together really quickly so you can enjoy a delicious meal in no time at all!
Garlic and onion add fragrance to the meat and everything is covered with sweet chili sauce and simmered until the sauce thickens.
If you love spicy food, we've no doubt that you'll love this incredible dish that's quick and easy to whip up!
Grace your taste buds with this fantastic goose breast with rosemary fig sauce that's absolutely delicious and it's so easy to make!
The meat is perfectly seared in the skillet and roasted in the oven, giving it a nice color with a mouth-watering crispy skin.
Red meat goes exceptionally well with sweet sauces and the rosemary fig sauce provides the right balance of sweet and tangy flavors to enhance the taste of the meat.
Pair it with your favorite sides and enjoy a delightful meal with this simple recipe!
If you have a sous vide machine, this recipe will come in handy for cooking amazingly tasty goose breasts that everyone will definitely enjoy!
A mixture of salt, pepper, onion powder, and rosemary helps to impart depth and complexity to the flavor while keeping the overall taste simple, making it a delightful dish that goes well with all kinds of side dishes.
If you want to add variety to it, season the meat with salt, honey, orange slices, and rosemary for a sweet flavor that's superbly tasty as well!
It's ridiculously easy to make and a great way to cook goose breasts, especially if you're doing it for the first time!
When it comes to wild game meat, one of the classic ways to prepare them is by wrapping them in bacon.
Marinated in teriyaki sauce, the meat becomes super flavorsome and oozes umami with every bite.
Wrapping the meat in bacon and grilling them to perfection brings out all the wonderful flavors that make them such an addictive treat, which is why bacon-wrapped recipes are a mainstay for all kinds of meat!
You'll be hard-pressed to stop at one serving because they are just that delicious!
In what is one of our favorite wild goose breast recipes, this fantastic dish brings together a perfect combination of orange and meat to create a mouth-watering delight!
Citrus works extremely well with red meat and ouzo only helps to elevate the flavor even further, making it an incredible dish that everyone can enjoy.
Add shallots, fennel, and chili into the mix, and you have a superb dish that's loaded with complex flavors to turn it into an impressive meal.
It's a fancy yet easy-to-make dish, and is sure to be a crowd-pleaser any time of the year!
Make your next meal a little special with this amazing goose stroganoff that's super delicious and a great dish to add to your cooking repertoire!
The meat is brined to remove the gamey flavor and it's smothered in a sour cream sauce with egg noodles to complete this fantastic dish.
Mushrooms and beef broth help to enhance the dish even further and you'll end up with a plate of tasty stroganoff that is just irresistible.
It's an awesome alternative to beef stroganoff that tastes as good, if not even better than the classic dish!
Savor delicious goose breasts with an awesome blackberry sauce that's well-balanced between sweet and tangy with this incredible recipe!
Seared and cooked on a skillet to perfection, the meat is laid on top of the amazing sauce that's made with fresh blackberries, sugar, lemon juice, lemon zest, and cinnamon.
Crispy skin, tender meat, and flavorful sauce make for a fantastic meal that you will definitely devour because it's amazingly tasty!
It's quick and easy to whip up, making it a great option for a tasty weeknight dinner!
For an easy and straightforward goose breast recipe that even beginner home cooks can make, check out this Burgundy Grilled Goose!
Marinated in a mixture of burgundy, garlic, and rosemary, the meat is loaded with simple but incredible flavors that make it a delightful dish.
A simple seasoning of poultry seasoning and black pepper is enough to bring out the best flavors of the goose breasts and you get to enjoy a wholesome meal when paired with other side dishes!
Try it once and you might just have a new favorite dish that you'll develop a craving for!
Add some European flair to your next meal with this fantastic Canada Goose Paprikash and Spaetzle that's absolutely delicious and a must-try dish!
The goose breasts are slow-cooked with tomatoes, paprika, vegetables, wine, stock, and other wonderful ingredients until they become extremely tender and super tasty.
When paired with spaetzle, the combination becomes a heavenly delight that makes for a satisfying meal!
Serve with your favorite lager beer for maximum enjoyment of this incredible dish!
At Glorious Recipes, we have our favorite Seared and Roasted Goose Breasts that we absolutely adore and taste heavenly! Check out the recipe below!
Yield: 2
Seared and Roasted Goose Breasts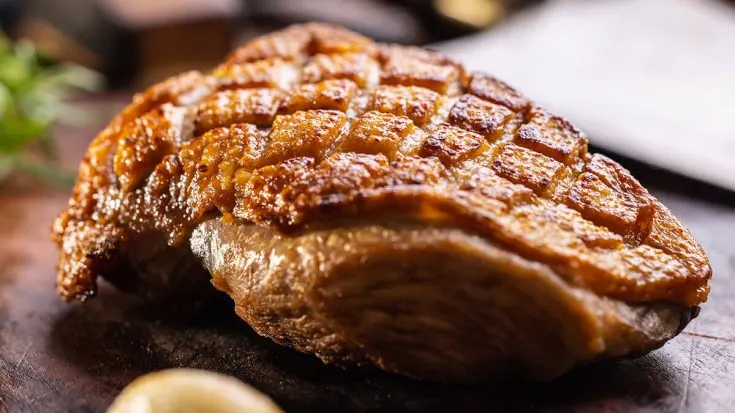 Enjoy perfectly seared and roasted goose breasts with this simple recipe that you can pair with any of your favorite sauces!
Ingredients
2 goose breasts
salt, to taste
black pepper, to taste
Instructions
Start by preheating the oven to 350°F (or 175°C).
Ensure that the meat is at room temperature. Pat dry the goose breasts with paper towels. Score the skin carefully without touching the meat. Season with salt and black pepper to taste.
Add goose breasts skin side down to an oven-safe skillet at medium-high heat. Sear for around 5 minutes to ensure a crispy skin before flipping it over and searing the other side for another 5 minutes. Use a tong to sear the sides if required for 1-2 minutes.
Use a paper towel to remove excess oil on the skin, then place the skillet into the oven to cook for 8-10 minutes, or to desired doneness. We recommend an internal temperature of 140-150°F (60-65°C) for medium-rare.
Pair it with your favorite sauce and enjoy wonderfully cooked meat!
Nutrition Information:
Yield:
2
Serving Size:
1
Amount Per Serving:
Calories:

89
Total Fat:

6g
Saturated Fat:

2g
Trans Fat:

0g
Unsaturated Fat:

4g
Cholesterol:

26mg
Sodium:

311mg
Carbohydrates:

1g
Fiber:

0g
Sugar:

0g
Protein:

7g
Nutrition information is only an estimate and can vary depending on ingredients used.
Which of the goose breast recipes have you tried so far?
Let us know in the comments below!
For more awesome wild game meat recipes, check out the following:
Pheasant
Quail
Quail Eggs
Dove
Elk Steak
Ground Elk
Ground Bison
Turkey Tenderloin
Share on your favorite social media platform and tag us @GloriousRecipes – we can't wait to see what you have made!