Mulberries have just the right amount of sweetness and tartness that makes them so refreshing and delicious!
They are also packed with vitamins, essential minerals, and antioxidants, making them a nutrient powerhouse.
Every bite of these wild berries is bursting with incredible flavors that are sure to tantalize your taste buds.
From tasty pastries to cocktails, we've got you covered with some of the best mulberry recipes that you can easily try at home!
Indulge in an exceptional dessert with this fantastic Mulberry Crumble Ice Cream that's incredibly delicious!
It's a delightful combination of mulberry compote and an ice cream base made with heavy cream, creme fraiche, sugar, egg yolks, and other lovely ingredients.
Topped with a crumble mixture, this ice cream nails the perfect blend of flavor and texture to create the ultimate frozen dessert.
It tastes especially good on a warm and sunny day!
This tasty cake looks harder to make than it actually is and it tastes absolutely amazing!
With yogurt, vanilla, mulberries, and lemon zest, you're guaranteed plenty of incredible flavors and you'll be hard-pressed to stop yourself at just one slice.
It's completed with a drizzle of a simple glaze made by combining lemon juice and confectioners' sugar, making an already delicious cake even more awesome.
For something so palatable and easy to make, this cake definitely makes it to our list of favorite mulberry recipes!
Enjoy an amazing sweet treat with this lovely cobbler that's superbly tasty and is sure to whet your appetite!
A mulberry filling of berries, sugar, lemon juice, and cornstarch, is topped with a flavorful batter before being baked in the oven until a nice golden brown color is achieved.
Served with a topping of vanilla ice cream, this cobbler is a heavenly delight and makes for the perfect post-dinner dessert.
Try it for your next meal and you'll be pleasantly surprised by how good it tastes!
Don't skip on these fluffy and delicious muffins because they taste absolutely fantastic and make for an awesome sweet treat!
It's incredibly easy to whip up as well with the usual baking ingredients in flour, sugar, salt, eggs, milk, butter, and of course the star of the dish, mulberries.
Baked in the oven until set, these muffins are super satisfying and they are perfect as a mid-day snack, breakfast, or even supper!
Give it a try and you'll definitely not be disappointed!
Making your own tasty jam at home is ridiculously easy and with this recipe, you'll get to enjoy a flavorful Mulberry Jam all year round!
With the help of pectin to thicken things up, this jam is a breeze to make with only berries, lemon juice, and sugar required.
Pair it with homemade bread, crackers, meatballs, or basically anything you want because it's just that delicious!
You don't have to rely on store-bought jams anymore once you've mastered this simple mulberry jam recipe!
Try your hands at making this excellent pie that's crazy delicious and is sure to delight your taste buds!
The filling is an amazing mixture of mulberries, arrowroot powder, lemon juice, sugar, and salt, plus chunks of butter on top that'll melt beautifully when baked.
It's made easy by using premade pie crusts and you can make the top layer fanciful by cutting strips and twisting before baking.
This mulberry pie recipe can definitely impress with its great flavor and awesome visuals!
Discover an awesome dessert with this delicious mousse that's perfect for a refreshing post-meal treat any day of the week!
Made by blending a delectable combination of mulberries, lemon juice, and orange rind, plus the addition of Cointreau, cream, and mascarpone, this mousse is extremely flavorful and enjoyable.
Served in a little glass and a garnish of mulberry, this is a welcome dessert you'll definitely have room for in your stomach because it's just that tasty!
Retain the seasonal flavor of mulberries with this simple recipe to make a syrup that you can pair with anything you want!
It's ridiculously easy to make and all you need to do is blend the berries before straining and heating the juice with sugar to create the syrup.
You can utilize the syrup in a wide variety of dishes, including pancakes, waffles, beverages, or even savory food!
Let your creativity run wild and enjoy this awesome syrup!
This fantastic curd is extremely tasty and super versatile as you can pair it with yogurt, scones, toast, and many other dishes!
Mulberry purée is mixed with butter, lemon juice, sugar, and eggs to create the curd, and it's a breeze to make if you have a Thermomix, but if not, it doesn't take much effort to make with a stovetop either.
It's the ideal ingredient to give an easy upgrade for a fabulous breakfast or brunch, and with how easy it is to make, it'll definitely be one of your favorite mulberry recipes!
Level up your baking skills with this incredible dessert that's crazy delectable and will definitely be a hit with the crowd!
This galette involves a sweet mulberry filling with an irresistible crust that's baked in the oven until perfectly browned.
Topped with a flavorsome vanilla sauce, this pastry tastes out of this world and you'll be tempted to have more than one serving.
Everyone will be fighting for seconds with how delicious it is!
Spice up your next meal with this amazing chutney that's loaded with bold flavors and tastes absolutely terrific!
Made with fresh mulberries, apples, onion, honey, ginger, and other delightful ingredients, this is a condiment you just can't miss out on!
It has a well-balanced sweet and spicy flavor that's super addictive and you'll love the kick it gives you with every bite!
You can use it in burgers, cold meats, cheeses, and many other dishes to give them a simple enhancement with this simple chutney!
Expand your breakfast options with these superb scones that are super tasty and really easy to make!
It's a delightful mix of berries, flour, yogurt, sugar, egg, and many other common baking ingredients, all combined and baked until the scones develop a beautiful golden brown color.
Drizzled with a simple lemon glaze, these scones are incredibly flavorsome, delicious, and refreshing.
If you feel like having something special for breakfast, you'll definitely not be disappointed by them!
For a splendid mulberry dessert or breakfast, you've got to check out these tasty danishes that are sure to satisfy any sweet cravings!
The rich cheesecake filling tastes absolutely amazing and it's encrusted with a puff pastry that has a fantastic flaky texture.
Drizzled with a white and pink glaze made with lime juice and sugar, these pastries have a tangy flavor that makes them super appetizing.
This simple mulberry recipe is an absolute must-try in our books!
Reward yourself with this lovely tea cake that's elegant, classy, and an absolute joy to pair with your favorite cup of tea!
With only 8 ingredients required to make this tasty cake, this is one of the easiest mulberry recipes that you can try.
Flour, sugar, butter, eggs, yogurt, ground almonds, lemons, and of course, mulberries are all you need to bake this delicious cake.
There's nothing not to like about this tea cake with its incredible flavor!
It's always interesting to try out new things and if you've never baked with a skillet before, this simple recipe has got you covered!
Don't worry, because it's as easy as adding a cake batter to a mixture of melted butter, sugar, and berries in an oven-proof skillet before placing the skillet into the oven to bake until done.
Once fully baked, the skillet is turned upside down to remove the cake and then it's ready to be served!
To maximize the enjoyment of this tasty cake, serve it with a scoop of ice cream!
This terrific crumble cake will leave you smiling from ear to ear with how incredibly tasty it is!
The crumble helps to elevate this cake to another level with its amazing texture and mulberries make this an absolutely delightful sweet treat that's perfect for an awesome dessert.
With how delectable this crumble cake is, you might just devour the entire cake in one sitting!
Top with fresh mulberries to make it even more delicious!
Impress your friends and family with this top-notch dessert that's superbly tasty and definitely one of our favorite mulberry recipes for a fantastic post-meal treat!
It's an appetizing combination of berries and pudding to create this delicious clafouti that's loaded with great flavors and textures.
Every bite of this lovely dessert brings about the perfect blend of fresh fruits and custard that makes it extremely enjoyable.
Give it a try and it might just turn into a family favorite!
Savor these fantastic tarts that are so amazingly delicious, you'll definitely develop a craving for them all year round!
The sweet and tart flavors of mulberries pair extremely well with the buttery tart base, making it a wonderful dessert or snack that's sure to satisfy any appetite.
Baked until golden brown and completed with a dusting of icing sugar, these heavenly-tasting tarts are an absolute must-try whenever you have some fresh mulberries on hand!
If you've never tried a buckle before, you've definitely got to check out this wonderful recipe that makes an exceptional dessert!
Delicious fresh berries are used to top a thick cake batter and pressed in to give an indented look, hence the name!
Everything goes into the oven and comes out piping hot with a lovely golden brown appearance and the fantastic textures and flavors are sure to turn you into a buckle lover!
Everyone loves a good frozen treat on a hot and sunny day and this sorbet definitely doesn't disappoint!
It's incredibly easy to make with only 4 ingredients and an ice cream maker required!
A little liqueur is added to jazz up this terrific sorbet and you'll love how awesome it tastes once you've had your first bite!
With how easy it is to make something so delicious, this is definitely one of our favorite mulberry recipes as well!
Enjoy an exceptional sweet treat with these Mulberry Cookies that are insanely delicious and super addictive!
These cookies are made by filling cookie dough with luscious mulberry jam before being baked in the oven until they are set and ready to be eaten.
A word of warning, once you start on these delicious cookies, you just can't stop!
Don't wait any longer and make these tasty cookies soon!
This velvety smooth Panna Cotta is the perfect elegant dessert to finish any meal and it's really easy to make with this simple mulberry recipe!
It's an amazing combination of vanilla paste, milk, cream, sugar, and gelatin to create the custard and it's topped with a delicious mulberry compote that gives contrast to the flavor and brings the dessert to a whole new level.
Completed with a garnish of chopped walnuts and pistachios, this is a simple dessert that you absolutely have to try!
This is one of the easiest mulberry recipes with only 3 ingredients required to make an awesome jelly!
All it takes is to boil juice from fresh mulberries, sugar, and pectin before processing it in a canner.
It's incredibly straightforward and you'll get to enjoy tasty jam in no time at all.
Use it on toast, biscuits, and more to give an easy upgrade to your meals!
Indulge in a nectarous frozen treat with this fantastic Mulberry Ice Cream that's creamy, decadent, and absolutely delicious!
A mulberry sauce is extracted by using either fresh or frozen mulberries and combining them with maple syrup, tapioca starch, and water, before being folded into a vanilla ice cream base to create the ice cream.
You can make this by stirring or if you have an ice cream maker, you can let it do all the heavy lifting for you!
This amazing mulberry recipe makes a lovely tart that's superbly tasty and is perfect for a splendid dessert!
It's a tantalizing combination of a sweet tart crust and a filling of mulberries, black pepper, cardamom, lime juice, and other delightful ingredients.
Everything comes together really well to create this fantastic tart that's crazy delicious and just irresistible.
You'll be surprised by how yummy this tart is once you've taken your first bite!
Sip on the perfect summer beverage with this Mulberry Lemonade that's tasty and refreshing, perfect on a warm afternoon!
This delicious drink is a mixture of mulberry purée, lemon juice, and club soda, with well-balanced sweet and tangy flavors plus an invigorating fizz.
With how amazing it taste, one glass will definitely not be enough!
One of the most beloved mulberry recipes is this mojito that's so delicious and refreshing, you can sip on it all day long!
It's a terrific combination of rum, lime juice, mint leaves, mulberries, and soda, with all the flavors coming together extremely well to create this wonderful cocktail.
Finish off with a garnish of mint leaves and lime wedges to complete this lovely drink and get your boozy fix!
If you're more of a gin person, you've got to try out this excellent Fresh Mulberry Bramble recipe!
Fresh mulberries are muddled in a glass before maple syrup, gin, and lemon juice are added to complete this delightful cocktail.
It's an energizing drink that can make you feel refreshed in an instant and with only basic ingredients required to make this beverage, this might just make it to your list of favorite summer cocktails!
Love the combination of lemon, gin, and mulberries but thinking of how to enhance the cocktail even more?
Fizz it up with some club soda!
The bubbles help to make the cocktail extra refreshing and you'll probably lose count of the number of glasses you've had because it's just so irresistible!
Try it soon and you'll definitely not regret it!
Expand your cocktail options with this brilliant drink that's incredibly easy to make and tastes absolutely fantastic!
Mulberries, blood orange juice, and sugar are first boiled to dissolve the sugar and break down the fruits before being blended, strained, and reduced into syrup.
Combine it with your favorite sparkling wine or champagne and you'll have an excellent cocktail to enjoy!
At Glorious Recipes, we have our favorite Easy Mulberry Sorbet that we absolutely adore and it tastes heavenly! Check out the recipe below!
Yield: 2
Easy Mulberry Sorbet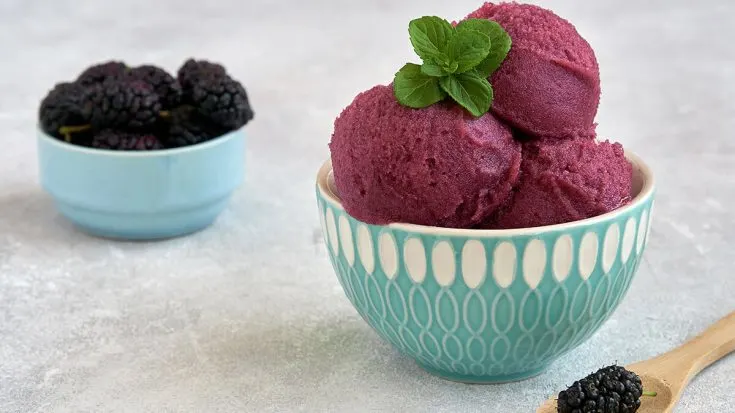 Indulge in a refreshing and delicious Mulberry Sorbet that's super easy to make and you don't need an ice cream maker for it!
Ingredients
8 oz frozen mulberries
4 tbsp simple syrup
a squeeze of lemon juice
Instructions
Add frozen mulberries to a food processor and start pulsing. Add syrup one tablespoon at a time while pulsing until all the syrup has been added and the mixture becomes a sorbet-like paste. Add lemon juice and blend for 2-3 seconds to combine. Add water if required to achieve the paste-like consistency.
Serve and enjoy!
Nutrition Information:
Yield:
2
Serving Size:
1
Amount Per Serving:
Calories:

122
Total Fat:

0g
Saturated Fat:

0g
Trans Fat:

0g
Unsaturated Fat:

0g
Cholesterol:

0mg
Sodium:

12mg
Carbohydrates:

30g
Fiber:

2g
Sugar:

28g
Protein:

2g
Nutrition information is only an estimate and can vary depending on ingredients used.
Which of the mulberry recipes have you tried so far?
Let us know in the comments below!
For more awesome recipes that you might like, check out the following:
Prickly Pear
Dried Cherry
Asian Pear
Sour Cherry
Entremet
Jello Jigglers
Kohakutou
Crepini
Ninja CREAMi
Dash Waffle Maker
Share on your favorite social media platform and tag us @GloriousRecipes – we can't wait to see what you have made!