Malabar spinach is a nutritious and leafy vegetable that can be used in soups, stir-fries, curries, or just eaten raw in a salad.
They are beneficial to health and nutrient-dense, as they are rich in vitamins A and C, as well as folate and manganese.
With its high nutritional value and versatile uses, there are many Malabar spinach recipes that you can try to incorporate this lovely vegetable into your next meal.
They are also known as Chinese spinach, Ceylon spinach, and vine spinach among other names, and are native to tropical Asia.
There are 2 varieties of Malabar spinach – red and green, with green being the more common one.
You can find them in Asian supermarkets or farmers' markets as they have been gaining in popularity.
We are excited to share with you 12 of the best Malabar spinach recipes for you to try at home!
Whip up a mouth-watering meal with this easy Tomato-Malabar Spinach Quiche recipe that is baked to perfection!
Crispy pie crust with a filling of tomato base, onion rings, garlic, Malabar spinach, basil, and potatoes, topped with a rich and creamy mixture of egg, milk, and cheddar cheese, this quiche is just so amazing.
This tasty quiche is definitely a crowd-pleaser with how delicious it is, and it's very flexible with the ingredients.
You can easily add more herbs and aromatics to enhance the flavor or modify it to suit your taste.
It's one of the best Malabar spinach recipes that we love!
Malabar spinach is often used in Chinese stir-fry recipes and it is absolutely delicious when paired with a flavorful sauce.
In this tasty stir-fried Malabar spinach recipe, the vegetable is cooked together with small pieces of steak, mushroom, and garlic.
A delightful combination of sugar, sake, oyster sauce, and water is mixed together to create a sauce that fully complements the vegetable, steak, and mushroom.
Add some cornflour to thicken it and serve it with rice for an awesome meal!
For a light and comforting bowl of soup, check out this quick and easy Chinese-styled Malabar spinach soup recipe.
It's a quick-boil recipe so you don't need to wait half a day till you get to enjoy the tasty soup, perfect for busy individuals after a long day at work.
The soup base is made up of dried anchovies and ground pork, which makes the soup really flavorful and addictive.
Salted duck egg is added for additional depth to the flavor and we absolutely love the combination.
Pair it with a bowl of steamed rice for a warm and hearty meal!
Malabar spinach can also be used in a traditional Vietnamese version of light and clear soup that is really tasty as well.
In this Malabar spinach recipe, ground beef is first seasoned and sautéd before water and other seasonings are added to create a soup base to cook the vegetable.
As with most Vietnamese dishes, you can't miss out on using fish sauce for this recipe to season both the beef and stock.
Serve with fragrant steamed rice and a side of protein for an Asian-themed meal!
If you fancy some homemade Indian snacks, this Malabar spinach fritters recipe will be perfect for you.
It's a really simple recipe, but you'll need to hunt down some instant bajji mix at your local Indian grocery store.
It's a mixture of flour, seasonings, and asafoetida.
To make these delicious Malabar spinach fritters, it's just about mixing the Malabar spinach with the instant bajji mix and water to create a batter.
Fry them in a pot of oil till golden brown and you'll be munching on this crispy Indian snack in no time!
Enjoy a fantastic side dish with this Malabar Spinach and Wild Mushroom Stir-fry that's amazingly delicious and so easy to make!
The spinach and mushrooms are cooked together with a delectable mix of ginger, garlic, green onions, and soy sauce, ensuring plenty of great flavors to create an irresistible dish.
It's incredibly simple to whip up and you'll be enjoying a tasty plate of Malabar spinach before you even know it.
Pair it with steamed white rice and enjoy a hearty meal along with your favorite protein!
For another amazing salad combination, try out this Sweet Potato & Malabar Spinach recipe that is super yummy.
The sweet potato helps to fill your stomach and the sweetness is a great addition to the salad.
Onions are mixed with tamarind sauce and provide complexity and depth to the flavor, and definitely complement really well with the sweet potato and Malabar spinach.
Top with sunflower seeds and you have an exceptional salad on hand!
If you want something more exotic, this popular Indian dish will surely provide that.
Malabar Spinach in Prawn Gravy is made with dried shrimp, Malabar spinach, prawns, coconut milk, chilies, and a whole bunch of spices and aromatics.
It is extremely flavorful and is great when paired with rice, bread, or naan.
The heat of the dish will warm you right up and is great for a chilly day.
You'll be craving more once you've tasted it!
Malabar spinach is also frequently used in Indian curries and this particular recipe mixes the vegetable with black-eyed peas to create an amazing curry.
The blend of spices results in such a flavorful curry and it smells and tastes wonderful.
Adjust the number of chilies accordingly to tweak the heat level of this curry as it can get really spicy.
Serve with rice on the side and you're bound to have a delicious meal!
Try something new for your next brunch and swap the bright red tomatoes in your regular shakshuka recipe for the green in Malabar spinach, tomatillos, jalapeños, and cilantro.
This beautiful dish is spicy and tangy, it tastes absolutely amazing, and is one of our favorite Malabar spinach recipes.
Along with a spice blend of cumin, coriander, caraway, and turmeric, this delicious shakshuka will quickly become a new family favorite.
Pair it with some crusted bread or garlic bread for a hearty weekend brunch!
Made with a variety of aromatics, potatoes, and Malabar spinach, these tasty spinach cutlets are perfect for mid-day snacks or to be served as a side dish during dinner time.
The spinach leaves are first cooked in aromatics and spices along with the potatoes before being shaped into flattened oval-sized balls.
Gram flour is used to coat these balls and then they are fried till they reach a beautiful golden brown color.
The cutlets are spicy and delicious, exactly how we like our Indian snacks to be!
This Spinach Salad with Bacon and Roasted Mushrooms is perfect for a low-carb and keto diet, plus it's super easy to make.
Start by roasting bacon, mushrooms, and onions in the oven till the bacon is nice and crisp.
The dressing is made by combining olive oil, lime juice, oregano, and salt, then popped into the microwave oven to heat it up.
The bacon, mushrooms, and onions are set on top of Malabar spinach, and the dressing is drizzled over the salad to complete it.
It's a tasty salad that you'll never get sick of!
At Glorious Recipes, we have our favorite Malabar spinach recipe that is quick and easy to whip up, plus it tastes really delicious. Pair it with steamed rice for a simple but nutritious meal!
Yield: 3
Malabar Spinach Stir-Fry with Pork and Mushrooms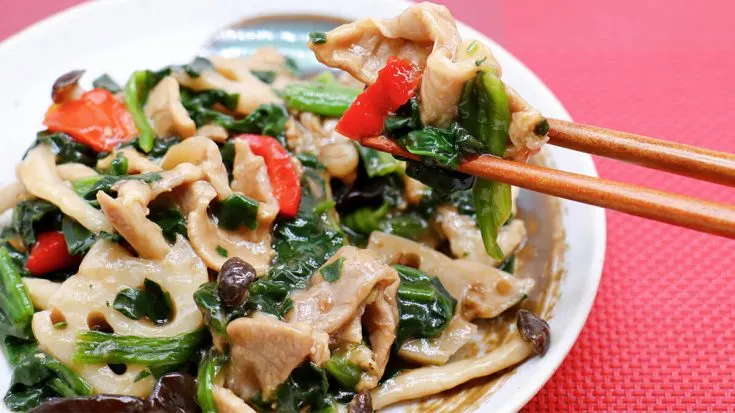 Malabar spinach is stir-fried together with pork and oyster mushrooms to create this delicious dish and is favored among Chinese and Thai cuisines.
Ingredients
20 oz Malabar spinach
4 oz oyster mushrooms
10 oz boneless pork (lean meat)
3 cloves garlic
2 red chilies
2 tbsp oil
¼ cup stock
1 tbsp fish sauce
2 tbsp oyster sauce
Instructions
Wash Malabar spinach and drain. Cut stems if they are too long and discard the large fibrous ones.
Slice mushrooms and pork into thin slices, about ⅛ inch thick.
Mince garlic and chilies, discarding the chili seeds.
Combine stock, fish sauce, and oyster sauce together in a small bowl.
Add oil to a heated pan or wok. Sauté garlic until it's just starting to turn brown. Add pork and stir-fry for a few minutes, then add mushrooms and continue to stir-fry until pork and mushrooms are cooked. Add Malabar spinach and give a quick toss before pouring the mixed sauce in. Cook gently over low-medium heat until spinach is just cooked and add in chilies last for a quick stir.
Serve with steamed rice and enjoy!
Notes
Do not overcook the Malabar spinach as it will turn slimy.
You can also briefly boil the oyster mushrooms beforehand so that they are easier to cook and won't turn soggy so easily.
Nutrition Information:
Yield:
3
Serving Size:
1
Amount Per Serving:
Calories:

395
Total Fat:

23g
Saturated Fat:

5g
Trans Fat:

0g
Unsaturated Fat:

16g
Cholesterol:

84mg
Sodium:

1023mg
Carbohydrates:

15g
Fiber:

6g
Sugar:

3g
Protein:

34g
Nutrition information is only an estimate and can vary depending on ingredients used.
Which of the Malabar spinach recipes have you tried so far?
Let us know in the comments below!
For a side of protein to be served alongside Malabar spinach, try some Pork Jowl, Black Pepper Angus Steak, or Ground Veal recipes!
Or check out the following for more awesome vegetable recipes:
Cubanelle Pepper
Black Garlic
Mayocoba Beans
Daikon
Frozen Okra
Romanesco
Recipes with Refried Beans
Share on your favorite social media platform and tag us @GloriousRecipes – we can't wait to see what you have made!