Move over zoodles, because hearts of palm pasta is the new star in the alternative pasta scene!
Hearts of palm pasta is suitable for a wide array of diets as it's grain-free, gluten-free, plant-based, keto-friendly, vegan-friendly, low-carb, and low-calorie.
It has a neutral taste with mild citrusy notes, and an al dente texture when cooked, making it the perfect pasta substitute!
While it doesn't have tons of nutrients in a single serving, hearts of palm pasta is still great for supplementing your vegetable intake as it has decent amounts of essential minerals per serving.
Just make sure you boost the nutrient profile of your dish with colorful vegetables and other protein to make it a wholesome meal!
From Palmini to Trader Joe's, hearts of palm pasta is widely available under a few different brands and you can easily find it at your local grocery store.
Whether you like creamy pasta or pasta bakes, we've got you covered with some of the best hearts of palm pasta recipes that you can easily try at home!
No time to make your sauce from scratch?
Don't worry as this simple recipe uses store-bought pasta sauce to make an exceptionally tasty dish that's perfect for a quick and easy meal!
Ground beef is sautéed with a variety of herbs and spices before being combined with marinara sauce to create a bolognese sauce that's superbly flavorful.
Completed by tossing with hearts of palm pasta, this is a straightforward dish that doesn't require much effort to make!
This 15-minute pasta dish is great when you have a lack of time but still want to put quality food on the table!
Everyone loves a good one-pan recipe because it's so easy and convenient with minimal clean-up, and this Low Carb Pasta is exactly that!
Hearts of palm pasta is combined with chicken sausages, onion, garlic, diced tomatoes, and spinach to create a tasty dish that's healthy and full of wonderful flavors.
Everything comes together really quickly and you'll be enjoying a delicious meal in no time at all!
Top with grated Parmesan cheese to enhance the flavor of this delightful pasta dish further!
In what is one of our favorite hearts of palm pasta recipes, this creamy pasta dish brings together some of our beloved ingredients to create a mouthwatering delight!
Featuring sautéed mushrooms, spinach, and pasta noodles smothered in a flavorsome sauce that's made with tomato paste, beef broth, Italian seasoning, heavy cream, and green onions, this is a dish that you definitely don't want to miss out on.
Every bite is immensely satisfying and you'll love how delicious this pasta dish is for something so easy to whip up.
Add this to your pasta rotation and your family will definitely love it!
If you're looking for a simple keto-friendly meal, you've got to check out this easy hearts of palm pasta recipe!
It's a delectable combination of bacon, garlic, and pasta, coated with a savory Alfredo sauce made by whisking butter, heavy cream, cream cheese, and Parmesan cheese together.
Taking only 15 minutes to prepare from start to end, this tasty pasta dish is perfect for an awesome weeknight dinner!
Easy to make and delicious, just how we like our recipes to be!
Discover your next favorite comfort food with this Cheesy Hearts of Palm Pasta Bake that's amazingly delicious and super easy to whip up!
This dish involves a lovely combination of pasta noodles, Italian sausages, garlic, marinara sauce, Parmesan cheese, and mozzarella cheese, all baked in the oven until a melted cheesy top is achieved.
Dried herbs, such as oregano and basil, help to add complexity to the flavor of the dish and it tastes absolutely heavenly!
This hearty pasta bake will surely satisfy any appetite!
Keep it simple with this Garlic Butter Hearts of Palm Pasta that requires only 4 main ingredients to get going!
It's ridiculously easy to make and all you need to do is add garlic and butter to a skillet and cook until the garlic flavor is infused into the melted butter before mixing in pasta and Parmesan cheese.
A cheesy crust will develop on the pasta that adds plenty of amazing texture and flavor to this wonderful dish!
Combine them with your favorite protein to enjoy an easy but tasty meal!
The next time you head to Trader Joe's to pick up your hearts of palm pasta, make sure to get a bottle of Cajun Style Alfredo Sauce as well because the two go extremely well together!
Add shrimp and sweet peppers into the mix, and you'll have a hearty and wholesome pasta dish that's an easy crowd-pleaser!
This pasta dish is straightforward to whip up, and with how delicious it is, it's a no-brainer to add to your pasta rotation.
Give this recipe a try and you'll definitely not regret it!
Give a simple twist to classic lasagna by using hearts of palm lasagna sheets instead for a comforting meal any day of the week!
Made with layers of pasta sheets, mozzarella cheese, Parmesan cheese, and a mix of ground turkey, marinara sauce, ricotta cheese, and basil leaves, this is baked pasta at its very best!
All that melted cheese makes this an incredibly satisfying dish and you'll easily develop a craving for this delightful pasta dish once you've given it a try.
This hearty lasagna is one of our very favorite hearts of palm pasta recipes!
Introduce a new side dish or appetizer to your meals with this fantastic hearts of palm pasta recipe that you'll want to keep handy!
The vegetable pasta is combined with cherry tomatoes, cucumbers, avocado, and basil, all tossed in a simple dressing of oil, Dijon mustard, garlic, and lemon juice to create a flavorsome hearts of palm pasta salad.
It's simple to make, tastes absolutely amazing, and has tons of nutrients thanks to all the vegetables included in this dish.
Serve with your favorite protein to turn it into a complete meal!
Whip up a terrific meal with this Palmini Pasta Shrimp Stir Fry that's superbly tasty and sure to whet your appetite!
It involves stir-frying a delectable combination of hearts of palm pasta, shrimp, and spinach, with cayenne pepper, black pepper, thyme, and bouillon powder added to make this dish extra delicious.
This pasta dish is easy to prepare and everything happens in one pan, making it a fabulous recipe with minimal hassle!
You'll love how flavorful it is for something so simple to make!
Savor a terrific meal with this brilliant Hearts of Palm Pasta Primavera that's loaded with plenty of vegetables!
Roasted tomatoes, sautéed zucchini, corn, and pasta come together in this outstanding dish and it's made even tastier with the addition of feta cheese, Parmesan cheese, and fresh herbs.
The ingredients all play their part to create a wonderfully refreshing pasta dish and it tastes out of this world!
With tons of nutrients in a single dish, you definitely need to give this a try!
This is one of our favorite hearts of palm pasta recipes because it makes a superb dish that's filled with refreshing flavors!
Pasta noodles are combined with spinach, arugula, basil, and cherry tomatoes in this vegan dish and it's completed with the addition of lemon juice to impart an amazing citrusy flavor.
The combination of the tender hearts of palm pasta and the vibrant vegetables creates an appetizing dish that's incredibly delightful to the taste buds.
Whether you're looking for a quick dinner or a light lunch, you're sure to enjoy this pasta dish with its invigorating taste!
Dig into this splendid pasta dish that's filled with amazing flavors and it's unbelievably easy to whip up!
Hearts of palm pasta is combined with pesto sauce and shrimp to create an exceptionally delectable dish with plenty of great flavors.
This classic combination works really well and the herbaceous flavors of the pesto sauce help to provide complexity to the dish, making it an absolute treat!
There's nothing not to like about this quick and easy hearts of palm pasta recipe!
Treat yourself to a sensational meal with this fantastic sausage ragu pasta that's sure to captivate your taste buds!
There's no lack of flavor with bratwurst sausages, port wine, garlic, tomatoes, bay leaves, fennel seeds, carrots, and oregano used in the making of the ragu and it's absolutely mouthwatering.
Combined with hearts of palm pasta, this is a superbly satisfying dish that has a symphony of flavors that is hard to beat.
Everyone will be asking for the recipe because it's just that delicious!
Make a delightful pasta dish with this simple recipe that's perfect for a quick and easy weeknight meal!
This dish features a lovely combination of hearts of palm pasta, asparagus, cherry tomatoes, and grilled chicken, all sautéed until nicely cooked and the flavors meld.
Spice it up with your favorite seasonings to make it extra tasty and you'll have an awesome dish that takes little effort to whip up!
With this recipe, you won't need to spend a lot of time in the kitchen to make a delicious meal!
Ramp up your pasta dish with this excellent recipe that combines hearts of palm pasta with a flavorful homemade arugula pesto sauce!
The star of this dish is the pesto sauce that's made by blending a mix of arugula, garlic, Parmesan cheese, walnuts, almonds, oil, salt, and pepper, and it adds plenty of depth to the flavor, making the pasta incredibly tasty.
Sun-dried tomatoes lend a little tangy sweetness to the dish and the combination hits all the right spots for an irresistible meal.
We have no doubts that this will quickly become one of your favorite hearts of palm pasta recipes!
You'll love all the wonderful flavors present in this simple dish!
At Glorious Recipes, we have our favorite Hearts Of Palm Pasta Bolognese that we absolutely adore and it tastes heavenly! Check out the recipe below!
Yield: 4
Hearts Of Palm Pasta Bolognese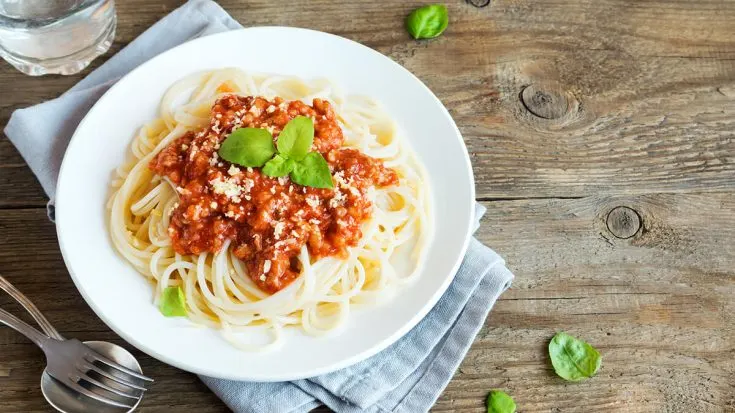 This Hearts of Palm Pasta Bolognese is a quick and easy way to enjoy a delicious classic pasta dish!
Total Time
1 hour
10 minutes
Ingredients
2 tbsp olive oil
¾ to 1 lb ground beef
1 white onion, diced
2 cloves garlic, chopped
1 medium carrot, grated
2 x 14 oz canned chopped tomatoes
3½ cups stock (beef, chicken, or vegetable)
dried herbs, to taste (optional)
12oz hearts of palm pasta
salt and pepper, to taste
basil leaves or parsley, freshly chopped for garnish (optional)
Instructions
Add 1 tablespoon of oil to a large skillet or saucepan over medium-high heat. Add ground beef and season with a pinch of salt and pepper. Cook for a few minutes until the meat is nicely browned but not burnt. Transfer to a plate and set aside.
Add remaining tablespoon of oil to skillet and reduce heat to medium. Add onions and cook until translucent, around 5 mins. Add garlic and cook until fragrant, around 2 mins. Add carrot and cooked ground beef (along with the juices) back to the skillet.
Add tomatoes and stock. Add dried herbs, if desired. Stir to mix well, then bring to a boil before lowering the heat to let the mixture gently simmer for 45 minutes, or until the sauce has reduced sufficiently. It should be rich and thick. Add salt and pepper to taste, if required.
In another skillet, cook hearts of palm pasta as per package instructions. This usually means to rinse the pasta if it has salt included (such as Palmini) then heat to desired texture. If it has no salt included (such as Trader Joe's), then it's just to heat the pasta.
Divide pasta among serving plates. Top with bolognese sauce. Garnish with parsley or basil, if desired. Serve and enjoy!
Nutrition Information:
Yield:
4
Serving Size:
1
Amount Per Serving:
Calories:

493
Total Fat:

25g
Saturated Fat:

7g
Trans Fat:

1g
Unsaturated Fat:

15g
Cholesterol:

82mg
Sodium:

833mg
Carbohydrates:

33g
Fiber:

6g
Sugar:

10g
Protein:

35g
Nutrition information is only an estimate and can vary depending on ingredients used.
Which of the hearts of palm pasta recipes have you tried so far?
Let us know in the comments below!
For more awesome pasta recipes that you might like, check out the following:
Kielbasa Pasta
Chicken Tortellini
Bow Tie Pasta
Ground Turkey Pasta
Pastina
Pappardelle
Ditalini
Creamy Gnocchi
Ground Pork Pasta
Share on your favorite social media platform and tag us @GloriousRecipes – we can't wait to see what you have made!