Hubbard squash is the perfect winter squash with its rich, sweet, and nutty flavor that's superbly enjoyable!
Its skin comes in a variety of colors, such as pale blue, grey, orange, and yellow, but the flesh will undeniably be a familiar orange or yellow, similar to many other squashes.
Not only does Hubbard squash taste great but it's also a great source of fiber, vitamin A, vitamin C, and essential minerals such as potassium and magnesium.
No matter which variety of Hubbard squash you get, you're bound to love the delightful flavor and nutritional value of this wonderful ingredient!
From tasty soups to luscious desserts, we've got you covered with some of the best Hubbard squash recipes that you can easily try at home!
Cook up a pot of this Hubbard Squash Sausage Soup that's exceptionally comforting and perfect for warming you right up on a cold and chilly day!
It's a delectable combination of roasted squash purée, ground sausage, carrots, onions, celery, chicken broth, and coconut milk, creating a hearty soup that tastes absolutely fantastic.
Filled with so many fabulous ingredients, this soup is also loaded with tons of nutrients that are great for your body!
This creamy soup might just become your next favorite comfort food!
Discover a terrific dish with this Hubbard Squash Mash that's amazingly delicious and super easy to whip up!
Roasted squash is blended with coconut milk and a variety of spices that include smoked paprika, cumin, cinnamon, and oregano to form a flavorsome mash that you can pair with your favorite protein.
It's a great alternative to regular mashed potatoes and helps to keep your meals refreshing!
There's nothing not to like about this quick and easy mashed Hubbard squash recipe!
Sign us up for this excellent soup that's superbly tasty, loaded with tons of great ingredients, and filled with amazing flavors!
The soup base is made with a lovely blend of chicken stock, nutmeg, sage, sherry, brown sugar, and a sautéed mix of carrots, celery, onion, garlic, and squash.
Topped with roasted squash, pumpkin seeds, and cannellini beans, this soup is an absolutely mouthwatering delight!
With how delicious it is, it's no wonder why this made it to our list of favorite Hubbard squash recipes!
Enjoy a splendid sweet delight with this remarkable pie that's crazy delicious and sure to whet your appetite!
It's a lovely marriage of crumbly pie crust and an awesome filling of mashed squash, sugar, nutmeg, molasses, evaporated milk, and other ingredients to create an incredibly tasty dessert.
A little topping of whipped cream and ground nutmeg helps to enhance the flavor of this pie further, making it extra delectable.
It's amazing how something so easy to make can taste so good!
Expand your cooking repertoire with these Hubbard squash chips that are super tasty and unbelievably addictive!
The squash chips are wrapped with Parma ham and then baked until crispy, and they taste excellent on their own but when you pair them with a homemade paprika dip, they become absolutely irresistible!
The dip is made simply by mixing mayonnaise, Greek yogurt, smoked paprika, sweet chili sauce, and red wine vinegar, and it goes extremely well with the chips.
Serve alongside your favorite main dishes to enjoy a delicious and wholesome meal!
This blue Hubbard squash recipe is an absolutely must-try in our books because it makes such a delectable chili!
With poblano pepper, pasilla chili powder, ancho chili powder, paprika, and other lovely ingredients used in the making of this wonderful dish, you know you're guaranteed tons of incredible flavors.
Along with aromatics, chicken breasts, beans, and tomatoes, this is a dish that will leave you feeling super satisfied.
Give it a try and you might just fall in love with its impeccable flavors!
Impress your friends and family with this exquisite Hubbard Squash Soup with Pistachio Gremolata that's delicious and a visual treat to boot!
The lovely soup base is made by blending a mix of squash and green apple that has been simmered in bone broth until a thick and creamy texture is achieved.
Topped with a gremolata that contains pistachios, basil, lemon juice, and olive oil, this soup tastes absolutely delightful and it's an easy way to feed a crowd.
Make sure to add this to your soup rotation because it's just that good!
If you have a sweet tooth, make sure to check out one of our favorite Hubbard squash recipes to satisfy your sweet cravings!
Baked hubbard squash, mesquite flour, garam masala, ground clove, ground ginger, cacao nibs, chocolate chips, and other impressive ingredients all come together to create these nectarous muffins that you definitely don't want to miss out on.
These mini muffins are the ultimate indulgence with heavenly flavors and textures that will surely be a hit with the crowd!
Be sure to make a big batch because you'll want to be munching on these delectable bites all day long!
Shake things up and try out a new pasta dish with this marvelous recipe that's perfect for a quick and easy meal!
This simple dish involves combining roasted Hubbard squash cubes with torchietti pasta, red onion, and pancetta which has been cooked in white wine.
Completed with a garnish of Fontina cheese and sage, this dish is as straightforward as it gets!
It's easy to whip up and great for an awesome weeknight dinner!
Grace your taste buds with these squash slices that taste absolutely divine and make for a great side dish or snack!
They are first roasted in the oven before a chopped mixture of cinnamon, sugar, ginger biscuits, pistachios, cashews, and thyme is sprinkled over midway through, then placed back into the oven to finish cooking.
The spiced crust lends a refreshing flavor to the squash and they help to create a superbly tasty bite together.
You won't be able to resist the impeccable flavor of these lovely squash slices!
This stuffed Hubbard squash recipe is definitely going to be a handy one because it's so easy to make an incredibly satisfying meal!
Filled with a delectable mix of quinoa, onion, garlic, celery, eggs, cranberries, and slivered almonds, the stuffed squash is then roasted until tender and fragrant.
It's made extremely flavorful with a variety of dried herbs and seasonings, creating an absolute treat that's sure to fill your bellies right up!
If you need something different to expand your dining options, make sure to give this a try!
Reward yourself with this exceptional soup that's mind-blowingly tasty and really easy to prepare!
This soup is a heavenly combination of apples, squash, onions, celery, garlic, carrots, sour cream, and apple cider vinegar, with nutmeg, thyme, sage, and cayenne adding plenty of depth and complexity to the flavor.
All the ingredients come together to impart their distinctive fragrance to create an absolutely mouthwatering dish.
With its incredible flavors, this delicious soup is sure to satisfy any appetite!
Get ready to be amazed by these adorable profiteroles that utilize the amazing squash to create a savory delight!
The choux pastry is made with a combination of mashed squash, flour, eggs, butter, salt, and water, all baked until beautifully golden brown and fragrant.
Filled with a mixture of sautéed mushrooms, aromatics, and cream cheese, these profiteroles are a scrumptious treat and you'll be gobbling everything up before you even know it.
We've no doubts that this will quickly make its way to your list of favorite Hubbard squash recipes!
This Spicy Blue Hubbard Squash Soup recipe makes an exceptionally tasty soup that's sure to tantalize your taste buds!
There's no lack of flavor with roasted squash, cumin, chili powder, leeks, coriander, and many other wonderful ingredients used to make this splendid soup.
Puréed until smooth, this soup is topped with Mexican crema, serrano chilies, roasted squash seeds, queso fresco, and cilantro to add even more depth to the flavor.
It's a stunning dish that's sure to impress with both its look and taste!
Amplify your next meal with this outstanding soup that's sure to delight your senses with its amazing taste!
Roasted Hubbard squash is blended with chicken broth, thyme, onions, fennel, garlic, and cider vinegar to create a hearty soup that tastes absolutely divine.
Topped with crispy bacon bits and toasted hazelnuts, this is a soup that has a fantastic combination of textures and flavors you're sure to love.
It's unbelievably tasty and comforting for something so simple to make!
Give the regular risotto a simple twist with this brilliant recipe that you definitely don't want to miss out on!
Boiled Hubbard squash is puréed and combined with squash stock, arborio rice, white wine, zucchini, butter, and Pecorino cheese to create a creamy risotto that's incredibly delicious.
Topped with crispy sage leaves and toasted panko breadcrumbs, this is a flavorsome delight that's super satisfying!
The best part is that no stirring is required and you get the same wonderful flavor of tasty risotto!
There's just something about a delicious gratin that's exceptionally comforting and this Bean and Winter Squash Gratin feels no different.
It's a lovely combination of borlotti beans, roasted Hubbard squash, carrots, and onions, topped with breadcrumbs, and made even more flavorful with arbol chili pepper, thyme, fennel, and bay leaf.
There is incredible depth to the flavor and this gratin will surely captivate both your heart and belly with how delectable it is.
Make this for your next meal and your taste buds will thank you!
Cooking Hubbard squash is ridiculously easy with this simple recipe so don't be daunted by its large size!
All you need to do is toss squash chunks with olive oil, salt, and pepper before roasting them in the oven until they become tender.
Combine that with sautéed garlic and Italian parsley, and you'll have a tasty side dish that you can pair with any of your favorite main courses!
It's one of the easiest Hubbard squash recipes so be sure to give this a try!
Spice up your next meal with this terrific Roasted Hubbard Squash and Coconut Soup that's amazingly delectable!
Made with a blended mix of roasted squash, tomato paste, coconut milk, chicken stock, aromatics, curry powder, cumin, and other lovely ingredients, this soup is extremely flavorful and delicious.
Each sip comes with an addictive kick and you'll be slurping everything up till the very last drop because it's just that good!
It's an absolute must-add to your soup rotation!
Enjoy a delightful sweet treat with this impressive cheesecake that tastes stupendous and is sure to captivate your taste buds!
This luscious cake has multiple layers of goodness that make it exceptionally delicious and just irresistible!
It starts with a ginger biscuit base as the bottom layer, topped with a mixture of puréed squash, cream cheese, ricotta, white chocolate, and pecan nuts.
The third layer is a flavorful cream cheese mixture, with melted white chocolate serving as the final top layer.
Every mouthful of this creamy cake is gloriously tasty and you'll have a difficult time limiting yourself to just one serving!
At Glorious Recipes, we have our favorite Apple and Hubbard Squash Soup that we absolutely adore and it tastes heavenly! Check out the recipe below!
Yield: 4
Apple and Hubbard Squash Soup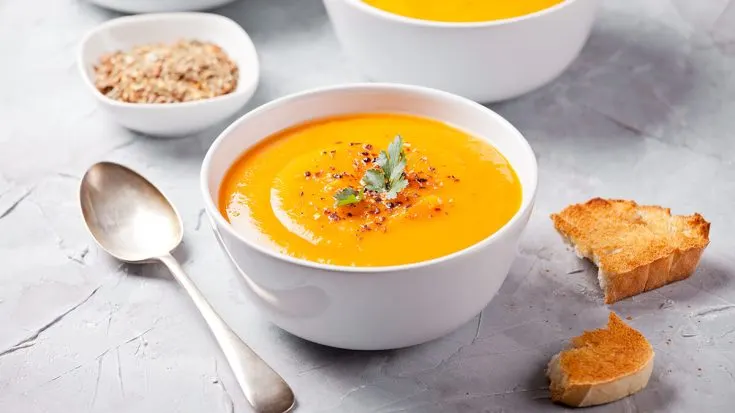 This Apple and Hubbard Squash Soup is filled with wonderful ingredients and flavors that you'll love!
Cook Time
1 hour
40 minutes
Total Time
1 hour
55 minutes
Ingredients
1 Hubbard squash
3 tbsp olive oil
2 apples, finely diced
3 carrots, chopped
2 celery sticks, chopped
4 cloves garlic, minced
1 onion, chopped
¼ tsp cayenne
½ tsp nutmeg
4 sprigs of thyme, using only the leaves
5 sage leaves, minced
½ cup sour cream
4 cups low-sodium broth (vegetable or chicken)
2 tbsp apple cider vinegar
salt, to taste
pepper, to taste
optional toppings (smoked paprika, red chili flakes, herbs)
Instructions
Preheat oven to 350°F (175°C).
Prepare squash by cutting it in half, length-wise. Remove the seeds, then place the squash halves cut-side up on a baking dish lined with foil. Roast in the oven until tender, about an hour.
Once done, let the squash cool before scooping out the flesh. Blend it to get around 2-4 cups of purée.
Add olive oil to a soup pot over medium-high heat. Add apples, carrots, celery, garlic, and onions to the pot, then cook until they become fragrant and softened, around 10 minutes. Add nutmeg, cayenne, thyme, and sage, then toss to combine well. Add salt and pepper to taste. Stir in sour cream, apple cider vinegar, and puréed squash. Add stock and reduce heat to a low simmer. Simmer for additional 30 minutes to let the flavors meld.
Use an immersion blender to blend the mixture until you get a smooth and creamy soup. Alternatively, let it cool before transferring it to a regular blender to process.
Add any toppings if desired. Serve and enjoy!
Nutrition Information:
Yield:
4
Serving Size:
1
Amount Per Serving:
Calories:

256
Total Fat:

16g
Saturated Fat:

5g
Trans Fat:

0g
Unsaturated Fat:

10g
Cholesterol:

17mg
Sodium:

345mg
Carbohydrates:

27g
Fiber:

5g
Sugar:

16g
Protein:

3g
Nutrition information is only an estimate and can vary depending on ingredients used.
Which of the Hubbard squash recipes have you tried so far?
Let us know in the comments below!
For more awesome recipes that you might like, check out the following:
Honeynut Squash
Cubanelle Pepper
Prickly Pear
Canned Potato
Potato Taco
Sunchoke
Pumfu
Golden Beet
Black Garlic
Mayocoba Beans
Share on your favorite social media platform and tag us @GloriousRecipes – we can't wait to see what you have made!