Romanesco, also known as Romanesco broccoli, Romanesco cauliflower, or Roman cauliflower, has a slightly sweet and nutty flavor that's absolutely delicious!
It's packed with nutrients and is a great source of vitamin C and other essential minerals, making it a healthy choice for any meal.
This vegetable is also really versatile and can be cooked in many different ways to whip up awesome dishes!
From roasted Romanesco to broccoli soup, we've got you covered with some of the best Romanesco recipes that you can easily try at home!
Enjoy fantastic Romanesco steaks that are perfectly pan-roasted and taste absolutely delicious with this simple recipe!
The steaks are seared and browned in the skillet before being finished in the oven for a tender and moist interior that makes it really appetizing.
Chopped bits of Romanesco are then sautéed with butter, hazelnuts, garlic, parsley, and white wine vinegar to complement the steaks and create a superb dish that's sure to impress.
It's served with lemon wedges for a little acidity to balance the rich and savory flavors, making it an awesome meal that everyone will definitely enjoy!
This amazing Romanesco Green Curry is a splendid take on traditional green curry dishes and is amazingly tasty!
Romanesco broccoli is roasted to perfection in this recipe to bring out its natural sweetness and add a nice crunch to the dish.
It's topped with an extremely flavorful green curry sauce that's made with a delectable blend of savory shallots, garlic, ginger, lemongrass, and serrano chile all simmered together in a rich and creamy coconut milk base.
The addition of cilantro and turmeric gives a refreshing flavor to the dish while toasted cashews bring a nice nutty contrast to the dish.
Everything comes together really nicely in what is one of our favorite Romanesco recipes for an awesome meal!
Grace your taste buds with this terrific Romanesco recipe that pairs the unique vegetable with a flavorsome yogurt sauce to create a delectable dish!
It's a perfect combination of flavors and textures with perfectly roasted Romanesco that's been seasoned with salt and pepper, and a delightful yogurt sauce made with cashews, lemon juice, and za'atar seasoning blended together.
This dish is sure to delight your senses and makes for a wholly enjoyable lunch or dinner and it's so easy to make!
Try it once and you'll definitely not regret it!
Savor tasty Romanesco that's made even better when paired with bacon lardons!
This awesome recipe combines the 2 lovely ingredients and roasts them until they are nicely caramelized and become fork-tender.
A honey-sriracha glaze enhances the flavor and brings about a perfect balance of sweet, savory, and spicy which makes it an amazingly addictive dish, perfect for all the foodies out there who love bold and unique flavors!
There's so much to love about this dish as it's super easy to make and the oven does most of the work, so don't wait and make sure to try this for your next meal!
For a fantastic side dish that's delightfully delicious, you've got to check out this wonderful Roasted Romanesco with Parmesan Panko!
The trimmed florets are coated with a simple blend of garlic, olive oil, salt, pepper, and red pepper flakes, combined with a generous amount of Parmesan cheese and panko bread crumbs before being roasted to absolute perfection.
It's ridiculously easy to make and every bite creates an explosion of bold, savory, and cheesy flavor that's super satisfying.
With its simple but incredible taste, it definitely has a place in every meal!
This Romanesco broccoli soup is exceptionally comforting and a sip of this lovely soup will warm your body and soul!
It's made with a combination of aromatics, carrot, Romanesco, potato, herbs, vegetable broth, and sour cream, and the mixture is simmered until all the flavors meld together.
Blended until a creamy texture is achieved, it's then topped with crumbled blue cheese and chives before being served with warm pita bread for a wholesome and tasty meal.
This simple dish is a must-add to your soup rotation because it's just that delicious!
Dig into this gluten-free pasta made with delightful ingredients and enjoy a tasty meal that's great any time of the day!
Banza bowties are cooked and tossed with aromatic shallot, tangy capers, garlic paste, spicy red pepper flakes, lemon juice and zest, and paired with baked Romanesco to create a symphony of flavors that'll leave you wanting more.
There's something comforting about this simple dish that's big on flavor, and with how easy it is to whip up, it's a great option to add some variety to your meals!
If you're on a gluten-free diet, you'd definitely want to try out this amazing Romanesco recipe!
Spice up your next meal with this superb Spicy Roasted Romanesco with Lemon and Capers that's incredibly delicious and will definitely leave your taste buds tingling with pleasure!
The highlight of this dish is the zesty dressing made with lemon juice, lemon zest, red pepper flakes, capers, and a touch of freshly ground black pepper that provides a harmonious balance of flavors and amplifies the taste of Romanesco.
With the tangy and spicy flavors, it's a super appetizing dish that gives you an addictive kick with every bite and you'll be craving it regularly because it's just that delicious!
It's a great addition to any meal and the best part is, it takes only 20 minutes to cook!
Discover a fantastic dish with an incredible green herb sauce that makes this a delightful treat in any meal!
Made with a combination of parsley, oregano, thyme, capers, shallots, garlic, and the zest and juice of lemon, there's an exceptional herbaceous flavor to the steamed Romanesco.
This green herb sauce provides a burst of flavor and a vibrant green color, making it a fragrant and visually-attractive dish that's sure to impress.
It's perfect for any occasion and is great for those looking for a healthy and tasty meal!
Indulge in these splendid Romanesco nuggets that are super delicious and will definitely whet your appetite!
Cut into perfect bite-sized florets, the vegetables are coated with a trio of seasoned cornflour, egg, and panko breadcrumbs before being fried to create a fantastic crunchy exterior.
The crowning jewel of this dish is the finger-licking good BBQ dipping sauce, which is made with a perfect balance of ketchup, sriracha, soya sauce, mustard, white wine vinegar, and a medley of spices that'll tantalize your taste buds.
These tasty bites are perfect as a side dish or mid-day snack, and it's one of our favorite Romanesco recipes because they are incredibly addictive!
Try your hands at making these delightful Garlic and Lemon Roasted Romanesco Cauliflowers that are amazingly delicious!
It's super easy to make and all you need to do is toss the cruciferous beauties in olive oil, minced garlic, lemon zest, salt, and black pepper before baking them until they become super tender with nice brown bits.
The result is a dish that's bursting with the nuttiness and sweetness of Romanesco, enhanced only by the aroma of garlic and the refreshing zing of lemon zest.
It makes for an awesome side dish or appetizer, or serve it any way you like because these bites are super tasty!
Keep things simple with this excellent roasted Romanesco recipe that delivers a super satisfying and amazingly tasty dish that you just can't miss out on!
Trimmed Romanesco steaks are drizzled with avocado oil and rubbed with seasoning salt before being roasted in the oven until a caramelized and slightly charred exterior is achieved.
The tender and nutty center of the steaks makes for a truly satisfying dining experience and the simple seasoning is sufficient to elevate the taste to another level.
This recipe is a must-try for those who love making veggies as their main dish and is also one of the easiest and most straightforward Romanesco recipes that you can try!
Everyone loves good pasta and this remarkable dish combines strozzapreti with Romanesco cauliflower and many other delightful ingredients to form a tasty treat!
Roasted Romanesco is tossed in a delectable mix of capers, olives, garlic, and red pepper flakes to give it loads of depth in flavor, and it's paired with al dente pasta to create a delicious meal.
With the perfect balance of nutty, sweet, and savory flavors, this pasta dish is a true delight for your taste buds and a great addition to any lunch or dinner rotation!
Garnish with freshly chopped parsley, grated cheese, and breadcrumbs for optimal enjoyment of this wonderful dish!
Feast on an incredible pasta dish with this fantastic Romanesco Veggie Meatballs recipe that you'll definitely be making more than once because it's oh-so-yummy!
Tender and savory meatballs made with Romanesco, lentils, garlic, cheese, herbs, and panko crumbs, nestled in a rich and flavorful tomato sauce, makes for a gastronomic delight when served over perfectly cooked linguini.
The blend of crushed and fire roasted tomatoes in the sauce lends a depth of smoky, rich, and tangy flavor that fully enhances the taste and makes it an irresistible dish.
You might just have a new favorite pasta dish once you've got your first taste of this absolutely wonderful treat!
Sign us up for this exceptional dish that tastes amazingly good and it's so simple to make!
Tender, caramelized, and perfectly roasted Romanesco florets are paired with a tangy and savory dressing made with Meyer lemon, sunflower seeds, and other delightful ingredients to create an incredibly delicious dish.
It's a joy for the senses with every bite of the vegetables and it makes for an amazing side dish that you can pair with any protein to enjoy a wholesome meal!
At Glorious Recipes, we have one of our favorite Romanesco recipes that we absolutely adore! These Addictive Romanesco Fritters are easy to make and taste absolutely divine! Check out the recipe below!
Yield: 4
Addictive Romanesco Fritters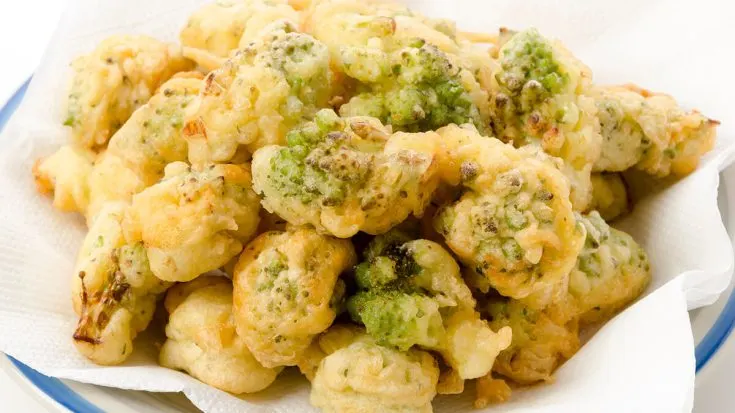 Make these addictive Romanesco broccoli fritters and enjoy a tasty treat any time of the day!
Ingredients
Batter
8 oz chickpea flour
1 tsp cumin seeds
1 tsp turmeric powder
1 tsp salt
½ tsp chili powder
10 oz water
olive oil (for deep-frying)
Instructions
Trim Romanesco florets, then blanch them in boiling salted water for 2 minutes. Drain well.
Add flour, freshly roasted cumin seeds, turmeric, salt, and chili powder in a mixing bowl. Whisk in just enough water to make a batter with a light consistency.
Heat oil in deep-fryer to 355°F (180°C).
Dip a floret in the batter to coat well, shake off excess batter, then fry in deep-fryer until golden brown and crispy. Give a taste test to see if adjustments are required to the batter. Cook the remaining florets and place them on a kitchen towel to absorb excess oil.
Serve with your favorite dipping sauce and enjoy!
Nutrition Information:
Yield:
4
Serving Size:
1
Amount Per Serving:
Calories:

255
Total Fat:

7g
Saturated Fat:

1g
Trans Fat:

0g
Unsaturated Fat:

6g
Cholesterol:

0mg
Sodium:

631mg
Carbohydrates:

34g
Fiber:

6g
Sugar:

6g
Protein:

13g
Nutrition information is only an estimate and can vary depending on ingredients used.
Which of the Romanesco recipes have you tried so far?
Let us know in the comments below!
For more awesome vegetable recipes that you might like, check out the following:
Daikon
Roma Tomato
Savoy Cabbage
Banana Peppers
Frozen Green Beans
Frozen Cauliflower
Shredded Carrot
White Eggplant
Malabar Spinach
Recipes with Refried Beans
Share on your favorite social media platform and tag us @GloriousRecipes – we can't wait to see what you have made!