Pig tails are not as commonly consumed as other parts of the pig's body but they can be a tasty delicacy when cooked right!
They have less meat and more cartilage, creating a vastly different texture that's equally fabulous in many recipes!
Whether you like it braised, fried, or smoked, we've got you covered with some of the best pigtail recipes that you can easily try at home!
Get a taste of Caribbean cuisine with this fantastic recipe that makes a wonderful dish with rice and pigtails!
Jamaican callaloo, aromatics, herbs, rice, and salted pigtails combine together to create an amazing treat that's filled with delightful flavors.
Coconut milk helps to give the dish a refreshing fragrance and scotch bonnet pepper provides the heat that makes this dish super enjoyable.
It makes for a hearty meal and is perfect for spicing up the usual dinner routine!
Experience an Asian delight with this amazing dish that's smoked and braised until the meat becomes tender with tasty soft skin!
It's extremely flavorful with a variety of sauces and spices included in the braising liquid, such as oyster sauce, rice cooking wine, soy sauce, Sichuan peppercorns, star anise, and many other wonderful ingredients.
With such complex flavors, this will definitely be one of your favorite pigtail recipes because the taste is just irresistible!
Pair it with fragrant steamed rice for an incredible meal!
Feast on this incredible okra rice that's absolutely delicious and will definitely tantalize your taste buds!
Okra, garlic, onion, carrot, and pumpkin combines with rice, smoked bones, and pig's tails to create a lovely dish that's perfect for a superb meal!
Pimento peppers, parsley, and chadon beni help to impart their distinctive fragrance and really make this dish a unique one that can add variety to your dinner rotation.
It's easy to make and a great way of enjoying pork tails if you've never tried them before!
Enjoy another Caribbean pigtail recipe with this awesome callaloo that's great as a side dish or slurp it up like a tasty stew!
There's no lack of delightful flavors with loads of different ingredients contributing to the taste of the soup.
Aromatics, pumpkin, okra, spinach, and other spices all add depth to the flavor and pair really well with the tails.
Hot peppers are also added to give a little addictive kick to this dish and it can easily be adjusted to suit your palate!
Make this on a chilly day and you'll definitely not regret it!
Try your hands at making this easy stew that's great as comfort food with its fantastic taste!
Marinated in a mixture of herbs and spices such as paprika, chili powder, thyme, and ground pimento, the tails are filled with wonderful flavors that make them super tasty.
Simmered in a pot along with aromatics, the resulting dish is extremely delicious and you'll love how well it pairs with any of your favorite carbs!
Don't give this recipe a miss because it's just that tasty!
This one-pot pig's tail recipe is an easy way of cooking up delicious rice with minimal clean-up required!
It's super wholesome with rice, spinach, and pigtails combined to create a flavorsome dish that's spiced with cinnamon, scotch bonnet peppers, and thyme.
Not only is this pot of rice delicious, but it's also really hearty and comforting, perfect for enjoying on a rainy day!
Try it once and you'll develop a craving for it soon enough!
Breadfruit and pigtails might seem like an unlikely combo but it's actually a wonderful pairing and is commonly seen in Caribbean cuisine!
This recipe combines pigtails, which are marinated in Worcestershire sauce and other seasonings, with breadfruit pieces and other aromatics to create a sapid dish that's absolutely delicious.
Brown sugar and coconut milk help to make it sweet, savory, and creamy, a perfect combination of flavors that's sure to please!
It's another one-pot dish that you definitely need to give a try!
If you want a hearty stew that's warm and comforting, this is the recipe for you!
Beef chuck, salted pigtails, and red beans combine to create a fantastic stew that's loaded with great flavors and every sip is pure delight.
With coconut milk, pimento peppers, garlic, onion, and thyme added, there is depth and complexity to the flavor, making it a delicious stew that you'll never get sick of.
Add this Jamaican pigtail soup recipe to your meal rotation and enjoy this tasty dish!
A Trinidad & Tobago classic, this pelau is an awesome way to cook up some delicious pigtails and rice for a wholesome meal!
The tails are seasoned before they are cooked to lock in all the magnificent flavors that make them so tasty.
Peas, rice, and other ingredients are then added to the pot and left to simmer until the cooking is done for this amazing dish.
This delectable pelau is definitely going to be one of your favorite dishes once you've had a chance to try it!
Expand your cooking repertoire with this Pumpkin and Pea Soup that's absolutely delicious and a must-try in our books!
It's straightforward to make and this recipe combines salted tails with peas, pumpkins, onions, and thyme to create a mouth-watering dish.
Simple ingredients come together really well and deliver a great-tasting soup that's a perfect complement to any meal!
Garnish with scallion before serving for maximum enjoyment!
Fire up your grill and savor tasty BBQ pigtails that are super easy to make, plus they help to add some exotic variety to your plate!
You only need 4 ingredients for this and it starts by using lime to wash off the salt on the tails before boiling them with Caribbean green seasoning to infuse wonderful flavors.
Once done, all that's left is to grill those tails with a brush of BBQ sauce for an amazing glaze and you'll have tender meat that's delicious all over!
Try it for your next grilling session and you'll get hooked on these tasty bites!
Grace your taste buds with this incredible dish that pairs naan and curry for a classic combination that's extremely delicious!
The curry is made with all the familiar flavors of South Asian cuisine with turmeric, curry powder, and a whole host of spices to make it super tasty, along with pigtails for some extra meat.
Naan goes super well with curry and you'll definitely fall in love with this dish once you've tried it!
It's so yummy and one of our favorite pigtail recipes!
Indulge in perfectly doubled-fried pigtails that are as delicious as they sound and they make for a great side dish or even main course!
The tails are first fried until golden brown before being braised in an extremely flavorful liquid made with soy sauce, rice wine, garlic, onion, and salt.
They are then coated with flour and fried for a second time until perfectly crispy, then tossed in a dressing of soy sauce and vinegar which makes them super addictive.
If you didn't like pigtails before this, you'll definitely change your mind after trying this fried pigtail recipe!
Dig into these flavorful pig's tails that taste awesome with great texture and it's so simple to make this fantastic dish!
The tails are coated with cornstarch and salt before being deep-fried until nicely browned, after which they are topped with a delectable peach BBQ sauce, green peanut oil, peanuts, scallion, and chili oil.
Everything combines really well to create a tasty dish that's just irresistible and will definitely impress everyone with its amazing taste!
With a great ratio of meat to skin to cartilage, pigtails can be a fantastic delicacy when cooked right and this recipe definitely delivers on that!
Simmered in a liquid mixture of cider vinegar, hot sauce, and garlic paste, the tails are loaded with delightful flavors and the meat is also cooked until tender.
Combined with a dressing of julienned cucumbers, onion, radish, and chopped chives, everything comes together to create an amazing dish that's absolutely delicious!
It makes for an awesome appetizer or side dish any time of the day!
Yield: 15
15 Simple Pigtail Recipes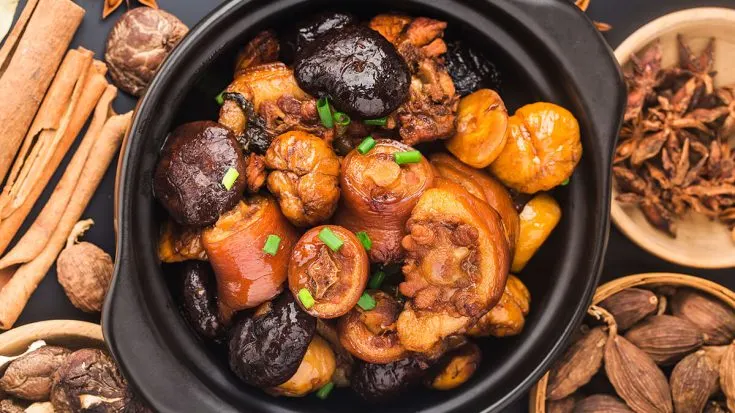 Try these pigtail recipes and enjoy a delicious meal! Whether you like it braised, fried, or smoked, there's always something for every occasion!
Instructions
Choose your favorite pigtail recipe.
Prepare all the required ingredients.
Whip up the tasty dish and enjoy an awesome meal!
Nutrition Information:
Yield:
15
Serving Size:
1
Amount Per Serving:
Calories:

628
Total Fat:

40g
Saturated Fat:

16g
Trans Fat:

0g
Unsaturated Fat:

21g
Cholesterol:

151mg
Sodium:

542mg
Carbohydrates:

35g
Fiber:

4g
Sugar:

12g
Protein:

33g
Nutrition information is only an estimate and can vary depending on ingredients used.
Which of the pigtail recipes have you tried so far?
Let us know in the comments below!
For more pork recipes that you might enjoy, check out the following:
Korean Pork Belly
Pork Cutlet
Linguiça
Thin Pork Chops
Canned Ham
Ham Hock
Canned Pork
Pork Jowl
Ground Pork Pasta
Share on your favorite social media platform and tag us @GloriousRecipes – we can't wait to see what you have made!