Ring bologna is great for enhancing any meal and it can even be eaten on its own for a quick and delicious snack!
It's usually made with a mixture of pork and beef but there are other variations as well that are made with chicken, turkey, and even venison.
From casseroles to sandwich spreads, we've got you covered with some of the best ring bologna recipes that you can easily try at home!
Enjoy a hearty meal with this fantastic dish that can be cooked in under 30 minutes!
Fried russet potatoes, onions, and bologna sausage combine to create a wholesome mix that's perfect for a comforting meal any day of the week!
It's really easy to make and you only need garlic powder, salt, and pepper to give additional depth to the dish.
Garnish with freshly chopped parsley and it's ready to be served!
Savor it the German way and pair ring bologna with sauerkraut for a simple dish that's absolutely delicious!
This combination is a traditional classic and it's given more depth in flavor with the addition of caraway seeds, celery seeds, onion, and butter.
Everything comes together really well and you'll be enjoying a delightful meal in no time.
It's the perfect dish to satisfy any savory cravings and a must-try recipe in our books!
This bologna fried rice makes for an amazing weeknight meal because it's quick and easy to whip up!
Tasty fried rice is mixed with fluffy scrambled eggs and enhanced with sweet corn, onion, and ring bologna, creating an awesome dish that's absolutely delicious.
A little soy sauce and garlic powder are added to increase the umami flavors and you'll be devouring this wonderful dish at record speed.
Add your favorite veggies into the mix and turn it into a wholesome meal!
For simple comfort food that takes minimal effort to make but tastes awesome, you've got to check out this amazing ring bologna recipe!
All you need to do is mix the ring bologna, baked beans, onion, and bacon in a casserole dish before cooking them in either a traditional oven or microwave oven.
It's that easy and you'll have a piping-hot dish that you can enjoy once done!
Make this on a chilly day and you'll definitely not regret it!
If you prefer leaner meat, this venison ring bologna recipe is just the thing for you!
The meat is combined with pasta to create a wholesome dish that's coated with a cheesy sauce made with salsa and Velveeta, and everything comes together really well with delightful flavors.
You can use any of your favorite pasta to make this but wide pasta works great to mop up all that delicious sauce so that none goes to waste!
It's super easy to make and is perfect for a quick and easy meal!
Spruce up your next picnic session with this incredible ground bologna sandwich spread that'll definitely tantalize your taste buds!
Made by combining ground bologna, pickles, onions, mayonnaise, and mustard, it's an extremely flavorful spread that pairs really well with bread!
It makes for a fantastic snack or meal and will definitely be a crowd-pleaser with how delicious it is!
You can impress your friends and family by using homemade bread instead!
This handy crockpot recipe is super convenient for a hassle-free meal that's savory and tasty!
It's a mix of bologna sausage, hash browns, onion, and cheese combined with cream of chicken, milk, and sour cream, creating an amazing dish that's filled with delightful flavors.
Dump it all in the crockpot and let it cook while you go about your daily routine and come back to an awesome meal!
We love how easy it is to make this dish for a hearty and satisfying meal!
Discover new comfort food and try your hands at this Fried Ring Bologna recipe that's perfect for a super satisfying side dish or mid-day snack!
Making it is extremely simple – just take off the casing and fry the ring bologna in a skillet filled with hot oil until its edges turn crispy.
Add some crackers on the side and you'll be devouring them like no tomorrow because they are just that delicious!
Serve it with your favorite dipping sauce to maximize the enjoyment of this tasty dish!
Dig into this fantastic dish that's super easy to make and tastes wonderful, perfect for a quick meal or late-night supper!
It's ridiculously easy to whip this up and all you really need is 4 main ingredients!
Onion, cabbage, bologna, and canned potatoes are sautéed until the potatoes are warmed through, onions become translucent, and cabbage becomes tender.
They all combine to create a dish that's superb in taste and takes little effort to make!
This pickled ring bologna recipe is the perfect appetizer to serve at any party and is sure to wow the crowd!
Savory and tangy flavors make these meat slices extremely delicious and addictive, and you'll be hard-pressed to stop at one serving.
Pickling spice, garlic, onion, bay leaves, and red pepper all help to impart their distinctive fragrance to enhance the meat even further.
Serve with crackers for an awesome pairing that works really well!
Get ready for a tasty treat with this incredible barbequed baloney that has all the wonderful flavors to delight!
It's really simple to make, just slather some mustard on the bologna and coat it with BBQ seasoning before cooking the meat.
Brush it with BBQ sauce and let it absorb the glaze before serving this delicious meat with any of your other favorite dishes for a complete meal!
With how straightforward it is to create such delectable meat, you'll definitely want to try out this recipe for your next grilling session!
Whip up a quick and easy meal with this fantastic casserole recipe that delivers comforting food with simple ingredients!
With a light base made up of cream of mushroom soup and milk, it's combined with creamed corn, egg noodles, and bologna to create a delightful dish that's really enjoyable.
It has a great taste for something so easy to make and it's perfect for a simple weeknight meal!
This lovely dish is one of our favorite ring bologna recipes with how tasty it is!
Amp up your sandwiches with this amazing spread that instantly upgrades them to the next level with its savory flavor!
Bologna meat is tossed into a food processor along with dill pickle relish, sweet pickle relish, and Miracle Whip before being pulsed until a chunky spread is achieved.
Spread it on your favorite bread slices and add some veggies to make it even more sumptuous!
It's awesome as a mid-day snack and you can enjoy fantastic sandwiches wherever you go!
Discover delicious Swedish fare with this fantastic comfort food that's super easy to prepare!
Slits are made in the bologna sausage to add mustard, tomato sauce, and onion slices before topping off with grated cheese and letting it bake in the oven for 30 minutes.
Serve with mashed potatoes and green peas for a traditional combo that's enjoyed over the years!
With such great flavors and ease of preparation, it's a recipe that'll be handy for making a hearty meal!
Grace your taste buds with this superb stew that can warm the soul and fill your belly, perfect for enjoying on a cold evening!
It's a simple combination of potatoes, bologna sausage, and onion slices swimming in spaghetti sauce that works really well to create a very comforting dish.
Serve with bread and dip them to enjoy all that tasty sauce!
Yield: 15
15 Best Ring Bologna Recipes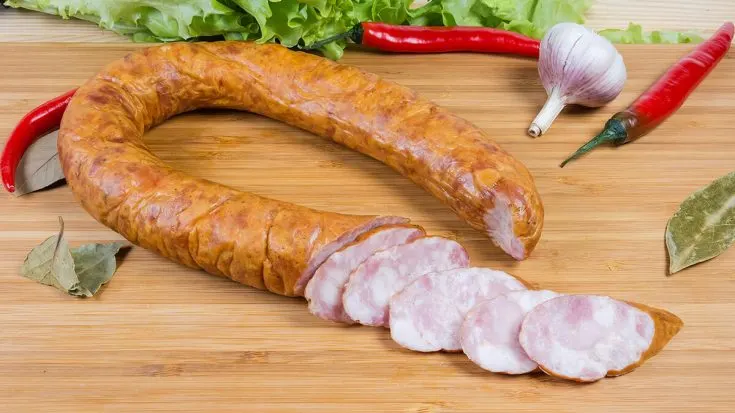 Try these ring bologna recipes and enjoy a delicious meal! From casseroles to sandwich spreads, there's always something for every occasion!
Instructions
Choose your favorite ring bologna recipe.
Prepare all the required ingredients.
Whip up the tasty dish and enjoy an awesome meal!
Nutrition Information:
Yield:
15
Serving Size:
1
Amount Per Serving:
Calories:

298
Total Fat:

15g
Saturated Fat:

6g
Trans Fat:

0g
Unsaturated Fat:

7g
Cholesterol:

51mg
Sodium:

688mg
Carbohydrates:

25g
Fiber:

3g
Sugar:

5g
Protein:

17g
Nutrition information is only an estimate and can vary depending on ingredients used.
Which of the ring bologna recipes have you tried so far?
Let us know in the comments below!
For more awesome recipes that you might enjoy, check out the following:
Pork Cutlet
German Sausage
Razor Clams
Triscuit
Oaxaca Cheese
Turkey Kielbasa
Sauerkraut Recipes with Meat
Ham Hock
Sandwich Maker
Share on your favorite social media platform and tag us @GloriousRecipes – we can't wait to see what you have made!