Canned pork is convenient and great for when you want a quick and delicious meal!
It's versatile with a long shelf life so it's easy to incorporate into many different recipes to add some tasty protein!
From pulled pork sandwiches to spicy pork and beans, we've got you covered with some of the best canned pork recipes that you can easily make at home!
Enjoy a delicious authentic Cuban pork sandwich with this fantastic recipe that you definitely need to add to your lunch rotation!
Swiss cheese, tender pork, and tasty ham, topped with pickles and an extremely flavorful cayenne-mustard mayonnaise combine to create a mouth-watering sandwich that everyone can enjoy.
Serve with toasted hoagie buns to give that extra crunch which totally elevates this dish to the next level!
It's a simple recipe but the taste is extraordinary!
This hearty pulled pork chili is the perfect comfort food for a cold and rainy evening, and it's incredibly easy to make with canned pork!
All you need to do is sauté onions, garlic, and bell peppers before adding the pork, chili beans, and tomatoes.
Let it cook and simmer for half an hour so that all the wonderful flavors come together.
This chili is so simple to make and a great way to use that canned pork you have in your kitchen!
Make this satisfying BBQ pork loaded sweet potato and you'll have a wholesome meal in no time!
It's a quick and easy recipe that involves mixing sweet potato flesh, shredded canned pork, and BBQ sauce before loading them back onto the hollowed-out sweet potato.
Top with some shredded cheese and bake in the oven until you get awesome melted cheese.
Add some chopped cilantro and crispy onion strings before serving this delightful dish!
If you crave some hearty and wholesome comfort food that's simple to whip up, you'll need to check out this fantastic pork and pinto bean soup!
It's an easy one-pot recipe and anyone can make this wonderful soup without much hassle!
Canned pork, chicken broth, pinto beans, and spices are added and brought to a boil before the rest of the vegetables are added and left to simmer.
With carrots, potatoes, celery, tomatoes, and beans, this bowl of soup is super healthy and nutritious!
Savor creamy BBQ pork cooked in a crock pot with this simple recipe that you'll definitely love and enjoy!
Using canned pork saves a lot of time and delivers equally great taste as compared to cooking raw pork from scratch.
In this amazing dish, the BBQ sauce provides all the wonderful flavors while cream cheese makes the sauce thick and creamy.
It's an easy three-ingredient recipe that you'll be making regularly because of how delicious it tastes!
Serve with some toasted buns for maximum enjoyment!
It's simple to make, delicious, and easily one of our favorite canned pork recipes!
Treat yourself to this delicious spicy pulled pork sandwich that's quick and easy to make!
It's the perfect simple breakfast that's loaded with protein and tastes excellent!
Canned spicy pork cubes and shredded cheese are added to an egg omelet, then the eggs are folded before being served with toasted bread.
Every bite is filled with flavor and you can also enjoy it as a mid-day snack because it takes little effort to whip up!
Elevate your can of stewed pork with this amazingly easy recipe that helps to turn it into a wholesome and delicious meal!
With a simple addition of potatoes and dark soy sauce, you'll have a plate of carbs and protein that'll definitely satisfy your appetite.
Serve it as a side dish along with some greens and you'll be covered with all the essential nutrition required for a healthy body!
Indulge in this tasty bowl of spicy chili made with pork and beans, beef franks, bacon, and jalapeño!
With canned pork and beans, you already have plenty of flavors on their own but this recipe takes it to the next level with a little tweak.
You get more protein with the addition of bacon and hot dogs, while jalapeño, ketchup, and spices help to provide additional layers of depth to the flavors.
It's an incredibly delicious dish that you can enjoy with some homemade bread!
If eating plain canned pork sounds boring to you, level up your cooking skills with this incredible crispy pork and rice recipe that you'll definitely love!
Canned pork is seasoned and cooked in a skillet until they turn crispy, giving it an awesome crunch and flavor.
It's paired with rice that has absorbed all the flavors from the canned broth, along with the addition of onion, garlic, and vegetables to make it fragrant and nutritious!
A delicious pear sauce is added and everything comes together really well to create a delectable dish!
Add some Chinese flair to your next meal with this simple dish that's a delicious staple in the East!
This recipe uses minimal ingredients but is big on flavor and taste!
Rice vermicelli is an awesome carb because it's almost like a sponge, soaking up all the canned pork's liquid, making it really flavorsome.
Carrots and cabbage provide that extra crunch and nutrition, making this a really wholesome meal!
You'll be gobbling this up in no time because it's just that delicious!
Enjoy this tasty paprika shredded pork that'll definitely tantalize your taste buds and you'll be surprised at how simple it is to make this dish!
With canned pork, you don't need to cook for hours to get juicy and tender meat and it really speeds things up when you want a quick and delicious meal!
Adding paprika, salt, pepper, and sour cream to the pork meat and cooking for a few minutes is enough to give you a great-tasting dish that's just irresistible!
Serve with egg noodles to enjoy this amazing treat!
Dig into this delicious BBQ pulled pork sweet potato hash that's really easy to whip up for a quick and wholesome dinner!
Sweet potatoes have a natural sweetness that tastes excellent and when you add your favorite BBQ sauce, onions, and canned pork into the mix, you get a next-level dish that's super flavorful.
The combination of sweet and savory is just mouth-watering and you can easily consume a plate of this tasty dish in no time!
It's a canned pulled pork recipe that you definitely need to add to your dinner rotation!
Shake things up with this simple stir-fried spaghetti that's surprisingly tasty and great for a quick meal!
Spaghetti and stir-frying might seem like an unlikely combo but what you get is delicious pasta and with some plating, it looks as good as any restaurant dish!
Canned pork cubes and squid provide the protein in this meal and ketchup provides a quick and tasty sauce base to coat the spaghetti.
This canned pork recipe is a great way of incorporating pantry staples to make a quick and delicious meal!
Spruce up your next meal with this quick Hungarian pork stew that's the perfect comfort food to warm you up during a cold and rainy day!
Chicken bouillon helps to provide the stew base and sauerkraut imparts a tasty sourness to the soup that makes it really addictive.
With a few spices and sour cream added, this stew becomes really tasty and it'll likely be your go-to recipe whenever you crave some hot soup.
Serve with some noodles, bread, or enjoy it on its own!
When you're feeling lazy to cook something fanciful and just want a quick and simple meal, this easy recipe will come in really handy.
Liquid from the canned pork leg serves as the sauce for the instant noodles and rice vermicelli to absorb, giving them plenty of flavor, while onions help to impart their fragrance to the meat and vegetables to create a delicious meal.
It takes little effort to make this tasty dish and you get all the nutrition from all these ingredients!
At Glorious Recipes, we have our favorite Canned Pork Carnitas Street Tacos that we absolutely adore. It's tasty and simple to make with canned pork! Check out the recipe below!
Yield: 4
Canned Pork Carnitas Street Tacos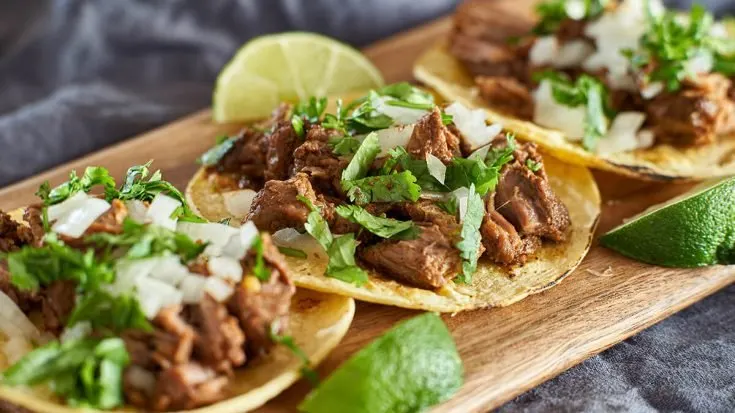 Enjoy delicious street tacos made with canned pork that's just so irresistible! It's so easy to make and tastes so good!
Ingredients
1 canned pork, 28oz
1 jar salsa, 16oz OR 1 tbsp taco seasoning
8 soft corn tortillas
½ cup cilantro, chopped
½ cup white onion, diced
Lime wedges
shredded cheese (optional)
Instructions
Add canned pork, including juices, to a saucepan over medium heat. Add salsa or taco seasoning and mix well for a few minutes.
Heat up tortillas accordingly to package instructions or place them on a heated skillet until warm.
Assemble tacos by stacking two tortillas, add pork, then top with cilantro and onion. Add shredded cheese if desired. Finish with a squeeze of fresh lime juice.
Nutrition Information:
Yield:
4
Serving Size:
1
Amount Per Serving:
Calories:

633
Total Fat:

31g
Saturated Fat:

11g
Trans Fat:

0g
Unsaturated Fat:

17g
Cholesterol:

182mg
Sodium:

401mg
Carbohydrates:

28g
Fiber:

4g
Sugar:

3g
Protein:

57g
Nutrition information is only an estimate and can vary depending on ingredients used.
Which of the canned pork recipes have you tried so far?
Let us know in the comments below!
For more pork recipes, check out Linguiça, Thin Pork Chops, Canned Ham, Pigtails, Ham Hock, Ground Pork Pasta, and Pork Jowl for more ideas!
Or check out Canned Beef, Canned Oysters, and Canned Potatoes for more canned food recipes!
Share on your favorite social media platform and tag us @GloriousRecipes – we can't wait to see what you have made!