Pheasant meat has been gaining in popularity and as with many wild game birds, it has a slightly gamey profile.
It's perfect for those seeking a different flavor from regular chicken meat and who want something a tad more adventurous!
There are endless ways to cook up a delicious meal with pheasant dishes and if you're looking to level up your wild game meat cooking skills, you've come to the right place!
From tasty piccata to comforting stews, we've got you covered with some of the best pheasant recipes that you can try!
This pheasant pot pie is an excellent dish that you should definitely add to your meal rotation because it's absolutely delicious!
The filling is made up of fragrant pheasant breasts and vegetables with herbs to impart complexity to the flavor, plus a crusty puff pastry that delivers a great texture.
Placed in the oven and baked until golden, this awesome pastry is a delightful treat that can satisfy any craving.
It's simple to make and really tasty, and easily one of our favorite baked pheasant recipes!
Skip the Chinese takeout and recreate the taste of the popular General Tso's dish while giving a simple twist with pheasant replacing chicken instead!
Bite-sized breast meat is first fried in hot oil until nicely browned and crispy before it's given a stir-fry along with dried chilies, ginger, garlic, and green onion to add tons of flavors.
An extremely flavorful sauce is added to coat the meat and it becomes a heavenly dish once everything is nicely cooked.
It's a fantastic dish to serve with steamed rice for an unforgettable meal!
Add some German flair to your next meal with this Rahmschnitzel recipe to make a tasty chicken-fried pheasant!
The meat is pounded and dredged in flour and breadcrumbs before being pan-fried in butter until it becomes nice and crispy.
It's topped with a creamy black pepper mushroom sauce that pairs really well with the meat and they combine to create a simple but tasty dish!
Complete by adding a side of veggies to turn it into a wholesome meal!
This pot-roasted dish is excellent for making a delicious and easy dinner that the whole family will definitely enjoy!
There is no lack of depth in the flavor with a variety of aromatics, herbs, and spices helping to add complexity to the taste and the combination totally elevates this dish to the next level.
Along with Marsala, red wine, and chicken stock to create the base sauce in which the meat is immersed, the meat becomes extremely tender and flavorful once fully cooked.
It's amazingly tasty and absolutely irresistible!
Pheasant breasts might be the popular choice of meat but don't waste the legs as they can be turned into a delicious meal as well with this easy recipe!
Braised in wine and stock until super tender and tasty, the pheasant legs are topped with a creamy morel sauce that adds so much to the flavor of the meat.
Served alongside polenta and asparagus, this is a fantastic dish for a simple but tasty meal!
Garnish with chives before serving to complete this dish for maximum enjoyment!
Make a classic Italian "hunter's stew" with this incredible pheasant cacciatore recipe that will definitely tantalize your taste buds!
With onion, tomatoes, garlic, celery, and carrot included, you can be sure there will be loads of delightful flavors that will make this dish really tasty.
Add herbs, white wine, and mushrooms into the mix and you have a fantastic base that goes really well with the meat.
Serve with a side of carbs or some crusty homemade bread to enjoy an awesome meal!
For an amazing dish that's perfect for a great meal, you'll need to check out this exceptional roast pheasant recipe!
Brined in a mixture that includes garlic, juniper berries, bay leaves, and black peppercorn, the meat is already flavorsome before any cooking begins.
It's then roasted in the oven with butter and sage, along with carrots and parsnips at the side and pancetta at the top.
A simple sweet Marsala sauce is poured over the meat and vegetables to complete this delectable dish.
You'll definitely be making it more than once because of how tasty it is!
This smoked pheasant recipe makes for a stunning presentation by using the whole pheasant to cook and it's sure to deliver a hearty meal for the family!
The bird is brined in a liquid consisting of garlic, thyme, and bay leaves before it's spatchcocked and smoked with a homemade BBQ glaze brushed on it.
It's super flavorsome with depth in the flavor and makes for a mouth-watering dish that everyone will definitely enjoy.
Serve with other side dishes such as puffball mushrooms or quail eggs to make it into a satisfying meal!
Enjoy a tasty and fantastic meal with this excellent recipe to make pheasant meat with an orange glaze!
Dredged in eggwash and a seasoned flour mixture before being fried until really nice and crispy, the meat already has a great texture and flavor on its own.
It's made even tastier with the addition of a flavorful orange glaze that's sweet, savory, and tangy all at the same time, creating the ultimate combination to make this dish really addictive.
Garnish with sesame seeds and green onions before enjoying an amazing meal!
If you're looking for a delicious stew that's hearty and comforting, don't miss on out this awesome dish that's perfect for warming you right up on a cold and chilly evening!
Marinated in red wine, thyme, and bay leaves, and then cooked in bacon fat, the meat is extremely flavorful and tasty.
The stew is made by mixing flour, onion, mushrooms, brandy, wine, herbs, and meat before everything is left to cook until tender.
Once the stew has reduced to a gravy consistency, it's ready to be served!
Feast on this amazing roasted whole pheasant that's easy to make and oozes class and elegance, perfect for any special occasion!
Herbs are stuffed under the skin of the game bird and truffle butter is rubbed all over before it's placed in the oven for a roast.
A demi-glace is added with minced herbs to give even more wonderful flavors to this dish and it's served with sweet potato purée and escarole for an irresistible meal.
It's incredibly tasty and definitely one of our favorite roasted pheasant recipes!
Expand your cooking repertoire and whip up this fantastic piccata that has all the flavors to make it an unforgettable meal!
Using pheasant breasts gives this dish a lean profile and they are dredged in flour before being sautéed until nicely cooked.
A delicious lemon caper sauce is drizzled over the meat and adds loads of wonderful flavors that make this dish really awesome.
Serve with a side of carbs and veggies to complete this meal!
Cook up a pot of pheasant and dumplings for a warm and hearty dish that's perfect as comfort food!
Vegetables and herbs help to make the broth really tasty with thyme and bay leaves adding depth to the flavor while carrots and onions lend their sweetness to the taste.
Handmade dumplings and meat, plus a variety of other ingredients including vermouth are added to turn it into an extremely flavorful stew.
It takes time to make this but it's not complicated and you'll definitely feel it's worth the effort once you've had your first sip!
Mix things up and make this incredible dish that's fancy enough to impress but really easy to whip up!
Pheasant breasts are topped with mozzarella and prosciutto slices before being skewered together and sautéed until perfectly cooked.
An amazing sauce that's made with orange juice, ginger, white wine, and other wonderful ingredients is served with the meat and they made a superb combination that's really delicious.
Serve with your favorite carbs and veggies to have a wholesome and impressive meal!
It's one of our favorite pheasant breast recipes because it's absolutely delicious!
Dig into this delicious pheasant dish that's easy to make and great for a satisfying dinner!
The fowl meat is simply seasoned with salt and pepper before cooking with butter to retain its natural taste but the highlight of this dish is the creamy mushroom and white wine sauce that goes really well with the meat.
With mustard, white wine, shallots, and mushrooms, it's extremely flavorful and the sauce is poured over the meat to complete the dish.
Make it a wholesome meal by serving it with a side of vegetables and some russet potatoes!
Shake things up and enjoy a roast pheasant with an onion marmalade filled with amazing orange flavors that'll definitely whet your appetite!
Made with Cointreau, cinnamon stick, mace, coriander seeds, allspice berries, sliced oranges, and onions, the orange and onion marmalade is incredibly flavorful and perfect for pairing with lean meat.
The pheasant is topped with bacon and herbs before being roasted in the oven until it's cooked.
It's a fantastic wild game meat dish that you definitely need to add to your meal rotation!
Treat yourself to an exceptional meal with this bacon-wrapped pheasant dish that you'll definitely enjoy!
Bacon and pheasant make for a great combo because the fat from bacon helps to offset the lean meat of pheasant to create a well-balanced flavor.
Stuffed with various herbs and cooked in the oven with white wine, plus occasional basting with meat juices, the pheasant meat is tender, flavorful, and super delicious.
Served on top of red cabbage and caramelized apples, it's a fantastic dish to make for any meal!
These nuggets are ridiculously easy to make for something that tastes so good and you definitely don't want to miss out on it!
Dredged in eggwash with garlic and onion powders, then in a mixture of flour, panko breadcrumbs, and Italian breading, the cubed meat pieces are fried until golden and crispy.
Serve with your favorite dipping sauce or try out the delicious Tiger sauce and Bitchin' sauce to go along with the nuggets!
It's the perfect appetizer or snack that you can eat all day long!
Get ready for your next Taco Tuesday with something a little different and whip up this fantastic wild game meat taco!
Seared pheasant meat combines with crispy skin to create the ultimate taco filling that's just irresistible with a great taste and texture.
Add your favorite toppings to warm tortillas along with the meat, skin, cheese, and salsa for delicious tacos that everyone will definitely enjoy!
Squeeze some lime before serving for maximum flavor!
If you have a sous vide machine, you'll definitely need to try out this super easy poached pheasant recipe!
All you need to do is season the meat with salt and pepper before sealing it in a vacuum bag along with herbs and butter.
The meat is cooked by immersing the bag in hot water for two hours and it's all done and ready to be served after that!
It's that simple to make for tasty game meat that's great for a hassle-free meal without having to stay in the kitchen the entire time!
Turn up the heat with this amazingly tasty Korean-styled dish that you definitely must try if you love spicy food!
With Gochujang and chili flakes, you can be sure there'll be a kick with every bite but the heat doesn't overwhelm you because the marinade includes honey and lemon-lime soda to balance it out and add tons of wonderful flavors.
The marinade also serves as the sauce and it makes the meat really yummy!
Serve it with steamed rice and garnish with green onions to complete this delightful meal!
Apples go really well with many different proteins as they lend their sweetness to create well-balanced sweet and savory dishes easily.
It's no different with this fantastic recipe that combines pheasant legs, apples, and onions to make really flavorful and enjoyable comfort food.
This dish is made even tastier with the inclusion of apple brandy and apple cider to deglaze the pan and cook the meat until all the wonderful flavors seep into it.
Add this to your dinner rotation for a delicious and easy-to-make meal!
A simple way to use pheasant meat is to make a ragu that can be paired with your favorite pasta and it turns out super delicious every time!
This ragu is filled with ingredients that everyone will definitely enjoy and it's bound to be a crowd-pleaser with how tasty it is.
With porcini mushrooms, pancetta, pheasant meat, aromatics, herbs, and white wine combined to create a delectable ragu, you can be sure you'll have an incredible meal at the end.
Serve with a wide pasta such as tagliatelle to coat all that delightful sauce and enjoy an awesome meal!
If you manage to get your hands on some koji flour, you've definitely got to try out this incredible fried pheasant recipe!
It's quick and easy to make this fantastic dish and you'll be surprised at how tasty koji-fried meat can be once you've had your first bite.
Pounded thin and dredged in koji flour before being given a quick pan-fry, the meat is crispy with a slightly sweet flavor that's absolutely delightful.
Serve with a side of herb salad and enjoy a balanced meal that you'll be sure to make regularly!
Another comfort food that's perfect for warming you right up on chilly days is this tasty pheasant noodle soup that anyone can make!
There is no lack of flavor with aromatics and herbs, such as onion, rosemary, star anise, and bay leaves imparting their fragrance to create an extremely flavorful broth.
Along with egg noodles and vegetables, this is a delicious and nutritious broth that can fill your belly and satisfy any cravings!
Spruce up your next meal with this amazing pizza that'll definitely be a hit with the family because it's absolutely delicious!
It's also ridiculously easy to make with a pre-baked pizza crust that you can get at any grocery store and it'll save you loads of time and hassle.
Top the pizza crust with spicy BBQ sauce, pheasant breast, peppers, cilantro, red onion, and shredded Gouda cheese before baking in the oven until the cheese melts.
It's that simple and you'll be enjoying a tasty wild game meat pizza in no time!
Jalapeño poppers are like the basic wild game meat appetizer or snack that you can make and they are always so tasty!
This amazing recipe takes it one step further and fills jalapeños with herbed cream cheese and pheasant meat before wrapping them with bacon.
They are then roasted in the oven and basted with bourbon red pepper jelly which makes them incredibly flavorful.
It's definitely one of our favorite pheasant recipes because of how delicious these poppers are!
Let the slow cooker do most of the cooking with this simple recipe that uses basic ingredients that you can find in your kitchen to accompany the wild game meat!
Onions, mushrooms, garlic, and black olives all help to impart their flavors and fragrance to this dish and make it really delicious.
Along with the meat, they are all cooked in a combination of white wine and chicken broth until the meat becomes juicy, tender, and ready to eat.
Serve with your favorite carbs and enjoy a fantastic meal with this easy slow cooker pheasant recipe!
Impress your friends and family with these incredible sliders that are the perfect appetizer or side dish to serve during gatherings!
Because pheasants are smaller in size, they are great for making sliders and it's really easy to whip them up.
The meat is dredged in seasoned flour and eggwash before being fried until golden and they are given a spicy coating with cayenne and other seasonings.
Assemble with toasted buns, mayonnaise, and pickles before serving these tasty bites!
Indulge in these tasty bacon-wrapped pheasants and you'll be hooked on them after taking the first bite!
It's a straightforward process to cook these tasty bites with bacon strips wrapping seasoned pheasant cubes before they are smoked and grilled.
Dipped in BBQ sauce just before finishing, they are cooked further to let the sauce set before serving.
They are filled with wonderful savory flavors that everyone will enjoy and it's a simple grilled recipe that you definitely should try!
Yield: 30
30 Best Pheasant Recipes To Try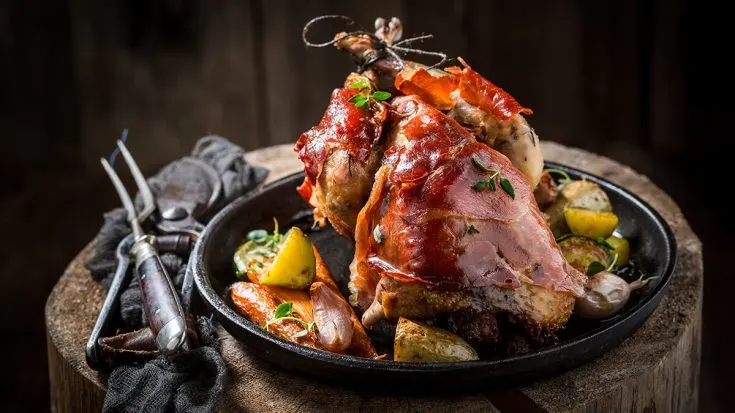 Try these pheasant recipes and enjoy a delicious meal! Whether you like them fried, roasted, or grilled, there's always something for every occasion!
Instructions
Choose your favorite pheasant recipe.
Prepare all the required ingredients.
Whip up the tasty dish and enjoy an awesome meal!
Nutrition Information:
Yield:
30
Serving Size:
1
Amount Per Serving:
Calories:

581
Total Fat:

28g
Saturated Fat:

9g
Trans Fat:

0g
Unsaturated Fat:

16g
Cholesterol:

164mg
Sodium:

635mg
Carbohydrates:

25g
Fiber:

2g
Sugar:

12g
Protein:

56g
Nutrition information is only an estimate and can vary depending on ingredients used.
Which of the pheasant recipes have you tried so far?
Let us know in the comments below!
For more wild game meat recipes, check out the following that you'll definitely love:
Goose Breasts
Quail
Quail Eggs
Dove
Elk Steak
Ground Elk
Ground Bison
Share on your favorite social media platform and tag us @GloriousRecipes – we can't wait to see what you have made!