Take homemade pizzas to new heights with an Ooni pizza oven!
From gas-powered to wood pallet pizza ovens, Ooni's wide range of products allows you to whip up all kinds of tasty pizza in the comfort of your own home!
They are incredibly versatile and you can make more than just pizzas!
From juicy steak to delicious pizzas, we've got you covered with some of the best Ooni recipes that you can easily try at home!
Treat yourself to this fantastic Pizza Rosa that's incredibly tasty and it only requires a few ingredients to make!
Featuring a beautifully charred pizza crust and a topping of sliced red onion, rosemary leaves, pistachios, and Parmigiano-Reggiano, this is a heavenly combination that works extremely well.
Every bite is filled with amazing textures and flavors, and you'll be devouring this pizza before you even know it!
Give it a try and you'll definitely not be disappointed!
Enjoy a terrific starter with this Focaccia Pizza that's amazingly delectable and a great way to use up any leftover pizza dough!
Made simply by topping the pizza base with olive oil, cherry tomatoes, rosemary sprigs, garlic, and salt, this is as easy as it can get.
Pop it into the oven and you'll have a tasty appetizer to serve in no time at all!
Make this for your next gathering and be prepared to be showered with compliments because it tastes absolutely fantastic!
Grace your taste buds with this Blue Cheese and Steak Pizza that tastes out of this world and brings together some of our favorite ingredients in one dish!
Topped with a delectable combination of pan-seared steak, garlic, mozzarella cheese, and blue cheese, this is an irresistible pizza that everyone will surely love.
It has everything to satisfy meat lovers and cheese lovers alike with juicy steak and blue cheese coming together to provide rich and bold flavors to this pizza.
It's a mouthwatering delight and definitely one of our favorite Ooni recipes!
Recreate a flavor combination that comes straight from the city of Naples with this exceptional Di Natale Pizza!
It's a wonderful medley of ingredients that include tomato sauce, mozzarella, pine nuts, olives, garlic, raisins, and basil, creating a pizza that tastes absolutely divine.
And it's so quick and easy to make with an Ooni pizza oven, taking only 2 minutes to cook!
Delicious and simple to whip up, just how we like our recipes to be!
The versatility of Ooni pizza ovens is on full display with this recipe that makes excellent Sizzling Steak Fajitas!
There's no lack of great flavors with a marinade that's made with a blend of lovely ingredients that include Worcestershire sauce, paprika, coriander, orange juice, lime juice, and garlic.
The steak is extremely flavorsome and when you add onions, bell peppers, and jalapeños into the mix, you have a dish that's sure to satisfy any appetite.
Serve with tortillas, sour cream, pico de gallo, or any of your favorite toppings to make it a wholesome meal!
If you're looking for a sweet pizza to freshen up your dessert options, you've got to check out this amazing Blackberry, Ricotta & Pistachio Pizza!
This delightful dessert involves a pizza base that's spread with a mix of ricotta and honey, then topped with blackberries and pistachio to inject a fruity flavor and crunchy texture.
It's made with a few simple ingredients but the taste is just mind-blowingly good.
This dessert pizza provides the perfect end to any meal with its terrific flavor!
Sign us up for this splendid Garlic Naan that's superbly tasty and a great accompaniment to curries!
Crispy on the outside and pillowy soft on the inside, this naan is an absolute delight and it absorbs gravies extremely well.
The minced garlic helps to add depth to the flatbread and the result is a palatable dish that you're bound to fall in love with.
This is one of those Ooni recipes that you'll want to keep handy because garlic naan goes well with almost anything that has gravy!
Nothing compares to classic Mac and Cheese for tasty comfort food and this easy Ooni recipe is exactly that!
Fontina and Parmesan cheese are combined with short-cut pasta and baked until beautifully golden brown, creating an enticing dish that smells and tastes absolutely amazing.
Breadcrumbs are added to provide a satisfying texture with every bite and this is one hearty pasta that you'll never get sick of.
With how delicious it is, this pasta makes for an awesome meal any day of the week!
Satisfy your sweet cravings with this outstanding Fresh Berry Dessert Pizza that's sure to make you go wow with its delightful flavor!
With a cream cheese base that's topped with a lovely assortment of mixed berries, this is an extremely delicious pizza that you can serve to brighten up any meal.
It's finished off with a simple garnish of cinnamon sugar and fresh mint leaves, adding depth to an already tasty dessert!
You'll definitely love this simple but tasty sweet pizza!
Can't decide if you want a cheeseburger or a pizza?
Fret not, because this wonderful recipe combines both in one dish!
Juicy patties and a mix of mozzarella cheese and cheddar cheese come together in this fantastic pizza that's topped with diced onions, shredded lettuce, and a flavorsome sauce made with a blend of ketchup, mayonnaise, mustard, and other lovely ingredients.
It's incredibly tasty and you'll definitely be making it over and over again with how quick and easy it is!
Yes, you can even make bagels with the Ooni pizza oven!
These bagels are tasty and dense with an alluring golden color when fully baked and they are just irresistible.
Pair it with some cream cheese for a simple breakfast or mid-day snack that's sure to give you all the fuel you need to get your day doing.
This is one of our favorite Ooni recipes for a refreshing change from the usual pizzas!
This Grandma-Style Pizza is a hearty and comforting treat that's perfect for feeding a group of hungry crowd!
With a tomato sauce made by blending plum tomatoes, anchovies, garlic, oregano, and basil, you're guaranteed tons of great flavors that everyone will definitely love.
Topped with pepperoni slices, tomatoes, and mozzarella cheese, this is a classic combination that just can't go wrong.
Be prepared to make more than a batch because everyone will be fighting for seconds!
For a fantastic thin-crust pizza that's superbly tasty, you've got to check out this New York Style Pizza recipe!
It's ridiculously easy to make with only a few ingredients required and all you need to do is spread a thin layer of tomato sauce on the pizza base, then top with shredded cheese and oregano.
Toss it into the oven for a few minutes to bake and you'll have a mouthwatering pizza to enjoy!
You'll definitely love the simple flavor and satisfying crust of this incredible pizza!
This excellent Peach, Brie & Balsamic Pizza combines sweet and savory flavors to create an absolutely heavenly-tasting dish!
Topped with mozzarella, brie, peaches, basil leaves, and a drizzle of balsamic glaze, this is a simple but delectable pie that you can serve as a dessert or main course.
The fruity flavor of peaches works extremely well here to inject a dose of vibrancy and makes this a terrific pizza that'll surely bring a smile to your face.
Serve this for your next meal and you'll definitely not regret it!
Whip up an awesome meal with this splendid pizza that's amazingly delicious and is sure to captivate your taste buds!
Sopressata's savory flavor is well-balanced by arugula's nuttiness and bitterness, and basil helps to add a refreshing complexity to create an outstanding flavor combination.
Completed with a drizzle of balsamic glaze, this is a palatable pizza that you definitely don't want to miss out on.
It's an absolute must-try with how tasty it is!
Margherita Pizza is a classic flavor that has withstood the test of time thanks to the simple combo of tomato sauce and mozzarella cheese!
With only a few ingredients required, even beginner home cooks will have no trouble making their own tasty pizza.
Basil leaves provide additional depth to the flavor of the pizza and it's an absolute delight once fully baked.
There's nothing not to like about this easy Ooni pizza recipe!
Savor an amazing pizza with this Pizza Bianca that's exceptionally delicious and is sure to whet your appetite!
It's a wonderful combination of Fontina, mozzarella, and Parmesan cheeses, plus fresh herbs that include sage, thyme, and rosemary to create a pizza that tastes absolutely divine.
The herbs give complexity to the flavor through their fragrance and work really well to make it a surprisingly addictive pizza.
The superb flavor makes this one of our favorite Ooni recipes as well!
Reward your taste buds with a top-notch Chanterelle and Sweet Potato Pizza that's sure to tempt your palate!
It's a brilliant combination of chanterelle mushrooms, sweet potato slices, shallots, and garlic, on a base spread with a mixture of crème fraîche and pumpkin butter, plus a drizzle of sour tomato sauce to complete this impressive pizza.
All the flavors come together really well and the result is a phenomenal pizza that tastes exceptionally good.
You've just got to try this Ooni recipe because it is that good!
Add some Portuguese flair to your next pizza with this splendid recipe that makes an awesome dish!
Topped with pizza sauce, sheep cheese, and Portuguese chorizo, this is an easy pizza recipe that only requires a few simple ingredients.
Every slice is filled with a lovely smoky flavor that makes it extremely mouthwatering and irresistible.
Zest some lemon over for a touch of refreshing flavor that really makes this pizza stand out!
You'll want the entire pizza to yourself because it's just that delicious!
In what is one of our favorite Ooni recipes, this Spinach and Egg Pizza gives you all the nutrients you need for an awesome meal and it's so delicious!
It's a simple but tantalizing combination of pizza sauce, spinach, mozzarella, and egg, with a pizza crust that you just can't get enough of.
Everything comes together extremely well and the egg provides a little moisture to make this pizza absolutely perfect.
Packed with protein and fiber, this is a pizza that you'll definitely want to add to your meal rotation!
This 3-Cheese White Pizza is a must-try for all cheese lovers out there because it tastes incredible!
It's a lovely marriage of ricotta, mozzarella, and Parmesan cheeses, with a simple sprinkle of Italian seasoning and red pepper flakes to add depth and complexity to the flavor of this terrific pizza.
The simplicity of this pizza is deceiving because every bite is filled with great-tasting cheese that's super satisfying.
If you love cheesy food, this pizza is made for you!
Amplify your next meal with The Millennial Pizza, a nod to smashed avocado toast and it's crazy delicious!
This pizza is made simply by adding a topping of pizza sauce, lardons, and mozzarella cheese before baking in the oven until nicely cooked, then finished off with the addition of mashed avocado, crumbled feta cheese, and a drizzle of sriracha sauce.
It's a symphony of taste in your mouth with flavors that combine extremely well together and it's sure to be a crowd-pleaser with how tasty it is!
At Glorious Recipes, we have our favorite Classic Margherita Ooni Pizza that we absolutely adore and it tastes heavenly! Check out the recipe below!
Yield: 1
Classic Margherita Ooni Pizza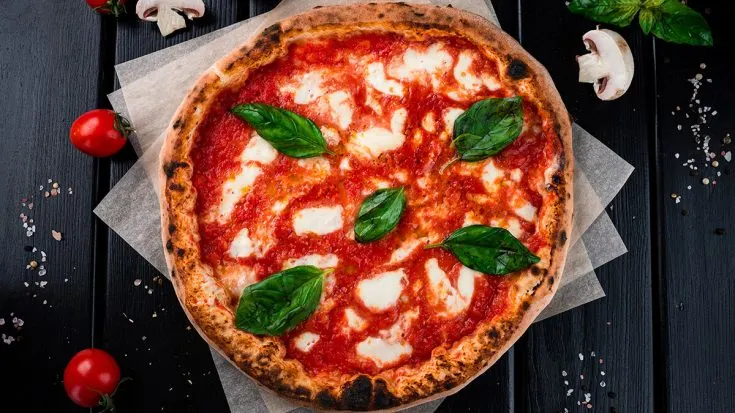 Satisfy your pizza cravings with a classic Margherita Pizza that's quick and easy to make!
Ingredients
9 oz pizza dough (do not use store-bought crust)
flour, for dusting
3 oz crushed tomatoes
3½ oz mozzarella, fresh and torn into pieces
1 tsp extra-virgin olive oil
basil leaves, for garnish
dried red pepper flakes (optional)
Instructions
Ensure your dough has risen before starting to preheat oven. Preheat oven to 930˚F (500˚C).
Dust your pizza peel with a little flour. Stretch your pizza dough and place on pizza wheel.
Spread tomato sauce, then mozzarella, then oil evenly on the pizza base, leaving ½ inch around for the crust.
Slide the pizza off the peel and into the oven, then let it cook for 1-2 minutes, rotating to ensure it bakes evenly without burning.
Once done, remove from oven and top with basil leaves and red pepper flakes, if using. Serve and enjoy!
Nutrition Information:
Yield:
1
Serving Size:
1
Amount Per Serving:
Calories:

1413
Total Fat:

36g
Saturated Fat:

13g
Trans Fat:

0g
Unsaturated Fat:

21g
Cholesterol:

64mg
Sodium:

1581mg
Carbohydrates:

220g
Fiber:

10g
Sugar:

10g
Protein:

48g
Nutrition information is only an estimate and can vary depending on ingredients used.
Which of the Ooni recipes have you tried so far?
Let us know in the comments below!
For more awesome recipes that you might like, check out the following:
Smoked Duck
Neck Bones
Turkey Chop
Dove
Pheasant
Goose Breast
Pit Boss Smoker
Blackstone Chicken
CanCooker
Meat Church
Share on your favorite social media platform and tag us @GloriousRecipes – we can't wait to see what you have made!