Refried beans are a staple in Mexican and Tex-Mex cuisines and they taste absolutely fantastic in a wide variety of dishes!
If you're wondering what to do with refried beans, fret not because they are extremely versatile and you can easily whip up delicious meals just by incorporating this flavorful ingredient that adds a dose of protein and fiber as well.
Whether you prefer tasty enchiladas or comforting soups, we've got you covered with some of the best recipes with refried beans that you can easily try at home!
Enjoy a comforting meal with these fantastic quesadillas that are amazingly delicious and so easy to make!
With only 5 ingredients required, this is a simple recipe with everything coming together in under 20 minutes, making it perfect for a hearty weeknight dinner.
The tortillas are extremely flavorful with a filling of refried beans, salsa, chips, and cheese, and they are made even tastier when pan-fried till crispy.
There's nothing not to like about this quick and easy recipe that anyone can try!
Give a Mexican twist to the classic Italian lasagna with this exceptional recipe that makes an awesome dish!
Filled with layers of tortillas, cheese, refried beans, taco sauce, and ground beef, this is an amazing delight that's sure to satisfy any cravings.
Aromatics, tomatoes, jalapeños, and olives help to impart their fragrance and add even more depth to the flavor, making it extremely tasty and just irresistible.
With how delicious this is, it's definitely a must-add to any meal rotation!
Slurp up a satisfying bowl of hot refried bean soup that'll warm you right up on a cold and chilly day!
Whether you are using leftover refried beans or straight from a can, this soup will taste delicious either way!
It's incredibly easy to make as well and all you need to do is add broth, beans, tomatoes, chilies, salsa, and corn to a slow cooker and let the appliance do all the cooking.
You'll come back to a perfectly cooked soup that's super tasty and you'll definitely be sipping every last drop of it!
Skip the tacos the try out these fantastic tostadas that are quick and easy to make and taste out of this world!
The toppings are made with a delightful combination of chorizo, guacamole, refried beans, cotija cheese, pico de gallo, and lettuce, ensuring plenty of wonderful flavors that combine extremely well together.
These tasty tostadas are completed with a drizzle of a flavorsome sauce that absolutely enhances the taste of these little bites, resulting in a super addictive dish.
You'll have a hard time trying to stop at just a few of these because they are just that delicious!
This vegetarian recipe with refried beans is a must-try in our books because it's incredibly easy to make and tastes superb!
With a simple filling of rice, salsa, beans, and cheese, every bite is bursting with delightful flavors and these burritos are sure to fill your belly right up.
Everything comes together really fast and you'll be enjoying warm and delicious burritos in practically no time at all!
Try it for your next meal and you might just be pleasantly surprised!
In what is one of our favorite recipes with refried beans, these baked chimichangas are healthier than the deep-fried versions but taste just as awesome!
The filling is a delectable mix of ground beef, onions, beans, and salsa, seasoned with garlic powder and salt, and wrapped with tortillas before being baked in the oven until golden brown and crispy.
It's a mouth-watering delight that's super easy to whip up any time of the day for a delicious meal or even as a mid-day snack!
Serve with shredded cheese, tomatoes, and sour cream for maximum flavor!
Enchiladas make for great comfort food and this recipe definitely doesn't disappoint with an incredible dish that's extremely delicious!
The simple filling of refried beans, pepper jack, cheddar, and scallion is wrapped with flour tortillas before being topped with a flavorful red sauce and even more cheese to make sure we get all that melted cheesy goodness at the end.
The rolled tortillas are then baked in the oven, garnished with cilantro, and ready to be served for a hearty meal that's sure to please.
It's a great vegetarian recipe with refried beans that everyone needs to try!
These nachos are perfect for a party snack and your guests will surely be impressed by how tasty it is for something so simple to make!
Made by layering tortilla chips, refried beans, chicken breasts, jalapeño, and cheese, these delicious nachos are then baked in the oven until all the cheese has melted.
It's a very versatile recipe and you can easily swap any of the ingredients with what you have on hand and it will still taste just as wonderful!
Serve it for your next gathering and be ready to be showered with compliments!
This casserole recipe with refried beans is a must-add to your dinner rotation because it's absolutely delicious and makes for a great weeknight dinner!
It's loaded with all the wonderful ingredients that we've come to love with a combination of beans, aromatics, vegetables, chicken, cheese, and of course, red enchiladas sauce to make sure every bite is bursting with incredible flavors.
Baked until the cheese has melted and the sauce becomes bubbly, this impressive casserole dish can be made even tastier by pairing it with sour cream, guacamole, cilantro, and lime!
Try it once and you'll get hooked!
Get a taste of simple homemade fusion food with these Mexican pizzas that make for a refreshing meal any day of the week!
Crisp tortillas are topped with a whole host of delightful ingredients that include enchiladas sauce, refried beans, taco meat, and shredded cheese before they are baked in the oven until done.
It's exceptionally delicious and you can pretty much add any of your other favorite toppings to suit your palate.
The pizzas are completed with a garnish of diced tomatoes, green onions, olives, and sour cream before they are served and enjoyed!
If you're looking for a vegan recipe with refried beans, you've got to check out this excellent quesadilla that's amazingly delectable!
Onion and garlic are sautéed to impart their fragrance to a delightful dose of spinach, and they are combined with refried beans and vegan cheddar to form the quesadilla filling.
A quick pan-fry of the assembled tortillas is all it takes to make this superb quesadilla that can be a main dish, appetizer, or mid-day snack.
The best part of this recipe is that it only takes 15 minutes to make these delicious bites!
These Crisp Bean Burritos are incredibly addictive and it's one of our favorite recipes with refried beans that we love to make for a tasty dish!
It's a decadent indulgence with the burritos deep-fried to a perfect golden brown color and an amazingly crispy texture that's just irresistible.
Filled with a simple combination of beans and cheddar cheese, it's surprisingly big on flavor and is made even tastier when paired with a side of salsa, guacamole, and sour cream.
Bake them instead if you want healthier but equally delicious burritos!
Another easy vegan recipe with refried beans is these terrific tacos that you definitely need to try making for the next Taco Tuesday!
There's no lack of flavor here with paprika, chili powder, cumin, oregano, and cayenne pepper all combined to spice things up!
Along with garlic and diced tomatoes, the seasoned refried beans are cooked and heated with vegan cheddar to infuse all that melted cheese into the mixture.
Assemble the tacos by filling them with the bean mixture and other toppings such as lettuce, olives, and salsa to enjoy a simple but delicious meal!
The next time you reach out for those tortilla chips, pair them with this fantastic Mexican bean dip that's easy to make and tastes exceptionally good!
It's made with a simple combination of beans, hot sauce, sour cream, and shredded cheese, all mixed and baked until the cheese has melted.
The basic recipe is already an amazing dip but you can easily toss in other toppings such as jalapeños and cilantro to add even more depth to the flavor.
If you are wondering what to do with your leftover refried beans, this is one of the easiest ways to utilize them!
This is one of the tastiest vegetarian recipes with refried beans and you'll love it even if you're not on a vegetarian diet!
These taquitos are filled with a hearty combination of beans, cheese, cilantro, lime juice, and other spices that make them super flavorful and incredibly delicious.
Wrapped in warm and crispy tortilla shells, they represent a perfect balance of texture and flavors that'll definitely whet your appetite.
Top with guacamole, salsa, and sour cream for maximum enjoyment of these tasty taquitos!
If you're looking for an awesome quesadilla recipe that's both vegan and absolutely delicious, look no further than this quesadilla with avocado!
The quesadilla is made with a filling that's a superb mix of aromatics, peppers, mushrooms, refried beans, corn, avocado, and cilantro, creating an exceptionally tasty and flavorful dish.
Baked until crisp, the quesadilla tastes heavenly and you'll be tempted to reach out for the second piece after you've had your first bite.
You don't need cheese in order to enjoy this remarkable dish!
Amplify your burritos with this fantastic recipe that's a great addition to any Mexican-themed meal!
Wrapped with a filling of ground beef, beans, cheese, and a whole host of spices to make them extremely flavorful, the burritos are smothered in a combination of enchilada sauce and shredded cheese before being baked in the oven.
What you end up with is an indulgence that you just can't resist and a simple garnish of cilantro, salsa, and cheese is enough to elevate the dish further.
This dish is a must-try for any burrito lover because it's absolutely delicious!
When it comes to a delicious and satisfying party dish, this Epic Beef Nachos Supreme definitely delivers.
These loaded and flavorful nachos are piled with layers of crispy tortilla chips, refried beans, seasoned ground beef, and melted cheese, plus a topping of a variety of fresh and flavorful toppings such as diced tomatoes and green onions.
With a rich and savory flavor, it's a dish that's perfect for any party or even game night as it's ideal for sharing with large groups of people.
You can even serve it as a main dish for a hearty and filling meal!
Dig into this simple dish that you can easily whip up in under 30 minutes for a quick and easy meal!
It's a delightful combination of rice, refried beans, sausages, corn, tomatoes, salsa, and other wonderful ingredients to create an amazingly tasty dish.
With a little hot sauce and a garnish of cilantro and shredded cheese, it becomes a rice dish that's easily enjoyed by everyone.
This recipe with refried beans and rice is a great way to add some variety to your meals and you'll be devouring this in minutes with how delicious it is!
Fuel your day by starting it right with this hearty Huevos Rancheros that's sure to provide you with all the energy you need!
Refried beans, ranch-styled eggs, pico de gallo, and homemade rancheros sauce is served on top of warm tortillas for a comforting and satisfying meal that's absolutely delicious.
The dish is finished off with a garnish of cilantro and cheese to add a touch of refreshing taste, making it a mouth-watering delight.
It's extremely flavorful and your tummy will surely thank you for this incredible dish!
At Glorious Recipes, we have our favorite Ground Beef and Refried Beans Burritos that we absolutely adore and they taste heavenly! Check out the recipe below!
Yield: 6
Ground Beef and Refried Beans Burritos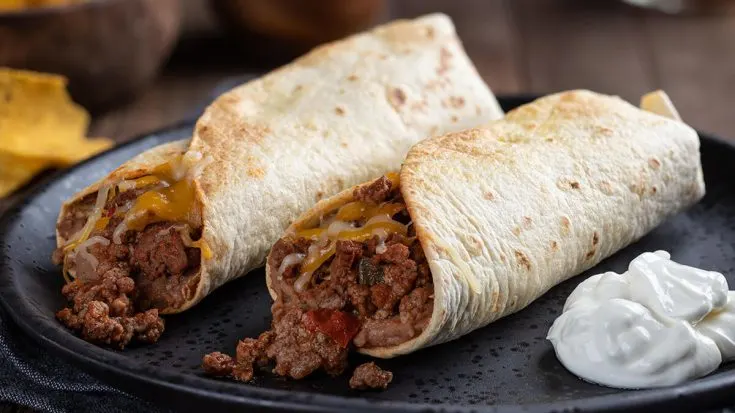 Have a hearty meal with these incredible burritos loaded with ground beef and refried beans that are incredibly tasty!
Ingredients
1 lb ground beef
2 tbsp taco seasoning
16 oz refried beans (1 can)
1 cup shredded Mexican cheese blend
6 flour tortillas
Instructions
Add a touch of oil to skillet over medium-high heat. Add ground beef to cook and break up the meat. Add taco seasoning and mix well. Cook until meat is browned. Drain off any excess oil and fat. Transfer to a mixing bowl to cool.
Add refried beans to the mixing bowl and combine well with the cooked beef.
Prepare tortillas according to package instructions. Then add the beef and bean mixture to the warmed tortilla plus a topping of cheese. Fold in the sides and roll into a burrito shape.
Let the warmth from the burrito melt the cheese, or add the assembled burritos to skillet over medium-high heat with the folded seam facing down and cook for a few minutes to crisp things up.
Serve with a side of sour cream, guacamole, or salsa and enjoy!
Nutrition Information:
Yield:
6
Serving Size:
1
Amount Per Serving:
Calories:

509
Total Fat:

23g
Saturated Fat:

9g
Trans Fat:

1g
Unsaturated Fat:

11g
Cholesterol:

85mg
Sodium:

851mg
Carbohydrates:

39g
Fiber:

5g
Sugar:

1g
Protein:

33g
Nutrition information is only an estimate and can vary depending on ingredients used.
Which of the recipes with refried beans have you tried so far?
Let us know in the comments below!
For more awesome vegetable recipes, check out the following:
Cubanelle Pepper
Black Garlic
Mayocoba Beans
Canned Spinach
Frozen Green Beans
Frozen Cauliflower
Romanesco
Shredded Carrot
Frozen Okra
Silken Tofu
Share on your favorite social media platform and tag us @GloriousRecipes – we can't wait to see what you have made!