Elevate your culinary experience with a unique ingredient in black garlic that you're sure to fall in love with!
It's eye-catching with a thoroughly enjoyable flavor profile and it can change the whole dynamic of a dish on its own.
You'll definitely want to explore incorporating black garlic into your dishes to whip up awesome meals!
What Is Black Garlic
Black garlic is made by aging fresh garlic under controlled temperature and humidity.
Through the Maillard reaction, the garlic turns black and develops a softer and stickier texture than regular garlic.
It's also sweeter and has higher amounts of certain nutrients as compared to fresh garlic.
Health Benefits Of Black Garlic
Black garlic has higher concentrations of antioxidants, which can help to protect your cells from oxidation and lower your risk of many diseases.
Some of the health benefits of black garlic include improved brain health, reduced risk of heart disease, and regulation of blood sugar.
What Does Black Garlic Taste Like
Black garlic tastes nothing like regular garlic!
It's sweet and savory without any of the pungent smell associated with regular garlic.
Depending on the fresh garlic used, there can be notes of caramel, molasses, and even licorice.
It's rich yet mellow, and truly a flavor sensation like no other.
How To Make Black Garlic At Home
You can find black garlic in some grocery stores if you need to use it instantly.
However, if you have time, it's actually extremely easy to make black garlic at home!
All you need to do is to add whole, unpeeled garlic cloves to a slow cooker and set it to the "warm" setting.
Check back in 2 to 3 weeks and you should have soft, spongy, and chewy black garlic.
Stored properly in air-tight containers, black garlic can last up to 3 months.
Black Garlic Recipes
Once you have your batch of black garlic, you can easily incorporate this fantastic ingredient into some of the best black garlic recipes below!
Enjoy an awesome meal with this terrific risotto that's amazingly delicious and incredibly easy to make!
Arborio rice is cooked with onions, white wine, and chicken stock to absorb all that delightful flavor that makes this such a mouthwatering dish.
Add peas, mushrooms, and black garlic into the mix, and you have an exceptional risotto that tastes out of this world.
It's finished off with a topping of grated cheese to add that extra creaminess!
Try your hands at making this fantastic Black Garlic Hummus that's superbly tasty and is sure to whet your appetite!
It's a lovely marriage of chickpeas, black garlic, regular garlic, and tahini, all blended into a smooth and creamy consistency.
Topped with olive oil, smoked paprika, and parsley, this hummus is extremely flavorsome and just so irresistible.
Serve it as a veggie dip or pair it with pita chips, bread, or crackers!
Dig into this splendid pasta that combines some of our favorite ingredients together in one single dish and it's so delicious!
Featuring a sauce made by sautéing black garlic in olive oil and butter, plus a mix of pasta, cremini mushrooms, oyster mushrooms, and shiitake mushrooms, this is a sumptuous and tasty dish that you definitely don't want to miss out on.
It's topped with basil, pine nuts, and Parmesan cheese to give additional depth and complexity to the flavor and texture, and it's an absolute delight.
With how delectable it is, this is definitely one of our favorite black garlic recipes!
This aioli is a great way to freshen up your sauce options and it tastes absolutely amazing!
Made by blending black garlic, fresh garlic, balsamic vinegar, egg yolk, oil, and salt, this is as easy as it can get.
It pairs exceptionally well with fries, burgers, sandwiches, and any of your favorite fried food!
This might just become your favorite sauce after trying it because it's simply that tasty!
For an outstanding soup that you can serve to impress, you've got to check out this simple black garlic recipe!
It's a delectable combination of onions, black garlic, wild mushrooms, broth, and herbs, all blended into a purée consistency.
All the flavors meld extremely well together and the resulting soup is an absolute treat!
Easy to make and delicious, just how we like our recipes to be!
Indulge in one of the best-tasting burgers with this wonderful recipe that you'll want to keep handy!
It's a tantalizing mix of burger steaks, onions, Swiss cheese, and caramelized mushrooms with an extremely flavorsome black garlic gravy that elevates this burger to another level.
Every bite of this mouthwatering burger is filled with umami flavors that you'll instantly fall in love with.
Serve with your favorite sides and you'll have a sumptuous feast to enjoy!
Sign us up for this amazing Miso Black Garlic Sauce that's so simple to make but tastes exceptionally good!
It's a lovely mix of miso paste, sake, rice vinegar, ginger, sesame oil, and black garlic, blended until a smooth consistency is achieved.
This sauce is great for whenever you want to inject a dose of umami flavor into any dish and it pairs really well with Asian food.
Everything comes together really quickly and you'll be enjoying this delightful sauce in no time at all!
Make your next meal a little special with this Kimchi Fried Forbidden Rice that's absolutely delicious and really healthy as well!
Thanks to black garlic, kimchi, and forbidden rice, this dish is loaded with tons of nutrients that include antioxidants, vitamins, and other essential minerals that are great for your body.
They are stir-fried with shiitake mushrooms and eggs, plus sesame oil and Korean red pepper flakes to make this an extremely flavorsome dish.
Topped with scallion and sesame seeds, this is a fried rice that is just irresistible!
These Black Garlic Chili Oil Noodles are incredibly delectable and are sure to tantalize your taste buds!
It's super easy to whip up and the main highlight of this dish is the sauce that's made with a mix of black garlic, chili powder, oyster sauce, oil, and soy sauce.
Toss with your favorite noodles to coat them well and you have a mouthwatering dish that you can pair with any protein for a wholesome meal.
So simple to make and so delicious!
Everyone loves garlic bread but have you ever tried black garlic bread?
The black garlic butter is made simply by blending black garlic and butter together, and this simple twist to the crowd-favorite makes an amazing starter that's extremely delicious and refreshing.
Spread on a piece of bread and top with Parmesan cheese before broiling it to enjoy this excellent dish!
With how fragrant and tasty it is, this definitely makes it to our list of favorite black garlic recipes!
If you're searching for a new dressing for your salad rotation, you've got to check out this fantastic Black Garlic Vinaigrette!
It's super easy to make and all you need to do is blend a mix of black garlic, shallot, fresh garlic, red wine vinegar, agave nectar, mustard, and oil together.
This vinaigrette is so tasty and super addictive, and it can easily elevate the flavor of any vegetable just by drizzling over it.
Give it a try and you'll not be disappointed by its wonderful flavor!
Reward your taste buds with this terrific vegetable side dish that tastes absolutely divine and is sure to be a crowd-pleaser!
This dish involves eggplants that are brushed with a miso black garlic glaze, roasted in the oven until meltingly tender, then topped with sesame seeds and green onions to create a mouthwatering delight.
Every bite is bursting with incredible flavors and you'll be devouring the eggplants before you even know it.
It's a simple black garlic recipe but these eggplants are just so delicious!
Whip up an exceptional dish with this Black Garlic Chicken that's amazingly delicious and filled with incredible flavors!
There's no lack of great flavors with a blend of oyster sauce, hoisin sauce, mashed black garlic, mashed regular garlic, honey, soy sauce, and other lovely ingredients coating the chicken.
Baked until nicely browned and cooked, this is a dish that's loaded with umami flavors and you'll be hard-pressed to limit yourself to just one serving!
You might just have a new favorite chicken dish after trying this because it's just that tasty!
Inject a little Asian flair to your next meal with this Black Garlic Shirataki Noodles with Mushrooms that's sure to captivate your taste buds!
It's a wonderful combination of shirataki noodles, king oyster mushrooms, black garlic, fresh garlic, and a flavorful sauce that's made with dashi, soy sauce, sugar, and water.
All the ingredients come together really well and you'll be slurping every single strand of the noodles with how delicious they are!
We have no doubts that this will quickly make its way to your list of favorite black garlic recipes!
Expand your pizza repertoire by including black garlic as a topping to create something really special!
Along with ricotta, shallot, parsley, tarragon, mozzarella, and heavy cream, this pizza is a refreshing and tasty option for an awesome meal any day of the week!
It's a perfect blend of flavors that are sure to satisfy any appetite!
If you have a pizza oven such as an Ooni, this recipe is a great way to utilize it!
If you love seafood and especially mussels, you've got to check out this marvelous dish that's superbly tasty!
Fresh mussels are simmered in an extremely flavorsome broth that's made with a combination of lovely ingredients that include black garlic, chili paste, nutmeg, ginger, lime juice, and chicken broth.
It's rich and decadent but oh-so-yummy!
You'll love how incredible it tastes and it'll cement your love for mussels!
Impress your friends and family with a homemade Black Garlic Mayonnaise that's perfect for giving a flavor boost to any dish!
Made simply by blending black garlic, egg yolks, olive oil, salt, and lemon juice together, this mayonnaise is exceptionally easy to make.
It goes really well with almost anything and you'll want to make more than a batch because it's just too tasty!
There's nothing not to like about this quick and easy black garlic recipe!
Discover an exceptional dish with this pasta that's easy to make and tastes absolutely heavenly!
This black garlic pasta combines some of our favorite ingredients together with white wine as a base and garlic, shallots, and butter adding tons of depth and complexity to the flavor.
It's the perfect vegetarian pasta that's sure to please but you can easily tweak it to add other proteins as well to suit your palate.
This is one of those black garlic recipes that you'll want to add to your meal rotation because it makes such awesome pasta!
Give an instant upgrade to Brussels sprouts with this simple recipe that you definitely don't want to miss out on!
Tossed in a mixture of black garlic, coconut oil, tomato paste, and other spices, the Brussels sprouts are then roasted in the oven until nicely charred and tender.
They are unbelievably delicious and extremely flavorful, making them perfect for serving alongside your favorite carbs and protein for a complete meal.
It'll definitely be your go-to vegetable side dish with how tasty it is!
Jazz up your cauliflower with this amazing recipe that makes an excellent dish that looks good and tastes even better!
Roasted cauliflowers that have been brushed with a honey-vinegar glaze are topped with a black garlic dressing that's made with a blended mixture of sautéed fresh garlic, shallots, black garlic, and other ingredients.
Along with a simple yogurt dressing, everything is combined to create a superb dish that's incredibly delicious.
Give it a try and your taste buds will thank you for it!
At Glorious Recipes, we have our favorite Easy Black Garlic Aioli that we absolutely adore and it tastes heavenly! Check out the recipe below!
Yield: 1
Easy Black Garlic Aioli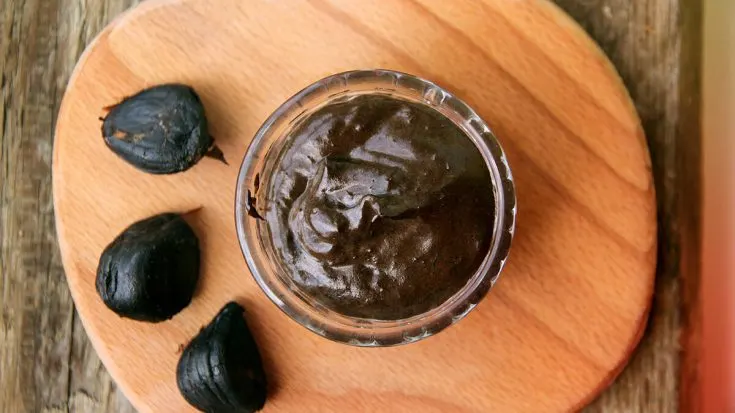 This Easy Black Garlic Aioli is incredibly delicious and perfect as a dip or sauce for almost anything! Pair it with your favorite meat, seafood, or even burgers!
Ingredients
7 black garlic cloves
3 fresh garlic cloves
1 egg yolk, room temperature
2 tbsp balsamic vinegar
½ teaspoon salt
¾ cup neutral oil
Instructions
Add black garlic to a food processor and blitz until you have a smooth paste. You might have to scrap down the sides and blitz a few times.
Add the rest of the ingredients except oil to the food processor and blitz to combine with the black garlic. Similarly, you might have to scrap down the sides a few times. Process until well combined.
With the processor running, very slowly drizzle the oil in a steady but thin stream to mix with the processed ingredients. You should have a thick sauce at the end.
Notes
If the aioli breaks during the process as it can be a bit thick, you can add another egg yolk and whisk in to fix it.
Nutrition Information:
Yield:
16
Serving Size:
1
Amount Per Serving:
Calories:

101
Total Fat:

11g
Saturated Fat:

1g
Trans Fat:

0g
Unsaturated Fat:

10g
Cholesterol:

12mg
Sodium:

67mg
Carbohydrates:

1g
Fiber:

0g
Sugar:

0g
Protein:

0g
Nutrition information is only an estimate and can vary depending on ingredients used.
Which of the black garlic recipes have you tried so far?
Let us know in the comments below!
For more awesome vegetable recipes that you might like, check out the following:
Sunchoke
Golden Beet
Grape Tomato
Mayocoba Beans
Kelp Noodles
Daikon
Baby Eggplant
Savoy Cabbage
Hominy
Honeynut Squash
Share on your favorite social media platform and tag us @GloriousRecipes – we can't wait to see what you have made!